With each update to the standard set of emoji, there's always something to celebrate. This week, we learned that our phones will, in the not-too-distant future, be able to transmit ideograms representing swans, salt shakers, and superheroes. Redheads were overjoyed to see their likenesses at last, alongside bald and white-haired newcomers. Foodies swooned over a bagel design, and the state of Maine (including Sen. Angus King) touted the confirmation of a lobster emoji as a regional victory. Tony Hawk wasn't thrilled with the skateboard Unicode unveiled — but apparently he's helping to fix it.
Among the forthcoming emoji that show potential for erotic suggestiveness are a collection of feet and legs in varying skin tones (as well as the familiar yellow of the earliest emoji faces). On Twitter, people snickered about all the fun foot fetishists were bound to have with this imagery. Where eggplants and peaches provide shapely innuendo at best, here were the tools for an entire sexual community to directly reference their fixation. It could scarcely hurt that the update includes a seductive turquoise slipper, too. Would they not rejoice at this tacit approval of their kink?
Yet the response from foot enthusiasts was rather muted. In fact, it was nonexistent. I scoured every social media platform for their take — nothing. I visited foot fetish message boards where users share links to articles about Japanese restaurants that serve women's-feet-scented fried chicken and talk about how virtual-reality tech may affect the art of foot porn; nowhere did anyone mention the groundbreaking feet emoji. I posted a link to the Emojipedia update announcement on Reddit's r/FootFetish, asking the subforum's members what they made of the feet, and I was met with total silence.
Finally, I reached out to at least two dozen dedicated foot fetish accounts on Twitter and Instagram, the latter being a notorious hotbed for foot fetishism comprising buyers, sellers, and aggregators of feet pics — not all of which are posted with permission. I messaged accounts like "feetfetishnation," "crazy_for_feet_pics," "sexyfeet_shoutouts," "feetoftheeworld," and "feetandtoes4you." None had posted about the feet emoji, and none replied to my prodding — save for two. One response came from a video producer, "thefootbabes," who remarked that the feet emoji are "better than what we have today," adding a crying-laughing emoji and "great work." The other comment was from an aggregator who goes by "parkfeetdaily." To my great surprise, this foot aficionado was dismissive, even contemptuous. "Doesn't matter at all to me," they wrote. "I rarely use emojis and have no reason to start now." I asked if they found the illustrations themselves compelling, strange, or ugly in comparison with real, attractive human feet. But they couldn't be bothered to answer. There ended my most promising interviews.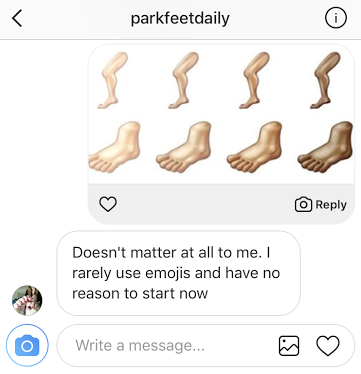 This was hardly, I felt, the heroes' welcome the feet emoji deserved. Was there something wrong with them? Some flaw the fetishists were reluctant to specify? Perhaps there is little allure for feet connoisseurs in a disembodied, cartoon version of the arched appendage they so adore. Or they didn't like how the toes were rendered in more or less uniform size, for a rather flipper-like effect, not far off from the look of Vibram FiveFingers shoes. The most plausible explanation was the simplest: the emoji lack the feminine shape and grace that seem integral to a foot fetish. That is to say, one struggles to imagine these feet sliding into the well-established emoji red high heels.

I realize that revolutions don't happen overnight, and that the very idea of feet emoji will take some time to process. The way we imagine these new symbols enhancing our conversations isn't always borne out by a future in which they're at our fingertips. I see the imminent toilet paper emoji, for instance, as ideal for replying to a bad hot take, as if to say, "I wipe my ass with this." Yet I alone do not determine meaning. The feet emoji could end up signifying a concept (even another kink!) far removed from the podiatric pleasures of foot worship. For all we know, in the next few months, internet teens will invent a dangerous trend called "ankling." #TheResistance could spam Trump with feet to mock his draft deferment for "bone spurs." The fetishists are right to be cautious with a mainstream icon over which they have no control. But if the longer they wait to claim it, the more likely it is that someone else will. This, my friends, is no time to get cold feet.