"You can tell it's a reindeer because his antler comes forward," explains Michael Wubker Sr., pointing to the finial of his 5-foot hickory walking stick. The pole is white with red stripes, resembling a giant candy cane.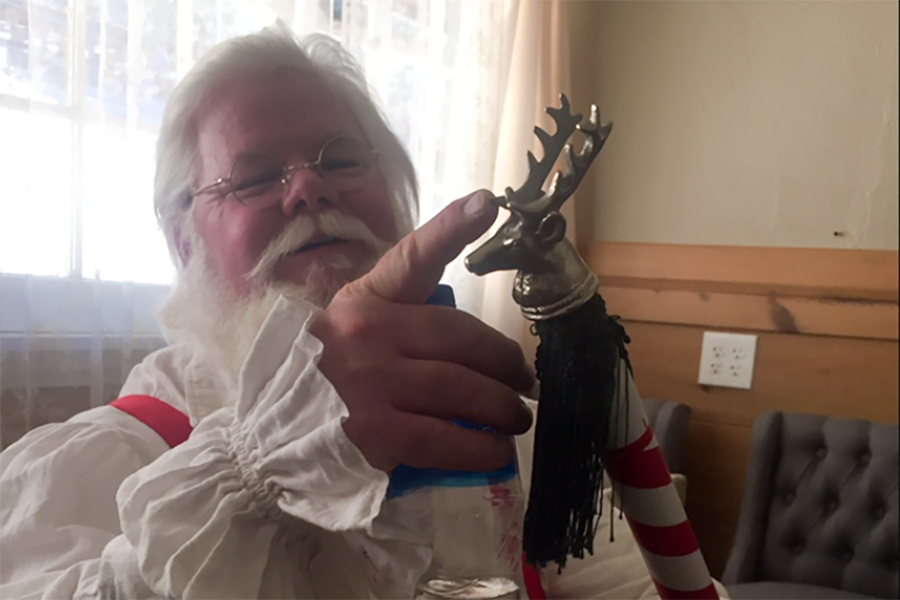 We're sitting in the green room for the characters at the newly reopened Santa's Village, a small Christmas-themed amusement park 80 miles east of Los Angeles. When it originally opened in 1955, a month before Disneyland, it was Southern California's biggest tourist destination. Today, it features attractions like Blitzen's Bungee, Silver Bells Skating Rink and The Frozen Fall Climbing Tower. Everything is targeted to the 5- to 10-year-old demo, who can rock climb, make crafts, decorate cookies, mine for gold, zipline and — most importantly — share their Christmas wish lists with Saint Nick.
With his ample figure, red cheeks and lion-like white mane, Wubker is a dead ringer for Kringle, whom he's been portraying professionally for five years. He's a card-carrying member of the Fraternal Order of Real Bearded Santas, an organization of men who look like Santa Claus and take a vow to promote a positive image of him. In January, I spent four days with the FORBS Santas on a pleasure cruise after they finished last year's busy season. Wubker, an ordained minister, led Sunday worship services on board. "Father," his sermon began, "we gather here as a group because we have similarities in keeping children laughing and putting smiles on their faces… ."
It's the Saturday after Thanksgiving, and the busy season, which officially spans from more or less today to December 25th, has begun anew. Wubker will work all but three of these days. The rest of the time will be spent ho-ho-ho-ing on home visits (neighborhood parties and the like); corporate engagements (The In-N-Out Burger Christmas party); and community outreach (the Inland Empire Ronald McDonald House).
To prepare, Wubker has been doubling down on vitamin C (to combat child-borne germs) and learning Tai Chi (to improve mobility). "I'm a little nervous," he admits as we stroll down Candy Cane Lane past a group of carolers on Gingerbread Square. "I should be nervous, though. If not, I'm full of myself and not allowing Santa to take over."
Just then, three beaming tweens in antler hats and Rudolph noses appear out of nowhere. "See?" Wubker says, handing each a candy cane. "Put on the suit and everybody loves you. This is exactly the joy and happiness I want to bring families."
When I first met Wubker on the FORBS cruise, he was mentoring other Santas on best practices for bleaching their beards. "I use a gentle enzyme called Trionix," he counseled, thumbing his frosted bristles, "which I can leave on for a half hour at a time without frying the hair. During the season, I have to touch up every four days. Try doing that with regular bleach!"
The scripture that Sunday was from The Book of James and was about overcoming adversity. "We all face trials and tribulations," he said, addressing his fellow Santas. "Some physical, some emotional and some spiritual. The key for us is how we react to those trials."
He then offered up a personal anecdote.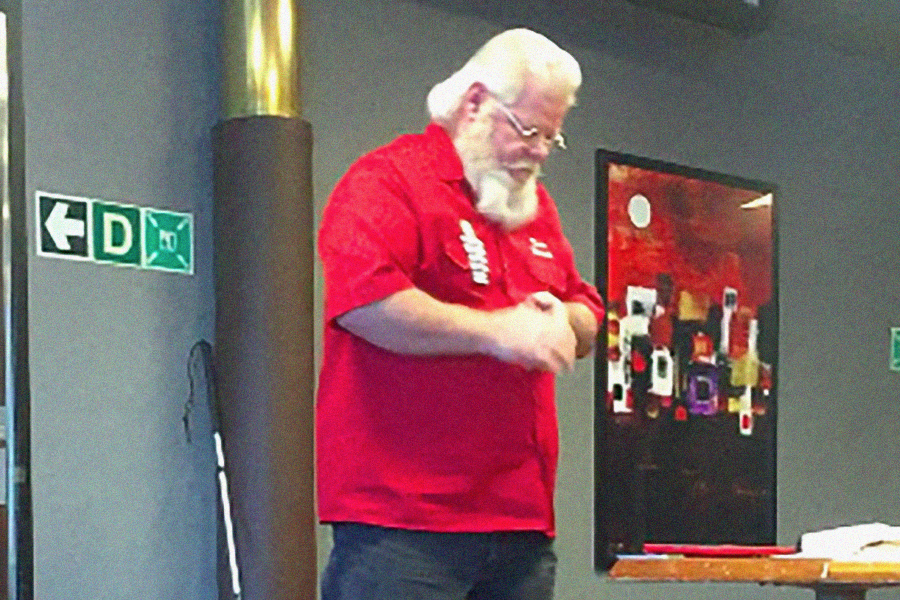 "It was the end of October 2015, and I was driving home from my job as a customer care manager for a manufacturing company. I rubbed my eye, and the whole left side of the freeway disappeared. I knew that wasn't right. The next day my computer screen kept getting blurrier, and soon I had to use a magnifying glass to read it. Turns out I had had a mild stroke which affected the optic nerve in both eyes. I was legally blind, and it was three weeks before the start of my second Santa season! It would've been easy to say, 'I'm blind, I can't be Santa,' but he's been in my heart forever. I wasn't going to let it be taken from me. I said, 'Let's figure out how to make this work.'"
Wubker turned to his son, daughter and wife to escort him to jobs that season. Now he relies on his sister-in-law, Gina, who flies in from Sacramento to serve as his chauffeur-cum-Mrs. Claus each season.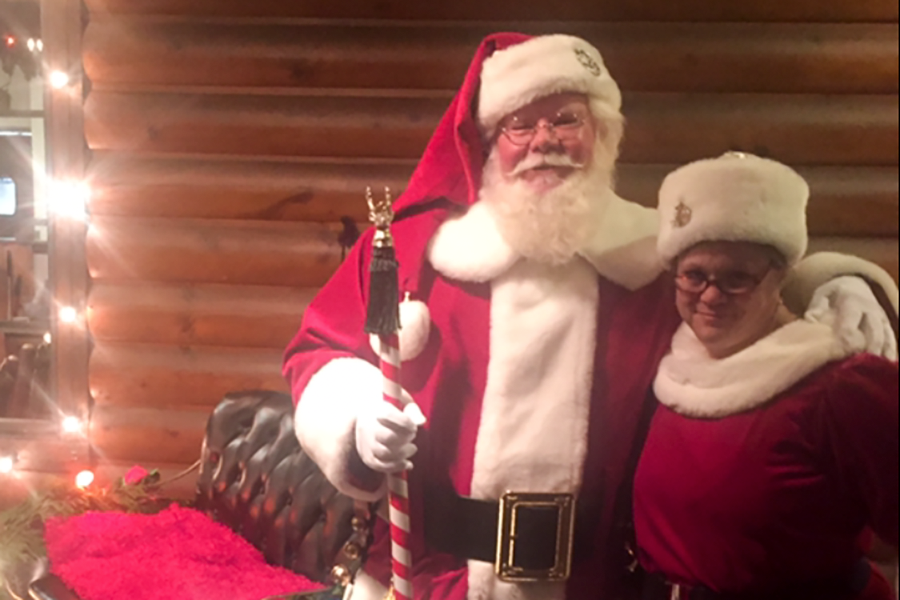 "Christmas is 365 days a year for Michael," Gina says. "He calls me throughout the year with new story ideas he wants to introduce, like how each reindeer earned his position in line on the sleigh. He's just so enthusiastic about it all."
Gina says the most memorable visit last season came on Christmas Eve. A man contacted Wubker and said he wanted to surprise his family. When Wubker and Gina arrived at the address, however, they realized the family of five was living in a tiny room at a Howard Johnson. "They had presents for us to pick up in the lobby and bring to the room," Gina remembers. "Three teenagers — 12, 14 and 17 — and mom were sitting on the floor. When we walked in, they screamed, 'Oh my gosh, it's Santa!' Mom started crying, the kids were wailing and Dad said, 'Thanks, we've been down on our luck.'"
"Michael gave him a hug," she adds, "and said, 'It doesn't matter, Santa shows up!'"
Last night, Wubker and Gina appeared at the Grizzly Cafe in the nearby mountain town of Wrightwood. "Christmas is a big deal for us," Debbie, the owner, tells me. "I recruited Santa Michael off the internet in 2012 when our regular Santa retired after 15 years. Michael's photo popped up, and I was like, That's him! He just has the cutest little face!"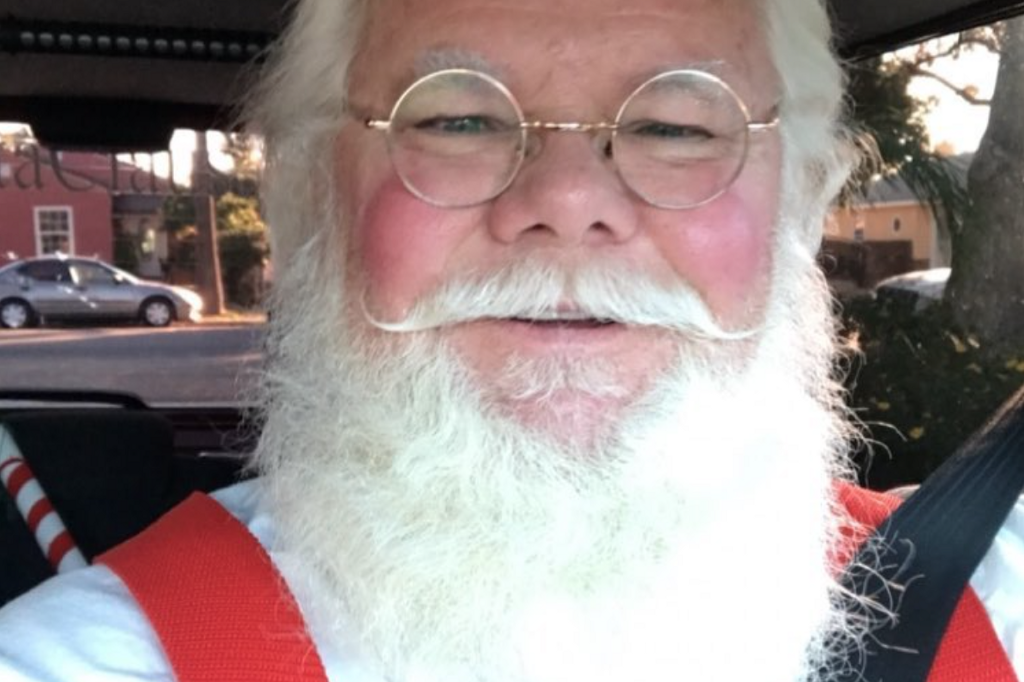 In between meeting with children, Wubker sauntered around the dining room greeting guests. Believing everyone becomes a child again at Christmas, he spent extra time with older diners.
"I remember you!" he said while kneeling beside a woman in her 90s. "That smile! That's what I remember! I brought you a doll when you were a little girl."
"That was a long time ago," the woman replied, meekly.
"I'm 1,743 years old—everyone's a child to me!" Wubker replied.
Undeniably, though, Wubker is at his best with kids. Seemingly every child in Wrightwood awaited his sleigh in the Grizzly Cafe parking lot — for candy canes (sugar-free options available for diabetics), love, wisdom and a little hope. When one teenager asked for college tuition, Wubker answered, "Are you doing your part? Working on scholarships? Grants? Loans?"
He cautioned another 12-year-old, "If Santa's going to bring you a hoverboard, do you promise to wear your helmet and be safe?"
A pair of feuding twin brothers in matching Frosty the Snowman sweaters asked for a Microsoft laptop (as did most 8- to 12-year-old boys in line.) "Maybe," Wubker sighed. "But you gotta stay on the nice list, right? Never argue. Deep down inside of you [he points to chest], that's where you keep all your 'nice.' So when you get mad and want to get in an argument with your brother, stop for a second. Dig down and pull out some of that 'nice' and hand it to him."
He appointed both Ambassadors to Santa Claus before concluding the visit with a group hug of the whole family.
One boy paused. "Santa, what's my name?"
Without missing a beat, Wubker leaned in and whispered, "I have so many names to remember I give everyone nicknames."
"Oh yeah?" the boy replied suspiciously. "What's mine?"
"You're Buddy."
Back at Santa's Village, the day will be long. "I'm going over into their Santa House from one until four," Wubker explains. "At 4 o'clock they're going to have a break. Then at 4:30 or so, they have a parade where everyone wanders down Candy Cane Lane, and Santa and Mrs. Claus light the Christmas tree."
But no matter the time and energy required, his holiday cheer is indefatigable. The joy he brings unstoppable. "I used to have a ministry in assisted living," he says. "People who haven't spoken in months perk right up when I walk in and start singing. That's what I want to carry on — that happiness."