No matter how you cut it, Robbie Tripp will forever be synonymous with the phrase "I love this woman and her curvy body." In July 2017, he went viral for sharing a saccharine photo on Instagram about how much he loved his wife, Sarah, and her curvaceous figure. The photo shows them on the beach, looking into each other's eyes, wrapped in each other's arms. Tripp wears shorts and a cut-off T-shirt, while Sarah wears a one-piece bikini, her thick, tanned legs and polished, red-tinted hair the visual focus of the photo, whether intended to be or not. She is obviously gorgeous, while Tripp himself is almost nondescript. It was the caption, though, that got everyone's attention.
"I love this woman and her curvy body," it read. "As a teenager, I was often teased by my friends for my attraction to girls on the thicker side, ones who were shorter and curvier, girls that the average (basic) bro might refer to as 'chubby' or even 'fat.'"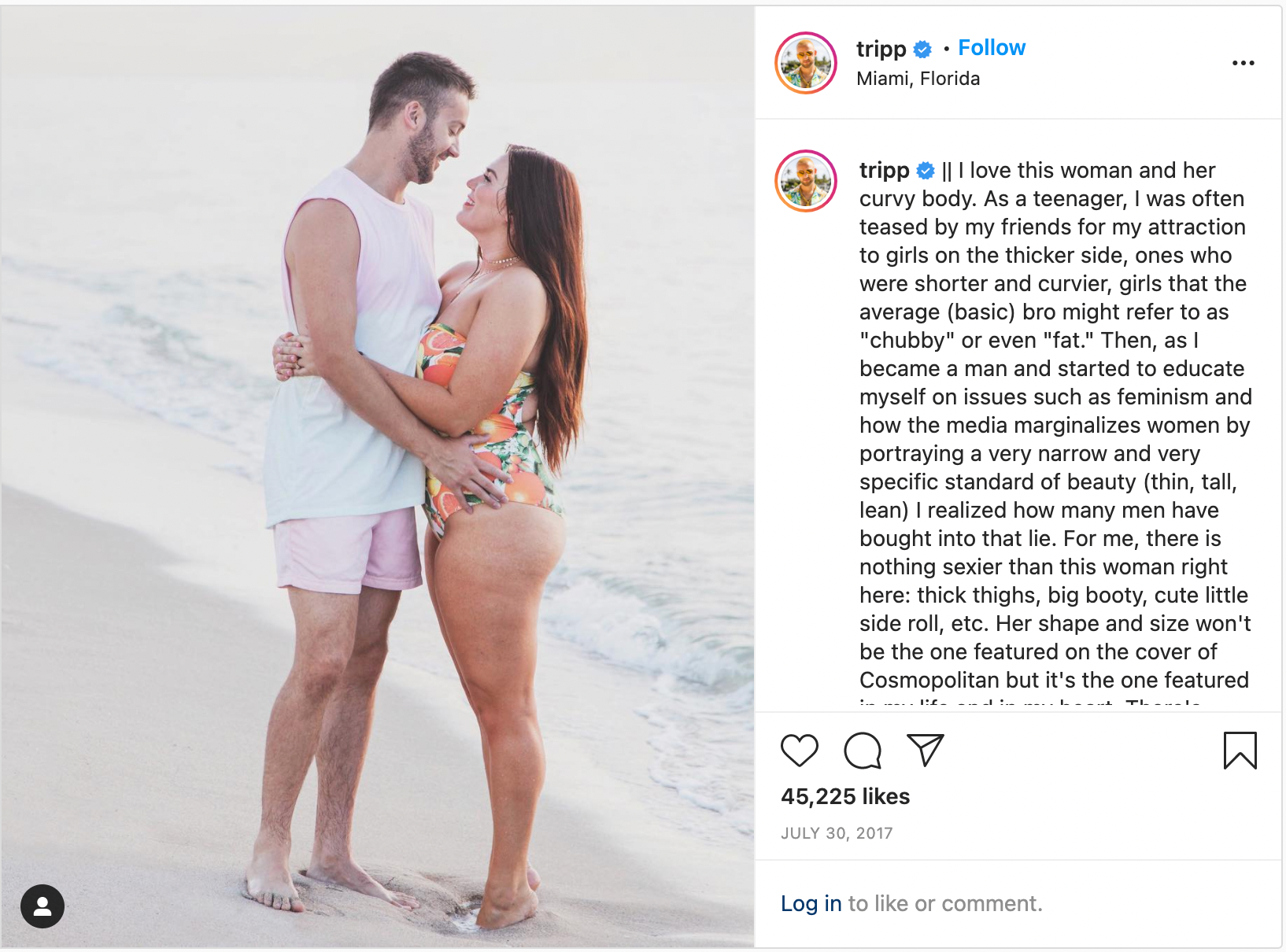 At first, the image was distributed as a sweet demonstration of a man's appreciation for his wife, despite harmful beauty standards, amassing 45,000 likes (well over the usual amount Tripp receives of around 5,000 per photo). Then, it got to Twitter, where the narrative quickly changed to accusing him of profiting off his wife's body and white-knighting himself for loving a woman who isn't thin. Riding on both the praise and the hate, Tripp released a poppy rap song called "Chubby Sexy," a little ditty about his love of larger women. 
Ever since, he's been continuing the "curvy wife guy" narrative on his own, owning the label and making it a core part of both his music and personality. While many sectors of the internet (namely Twitter) have labeled his personal brand as a cringey shtick that seeks to capitalize upon the body-positive movement for fame, Tripp seems to continually find new audiences who find "Chubby Sexy" and his emphatic love for thick women endearing. 
He's particularly big on TikTok, where he currently has a viral video featuring him and a beautiful, tattooed plus-size woman named Shantel (who doesn't appear to have a TikTok of her own). The song is set to "Chubby Sexy," and features Shantel entering the frame in a bikini but wearing a robe-style cover-up before she quickly and confidently tosses it off. Meanwhile, Tripp jumps around her, mouthing the words, "She's 200 pounds, with a soft tummy, she don't give a damn, my girl chubby sexy." 
Currently, the video has more than 900,000 views and 170,000 likes, and the comments are overwhelmingly positive. "So nice to hear a song about me and not the girl I'm constantly told I should be," the top-ranked comment reads. And while a few trolls have used the video as a chance to insult big women, the majority of the comments admire Tripp's sentiment. 
"'Chubby Sexy' has gotten so much love on TikTok," he writes via email. "I just love how there's a whole body-positive category of TikTok that's encouraging to all sizes. Some people tend to forget that this whole viral 'curvy wife guy' thing started because I wrote a heartfelt tribute to my wife about how beautiful she is and how attracted I am to her. So many couples identified with it and blew it up with kindness and heartfelt words about their own significant other."
"If anyone hated my viral post about Sarah, then they're just hating a husband who loves and adores his wife," he continues. "I never understood the 'backlash,' and still don't."
It's also worth mentioning that in addition to this backlash, people on Twitter also unearthed some transphobic and racist tweets from both Tripp and his wife, though they've since stated that the tweets aren't a reflection of their contemporary views. Nevertheless, much of the backlash around Tripp focused primarily upon the "I love this woman and her curvy body" post, and the idea that Tripp isn't worthy of praise simply for loving his wife. 
But while Twitter and the media publications that thrive on it (including this one) were quick to turn Tripp's virality into something embarrassing and toxic, his popularity on TikTok points to something significant: Maybe the rest of the world isn't as cynical as Twitter. Instead, much of the world seems to like the message of "Chubby Sexy." Even on YouTube, comments for the song are predominately from women saying it makes them feel good about themselves, and men who agree with Tripp's preference.
"Pretty much anywhere on the internet is a friendlier place than Twitter," says Tripp. "In my opinion, Twitter is a pseudo-intellectual echo chamber of people trying to get the most retweets so others will think they're smart and witty. So yes, TikTok has been an awesome new platform for my music and my brand of body-positivity."
Tripp is hardly the first person to form a profitable online identity from discourses surrounding women's bodies, nor is he even the first man to do so. Particularly when there are innumerable fitness and diet "experts" out there looking to make a buck off of shame, guilt and restrictive beauty standards, it almost seems innocent for Tripp to seek clout by repeatedly highlighting how much he likes women for who they are. 
In the past on TikTok, creators have taken issue with fellow users who claim to like larger bodies without living up to that claim. For example, if someone states they like thick men or women, a TikToker called @yiddiez_ will often scour their following section to see if they're following the body types they've said they like in a series she calls "Fact or Cap: Plus Size Edition."
But for Tripp, his love is real — after all, he centers nearly all of his content on Sarah (@sassyredlipstick on Instagram). He occasionally incorporates other bigger women in his Instagram, TikTok and music videos, as well, often dancing around them or with them as he does in the viral TikTok. And while Tripp may be a more recognizable figure in some circles, Sarah is actually far more popular than he is. Currently, she has 755,000 followers on Instagram, compared to Tripp's 193,000. Meanwhile, over the last three years, Sarah's following has more than doubled, whereas Tripp's has remained somewhat stagnant, per data on SocialBlade. 
"Sarah has been an early and notable figure in the body-positive community on Instagram for a while now, and she has grown a loyal following of women who look to her for her style tips, body-positive advice and lifestyle inspiration," Tripp explains. "Sassy Red Lipstick [her blog and Instagram handle] has become a successful lifestyle brand, and it's been rewarding to build it up together over the course of our relationship into what it is today."
All the while, Tripp keeps releasing music, including a recent song with RiFF RAFF called "Flamingo Freestyle." "I'm currently talking with major record labels about my music career, and I'm so creatively satisfied with where I'm at," he tells me. "Sarah and I moved back home to Las Vegas and bought a beautiful full-acre compound, and our beautiful baby boy is so happy and healthy. We couldn't ask for anything more. I'm living the dream. I just want to keep pushing and encourage others to chase their dreams, too."
If this legitimately true — if Tripp has managed to develop a genuinely happy life simply by talking about loving thick women — more power to him. The internet is full of grifters looking for fame and money, at least Tripp is doing so without making people think they need to change something about themselves.