Rob Bampton, also known as Robbie Oz, describes his days as "lucky." The 37-year-old's mornings in Queensland, Australia are often spent at his leisure, going to the gym, hitting the sauna, getting a massage and grabbing a fresh juice. In the afternoons, he gets to work managing his $60,000-a-month business, answering messages from customers, promoting his content and scheduling raucous bisexual threesomes that he'll almost certainly film. 
Bampton's appearance speaks to the time he's able to spend on himself. With broad, muscled shoulders, coiffed dirty-blonde hair and a soft kindness to his face, it's no surprise he runs a highly successful OnlyFans account. There, he posts everything from eight-person orgies to fully clothed, PG-13 explanations of how to manage your breathing during sex. For $15.95 a month, subscribers aren't just getting access to porn to jack off to — they're learning how to be better in bed, as well. 
Bampton's OnlyFans, titled "Sexual Mastery," is an extension of the online sex coaching he's been offering, which primarily focuses on helping men improve their performance and stamina. His foray into coaching began in his late 20s, when he grew burnt out by the years of swinging he'd pursued since he was a teenager. "I kind of had a wild sex life when I was young, and it left me feeling numb by my mid-to-late 20s," he tells me. But rather than abandon sex entirely, he began to explore the boundaries of what sex could offer. He started learning about tantric sex, which applies elements of breathwork, massage and slow, deliberate movements in pursuit of a deeper connection with oneself and one's partners. In doing so, he felt reconnected to his own sexuality beyond just the physical pleasure of penetrative sex. He learned, for example, how to have an orgasm without ejaculating at all.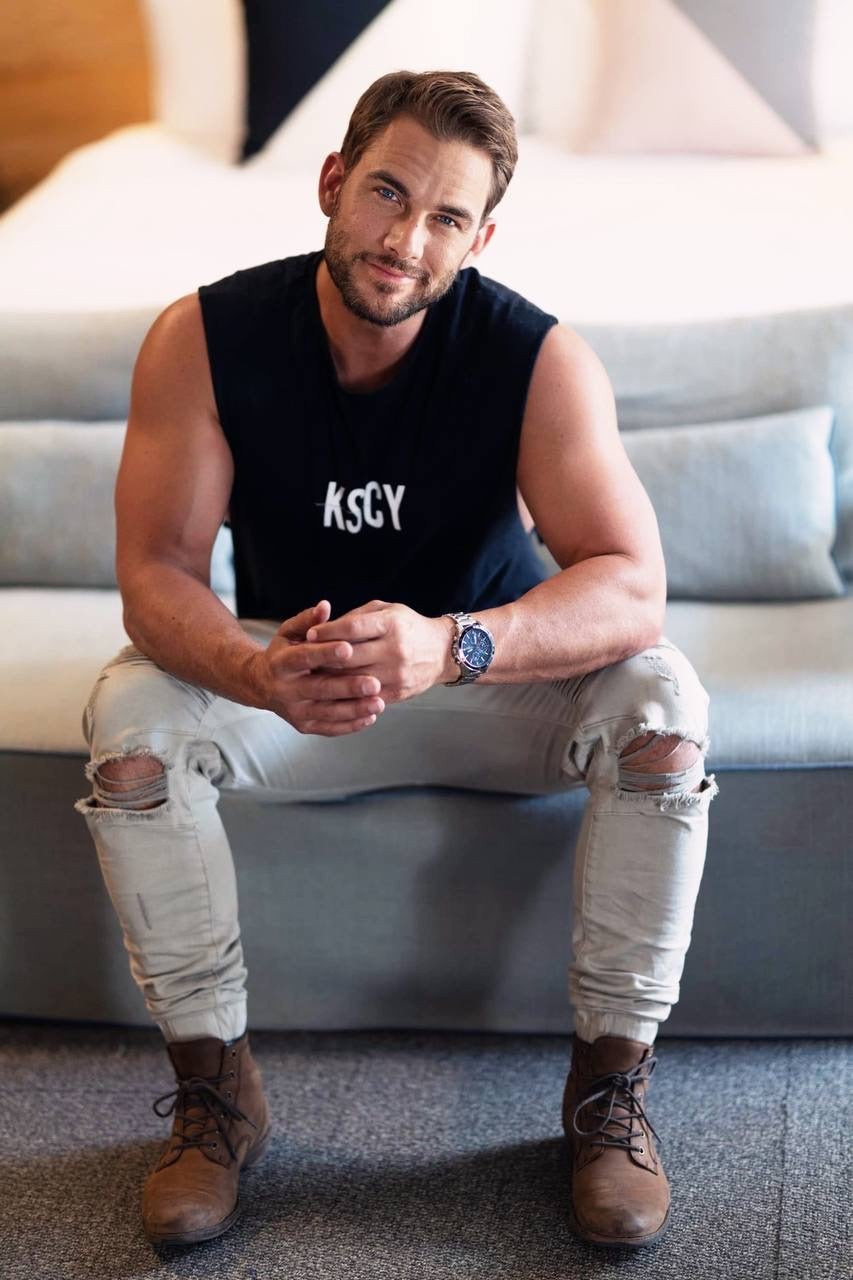 Combining his years of experience as a swinger, newfound interest in tantra and day job as a photographer/videographer, Bampton realized he had a wealth of information about sex that he could share with others, and the skills needed to do it. And so, he turned to YouTube. There, he posted videos like "Top Ten Sex Positions," "How to Give a Pussy Massage" and "What Is Tantric Sex," some of which amassed over 30 million views. Only, unlike much sex advice videos that were popular at the time — many of which had an unsavory, pick-up-artist feel — Bampton's videos felt approachable and uncreepy. Rather than billing himself as some kind of sex god who held the key to impressing women, his content focuses on genuinely enhancing the experience for both parties. 
At first, he produced these coaching videos with female dummies, and had some success doing so. But then, in 2018, YouTube started to cut down on sex-oriented content, even when it contained no nudity and was strictly educational. His channel and its contents were removed, but he was able to leverage some of it when he pivoted to OnlyFans in February 2019. There, he could also ditch the dummies and demonstrate things like sex positions and squirting techniques on real people, primarily fellow adult content creators and sex educators who made content of their own. 
In the beginning, he pulled in around $4,000 AUD per month sharing remakes of the videos he'd made for YouTube or for his online "Better in Bed Course." Initially, he didn't take it too seriously, primarily using it as a place to direct former viewers who were still interested in his content. But about four months into running the account, he began collaborating with other performers and promoting some of his work on Pornhub. He now makes around $60,000 AUD per month on OnlyFans and has over 22,000 followers. (In light of the recent disruptions at OnlyFans, he's also begun pursuing their competitor, Fansly, as well.) 
"I'm doing more of what I want to do now," he tells me. "I'm making content as a tool for both entertainment and education. Fake sex isn't going to help viewers with their own sex life. I've always tried to keep it real, to add some education in there and talk about things before we do them."
Many of his educational videos are available on Pornhub for free, hinting at what he offers on OnlyFans. Pornhub commenters often express their gratitude for them, too. "Not the hero we deserved, but the hero we needed," wrote one on a video called "Top 10 Tips How to Master Fingering," which has 4.5 million views. The video looks much like a high-quality tutorial one might find on YouTube, beginning with a clothed Bampton speaking before the camera saying, "Hey everybody, Rob Bampton here," just as he might have on the safe-for-work platform. Quickly, though, the video becomes more explicit, featuring the spread legs of an actual woman as Bampton explains various techniques, intermixed with anatomical diagrams to help better demonstrate the physiological dynamics of fingering. 
But while the focus is on the various types of finger movements one can use to stimulate the clitoris, vulva and vagina, Bampton places a priority upon addressing the mental state of the person being fingered. It's a point that doesn't go unnoticed — "I appreciate the emphasis on communication and patience. Nothing makes a woman more stressed out than feeling like she's not feeling things 'correctly,'" a top comment reads. 
This sort of edutainment isn't new to porn — some adult stars like Nina Hartley and Jessica Drake have released popular and acclaimed hybrid education-entertainment videos, but content like this is rare from men. A few male pornstars such as Johnny Sins have made how-to style videos, but they're typically a small part of their overall brand. For Bampton, on the other hand, education is always the underlying component. In fact, his audience often comes to him in hopes of solving specific problems, like lasting longer in bed, mastering a specific technique or pursuing sex with multiple people at once. 
That said, much of his content is guided primarily by what he himself enjoys. For example, he's done plenty of content on squirting. "That's a personal kink to me, I just love being able to help women with that relief," he says. "I've been paid to do it in a tantric world where it feels like it's not an exchange, it's an actual release where they can fully let go and scream, yell, whatever they want."
On his OnlyFans, an instructional video on how to make a woman squirt is one of the more popular videos. It's partly why his audience is predominantly straight men and couples (though he doesn't have data on the specific demographics of his subscribers) — even in videos like "Top Ten Sex Positions," re-made for his OnlyFans featuring an actual living woman, he addresses the viewer assuming they'll be the one with the penis. While subscribing to a male pornstar doesn't initially seem like something a "straight" guy would do, the wealth of knowledge he shares and the extensive list of women he showcases on his OnlyFans make it a logical purchase. 
His content is becoming increasingly bicurious, though. Periodically, he indulges in mutual masturbation videos among fellow male performers, but he's found that his audience is particularly interested in male-male-female threesomes, something Bampton isn't shy about, either. "I'm happy to be intimate with men, and I think that's kind of a deep down desire that most people are into, especially when it's real and the female is fully loving it and we're pretty much worshipping her," he explains. "That sort of video always does well for me."
Regardless of the specifics of the content, a major takeaway Bampton hopes to impart on his viewers is the value of having in-depth conversations about sex with one's partners before the act. For his part, whenever he performs with someone, he makes sure he thoroughly explores their desires and boundaries, what they enjoy about sex and whether there's anything in particular they'd like to try. "It's like you're getting a perfect cheat sheet before you have sex with someone, and it's important to encourage men to have that conversation with someone before they have sex with them," he continues. "It's something that needs to be done regularly with a partner because it obviously changes as you go."
Even if his average viewer may not explore orgies or have an interest in tantra, it's this element of communication that Bampton believes can be most revelatory in improving people's sex lives. "Have that conversation before you jump into it," he says. "Then, all of a sudden, you're giving them what they want, and you're getting what you want because you haven't been afraid to ask her for what your true desire is." 
The hope, of course, is that in a video that looks much like any other porno, the viewer takes in some of Bampton's approach to sex, whether that be his way of asking questions to the person he's fucking or his slow approach to foreplay. Maybe when they're done jacking off, they'll stick around to learn how to give an erotic massage, too. 
Show a man a foursome clip, and you make him cum for a day. Teach a man how to make a woman squirt, and you help them both cum for a lifetime.