After wearing sweatpants every day for nine months and Uber Eats-ing my way through quarantine, I found the thought of buttoning a pair of khakis to attend Thanksgiving dinner in my aunt and uncle's backyard daunting. Fortuitously, wedged among male insecurity ads for thinning hair and erectile dysfunction remedies I'd been receiving since turning 40, I noticed an ad I imagined was sent by the evil Facebook algorithm panel depicted in The Social Dilemma who, recognizing my doughy, middle-aged fragility, opted for a different tack: Let's remind this ever-huskier boy that girdles aren't just for women anymore.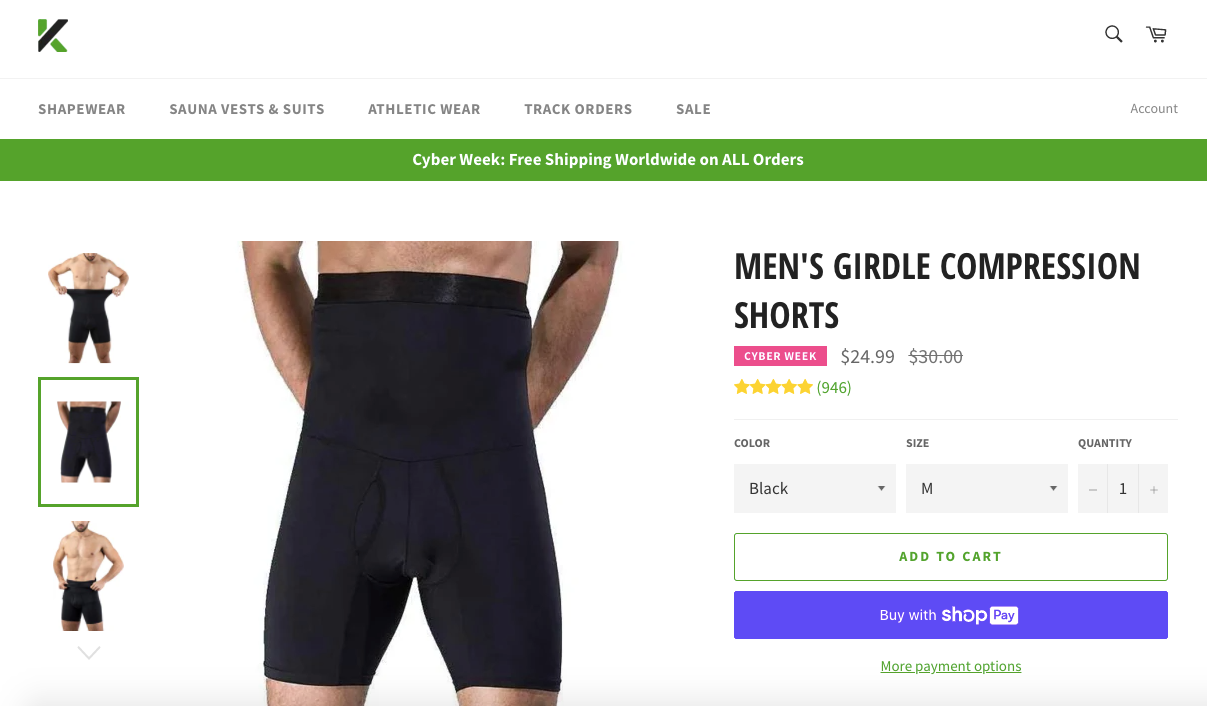 The item presented to me is sold by the Wisconsin-based e-commerce brand Kewlioo, known primarily for weight-loss fad products like sauna suits and EMS abs stimulators to "help you get the body of your dreams without lifting a finger," featuring comically shredded Adonises modeling products that surely aren't meant for them. And yet, buried deep within my irrational subconscious was a glimmer of misguided hope: maybe girdles create abs through compression? Kewlioo insisted they would "instantly" make me look slimmer, younger, more toned and drop at least one waist size. That's all well and good (and likely too good to be true), but I was just hoping to rescue the button on my pants, and $24.99 with free shipping seemed like a fair price to give it a shot.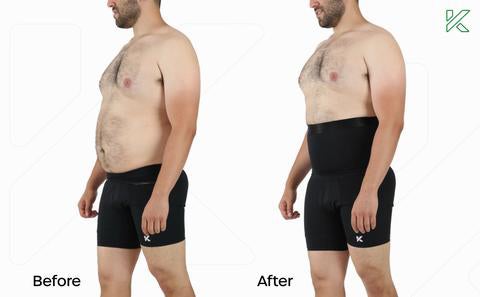 Women, of course, have been constricting themselves for eternity, lacing their bodies so tightly at the turn of the 20th century that it caused miscarriages and occasional fatal suffocation. Unbeknown to me, though, men's shapewear isn't a new concept either. Clothing was custom-made in the early 19th century, says fashion historian Kimberly Chrisman-Campbell, explaining how men's attire was padded and cinched to achieve the ideal hourglass figure at the time. Cavalry officers were known to soak in a bathtub with buckskin breeches and then allow them to dry on their body so they'd shrink to be skin-tight. And men's shapewear continued through the first half of the 20th century, Chrisman-Campbell adds, pointing to support hose, tight T-shirts and bicycle shorts.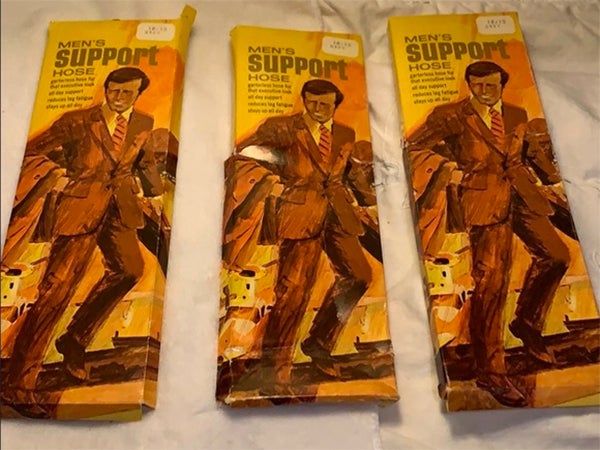 All of which is to say, my Thanksgiving man-girdle wasn't a revolutionary concept. When it arrived in the mail, I unwrapped the discrete packaging with anticipation but was instantly underwhelmed. For starters, the name of the brand — Kewlioo! — sounds like a comment ripped from my sister-in-law's DIY mommy blog. As for the product itself, I was expecting state-of-the-art men's shapewear to kick a little more ass — something on the sports science vanguard — but instead I plunged myself into a glorified pair of biking shorts' flapping mouth. After several moments of flailing, groaning and low-key crying, I was in. Actually, no, not quite: I hoisted the garment from its base, way up into my crotch, and pulled the waistband up as far as it would go, just beneath my nipples.
Now we were getting somewhere. All at once, eyeing the newly svelte(ish) figure in the mirror with barely noticeable love handles, I got it. The khakis I'd been fretting about wearing were able to button with room to spare. Sure, I couldn't take a satisfying breath, but relegating myself to small sips of oxygen for the rest of the day felt like a fair trade for reaching an entirely new notch on my belt.
The latest round of male shapewear hype began at the end of 2008, explains Tug Samarreta (aka "The Undershirt Guy," the self-proclaimed "world's undershirt expert"), after John Waters, a Times of London reporter, described a high-tech men's slimming garment — the Equmen Core Precision Undershirt — as the "new SPANX for Men."
After Equmen's launch and the worldwide press it garnered, a surge in men's shapewear occurred between 2009 and 2012, including the 2010 releases of actual SPANX for Men and a Compression Shaper Vest from Leo, the male offshoot of Colombian lingerie brand Leonisa. CoreWear likewise cinched itself into the guy-dle heyday of the 2010s, as did InstaSlim, Equilibrium, CYSM, Ardyss and Harbor Bay (specifically for big and tall guys).
But long before any of them, in 1997, Underworks — "the grand pooh-bah of men's compression clothing," per Samarreta — entered the game. Nash Abi, Underworks' founder and president, wondered, "Why is it that women can wear girdles but men can't? This question led him to create Underworks' first men's shapewear product, the Zip-n-Trim Support Boxer Brief, which he marketed to men who hoped to corral wayward, jiggly body parts. "The first order came from San Diego, and then the second from Australia," Abi says. "I knew we were onto something."
Hundreds of Zip-n-Trims were sold in the first year, leading to 20 new product designs. "The internet changed everything. I created some of these garments for the male breast, and I'd get people in transition calling me to say, 'What you're doing is making them look more masculine, and that's what I want,'" Abi tells me. Before long, Underworks became the go-to brand for trans men nationwide.
All the while, Abi consulted with his cis male customers to learn why they were buying shapewear in the first place. A common grievance was gynecomastia, an overgrowth of breast gland tissue in men caused by an imbalance of estrogen and testosterone. "In the old days, men like Walter Matthau didn't really care when they had enlarged breasts," he explains. "Today, you can't have that because it's taboo." Attempting to avoid unflattering photos on social media, men have lined up for breast reduction surgery in recent years, and Underworks provides what they'll need to wear after the procedure to patients and medical clinics.
But Abi also hears from men who can't spring for the $8,000 surgery and plead with him for help, referencing relentless harassment and ostracization at work or school. He points them to 60 different Underworks items — compression shirts, bodysuits, swimwear, etc. — that are designed to hide gynecomastia without surgery. "There's a real need for these products, because there's real mental pain," he explains.
Presumably, some of the men Abi counsels are also members of the Big Men Fashion Advice subreddit, which is moderated by Andrew, a 34-year-old in L.A. who works in media. At 6-foot-2, 280 pounds, Andrew says he's always been a bigger dude, even as a kid, and insecure about being what he calls "top heavy." "High school students are very keen to point that out, so that sucked," he says with a sigh. Shapewear is entirely about confidence for Andrew, who says he's slightly less comfortable while wearing it but greatly more at ease: "This pretty simple garment helps the mental health of guys like me. It's another arrow in our quiver for figuring out ways to look presentable. Seeing myself in the mirror wearing a nicer button-down shirt definitely gave me more confidence when I went on a recent job interview."
Stephen Viscusi, a career coach in New York City, thinks that all men over 40 should wear shapewear to job interviews. "Candidates are always concerned about their image, whether it be the whiteness of their teeth, not being able to close a jacket or not looking good in a T-shirt," he tells me. To that end, shapewear is an "immediate fix"; when people feel more confident, they interview more confidently — simple as that.
But increased fortitude needn't be relegated to the workplace, he adds: "If you can buy underwear with an enlarged package and bubble butt ass to go on a date, why not?"
Because, I suggest, you'll presumably need to take them off in front of a disappointed lover?
Nonsense, Viscusi counters. If you win someone over on the dinner or over drinks, and take off the shapewear in the bedroom to reveal more of a paunch than they recognized, chances are you're not gonna be kicked out of bed. "It's called faking it until you make it," he says.
Such was the argument of Jonathan Diersing, founder and CEO of Rounderbum, an underwear brand designed to enhance physique, when he pitched the concept on Shark Tank in early 2018. While Mark Cuban passed (he goes commando, of course), Kevin O'Leary went all in with $150,000 for 5 percent equity. Rounderbum's Amazon sales increased by nearly 1,000 percent after the episode ran, and today, the brand has a thriving brick-and-mortar store in West Hollywood, which suggests padded packages are filling a void for men (so to speak).
Andrew says guys on the Big Men Fashion Advice subreddit typically wear shapewear for one of three reasons: 1) They have gynecomastia; 2) they're looking to hide their gut; or 3) they're trans.
Skyler Jay, a 33-year-old trans man in Athens, was featured in Season One of Queer Eye and says Underworks was his brand of choice when he started transitioning in 2009, as it was the only binder being shipped to homes at the time. Now a co-founder and board member of Aadya Rising, a nonprofit that provides life-altering support services to the LGBTQ+ community, Jay is proud to partner with GC2B, a trans-owned transitional apparel brand, to give away binders to trans-masculine individuals free of charge. Underworks served its purpose, he says, but he now directs people to trans-made companies like GC2B and FLAVNT.
For trans people, Jay says shapewear goes beyond feeling slightly more comfortable in your body. "When you put a binder on and can see yourself as you've always wanted to be seen, it's life-changing," he tells me. "It can also be a matter of security, since I've been in situations where my safety has been compromised because someone could tell I was transgender and got violent with me. The more I stepped into my manhood, the less those parts of my body seemed to fit. Without binders and shapewear, I can't imagine how much worse my mental health would have been."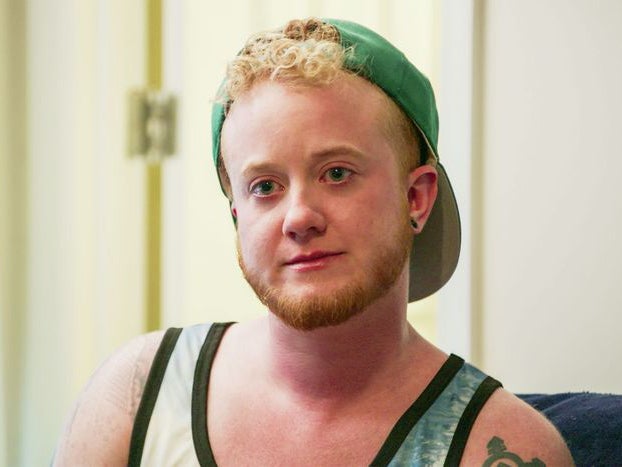 My own mental health was definitely on more confident footing when, midway through Thanksgiving dinner, I came clean that I was wearing a girdle, demonstrating how easy it was to button my jacket. "I was gonna say something when you walked in!" my uncle remarked in return, noting my uncharacteristically slender physique. But as the hours drifted by and the portions of mashed potatoes and yams disappeared from my plate and into my gut, the girdle became… less kewlioo.
Not to mention, once seated at the table, I noticed that the upward compression of my core had put my bountiful rack of man boobs on full display. Basically, I'd unknowingly employed a strategy long used by drag queens to create the illusion of female breasts. John Turpin, who performs drag as Lori Divine and a 55-year-old real estate paralegal in Georgia, says a core compression garment with a sports bra does the trick for him, pushing everything up and out. "Most people think I'm trans when they meet me in drag," he proudly explains. He suggests I not wear such a tight waist shaper, or alternatively, incorporate an additional compression tank to flatten my pecs so they don't wiggle. Abi from Underworks commiserates, and sends me a free compression bodysuit with convenient flaps in appropriate places for bodily evacuation. "We've had this on Amazon for 15 years, and it's got four and a half stars!" he says proudly.
And yes, it also goes a long way to slenderize me, but after two hours of wearing it while hunting for an illicit speakeasy in Hollywood that's apparently flaunting L.A.'s stay-at-home order, the legs ride up and the shoulder straps dig into my skin like spandex scalpels. The pain is such that I feel a bit faint and resolve to myself right then and there to get back in the gym to lose weight the old-fashioned way — by working out and dieting.
Yet, my months-long journey into the world of men's shapewear has elicited two important revelations: First, it's time that men finally empathize with the lengths to which women have gone for hundreds of years attempting to reach society's unattainable body goals. Second, these products have real value for many men, be they in transition, wishing to overcome a lifelong battle with gynecomastia or simply hoping to crush a job interview. I'm thrilled Abi and others are at their service. But for guys like me, whose deficits stem more from dilatoriness than dysphoria, the only part of the body that needs reshaping is our big, fat heads.