Clive Barker's 1987 horror classic Hellraiser is many things. It's an exercise in puzzle-solving, a cautionary tale about what happens when you name a character Butterball, and most of all, a tragic saga about a man who lacks sexual imagination — a man who might've benefited from, say, an intricate and bafflingly designed masturbation glove. The FistIt Silicone Glove, to be exact. 
But how does this apparatus work, and who in the fresh hell invented it? More importantly, who's using it — and why? To find out, I dove into the annals of Shots America, a California-based sex toy wholesaler, and went ahead and answered all your burning questions before you even asked. 
What, pray tell, is a "masturbation glove"?
To answer this question, we'll need to briefly return to Hellraiser. In the movie, a pathologically horned-up man named Frank tracks down a puzzle box that's rumored to open a portal to a realm of new carnal thrills. Instead, the box summons a quartet of sex demons bent on subjecting Frank to the extremes of sadomasochism — and, eventually, an excruciating death.
Are you still with me? To understand the true nature of the masturbation glove, we must gaze upon the leader of the demonic foursome: Pinhead, so named because his head is, um, covered in pins. The original FistIt Silicone Glove looks a lot like Pinhead, except it's made of sexy, sexy silicone. No pins — just butt 'n' beav-friendly silicone ridges.
Not clear enough? 
Fine: A masturbation glove is a weird, textured baseball mitt intended to "improve" the sensation of finger-fucking, hand-jobs or, I guess, high-fives. 
Uh, okay. How does this thing work?
The original model, which came out a few seasons ago, is pretty straightforward. You wear it on your right or left hand, and it sports a dotted texture on all four fingers. (Think… corncobs. Four little sexual corncobs.) The rest of the glove features what the website calls "a sensuous ribbed design for some sensuous play," which I imagine might involve everything from digital stimulation to fisting to running your hands over a partner. Most notably, the glove has a large hole between the thumb and the index finger that is, coincidentally, the perfect size for a partner's mouth and/or the head of a penis. Ah, what fun we'll have! The original model is available on Amazon, but out of stock at the Shots America warehouse.
Tell me about the new model.
What do you give the person who has everything? If you're looking to add the newest and hottest masturbation glove to your personal collection, Shots America just dropped a new and improved glove that hasn't even hit store shelves yet. Now, this baby's got a few more bells and whistles. According to the Shots America website, the new glove gives the wearer "the upper hand in the bedroom" with a different texture on each finger, making it easy to find the ideal sensation for your vagina, dick and/or ass. Take, for example, the vagina and prostate-friendly rounded top on the thumb, or the index finger's three bulges that look vaguely inspired by anal beads. Throw in six ribbed "stimulation rings" on the glove's palm, and you've got an exquisite evening in the making. Just don't forget the lube. Lord, please don't forget the lube.
Who… are these gloves for?
Everyone and no one, per Nick, a member of the Shots America team. (He asked that I leave his last name and title out of this article.) "This particular product isn't marketed to any particular community," Nick writes via email. "It's made for anal or vaginal pleasure. Whatever floats your boat. But the FistIt line in general trends better with gay men from what we can tell." It makes sense given the package's decidedly brawny packaging. Plus, the ultra-textured gloves do seem pretty prostate-friendly. (Full disclosure: I don't have a prostate). 
To find out what the community is saying, I trawled Amazon reviews. That was easier said than done since an Amazon search for "Fist It Silicone Glove" directs the user to a series of tasteful barbecue gloves. Eventually, I found a whopping total of five reviews for the original glove design, with two users reporting that the glove ripped almost immediately and one user reporting that it "tasted weird."
Who hath wrought this foul thing?
Although Amazon has several other masturbation glove options (this one looks like a porcupine!), the FistIt line is the brainchild of sexperts at Shots America, the U.S. division of a global adult toy manufacturer and wholesaler. Nick, my source at the Shots California office, explains that there wasn't necessarily a hole in the market — customers, particularly penis owners, just like new and innovative masturbation tools. Nick also reports that this specific product was developed at the brand's Netherlands office. Unfortunately, I wasn't able to reach anyone at the Netherlands office to get a real sense of the inspiration behind these strange, strange gloves.
You said there more of them? 
Yes. FistIt isn't the only masturbation glove — it's but one in a sea. There's also the Happy New Male by the brand ThisIsSexy — which I think is a cross between a porcupine and a medieval weapon — and Jerky the Wank Glove, which "looks like an alien hand" and is a "horny finger wonder." The Oxballs FingerFuck is a particularly highly-rated one, as it's durable, and, as one reviewer put it, "nice."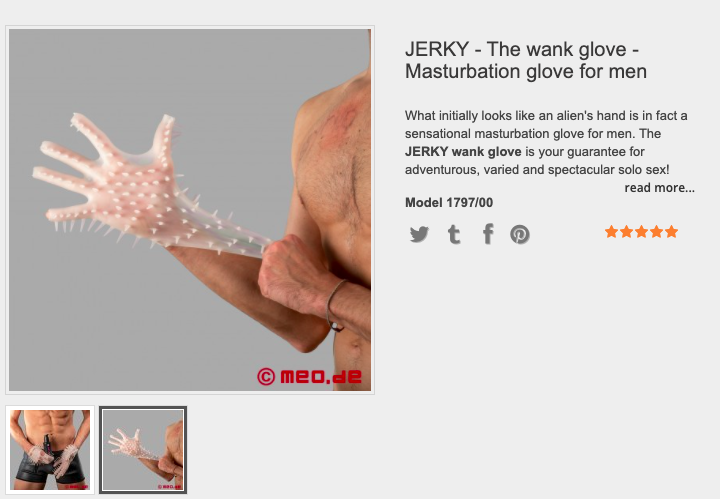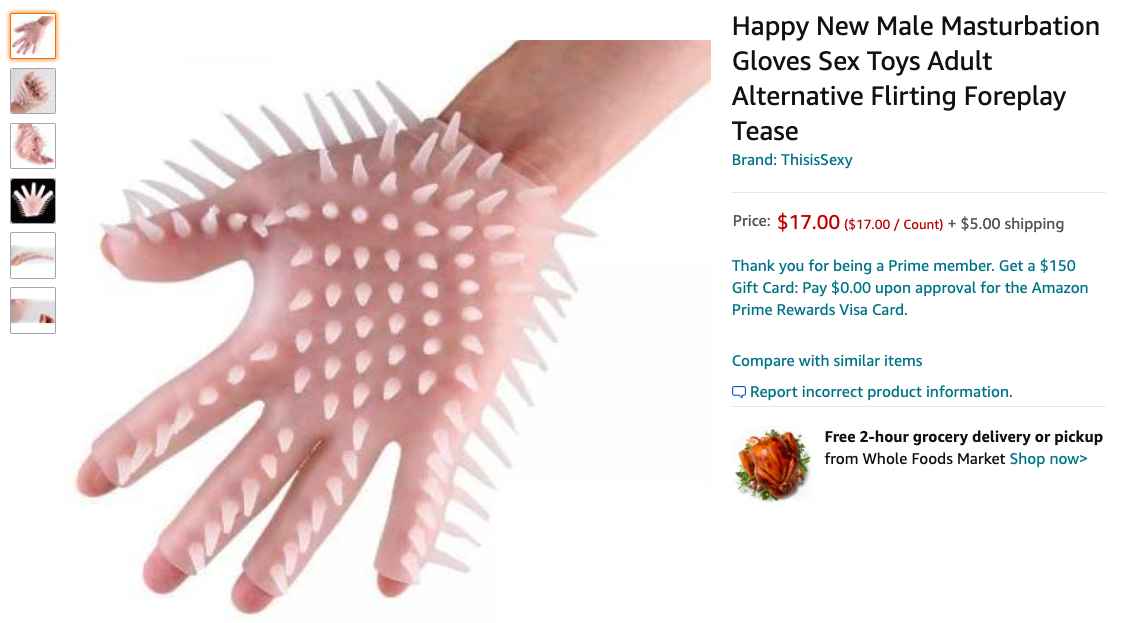 Where can I buy these strange gloves?
Like I mentioned above, the original FistIt Silicone Glove is available on Amazon. So are the others. 
Wait, sorry — you can buy sex stuff on Amazon?
Oh, yeah. You can get all kinds of stuff. You can get this butt plug that looks like a horn of plenty. You can get this disembodied ass featuring "plump butt and sexy curves." According to Nick, it's a pretty straightforward market for sex toy retailers. Of course, Amazon has some restrictions — for example, something like a penis pump would need to be classified under "sexual wellness," which, lol. It's also important to note that sites like Shots America don't usually sell directly to Amazon; instead, they sell to distributors who sell to stores, and some of those accounts put the products on Amazon.
I don't want to buy sex stuff from Amazon.
Yeah, me neither. Shots America is a wholesaler, so you won't be able to order the glove directly from their website. You can, however, find some of their products at major retailers like Walmart, the Home Shopping Network and sites like Groupon. If, like me, you'd rather not support a corrupt corporation in your quest for a blistering orgasm, your best bet is to head to your local sex shop to pick up the glove. 
Last question: How does Hellraiser end?
Not with a silicone fisting sesh, I'll tell you that much.