Funny to think that even as "Eat the Rich" becomes the populist slogan of the hour, there are a few elites we don't begrudge a life of luxury. Absent the conspicuous consumption of, say, a flamboyant rapper, we'd miss feeling envy or awe at their clothes, cars and mansions. By very much the same token, it seems we've decided that convicted felon Martha Stewart is entitled to the hundreds of millions of dollars she's made as the founder of a vast media empire, as long as she continues to invite us into her flawlessly appointed home to show us how to glaze brioche.
Stewart went to prison for some financial shenanigans that, although overshadowed by the systemic greed that later triggered the 2007-2008 collapse, shed light on the manner in which preexisting wealth and status make for unfair advantage when furthering and protecting one's fortune. Her obstruction of justice and false statements to federal authorities were to deflect from an insider trading conspiracy that allowed her to avoid a loss of about $45,000 — her Merrill Lynch broker had warned that in light of non-public information, shares of the biopharma company ImClone were about to take a hit. She, along with CEO Samuel D. Waksal and his family, dumped her stake before the price fell. But while Waksal pleaded guilty to his charges and was sentenced to seven years and three months in prison, Stewart faced the indignity of a heavily publicized six-week jury trial that still resulted in guilty verdicts across the board. And, as her culinary TV collaborator Snoop Dogg loves to point out, she never snitched on anyone.
That Stewart "stood tall," refusing to cooperate or confess with the aim of decreasing her time behind bars or receive only probation, became a common talking point in the hip-hop scene as 23-year-old rapper Tekashi 6ix9ine (real name Daniel Hernandez) testified in federal court about various gangworld figures, hoping to reduce his own sentence on nine federal racketeering and weapons charges to which he has pleaded guilty. The Twitter jokes to this effect — that Stewart is the "realer" of the two — ignore that Hernandez faces 47 years to life in prison, whereas Martha went away for just five months. But the fact is, her street cred was well-established without this direct comparison.
Perhaps it has to do with the coy, WASP-y air of ownership she has over the crime, refusing to admit wrongdoing but indulging in little asides about it. In total, this gives the impression of a woman who simply played by the unspoken rules of a crooked society and sees no need to apologize for cutting those corners. Even prior to her arrest, she channeled a deadpan, homespun swagger, at one point saying to the interviewer who grilled her about ImClone in the kitchen of a morning talk show in 2002, "I want to focus on my salad."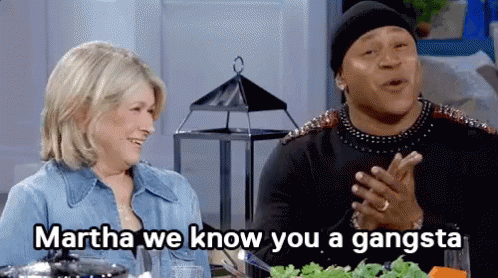 Her incarcerated life, too, is the stuff of legend. Snoop recounts that, when told to wear newspapers under her uniform to shield against stabbing, she opted for magazines, noting their added thickness. And if the softness of a prison hobby paradoxically suggests a more dangerous inmate, imagine how intimidating she was whipping up jam from crab apples and creating a giant nativity scene that led to her teaching ceramics to fellow convicts. After her release, she casually mentioned looking up instructions for removing the electronic ankle monitor she wore during house arrest — a period extended three extra weeks because she violated terms of confinement "by going to a yoga class and motoring around her estate in an off-road vehicle."
In a 2015 roast of Justin Bieber, Stewart doled out burns with the dry authority of the woman known as "M. Diddy" while incarcerated, and had this tattoo advice for if and when the pop singer got locked up himself: "You have an owl on your arm and the word 'patience' on your neck. I would suggest the words 'White power' so you don't look like some 14-year-old girl's Trapper Keeper." Not once has she sounded like a woman who fought the law and lost.
Stewart's late-career popularity owes much to her absorbing the no-fucks-given and can't-be-fucked-with cool of music about running drugs or being a pimp. Her whiteness and domesticity were so extreme as to represent the perfect inverse of that bravado-heavy culture, and to legitimize her rarefied corporate felonies — normally considered a scourge and insult to the poorer classes — as the behavior of an OG outlaw, justified in that she saw an opportunity, and like any hustler, seized it. Self-made from the start, she did her time and came out on the other side as strong as ever, lending additional power to her myth of conquest that the average business executive will always lack. In a sense, nothing could have been better for her wholesome brand than the revelation of a Machiavellian mind behind the floral arrangements. 
Now, whatever she does is charged with a frisson of cutthroat hazard. Like with an old-school mafioso, it's her very gentleness that portends a threat. Most millionaires leave their misdeeds to the imagination, but we already know who Martha is — and, of course, she knows we know. 
And I know I wouldn't dare to cross her.