Longtime readers may recall that I have an affinity (if not quite a fetish) for women's feet. Maybe it's the contrast with my own Sasquatch-like clompers, but I think they're cute, okay? So sue me!
Sorry, no, I shouldn't get defensive. I'm aware of the freak status that comes with being a foot dude, even in a world that has normalized just about every kink. The fixation strikes other people as bizzarre, unhygienic and obsessive: wikiFeet, where aficionados of the scene have exhaustively cataloged and rated images of celebrity women's feet, is an eternal punchline across the internet. As for representation in pop culture, we're stuck with the films of Quentin Tarantino, the director often letting his camera linger hungrily on actresses' bare toes. Adding to everything else, the astrology community has mocked Pisces men as the most likely to develop a foot thing, and guess what my sign is? Goddamn, it's crazy how that stuff is totally accurate.
Enough. I need someone who isn't Tarantino or Justin Bieber to legitimize our movement. Maybe a handsome actor, but the soft-spoken, down-to-earth kind. He rides public transit like anyone else. He's… a Sagittarius. And, of course, he appreciates an elegant pair of shoes.
Yeah, we're claiming Mark Ruffalo.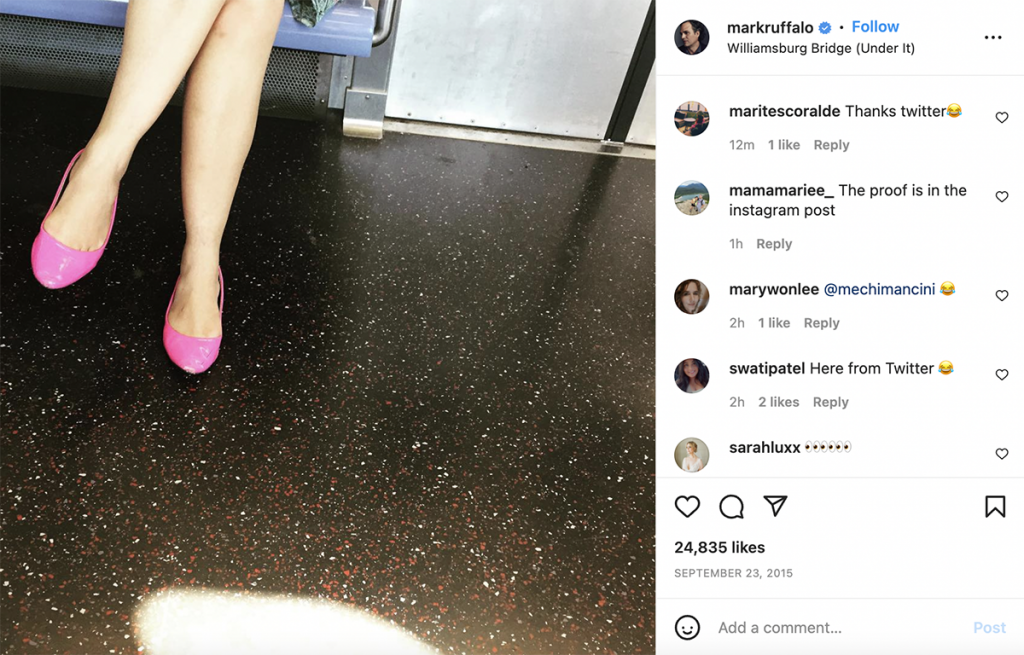 Back in 2015, Ruffalo snapped this candid foot photo of a fellow passenger on New York's JMZ subway line, and it doesn't seem to have caused a stir at the time. This week, however, filmmaker Isabel Sandoval identified the feet as hers in a tweet replying to a prompt about weird celebrity encounters. She had noticed Ruffalo taking the picture, she wrote, while she was taking a picture of him, and later found he had uploaded his own shot to Instagram, where he often shares images from the trains and stations he frequents. Her post went supernova.
At first, Ruffalo's behavior here may seem to reflect poorly on feet guys. Is it crossing a line if a famous man with millions of followers publicly documents his admiration for a stranger's ankles? But Sandoval wasn't bothered by it — "frankly? I don't blame him," she tweeted — and the fact that they were mutually photographing each other seems to dispel any air of creepiness. Now the comments on the Instagram post are full of people laughing it up, and I think foot guys need to take this as a win. Ruffalo has broken through the stigma. He did it for all of us. We're free.
In a private message, Sandoval tells me she "didn't expect that tweet to catch on," but thinks it's an opportunity for everyone to be honest about their foot lust. "Feet guys (or gals or they/thems), don't be shy, and come out of the (shoe) closet!" she writes.
I couldn't agree more. We've got Ruffalo — the Hulk himself — on our side. The winds are changing at long last.
Soon everyone will be too busy shaming some other dumb kink to taunt me for being a Pisces man who notices when a woman has had a pedicure and a coat of nail polish applied. But, to be on the safe side, I think Ruffalo should confirm what we know already: That Sandoval's shiny pink flats aroused a certain feeling in him, and that he loves pretty feet in general.
Let's hear it, Mark. You've nothing to fear but becoming a real superhero to those in need. We'll be waiting.