Lena the Plug entered her third trimester as many pregnant people do — tired, bloated and gleefully hopping aboard a Sybian to enjoy a rip-roaring orgasm while dressed as a Powerpuff Girl. Last year, she shared a video of the stunt on Twitter; a day later, she posted a clip of her bouncing pregnancy boobs. "Squirted some milk out of my titties today," the caption reads. A few months after that, she gave birth to a baby girl, further cementing her status as a certified MILF queen.
Lena is a porn pro. (A former co-worker gave her the nickname "Lena the Plug" long before her entry into the adult world in 2016, referencing her well-connected status as a "plug" who has "everything you need.") The petite brunette currently rakes in around seven figures a year thanks to her millions of followers across YouTube, OnlyFans and social media. Like many adult content creators, she saw a spike in her income during the height of the pandemic as fans were forced to jack it in isolation. Only unlike them, Lena's big payday seemed to coincide more with her pregnancy than the pandemic, as she continued to shoot semi-acrobatic content until late in her third trimester.
This very public experience with pregnant sex asks an otherwise private question: What does it mean to be a pregnant person in porn?
First, some background. Lena quickly rose to the top 0.01 percent of OnlyFans creators after joining the platform in 2019. Since then, she's collaborated with an impressive list of performers including Trisha Paytas and Riley Reid, and she also frequently shoots with her longtime partner, Adam Grandmaison. So when she got pregnant in early 2020, she knew she wasn't interested in giving up her booming business. "I decided I wasn't going to stop doing my job because I was pregnant; at least, I wasn't going to stop working until I physically had to," she tells me. "I've always believed women could be sexual and pregnant." This is decidedly uncommon in the porn industry — as VICE reports, most porn performers drop out of the industry, at least temporarily, when they get pregnant.
As a fellow performer, Grandmaison supported her decision, and Lena says it "wasn't a big-deal conversation." Unfortunately, her fan base wasn't quite as accommodating. "The Instagram photo where I announced I was pregnant was one of my most-liked photographs," she says. "People were so happy for me. But when I started to get paid for shooting porn while I looked visibly pregnant, it became a discussion of right versus wrong. [People] don't like seeing you be sexy and pregnant."
Some of her followers even expressed outdated (and medically unfounded) concerns about the baby's health, worrying that some of her more boisterous sex acts could harm her fetus. "So many people believe that having sex when you're pregnant is dangerous," Lena says, laughing as she points out that her midwives actually recommended vaginal penetration as a way of spurring labor when her due date came and went.
Criticism aside, Lena says that her pregnancy coincided with her most financially successful months to date. She's not entirely sure if the boom was due to her pregnant body, or again, just a reflection of the demand for porn at the height of the pandemic. Still, she tells me that she set a personal income record mid-pregnancy, making around $100,000 in a single day. "The pandemic was really good for all sorts of entertainers," she explains. "I made more money during the pandemic than I'd ever made, because people had such a need for that content. I did lose a few subscribers, but I also gained subscribers who were really into [my pregnancy], so it kind of balanced out."
Of course, porn is a physically demanding industry, and Lena encountered a few surprises as her pregnancy progressed. "It was weird, because getting pregnant gave me a really bad gag reflex even though I was never nauseous during pregnancy," she says. "Because of that, I felt like I wasn't as good at giving blow jobs, but as soon as I had the baby, it went away."
She also had to deal with fluctuating arousal levels, explaining that there were days when she "couldn't imagine being sexual" and days when she was "super horny with orgasms that felt way better." But performing while pregnant also offered an unexpected sort of liberation. "I wasn't so conscious of how big or small my waist appeared that day," she says. "Usually, when I have a shoot, I'm mindful of how much I'm eating so I don't look super full on camera. Part of me felt very liberated, because it was like I was allowed to be bigger."
Now, Lena is nearly a year postpartum and fully sans baby belly, but she's still trying to reconnect with her body. "I don't feel totally like myself," she says, echoing the same sentiments many women have after giving birth. "I used to masturbate every day, and now it's such an afterthought. I'm so exhausted and out of touch with my wants and needs; I'm breastfeeding like a cow all the time. It's hard to feel like my body is mine at the moment." That sense of uncertainty makes her job even more of a grind, especially now that she's attempting to juggle her mom persona — curating her Lena the Mom Instagram and posting tours of her infant's nursery on YouTube, for example — while contorting herself into a pretzel and annihilating her partner's dick for the camera.
Sexual uncertainty is also a common sentiment in the postpartum community, with entire blog posts (and peer-reviewed studies) dedicated to reconnecting people with their post-baby bodies. But while postpartum sexuality is a very real issue, it's rarely discussed so publicly, especially among porn performers. That transparency is the appeal for Lena's fans, many of whom are pregnant or recently postpartum themselves. After she posted about her traumatic birth experience on Instagram, followers flooded her comments with their own stories. "My birth experience was almost exactly the same," wrote one commenter. "It's so nice to know I'm not alone," wrote another.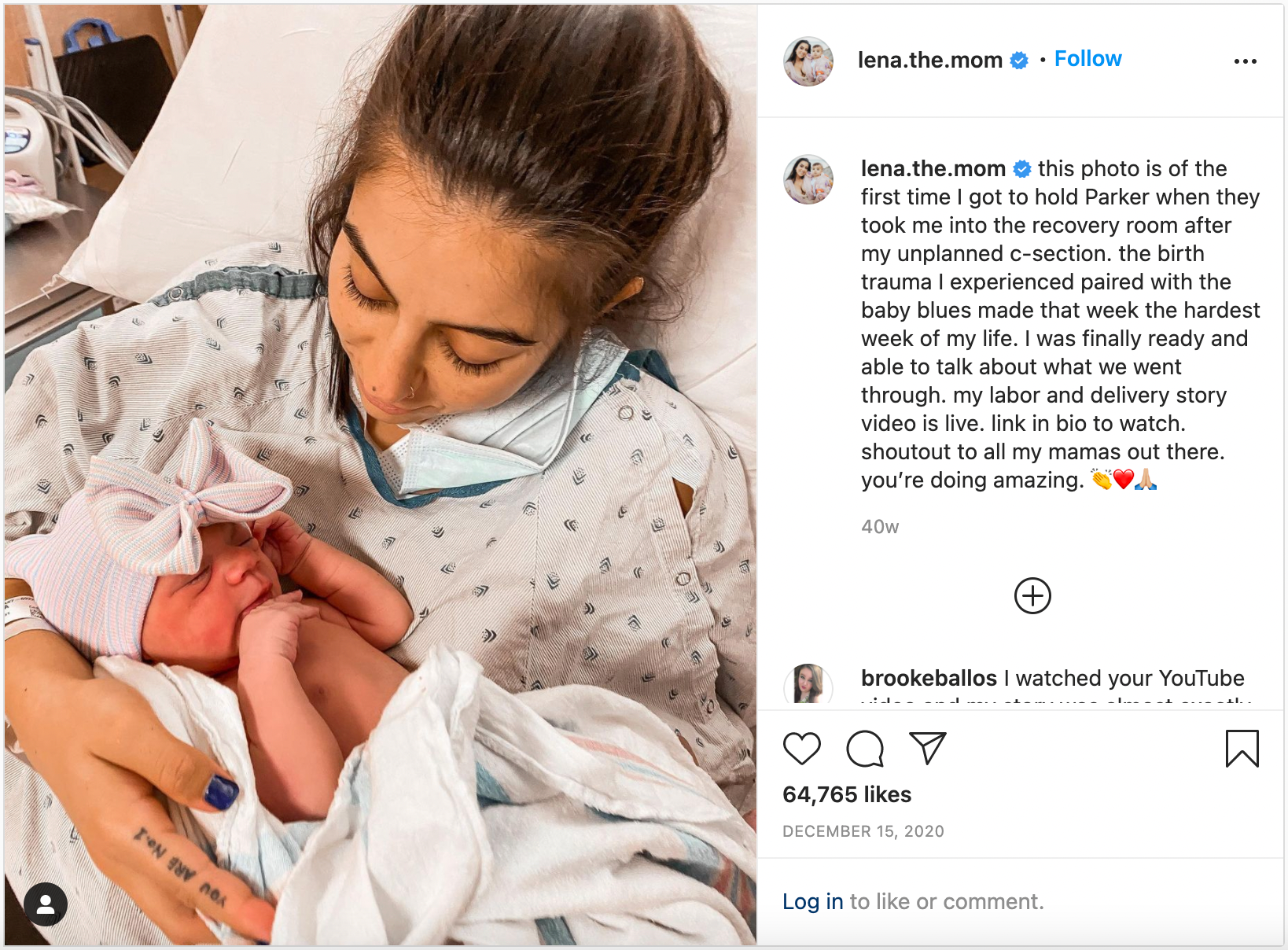 Meanwhile, Lena's male fans are enjoying a bit of an education. "You were amazing for [your fans] before and now you have a lovely child that you are obviously loving to pieces," one wrote on one of Lena's many breastfeeding Instagrams. "Thank you for sharing the person that you are."
It's clear, however, that Lena operates in a way that doesn't allow fans to pick and choose which Lena they get. They either get all of her — nipple play of both the sexual and breastfeeding varieties — or none of her: Lena the Plug and Lena the Mom are inextricably intertwined. It's an intentional choice, and one that she feels strongly about, especially given the double standard she sees with her male partner. "I'd get comments like, 'This is wrong, what about your kid? What's she gonna think in the future?'" Lena tells me. "But my partner never saw those sorts of comments. You start to think, 'Why am I the only wrong party in this situation when I'm performing with the father of the baby? Why aren't dads held to the same moral standard as moms?'"
To that end, Lena hopes to continue preaching sexual equality as her daughter gets older. "My baby's still little, so I'm not exactly sure how I'll talk to her when the time is right," she says. "That will depend on her maturity levels and what she can conceptualize. But I do plan to raise my baby in an open-minded way so it won't be shameful that mommy's in porn, or that mommy has friends in porn."
For the moment then, she's mostly focused on piecing together her postpartum life — public or otherwise. "It's been hard having to reignite a sort of love with myself," she says, echoing another common postpartum issue. "I'm just now seeing some glimmer of me coming back to life."
That sense of self is dramatically different from what it was two years ago — but if any of her fans have a problem with it, they can go find another lap to cry on. Lena's is full.