I've been named runner-up in a hula hoop competition at Willie's Tavern, a roadside biker bar in Southern Oregon, which combined with above-average finishes in both the "nut hunt" and "shake your money maker" competitions — retrieving a pecan from a plateful of whipped cream using only my mouth and dislodging tissues from a box a Kleenex strapped to my ass — has earned me a spot on a panel of three male judges in Willie's 4th-Annual Wet T-shirt Contest. Despite their ubiquity in the 1980s during Spring Break in college resort towns like Cancun, Cabo and Key West, wet T-shirt contests are dwindling in a post-MeToo era. Case in point: This is the only one I could find in North America during the month of June.
Willie's Tavern, a no frills country-rock bar with gizzards on the menu, includes a pool table and giant shuffleboard outlining a smattering of stools and a 30-foot woodsy bar with a sign overhead reading "Rehab Is for Quitters." Wearing a collared shirt and blazer, I'm the most overdressed person here, by a lot. I hesitate to use the term "redneck" to describe the clientele, though multiple regulars introduce themselves as such, one of whom remarks that it looks like I'm "headed to San Fran." (Must be the pocket square, I figure.) Given that the first Oregonian Klansmen was sworn in by a gregarious Louisianan 12 miles away in Medford in 1921, I decide not to mention that a gay man will, in fact, be selecting the best boob in the room today.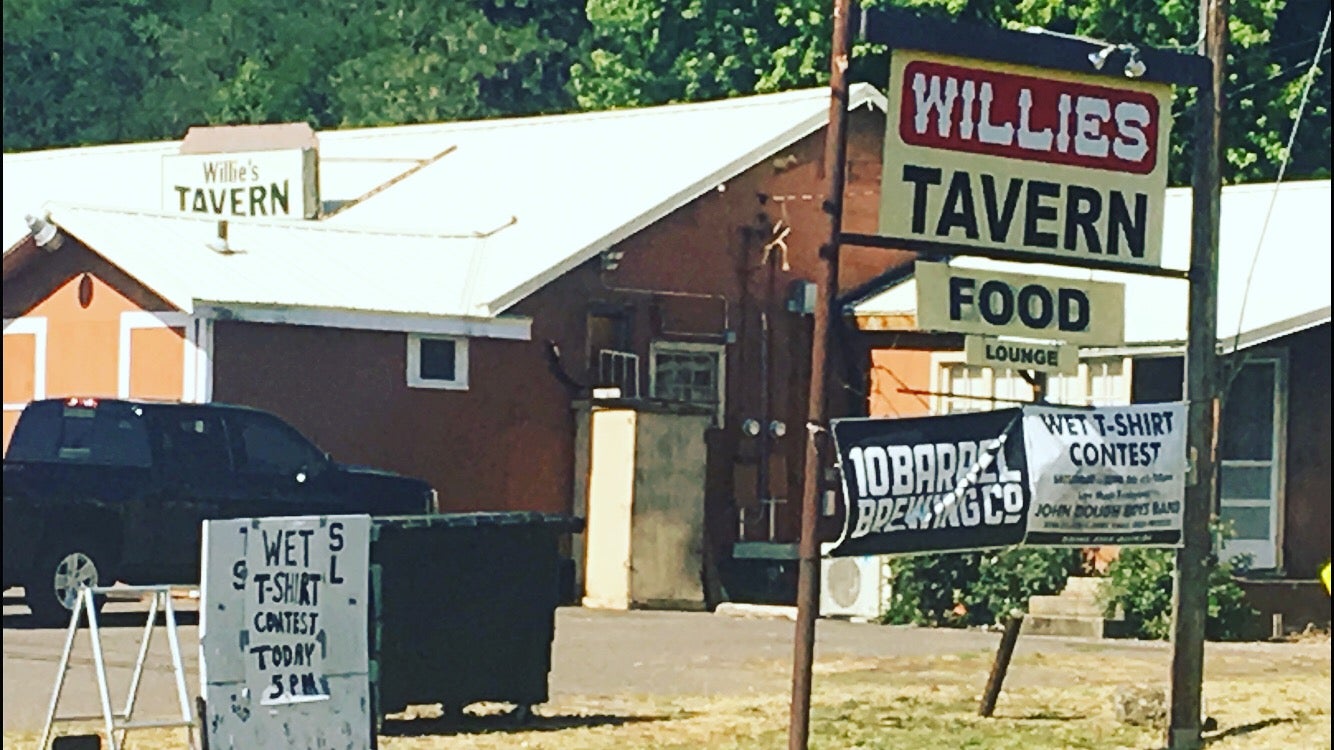 Out back, on a gravel courtyard about the size of a tennis court and a makeshift stage constructed with junkyard lumber, a crowd of 75 onlookers sit at picnic tables awaiting the main event. Owners Eric and Wendy Garcia, 52 and 57 years old respectively, paint the political persuasion of their patronage as "loose conservatives" who "likely didn't vote for Hillary." Many are baked, too; Jackson and neighboring Josephine counties together account for the majority of marijuana production in a state where nearly one in five residents is a stoner. 
"Listen, you wanna be a judge, not a water boy," counsels Doug, a jovial 52-year-old in a Harley-Davidson tank top. While the latter drenches contestants with pitchers of water offstage, judges sit in the front row and "get to stare at titties all day," he explains, alternately taking rips from two separate vape pens (indica and sativa, depending on "which way the sun's hittin'.")
The premise of a wet T-shirt contest isn't complicated: Women — typically inebriated — don thin white T-shirts with nothing underneath, and then get doused with water so their nipples show. As the crowd cheers them on, they shimmy until the judges declare a winner, and receive a small prize: free drinks or a drier, less-sheer T-shirt. Here at Willie's, the champ will take home $300, the runner-up $200 and $100 goes to third place. 
Plus trophies, of course.
There are eight contestants today, Wendy explains, handing out scorecards to the judges and instructing us to vote "yes" or "no" after each performance. Like the audience and judges, the contestants are predominantly white and range in age from mid-20s to mid-50s, with varying career paths. Kyla Defranco, a 38-year-old occupational therapist, explains she grew up in the bible belt of Ohio and has never even seen a wet T-shirt contest, much less competed in one. "Check it off the bucket list," she says, before joining her opponents inside to change into numbered white T-shirts and down gratis cocktails of their choice. "I had a couple of tequila shots," says Jenny Sand, a 53-year-old phlebotomist from Kentucky, who admits her nerves are "off the charts." 
"Psst," whispers fellow judge Kirk Woods, a 57-year-old in early retirement who earned his spot on the panel — and a boobie squirt gun, to boot! — by winning the hula hoop contest. "Let's agree to vote 'yes' for all contestants and force a tiebreak round." 
"Brilliant!" agrees Nick, the nut-hunt champ and third pillar of our titty triumvirate, while attempting to land an awkward high-five. "Make them go the extra mile!"
Exactly where and when the first wet T-shirt contest occurred is unclear. They rose in popularity following the 1977 movie The Deep, which featured Jacqueline Bisset swimming underwater in a thin, white shirt that clung to her bare breasts, increasing the box office appeal and leading to a surge of wet T-shirt contests nationwide. Skiing filmmaker Dick Barrymore claims in his memoir, Breaking Even, to have held the first such contest at the Boiler Room in Sun Valley, Idaho, in January 1971 during a promotion for K2 skis. 
"There was a group coming for 'Airline Week' and K2 sent us a bunch of T-shirts to pass out to stewardesses," he writes, explaining that a pair of skis would be awarded to "the gal that looks best in the T-shirt." He suggested incorporating a degree of difficulty, scoring contestants on a one to ten scale. "How about an automatic 1.0 for any girl wearing a bra underneath," someone added, "and extra points for a wet T-shirt?!" News of the updated scoring system spread like wildfire throughout the valley; by the time the contest was held three days later, everybody who was anybody in Sun Valley packed into the subterranean Boiler Room. 
The United Airlines crew — six pilots with a blonde stewardess wearing a fur coat — was seated at the first table and elected to go first. When Barrymore cued the band, the fur coat flew off. "She had no bra, the T-shirt was wet and she was wearing it on her wrist," he recalls. The gauntlet had been thrown, with remaining contestants frantically changing their attire in the dressing room backstage, each T-shirt wetter than the next. The pair of skis went to a Pan Am stewardess who "got caught up in the moment" and left nothing to the imagination, baring all. The next day, she explained she'd sue any photographer who published a picture of her during the contest, as rumors circulated that someone was planning to sell the shots to Playboy. 
Wet T-shirt contests soon became a mainstay on the ski circuit, requiring similar prerequisites for victory. "There was usually a 'no skin no win' policy," says 62-year-old Robbie Huntoon, a 1975 national moguls champion who tells me the festivities were often held in a high school auditorium. Huntoon was cast as Patrick Houser's stunt double in the 1984 cult sex comedy ski film, Hot Dog…The Movie, featuring perhaps the most famous wet T-shirt contests in cinematic history. 
"All the action you see on screen in Hot Dog… is real," Huntoon explains, noting all contestants were locals whom the director gathered to dance, drink and party all night. 
But the ski circuit wasn't, in fact, where the wet T-shirt contest made fresh tracks. Eight years earlier, in 1975, on the other side of the country, the owner of a glitzy restaurant and bar in Metairie, Louisiana, had a vision: "All you need is a pitcher of water, a bunch of white cotton T-shirts and a covey of bra-less girls eager to match their natural endowments with other girls," announced AP writer Ken Davis on November 19th, 1975, noting the two-month-old fad to be "the jealously claimed brainchild of John McGuire, owner of Lucky Pierre's restaurant-bar in Fat City."
"It was a Saturday during the day," recalls Doug Christian, a 77-year-old former DJ with WRNO 99.5 in New Orleans who judged the competition. There were seven contestants, he tells me, whom he evaluated alongside another DJ — Hugh Dillard, aka "Captain Humble," who incidentally is also gay. McGuire poured the water, Christian says, and made sure there was ice in the pitcher "to firm up the nipples." 
The competition was split into three categories — small, medium and large — and the winner was selected from the medium heat. One "large" woman who was defeated cried foul, complaining she was "so much bigger" than the others. "If it were a herd of cows she would've been a very big producer," Christian concedes. "But we were judging on quality, not quantity. She got pissed off and stormed out of the place. I think she was a professional stripper, which disqualified her in my opinion. The wet T-shirt contest is an amateur sport."
It's no wonder, then, that the spectacle exploded among the college set during Spring Break throughout the '80s and '90s. From Daytona Beach to Cancun and Cabo to Punta Cana, young adults across America headed to sunny locales for a week of drinking, sunburns, and STD transmission. MTV faithfully captured the action beginning in 1986, featuring live performances, beach parties and, to the chagrin of MTV purists, wet T-shirt contests. "Our Spring Break coverage really bothered me," admits Marcy Brafman, the network's promotions guru and one of the women credited with shaping it from the start. "I mean, wet T-shirt contests? Even with all the rock 'n' roll mayhem at the network, we'd never had a sexist outlook." 
The week of bacchanalian excess landed in Key West, Florida. in 2001, which is when Fred Bushey, general manager of Durty Harry's — a "one stop party spot for all of the Florida Keys" — says the wet t-shirt contest entered a renaissance. "We began doing them nightly at midnight [during Spring Break]," the 47-year-old father of two tells me. "We built an extended stage which had drains and a kiddy pool underneath and auctioned off the role of water boy, who'd wet the girls down with pitchers. All the cash went to the winner. Some girls could pay for their whole vacation with the money we raised."
Sadly, thanks to the ubiquity of camera phones and social media, Durty Harry's hasn't had a wet T-shirt contest in years. The motto in Key West used to be, what happens on the rock stays on the rock, Bushey says, but as moments of indiscretion began following young women home, it became harder and harder to get them to sign up. Once dads, most of whom had paid for their daughter's vacation, started seeing videos on Myspace, Facebook and, God forbid, YouPorn, wet T-shirt contests in Key West became virtually extinct. 
"[Spring Breakers] are very prudish now," explained Margaret Donnelly, a 28-year-old bartender at Tattoos and Scars, to the New York Times in 2012. "Ten years ago, people were doing filthy, filthy things, but it wasn't posted on Facebook. Suddenly there are far fewer wet T-shirt contests." In fact, by her count, Tattoos and Scars had the only one left, and even that was just once a week.
"We had a middle school teacher in our wet T-shirt contest a while back who was all over the news," Bushey says, unsurprised that she was promptly fired. Now, though, in the Insta-obsessed era, he predicts a warped sense of fame will inevitably lead to their return at Durty Harry's, noting "girls are demanding we bring them back because it will get them more likes."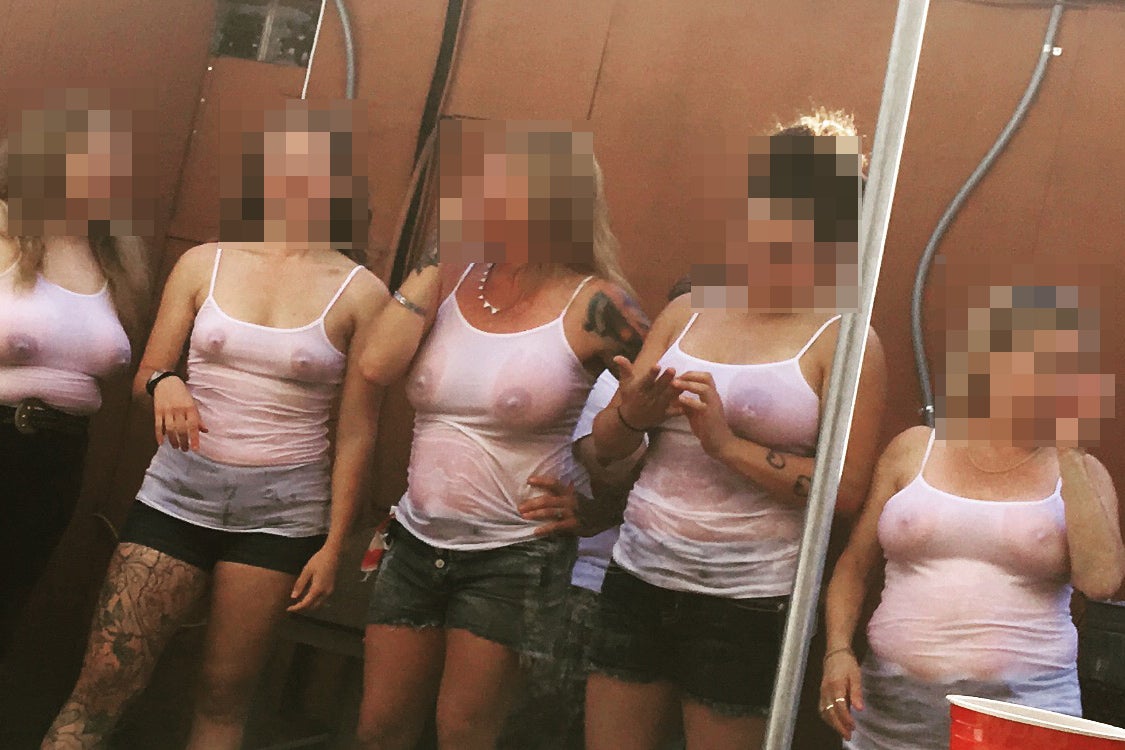 Back at Willie's, as intended, all eight contestants receive glowing "likes" from judges and advance to a tie-breaker determined by audience applause. To ensure peak buoyancy, each contestant receives a final wet-down from tin buckets (instead of hoses, Eric the co-owner explains, because "girls didn't want to get their hair wet.")
"This was all my idea four years ago," he says proudly as we wait for the final buckets to drop, Kid Rock and Sheryl Crow crooning in the background. "I typed it into the computer and no one had one around here. I thought it was a hell of a good idea."
A foursome of old timers seated beside us, one with a pair of hooks for hands, concurs. "Hell yeah," Hook (how he introduces himself!) replies when I ask if he agrees that the contest is a good idea. "I'm 66 years old and grew up in Vegas, where they didn't even wear the T-shirts!" 
Lisa Thompson, a former horse trainer for Wayne Newton and Patrick Swayze — and among the oldest contestants, at age 53 — leans in curiously close when I ask for her take on the festivities. "I blew my eardrums out flying to horse shows and can't hear so good!" she shouts. She also competed in the inaugural wet T-shirt contest at Willie's in 2015 (and every one since) and is the event's biggest cheerleader. After all, she says, lighting a cigarette, "You don't see any old-school fun anymore. We all have boobs — big, little, tiny, whatever — and shouldn't be ashamed of our bodies, no matter how old we are! 
"By the way, you can post these on Facebook, just make sure the angle's good and I don't have a double chin."
There's little doubt who the champion is tonight, though, as the Willie's crowd erupts in unanimous consent when 54-year-old Sand, the aforementioned phlebotomist and eldest in the competition (by six months over Thompson), takes the stage for a final dance. 
She proudly accepts the trophy and strikes a victorious pose. 
"I was just trying to work on my self confidence and can't believe I won," she says through choked tears, defiantly raising the trophy over her drenched tank top.
"This is why you wear your bra to bed, ladies!"