In most Western countries, young men start lifting weights in pursuit of some combination of better health, athletic improvement and the ever-elusive perfect aesthetic. In the poorer neighborhoods of Kenya, though, getting buff represents something else entirely: a chance to escape the crime and poverty of the slums through a lucrative career in the country's booming private-security industry.
If you are young and poor in Kenya, the deck is stacked against you. A recent United Nations study put the 2017 nationwide youth unemployment rate at 26.2 percent, and most young people here say that upward mobility is impossible without some type of generational wealth or inside connections. University education is out of reach for most, and even if you have the support from your family to finish high school and get good enough grades to have the government pay for all or part of your bachelor's degree, finding a job is a herculean task.
Petty crime and, sometimes, gang membership are viable alternatives in slum neighborhoods, but life is short for criminals as they face a police force noted for both its corruption and brutality, ready to kill or maim without much encouragement.
Enter the private security industry.
In a country known for rising crime (the Kenyan National Police Service Commission noted a 17 percent jump in reported incidents from 2017 to 2018) and the occasional terrorist attack, there is no shortage of demand for bodies. Formally, the industry employs 600,000 tax paying Kenyans, with another estimated 400,000 to 500,000 off the books, hired to open and close residential gates or to bounce at clubs a few nights a week. It provides an honest living with an egalitarian twist: No university degree, connections, or even job experience are required: You only have to be fit, and the fitter you are, the more attractive you are to high-paying employers.
"You can drop out of school and someone will say, 'Hey, pick up this baton, open this gate, close this gate,'" says Rauf Okal, administrator of the Kenya National Private Security Workers Union (KNPSWU). "They have to go to gyms and lift big weights to improve their muscle. If an employer sees some guy who is short but he is fit, he will think, 'That guy can work.'"
Micha Ndegwah, who opened E-Vib Gym in Nairobi in 2000, tells me that about half of his clients end up working as bouncers. "I see them grow up from small boys; they realize that their bodies can offer some purity for a job," he says — that is, their physique makes them marketable even though their official credentials might be lacking.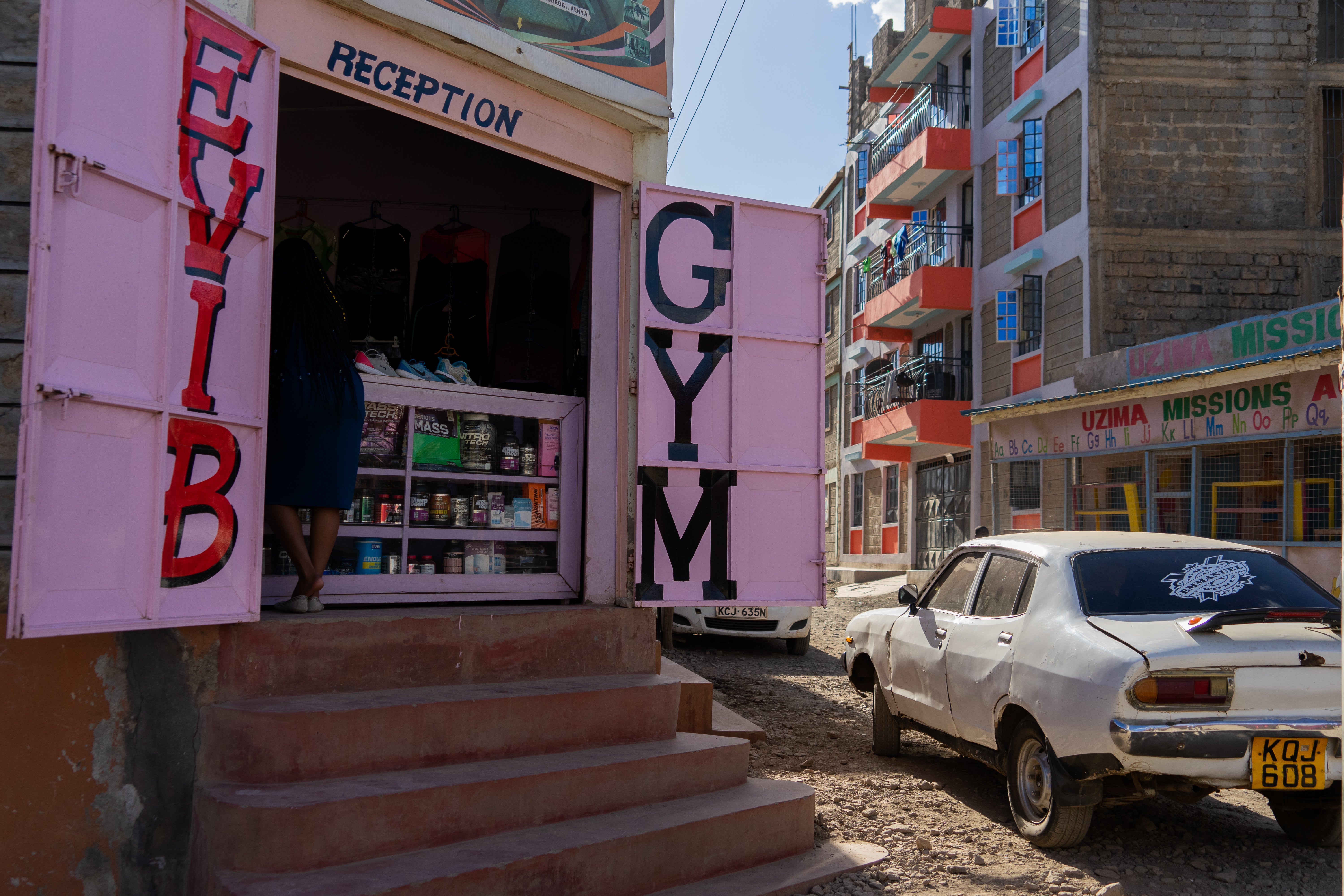 "I prefer to train fresh, I really do," says Mohit Sahni, who runs the training school for the Securex Skills Academy (his recruitment test, which he describes as one of the most rigorous in the industry, includes pull-ups, squats and running). One of Kenya's most expensive private security companies, Securex also pays one of the top starting salaries for security guards — about $300 USD per month — and requires no prior guarding experience. "In a class of about 30, we take about three or four ex-security officers," he says. The only thing Securex does require is the equivalent of a high school diploma and the strength to keep up.
Jefferson Ambooka, 25, was born in Kayole, a slum neighborhood in eastern Nairobi. A few years ago, he and his parents were able to move themselves out to a nicer house in neighboring Soweto, a few kilometers closer to the city center. Now, Ambooka literally lives in Pitbull Gym, a local haven for lifters situated among the wooden stalls of Soweto's dirt paved pedestrian market street. It attracts guys as young as 17 and as old as 50, and within its walls — lined with posters of American bodybuilders — students, cab drivers and construction workers, skinny, overweight and jacked alike, meet to lift weights and socialize.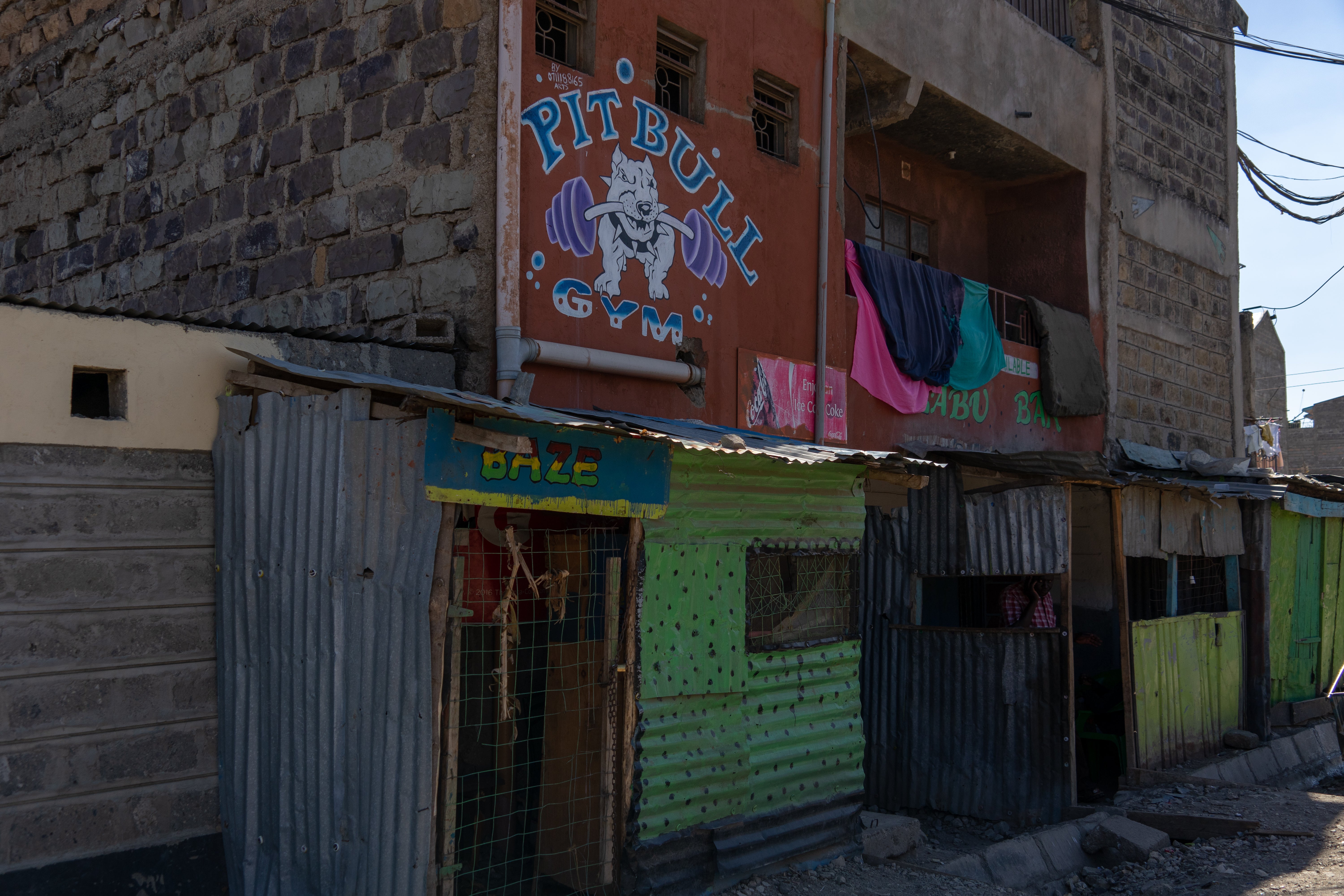 Ambooka occupies the small caretakers' apartment about 20 paces from the front door of the weight room and watches over the place in exchange for free access whenever he wants. "I work out any time I feel like it, two, three times a day sometimes," he says with a boastful smirk. Ambooka is about 5-foot-10, handsome, with a tight fade. Normally soft-spoken and humble, he adopts a jocular attitude when he's in the gym: Pitbull is his domain, and the rest of the patrons, even the older, more muscular ones, know it.
The gym itself is a small, rectangular room, a cinderblock addition to the third floor of a residential building that hosts a drinks kiosk and a small fashion boutique. It's dark, and the long mirror that runs along the front wall is cracked in many places, but to Ambooka and the rest of the guys who come here, it's home.
"It's a nice place because there are no criminals here," Ambooka explains between bench-press sets. "When I moved out here I started [lifting] just for fun, helping other people when they come to hang out, so they can become bodybuilders." He now considers this his true passion, dreaming of a career as a fitness instructor. It's a goal he hasn't realized just yet, blaming both a lack of money to buy supplements and the stress of being broke, which he says prevents him from keeping a solid workout schedule.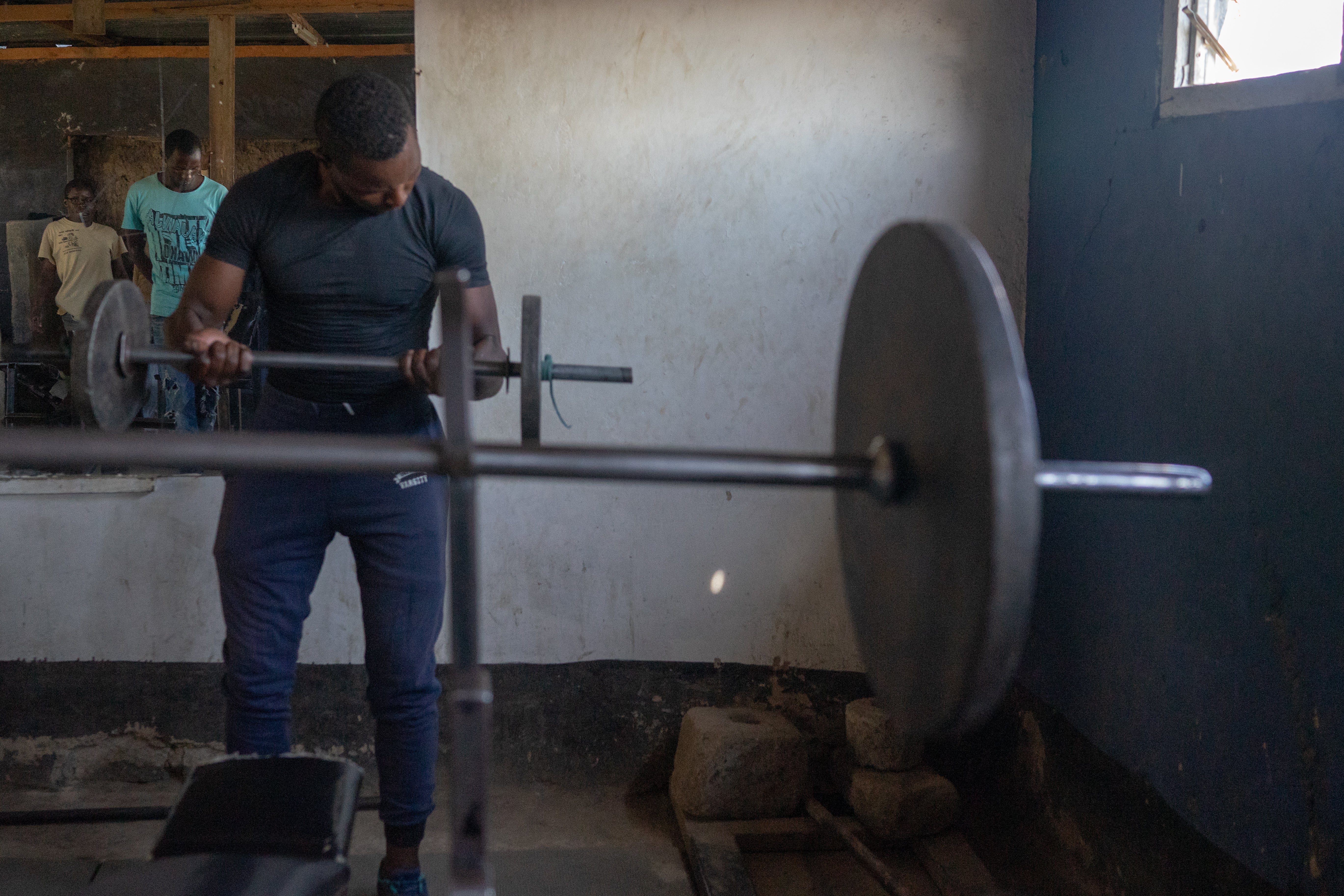 Ambooka found something else when he started hanging out at Pitbull, though: Having made the acquaintance of a few part-time bouncers, they soon invited him along to work for about $8 USD per day providing security at political events during the contentious 2017 national election campaign (Kenyan politicians regularly use day-hire security guards at their events, which have a history of turning violent). 
Before long, Ambooka became a regular club bouncer and now works weekend nights at Benelix Lounge, a club one neighborhood over in middle-class Donholm. Like almost all bourgeois entertainment in Kenya, the club is at a shiny new mall, this one less than three years old. A new mall springing up is often a sign that a neighborhood is gentrifying, but they still tend to be frequented by the rougher elements in surrounding areas, making the clubs dangerous places to hang.
"Some people just want to try," says Ambooka. "Sometimes they'll take a bottle and hit you. Some people have guns; soldiers or police bring their guns just to fuck with you. You have to train yourself not to fight back, because if you fight back you get executed. Escaping is the weapon here." 
For all this, he gets paid $10 USD a night.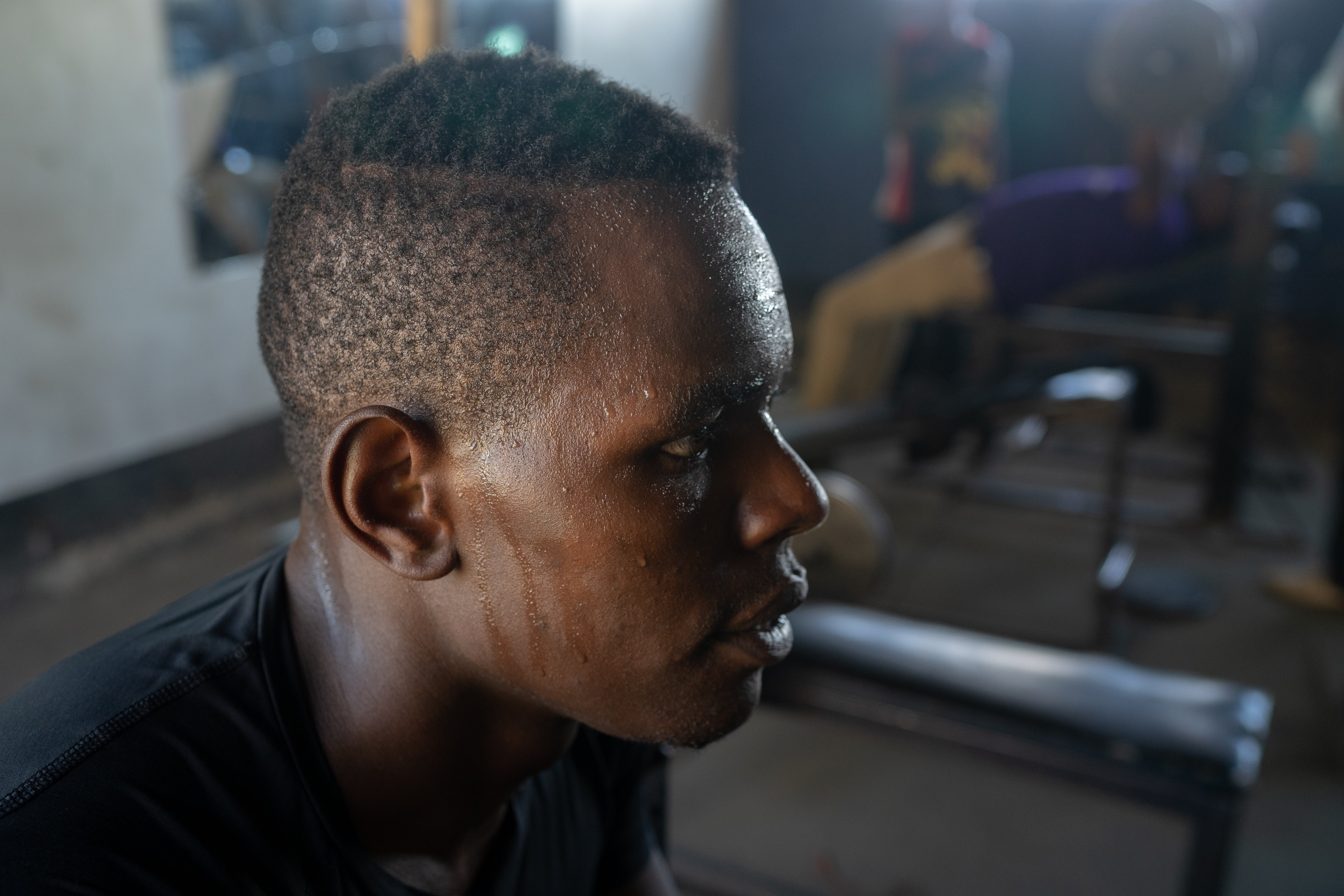 Ambooka has a similar set of complaints to the majority of the guards and bouncers in Kenya: dangerous work, tough hours, low wages and next to no job security. But he's faced with little in the way of options. "For me, the job is worth it, because without that job I couldn't survive in Nairobi," he says. "You have to earn money. You just have to."
These aren't the only challenges Ambooka faces: Government regulation, too, is a threat to his livelihood. As the sector expands, Isaac Andabwa, general secretary of the KNPSWU, is participating in a nationwide push for professionalization of the industry, which he says will result in higher wages and improved working conditions. Having been a senior guard at the U.S Embassy from 1998 to 2006, Andabwa worked hard to secure a leadership position in what was then a disorganized and toothless union. "One thing that pulled me to wanting to have a union, there was a disparity in terms of payment between the embassy guards and the regular Kenyan private security," he says, adding, "The indigenous companies paid peanuts."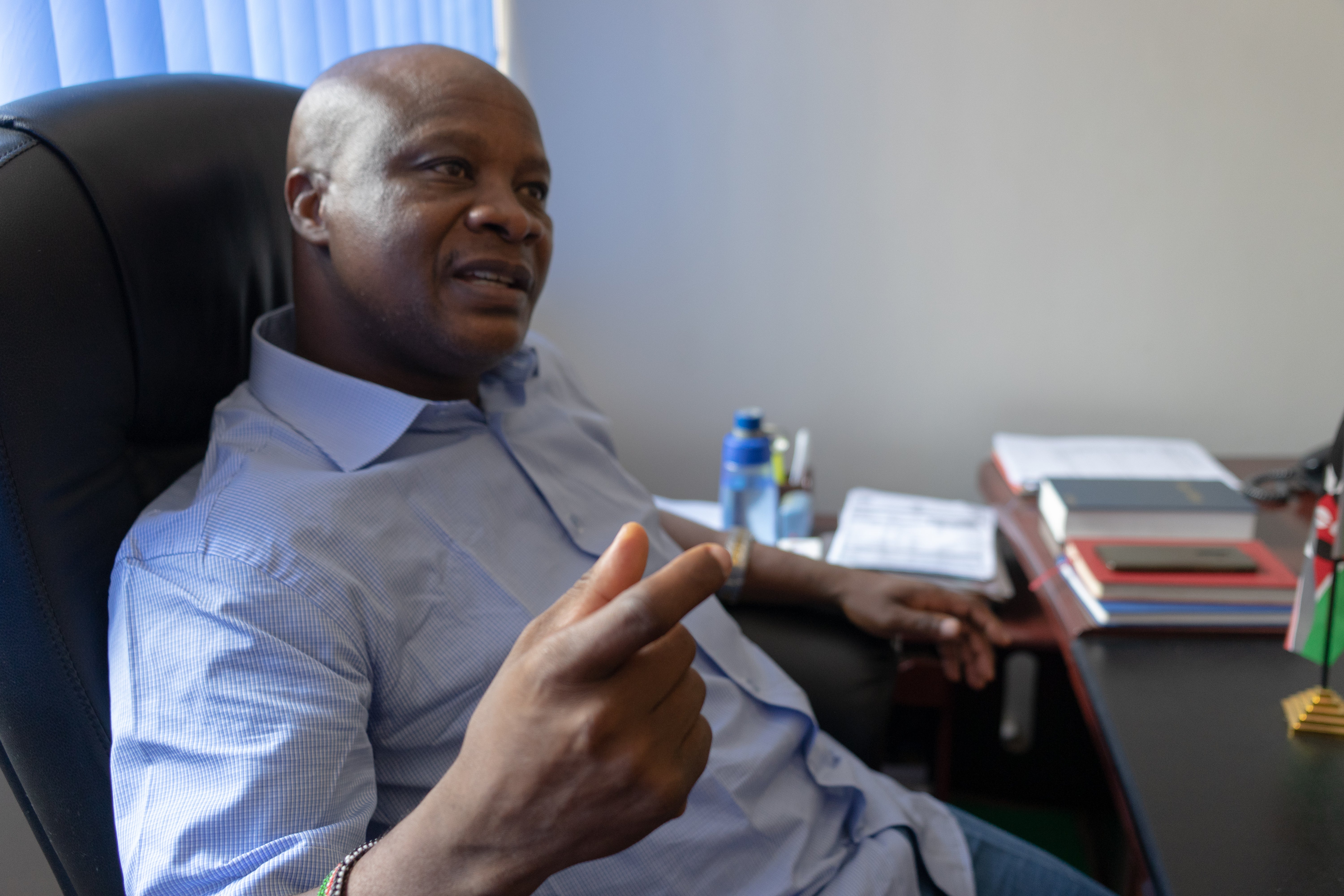 Between lobbying from the KNPSWU and some of the larger private-security companies — who felt they were being undercut by upstarts who wouldn't pay a living wage — the government eventually passed the Private Security Regulation Act of 2016. Among other tweaks to the industry, the law mandates a universal training curriculum for even the lowest-level guards and bouncers, forcing companies to invest in training facilities or risk hefty fines and a revocation of their license to do business.
This also means, however, that businesses will be in violation of the law when they hire men like Ambooka, who work as day hires and don't have any kind of formal training certificates.
According to Okal, the new standards are a no-brainer for the industry: More training will mean guards can command a higher salary and better benefits. "Most of our guys stay in the slums because they can't stay anywhere else," he says. "At most companies, there's a housing allowance of 2,000 shillings per month [$20 USD], but the barest minimum of housing in the slums, metal roof and all that, costs 6K [$60 USD]."
Safety is also a huge factor, and Okal doesn't beat around the bush when it comes to the dangers recruits currently face: "We say that once you are employed as a private security guard, you are signing your death warrant." He cites an incident in early March in Kakamega, a rural town west of Nairobi, near the border of Uganda, where five security guards were hacked to death in one night during a mass robbery by a local gang. "We want a sector where everybody is trained," he insists.
If you decide private security is the life for you, it's possible to get some formal training and jump to the head of the line for a job. The Institute of Professional Security Studies (IPSS), a private trade school, is the first institution in Kenya that provides government recognized training programs for all security career levels, from guard to corporate security advisor. Julius Githiri, who runs the school's training programs, spent 25 years in the Kenyan Defense Forces and rose to the rank of battalion commander before moving into private security. "We are trying to establish a career path for young people," he says. "Some of them have dropped out of school and want to join the industry."
In Kenya, tertiary colleges like these are a popular alternative to university, which costs much more and takes way longer. Henry Ndritu, a 35-year-old veteran bouncer who, like Ambooka, initially found his way into security through people he met at his gym, earned his certificate from IPSS, and he's glad he did. Having originally attended university and received a bachelor's of commerce in management, he was lucky enough to get a job in hospital administration in Uganda, but was laid off in 2010 and returned home.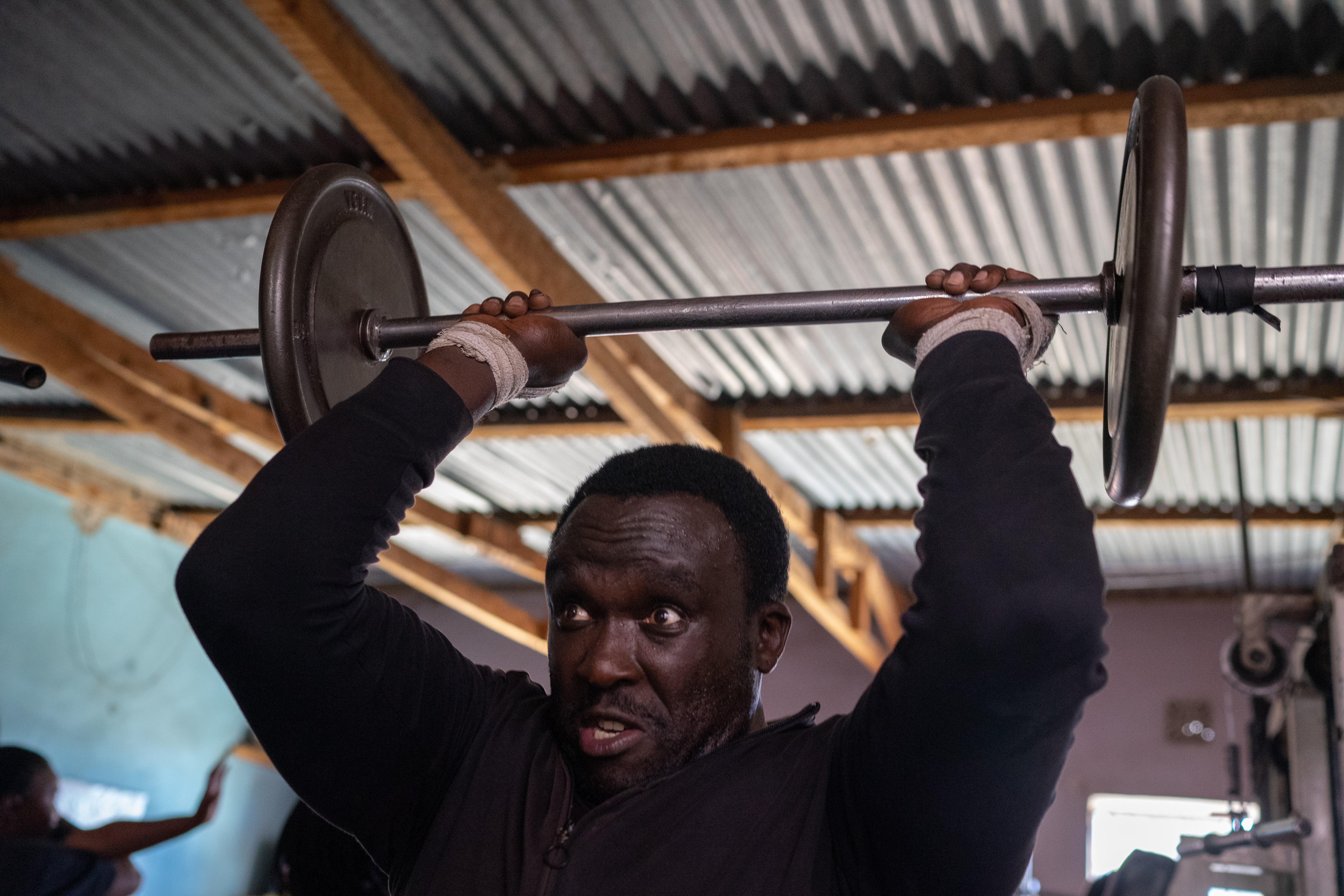 "I was very fat," Ndritu admits. "There was a voice in my head for a month — it was telling me to train." He started at a local gym and by 2013 had put on a lot of mass. He was soon introduced to the head bouncer of a local club called Fahrenheit, who asked him if he wanted to try out for the job. "My first night, someone was out sick," he tells me. "They posted me inside where there is normally a lot of commotion, people dancing and fighting. Thank God there were no incidents — I was praying so hard for morning to come." 
At the end of the night, he got his 800 shillings ($8 USD) and an offer to return. But he also got a taste for the adrenaline rush that night, becoming hooked on bouncing.
After working regularly at Fahrenheit, Ndritu started getting jobs doing event security for concerts and political rallies, earning close to $15 USD a day. Later, having got his certificate, he moved into VIP protection for politicians when they hit the campaign trail and rich guys when they go out drinking. For that, he says he can earn up to $80 USD a day — if it comes regularly, that's enough to cover his monthly rent in a weekend, save up for his son's education and have enough left over for a rainy day.
"Most of the time, these guys like that kind of, can I call it ambience? When they enter a club and people are seeing he's very protected," says Ndritu as we take a cab to E-Vib Gym. "Also, they like having security because once they get drunk, they give you their cash and their phones." While he never turns down work, Ndritu says, he prefers protecting playboys over politicians any day, especially after he got shot at in late 2017 while protecting a member of Parliament affiliated with opposition leader Raila Odinga's Orange Democratic Movement.
At the gym, it's back and shoulders day for Ndritu, and after an hour and a half of bent-over rows, volume deadlifts and barbell skull crushers, he takes a breather on the mat in the upstairs boxing gym. "Everything is easier when you have certificates," he says, while showing me a picture of his 5-year-old son, Allan. His program at IPSS cost him $300 USD, which he was able to pool together in loans from relatives, as well as the 40 hours of time that he could have spent working per week for one month. Knowing he's in the industry for the long haul, the expense was worth it for him, but he also recognizes that the amount of money and time it takes is a huge ask for someone who isn't sure about their future and is using the job only as a way to make a few bucks.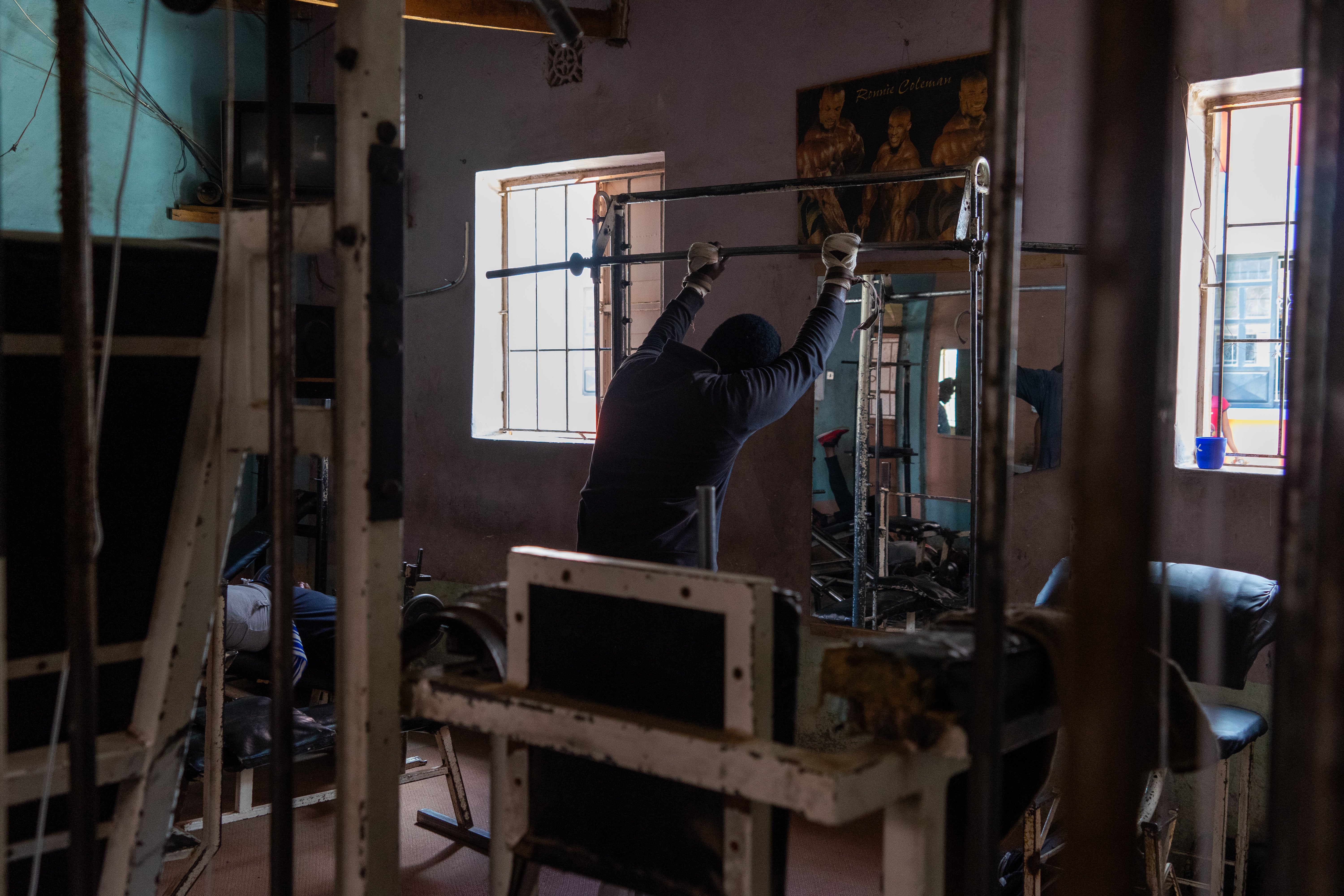 Under the new regulations, bouncers and guards without certificates will need to break the law to keep earning a living, and even then, that living won't be anything like their credentialed peers. "They will be employed, yes, but the company will only pay him 7,000 bob ($70 USD) a month," explains Githiri, adding that while he is sympathetic to people who simply can't pay for his certificate course, the law is the law.
Ambooka tells me he won't pay for formal training, not only because it's too expensive but because he doesn't see bouncing as a long-term career choice worth investing in. As a greater professionalism comes to be expected from entry-level employees, he and some of the other bouncers at Pitbull have instead come up with a workaround. "We do a training program on how to handle our clients — it's not a must to beat them up," he says. "Those of us who go for the jobs, we meet here sometimes, we show ourselves how to tackle." The group also watches YouTube videos on their phones about self-defense techniques, such as judo throws and stress holds, as well as customer-service training videos on how to handle irate customers or drunk people. It's their own free certificate program, and it helps them keep up with the demands of a changing industry.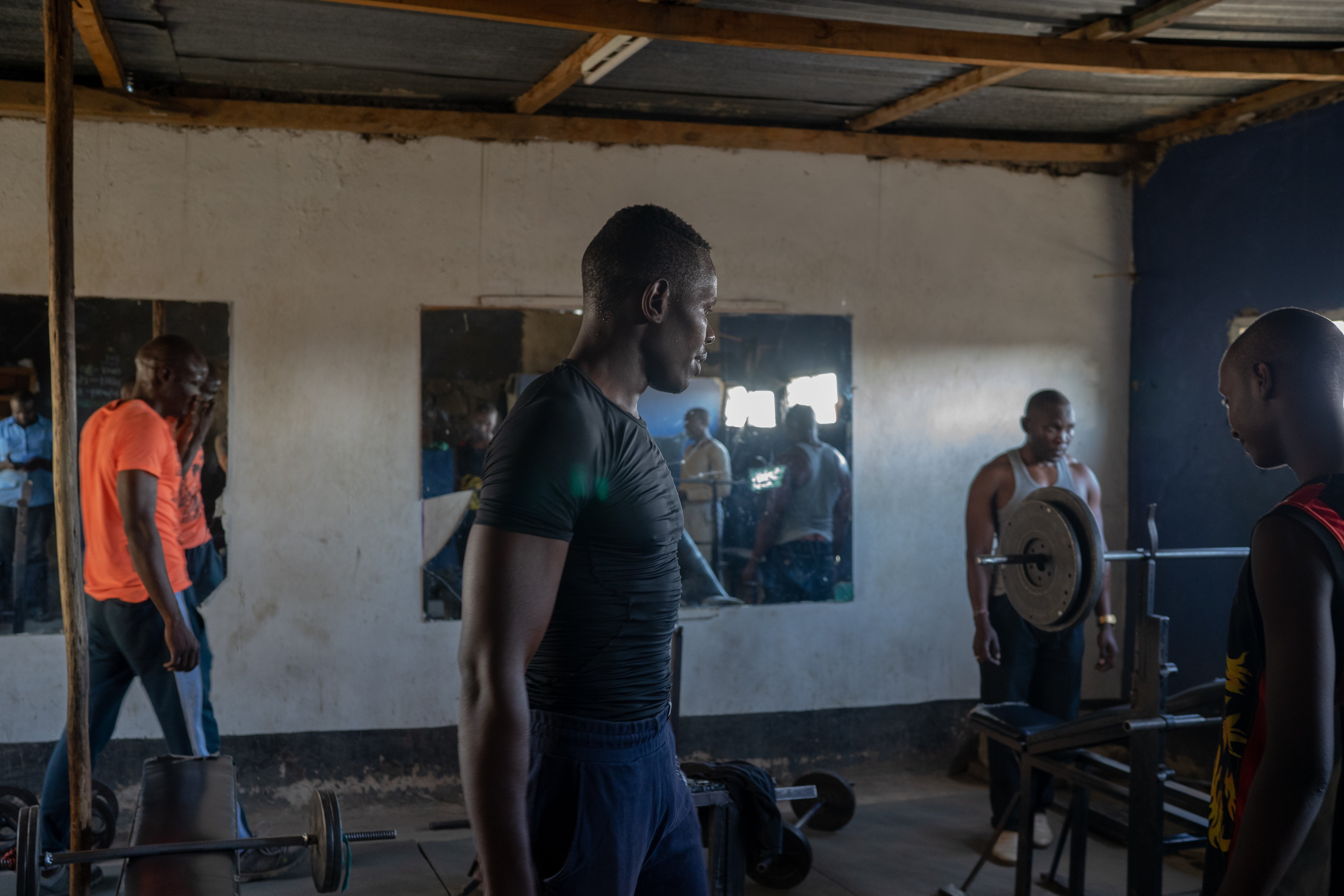 As you might imagine, it's not enough for those looking to add more legitimacy to the industry. "You'll find the Soweto guys are still living in denial," says Justis Ikola, who runs the bouncers arm of the KNPSWU. "They do not believe in the change that has come." Bouncers who are not certified and are not part of the union, Ikola continues, not only make it harder for him to organize for better wages and working conditions, but also present a safety risk for everyone involved. "Say something happened, something bad, somebody has been shot or killed," he says. "They need to know how to handle that, how to give first aid in case it is needed."
Regardless, Ambooka will take his chances and hope he can move into a new line of work before the regulatory regime grows teeth. That is, of course, unless he can get one of the most coveted gigs for a Kenyan in private security: Guarding in one of the Gulf States in the Middle East. "So many guys start here and go to Dubai and Qatar," he says, a wistful look in his eye. "They get better pay, free housing… if somebody asked me to go, I won't even argue, I'm ready for the work."
It's no pipe dream, either: Recruiters from international security companies are known to frequent gyms like Pitbull and whisk young guys away to earn salaries they could only achieve at home with a university degree. William Omondi, who usually goes by his high school nickname "Sisqo," can attest to this after a yearlong contract guarding at a residential estate in Qatar. "In Qatar, I made a lot," he enthuses. "They were giving us $600 (USD) a month" — close to six times what Ambooka makes in an average month. 
A 33-year-old former competitive bodybuilder, Sisqo — who, prior to leaving for Qatar, worked as a guard for two Kenyan companies and has bounced in over half a dozen clubs — has depended on his muscles to pay his bills his whole life. He started lifting at the age of 14 in his native Kisumu City, in the far west of Kenya on the shores of Lake Victoria. "My elder brother was a weightlifter and I saw he liked the movies of Arnold Schwarzenegger and other western bodybuilders. These things got into my heart and I was inspired," he says. "We were poor, there was no gym, you know — we used to take these stones or concrete and just put a bar."
Sisqo excelled in school and was one of the lucky few in Kenya chosen to have their studies partially subsidized by the government. A cousin living in the U.K. agreed to pay the rest, and he moved to Nairobi to attend Jomo Kenyatta University of Agriculture and Technology to study computer science. While there, he bounced in Nairobi's clubs to make money, enjoying being active on the school's rugby and bodybuilding teams in his free time.
It was all going smoothly until his cousin in the U.K. died. At that point, he couldn't afford to continue his studies. He has since spent the better part of a decade trying to support his family and save up enough money working in security to go back to school. When he was presented with an offer to go to Qatar, he knew he couldn't refuse, even though it meant leaving his wife and kids. "My aim was just to accumulate cash for my education, because I know I can make it given the opportunity," he says. "I have a brain. Like I used to tell my people, this is just a song in the book that God has given me."
Despite needing to send money home and the high cost of living in Qatar, he was able to bank $2,000 USD over the course of his yearlong contact, getting him ever closer to his goal of going back to school. After all these years guarding, bouncing and even participating in a guest worker program, Sisqo has effectively seen all there is to see in Kenyan private security. Like it has for Ambooka, Ndritu and untold others, the job has allowed him to stay on his feet through tough times, providing a stopgap for a dream deferred.
As the regulators and the union force the industry towards a more rigorous, career-driven future, the promise of making a fast buck bouncing on the weekends slips further and further away from men like this — an unfortunate but, in light of the dangers and corruption they face, perhaps necessary trade-off. Whichever way the industry evolves, though, Ambooka will keep coming to Pitbull to see his friends and lift weights. Getting jacked in this rundown but vital gym has already provided him with one job. Who knows what else it can do for him?
"I love this place, man," he grins. "This is my origin."