Out on Netflix today, Justin Timberlake + the Tennessee Kids may not be the best thing Justin Timberlake has ever done, but it's certainly the purest expression of the 35-year-old singer's particular greatness. A concert film chronicling the final two shows of his lavish, two-year 20/20 Experience World Tour, Tennessee Kids captures Timberlake performing to sold-out crowds at the MGM Grand Garden Arena in Las Vegas. He's charming, captivating and endlessly entertaining. But most importantly, a consummately inoffensive sex symbol.
The tour promoted the release of his twin 2013 20/20 Experience albums, his first records since 2006's FutureSex/LoveSounds, which is an eternity in the lifespan of pop stars who risk falling into irrelevancy if they're out of the public eye too long. During the time off, Timberlake focused on acting — getting good reviews for The Social Network and being part of hits like Bad Teacher. But his return to music was no sure thing — while he was away, artists such as Chris Brown, Rihanna, Katy Perry and Taylor Swift had become the new big things. And yet, when he returned, he made it look effortless: The 20/20 Experience was 2013's best-selling album, combining with the follow-up, The 20/20 Experience — 2 of 2, to move almost four million copies.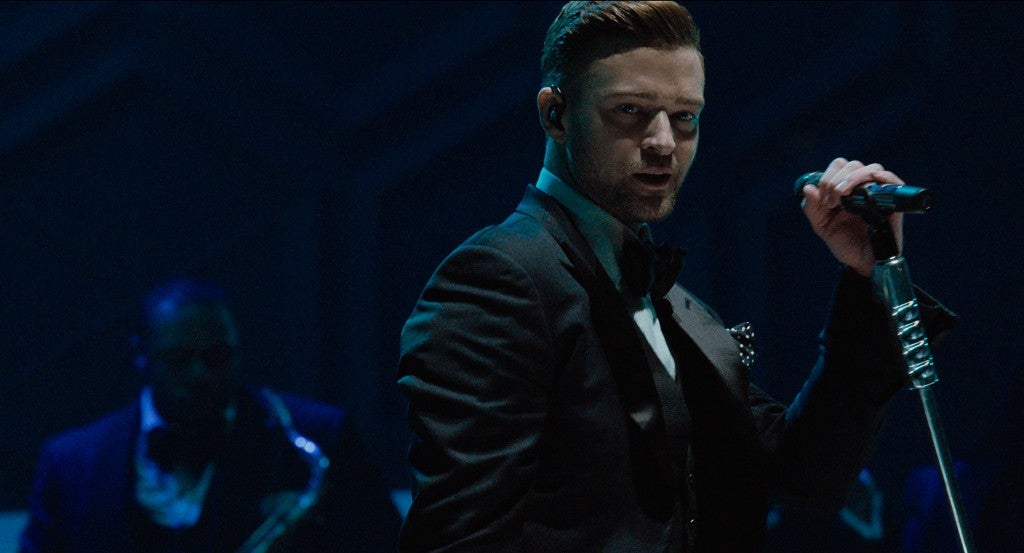 Consequently, its accompanying tour wasn't just a comeback but a coronation of a musical career that's evolved consistently — to the surprise of many — since the first NSYNC album in 1997. Tennessee Kids (much like Timberlake himself) has no time for the boy-band days, but the movie demonstrates that the affable kid who was arguably the group's funniest, most photogenic talent hasn't disappeared. If anything, he's morphed into a suave, sexually confident version of his former teenage-heartthrob self. In a pop landscape dominated by young singers, he's already something of a revered elder statesman. This fact doesn't scare him — in the film, he assumes that mantle with pride.
Surrounded by his band — which includes a horn section, backup singers and dancers — Timberlake is dressed in suit and black tie. It's partially a nod to his hit song "Suit & Tie," partially a nod to the grownup sophistication he's trying to cultivate. With his well-coiffed hair (a close-cut version of his former full-curls look) and finely manicured stubble, he gives off the air of a retro Vegas entertainer — our supremely professional master of ceremonies for the evening. But if you tilt your head slightly, he also resembles a too-pretty stripper who's about to rip off his outfit and start grinding — which is also pretty Vegas. Both impressions are key to his appeal: By mixing the two, he's a cocky, refined loverman in the most unthreatening way imaginable. He's Magic Mike meets Michael Bublé.
The film was directed by Jonathan Demme, who made the greatest concert film of all time with 1984's Stop Making Sense, which caught the influential New Wave band the Talking Heads at the height of their powers and popularity. Timberlake is no Talking Heads, but Tennessee Kids does an equally remarkable job of admiring its performer, putting him in the best possible light. Gone is the self-regarding cheeseball whose frequent Saturday Night Live appearances were consistently undone by how funny he thinks he is. Gone is the so-so actor of Friends With Benefits and Trouble With the Curve who didn't seem to have the dramatic heft to be taken seriously. Timberlake's no groundbreaking artist — as his derivative, mindless summer smash "Can't Stop the Feeling!" proves, he can flirt with hackdom in the quest for a hit. But in Tennessee Kids, he's a hell of a song-and-dance showman.
Stop Making Sense was pioneering in part because, rather than worrying about gimmicky cutaways to the audience, Demme left his cameras on the Talking Heads, a technique that revealed a sense of onstage intimacy among the band members. Demme takes the opposite tack in Tennessee Kids: Although the filmmaker includes plenty of moments of Timberlake's band members playing off each other, he heavily incorporates the crowd into the movie, which is appropriate when taking in the full spectacle of a top-flight modern pop concert. Here, the intimacy is between the singer and his adoring throngs, and Tennessee Kids is a nonstop tribute to superstar charisma as Timberlake manages to maintain a tight connection with his fans in this massive auditorium.
In the spirit of Vegas glitz, Tennessee Kids amplifies the singer's biggest hits by introducing new, flashy arrangements that blend elements of rock and big band. The shimmering R&B ballad "My Love" gets turned into a piano-bar torch song before segueing into the track's distinctive keyboard hook. "FutureSex/LoveSound" sheds its electro/hip-hop sheen for a '70s rock-and-soul treatment. But just as he once fixated on Talking Heads frontman David Byrne's mesmerizing, spastic stage movements, Demme is entranced by Timberlake and his dancers' choreographed steps, which alternate between playful and steely, graceful and robotic.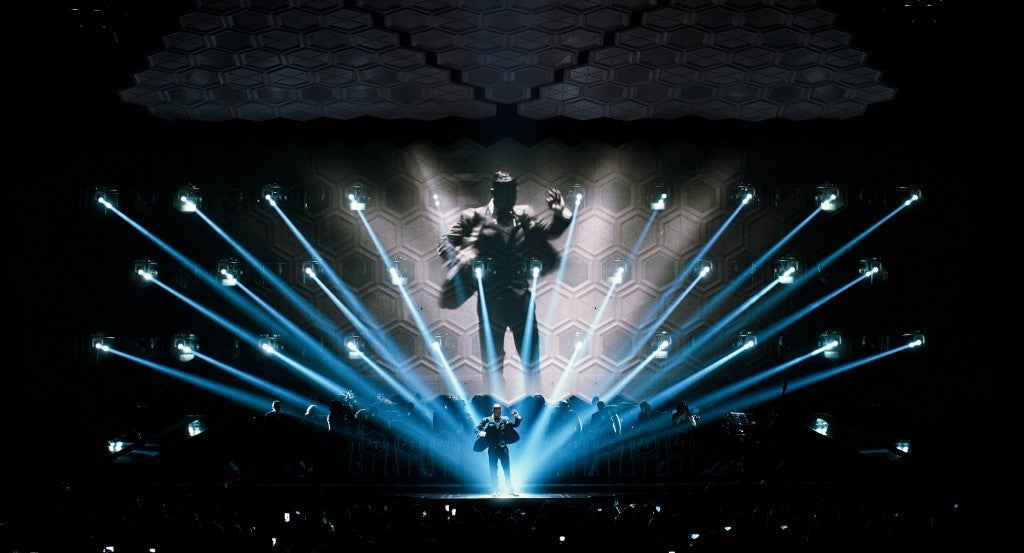 From NSYNC to the present, Timberlake has always been the king of uncomplicated all-around entertainment. (No surprise he's good buddies with anodyne Tonight Show host Jimmy Fallon.) In Timberlake's solo career, it's true he's always aimed at crafting cutting-edge dance-pop, a sonic inventiveness that has worked in lockstep with his desire to push his sexual persona far from that of his teenage self — moving from the friendly flirtation of 2002's Justified to FutureSex's frank talk about whips and chains. But, cleverly and perhaps calculatedly, that adventurousness has often been mitigated by Timberlake's self-effacing dorkiness, always tempering his cocksure demeanor with a just-kidding chaser. Likewise, Tennessee Kids finds him strutting and grinning in a come-hither way, although there are also plenty of moments when he engages in dopey, "Are you all having a good time?" patter with the crowd. It's corny but adorable, because it feels just as genuine as his promises to bring sexy back.
Hokey Timberlake may be, but Tennessee Kids is massively enjoyable, a salute to old-fashioned, skin-deep crowd-pleasers who deliver their polished product perfectly. Timberlake is hardly a visionary, but that hasn't stopped him from aspiring to be more. Frankly, it's how he's gotten this far: After all, how many boy-band stars ever amounted to anything? Tennessee Kids celebrates his refusal to give up on himself. He believes music ought to be sexy and fun. It's not all that art can achieve. But at this film's best, this very agreeable lightweight makes you forget that fact in the face of his enthralling showbiz razzle-dazzle.