All this week, join us for a delightfully unwell celebration of our Internet Boyfriends. They're sweet, beautiful men we've never met, and we can't wait to share the fully formed relationships we have with each of them.
There are two types of internet boyfriends. There's the widely acknowledged, universally loved boyfriends like Keanu Reeves, Timothée Chalamet and Childish Gambino, and then there's the ones who are globally obscure, but distinctly renowned among a very specific subset of society. Food writer Jonathan Nunn falls into the latter category. A recent tweet I think sums it up more succinctly: "In certain social circles (mine), Jonathan Nunn is easily one of the most famous people in the U.K."
Nunn, 32, is the London-based founder and editor of the newsletter Vittles, which, as well as publishing his own writing, gives new writers and underrepresented cuisines, communities and eateries a voice in the U.K.'s usually exclusive and elite food media. Nunn — who grew up in Bounds Green, north London — started Vittles in March 2020, and, as of December 2021, it's amassed more than 21,000 free subscribers, with paid subscribers "in the thousands." It's easy to see why — Vittles is unlike any other food platform in the country. Instead of offering a Time Out-esque list of "trendy" places to eat in the latest area being gentrified — or reviewing exorbitant small-plate restaurants in central London — Vittles publishes hyper-localized recommendations of hidden food stalls and unassuming restaurants, thoughtful pieces like "Decolonizing British Restaurant Criticism" and "How to Destroy the Imperial Food System" and deep dives into the cuisines and cultures of specific areas in the country.
It was just two years before launching Vittles that Nunn started writing about food. Before this, he recently told The New Statesman, "[He] was just kind of eating for the sake of it." Eventually, among friends, he started to get a reputation as the person who gives restaurant recommendations. From there, he began using Twitter to share his commentary on the U.K.'s food media. "I just had this real sense of injustice about the fact that London is so lied-about," he continued, "and especially [by] people living in London. I wanted to write about the London that I knew, and to write about a version of London which I had grown up with and seemed more relevant to me than the picture of London which had been portrayed within restaurant writing."
It's fair to say he's achieved this goal. In addition to Vittles, Nunn writes for The Guardian, Eater London and Wicked Leeks, and perhaps most popularly, posts a seemingly endless barrage of photos of the food he's eating on Instagram. (I remember Nunn tweeting once about his doctor warning him against regularly consuming three lunches — a habit that explains the barrage of pics.) They're always unglamorous snaps of plates, boxes or bags containing (usually) cheap and delicious food from small stalls, takeout places or restaurants somewhere far outside of the center of London, and they always show off the breadth of cuisines that the city has to offer. These are the photos and locations often shared in group chats — the inspiration for people like me to cycle across the city for an Algerian sandwich from a stall tucked away in a north London market (it's called Sam Sandwiches, by the way, and it's fantastic).
Don't just take my word for it, though. "Just three hours til I go eat a huge flame-roasted carp in a supermarket in Park Royal because Jonathan Nunn told me to," reads a tweet from last year.
It's all this — and Nunn himself, whose social media presence alludes to his humor, charm and genuinity — that's led him to amass a specific, dedicated fan base made primarily of late 20 and early 30-something men who live in southeast London. If my own social circle is anything to go by, some of these men exclusively eat at places recommended by Nunn.
Nunn politely declined to be interviewed for this piece, on the basis that he wants his writing and the writing he publishes to be the focus of things, as opposed to him as a personality. But speaking to fans — who I've previously seen called "Nunn-heads" — it's clear that the writer needn't worry about people losing focus on his work. It's Vittles, his endless Instagram recommendations and the way he's changing food media that draws people in.
Twenty-six-year-old Lucas (a pseudonym), a paid Vittles subscriber from southeast London, found himself increasingly drawn to Nunn's work after reading several articles of his. "My partner and I were searching for places to eat in Chinatown from articles that weren't the classic Time Out 'Best Eats,' which felt like they were written by someone who hasn't visited the places on the list," he tells me. "I remember reading [on Eater London] that Food House in Chinatown was a place where students go to take respite from going to [the high fashion retailer] Dover Street Market, which, of course, made me visit. From there, I tended to use Eater to find restaurants, and noticed that all of the articles [I was drawn to] were written by Jonathan Nunn."
For Toby (also not his real name), another 26-year-old paid Vittles subscriber from southeast London, the appeal of Nunn's work lies in its unpretentiousness and exploration of food "from a really sociological perspective." "It's not restaurant reviews, but how and why food shapes our cities' cultural landscapes, written in a very approachable way," Toby tells me. "The first article I read was about McDonald's — about the ethics of loving it, how it's a safe haven for travelers in any city, all over the world, and how anyone is lying to themselves if they say that they don't like their cheeseburgers." Since that first article, Toby has eaten at more Nunn-recommended restaurants than he can remember. One particular place that he's visited frequently — partly because it's conveniently located, and partly because it's tasty and cheap — is a southeast London-based Algerian bakery called El Marsem, which was recommended by Nunn in 2020.
Pseudonymous Pete, 25, also from southeast London, likes the political and cultural element of food writing offered by Vittles and Nunn's other work as well, "especially on complicated things like authenticity, which I don't think a lame centrist identity politics is really equipped to deal with." He adds: "It's nice to read and know that he's coming at these broad issues of community and identity in totally good faith." One place Pete was recently impressed by was Roti Joupa in southwest London, as recommended by Nunn in an Eater London article about the best value places to eat in the city. Nunn wrote of the restaurant: "Roti Joupa specializes in the Indian-influenced cuisine of Trinidad and Tobago. Pliant rotis are folded over each other as vehicles for curried meats and vegetables, but the ideal way to experience Roti Joupa is through an Avengers assemblage of snacks: hot doubles with chickpeas and hot sauce — ask for it — fluffy pholourie; buss-up pieces of roti, scragged edged and perfect for dunking in a curry; and, best of all, London's best mac n' cheese, tray bake style and floating in a paddling pool of tamarind."
When Nunn writes this graphically, it makes it easy to picture — and taste — the food he's writing about. But his fans picture him too, often as extensions of themselves. "I like that he's only a little older than myself," says Toby, "and I imagine he exists in a similar financial bracket. He's funny, and shares a lot of the distaste and cynicism that I have for the new wave of 'hip' London restaurants." As much as Nunn wants the focus to be on the work — and it is! — there's no denying people are in it for him as much as they are the food.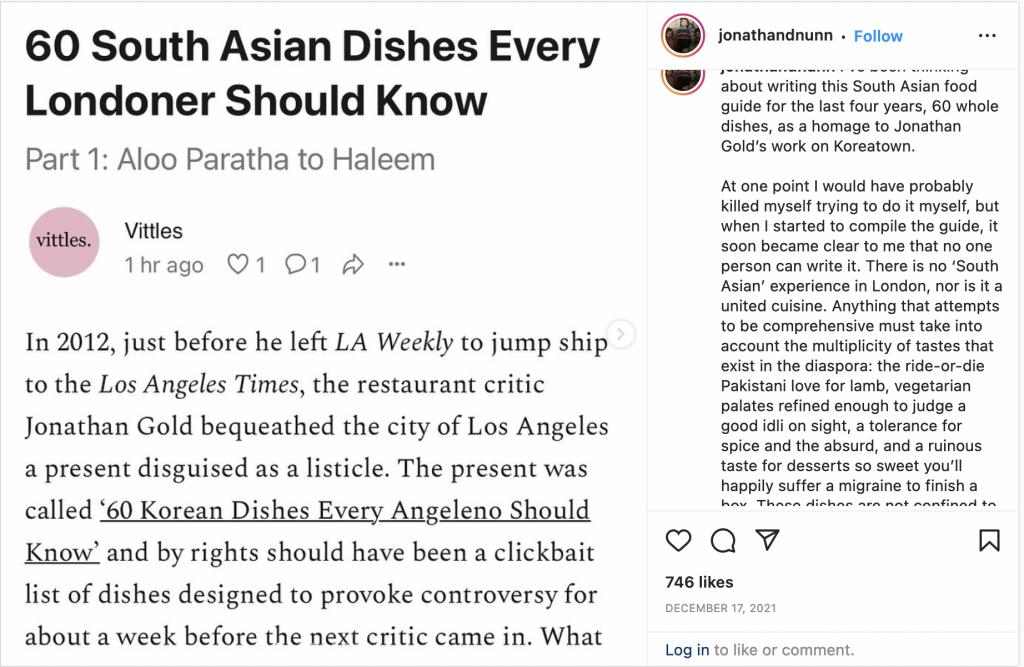 Still, Nunn doesn't just boast, as The New Statesman said of his early followers, "a certain left-wing corner of Twitter" — high-profile foodies like Nigella Lawson and Ruby Tandoh are also avid "Nunn-heads." And although, as Tandoh recently pointed out in an interview with gal-dem, people have likely "been writing about food in these thoughtful ways for some time, in zines or community recipe books," publications like Eater and Vittles are starting to make a mark in the mainstream. This type of food writing is essential in spotlighting the communities and cuisines regularly ignored by the mainstream food media, and sharing the historical and political contexts behind them.
As gal-dem added, too, these platforms are also getting young writers, and particularly those of color, excited about food writing. "If you submit [a piece of writing] to me, I'm not gonna water it down or defang it," Nunn told gal-dem. "I'm not going to try and push you to make it more understandable for a white middle-class audience. I'm going to treat the audience like they're adults." Nunn continues that it's not just about getting writers of color talking about this, but encouraging "a change in editorial thinking as well."
And, it feels like this is what Nunn is aiming to do by shying away from the spotlight being on him as a personality. While Nunn's voice might be a crucial appeal of his work, it's not all about him — it's about the voices of the writers he commissions and the stories they tell, the restaurants he recommends and, essentially, the dismantling of elitist, inaccessible food media. "Restaurant writers who have the power to change the narrative also have a responsibility to be more diligent, writing about the role in the community these restaurants have and contextualizing them against the backdrop of citywide issues such as migration, gentrification, racism and displacement, not with the language of discovery and exploration but by amplifying voices from those communities," Nunn once wrote in an article about how restaurants on the Old Kent Road, a major road in southeast London, have, over years, made themselves indispensable to their communities.
And these kinds of communities do find amplification in Nunn and his contributors' work. In articles about "South Asian Dishes Every Londoner Should Know," "Philoxenia: The Greek-Cypriot Community of Palmers Green" and, even, "The Hyper-Regional Chippy Traditions of Britain and Ireland," they, not the writer, are the star.
After all, for many, it is about the food — discovering it, learning about it and eating it. "My friends laugh that I'm a 'Jonathan Nunn stan' — and maybe I am," says Toby. "But show me someone else who's eaten in the vast multitude of restaurants that he has, complete with meticulously-compiled lists [of recommendations] by area, and maybe I'll stan them instead. I hate spending money on disappointing food, so if someone whose opinion I respect has given a restaurant their approval, I'll always go with that. I've been to some really amazing places that I would never have found myself in thanks to him."