A few days ago, I was Instagram DM-ing portrait photographer and creative director Lauren Woods about content censorship when they suddenly stopped responding to my questions. For a minute, I was confused, but soon, they messaged me from their backup account. Their ability to use Instagram's messaging function had been disabled in the middle of our conversation, a freaky occurrence that caused us both to wonder: Could something in our relatively tame DMs have pissed off the app's content-censoring algorithms? 
Given the confusion and paranoia around Instagram's recent Terms of Service update, it's as good a guess as any. Several weeks ago, Instagram announced a suite of changes to their ToS regarding data usage and personalization, but sex industry professionals — as well as artists like Woods — worried that the changes might target them, too. More specifically, they were concerned that changes to Facebook's Community Standards — which govern Instagram and require users to adhere to its rules around sexual solicitation — would further restrict the type of content they could post, depriving them of both the audiences and income they need to survive. 
These concerns were hardly unfounded: For years, sex workers, sex educators, pole dancers, artists, tantric coaches, BDSM-ers and others have had their content shadowbanned or removed with little to no explanation, and Instagram has a long history of exacting this approach on sex workers and queer creators, even when their content meets community standards. Likewise, scores of sex workers and artists on Twitter and Reddit have pointed out that Instagram seems to target them, but not influencers, celebrities or brands who post near-identical content. Understandably, then, they weren't exactly thrilled to hear Instagram's ToS would be changing again.
Neither was Woods. Better known as Portrait Mami, they specialize in honest, tender portraits of trans, queer, Black and brown bodies that are sometimes presented intimately in nude or near-nude states. They've gone through 15 different accounts on Instagram over the last three years due to various bans and problems related to nudity and solicitation, and they're scared that its recent update — which went into effect yesterday — will push them off the platform completely. 
Meanwhile, Instagram has denied that it's targeting anyone, and has stated in tweets and to other publications that nothing about its Standards surrounding nudity and sexual solicitation has changed with the update, including how they're enforced. On paper, that much appears to be true — that portion of the Standards has been the same since November, prompting some journalists like Out's Mikelle Street to beg the masses to "please calm down" about the ToS update. 
The Problem With Instagram's Terms of Service
The thing is, a lack of change isn't necessarily a good thing. Even without any alterations to Facebook's Community Standards, its rules around sex and nudity are strange and often arbitrary, conflating things like prostitution with potentially innocent things like DM-ing "send nudes" to your long-term partner. This makes it hard for creators to know if they're breaking the rules, especially considering their list of offensive materials are things people do on Instagram all the time.
Sexting, posting thirst traps and using the eggplant emoji suggestively to ask for nudes or sex — even in DMs — are technically not allowed, and "regionalized sexual slang" — whatever that means — is off the table. "Long shots of fully nude butts" are also bad news, as are depictions of wetness, erections, sex toys and OnlyFans links that are "shared alongside content attempting to share or offer sexual materials, or coordinate sexual encounters between adults." That's not even an exhaustive list either — as many others have pointed out, there's an "including but not limited to" clause in the Standards, meaning that you could be shadowbanned or disabled for something Instagram considers sexual but doesn't publicize.
Unsurprisingly, this makes it hard for sex workers to promote their work. Because Instagram's ham-fisted algorithms operate like angry Old Testament God, the app can't tell the difference between an innocent, SFW promotion and content that's actually dangerous, meaning many sex workers' content can be shawdowbanned or removed. "It's not like they're making like a committee of really thoughtful people who sift through the information, making sure that all of it's consensual," says Selena the Stripper, president of the stripper labor coalition Soldiers of Pole. "The obvious thing they're going to do, and the cheapest possible solution, is to just have a big dumb algorithm that can't tell the difference between sand dunes and tits."
And again, while nothing has technically changed in the ToS, things are looking much different on the ground. For the past month or so, Instagram users have had their SFW content removed by said Big Dumb Algorithm, and reports of this happening seem to only have increased in the time leading up to the ToS update. To them, lots have changed — Facebook and Instagram just aren't admitting it.
Instagram's New Era of Censorship
In November, Sarah, a young breast cancer survivor who asked to be referred to by pseudonym, tried to post a photo of her post-mastectomy scarring. Her scars were visible in the image, and she didn't even have a nipple to censor. Facebook has a specific exception for such content, yet within 30 seconds of posting, her photo was removed. She appealed, explaining to Instagram that she had breast cancer, but after multiple tries, she gave up. "I feel like I'm talking to an algorithm," she tells me, echoing the dehumanized feeling mentioned again and again by people who've had their perfectly appropriate content taken down.
Earlier this month, Stefano Kerberos, an Italian graphic designer and illustrator, experienced something similar when he posted a commissioned portrait of a nude man with a massive Cheshire cat covering his hog. According to Facebook's standards for objectionable nude content, the portrait should have been fine — they also make an allowance for nude painting — but his art was removed for sexual solicitation. He doesn't understand why; he didn't even mention a price for the painting, and there was nothing overtly sexual about its caption. Still, he wasn't given any appeal options by Instagram. 
He'd heard of this happening to other erotic artists, but almost never when their art depicted something heterosexual. "I feel like Instagram has a history of enforcing queer erasure especially when it goes toward the erotic side of things," he says. "I notice a very different treatment toward straight erotic content." He's now encouraging artists to move to Xplicit, an indie social media platform built for queer artists, where he feels more comfortable.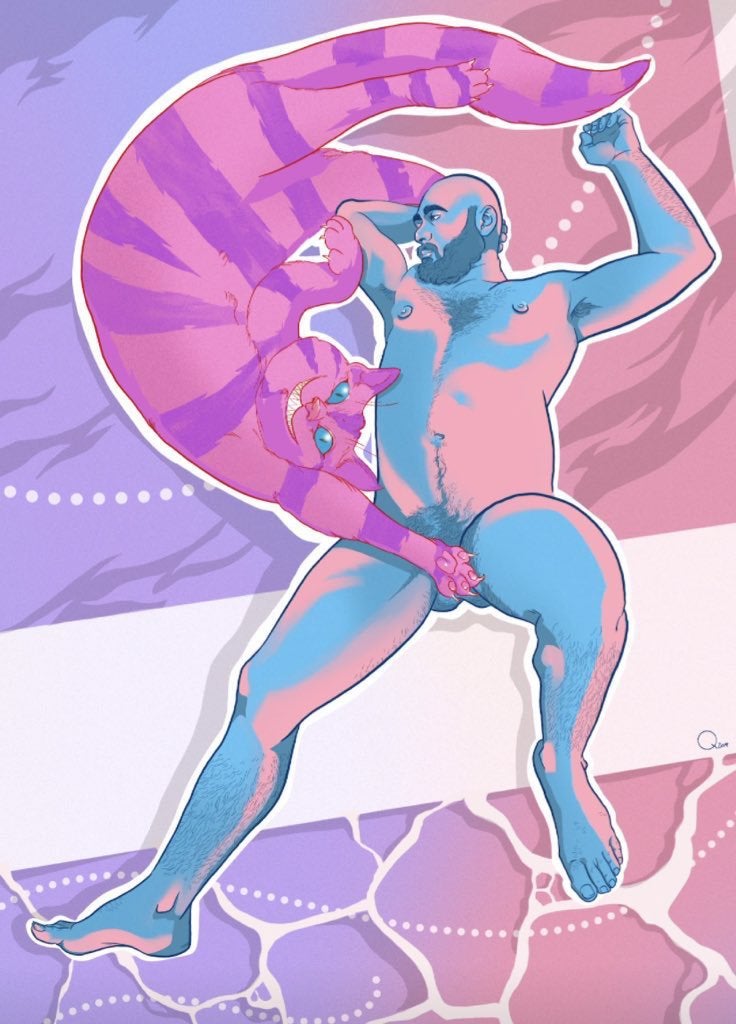 Across the board, these changes don't seem to be evenly distributed, with privilege and power making a big difference. Case in point: Last month, OnlyFans creator and sex worker Ivy Vernalis uploaded a get-out-the-vote photo nearly identical to an image on Playboy's official Instagram account. Surprise, surprise: Her post was deleted, and the Bunny's blue-check version is still up. Many other sex workers have been reporting the same thing about corporate accounts.
'I'm So Done'
The near-eternal struggle of avoiding bans while trying to build up a social media following can be draining. "When you lose something [like an account], you lose months or years of work," Vernalis says. In the past year, she's been banned or disabled from TikTok, Twitter, Tinder, Bumble, Instagram and, just last week, Venmo. Often, she's told that her ordinary posts count as sexual solicitation and nudity; other times she's not given a reason.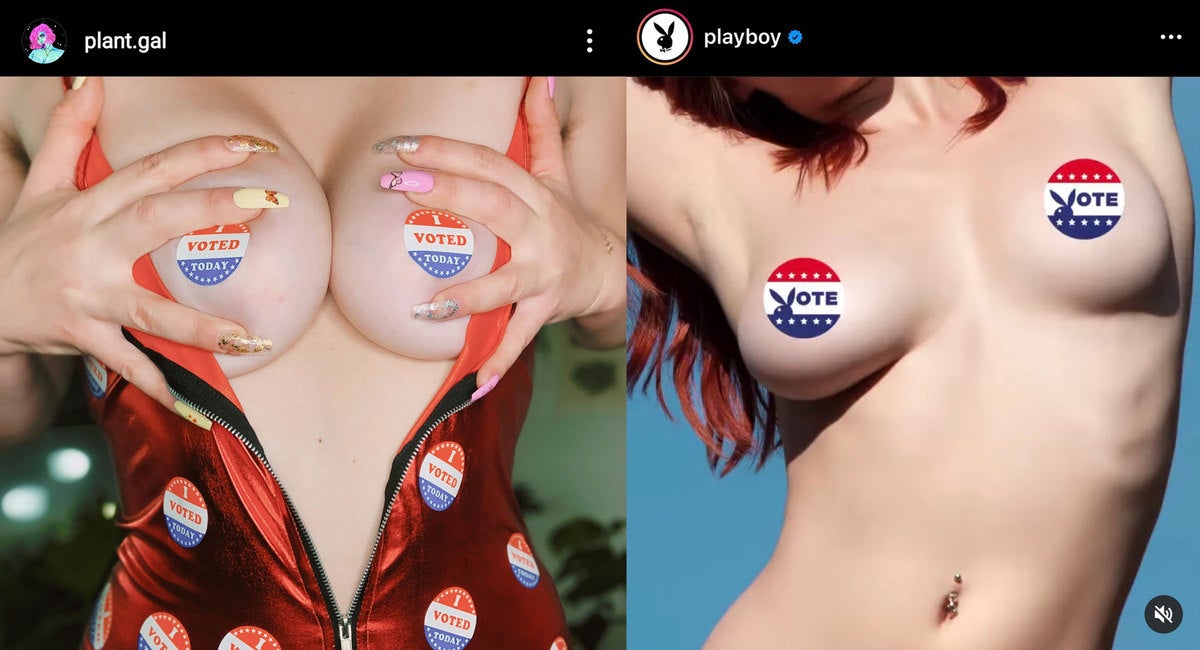 Although Facebook's guidelines have exceptions for content related to sex education, educators on Instagram don't exactly feel in the clear. Zoë Ligon, author of Carnal Knowledge: Sex Education You Didn't Get in School, deleted a crop of potentially lewd photos from her page last week, while fetish trainer and sex educator Jet Setting Jasmine loaded all of her Instagram content onto an external hard drive to make sure it wasn't lost. It was good thinking — Jasmine's account was later disabled and her 76,000 followers were lost. She's still unclear if her account is recoverable. At almost the exact same time, Daphne Von Rey, a trans stripper and founder of L.A.'s infamous trans strip show Jolene, had her profile purged as well.
For Von Rey, the removal of her content — which included videos of her dancing but also plenty of SFW photoshoots as well — is beyond demoralizing. She has a backup account, but she can't even look at it right now. "I'm just so unmotivated," she says. "I'm so done." 
"It hurts because I don't get to talk about the things that I'm passionate about without it being stigmatized as overtly sexual," Woods adds. "It's a complete attack of our humanity, dignity and ability to connect with one another under already such isolated times with this pandemic."
Overall, this has been a tumultuous, difficult month for sex on the internet, with Pornhub, Google, Patreon, TikTok and Pastebin all taking steps to restrict sexual content, often in response to anti-sex-worker legislation such as FOSTA-SESTA.

The New Language of NSFW Instagram
As such, sex workers, sex educators and other Sexy People at Large have developed a secret language to talk about sex in that they hope will help them skirt Instagram's content-trawling bots. There's "pô rñ," "s*x," "Lonely Clams," "Only Crayons," and sometimes, just "the forbidden site" (though the saxophone emoji figures prominently, too — "sax" is as good as any substitute for "sex"). 
Interestingly, some are calling for this language to become more Shrek-based — as @middleagestripper recently suggested in an Instagram post, evading bans could be as simple as swapping out your actual profession for something related to giant green ogres. For example: the username @middleagestripper could easily become @middleageshrek, the "swamp" could be the club and Lord Farquaad could make a handy stand-in for "Ownlee Fawns."
Well, then — here's to the trial-and-error process of future thirst traps, Shrek-flavored DM sexts and my favorite schmex workers' Only Crayons liñk̵s̵.