When it comes to primetime TV game shows, people tend to fall into one of two camps: Wheel of Fortune, or Jeopardy!.
I, my friends, am a Jeopardy! man. Wheel of Fortune can eat shit.
It's been this way since the first time I sat down to watch the show with my late grandmother. Alex Trebek would read off the clues, she'd yell the answers out in the form of a question and I'd eat the celery sticks with peanut butter that she made me. The end result: I was hooked.
My love for the show only grew from there. It turns out that I had a thing for trivia. I'm the guy who read the almanacs his mother gave him for Christmas each year cover to cover. Eventually, I thought I'd try my luck on the show. So I tried out. And tried out. And tried out. And probably a few more times after that.
Even though I never made it, I still love the show. So when I saw that Netflix had licensed the Tournament of Champions and the Battle of the Decades, I knew I'd need to set aside some time to binge. I just didn't think I'd watch all 35 episodes in a single day (that's roughly 18 hours of programming). Or that my editor would ask me to write about what I learned.
And yet, here we are.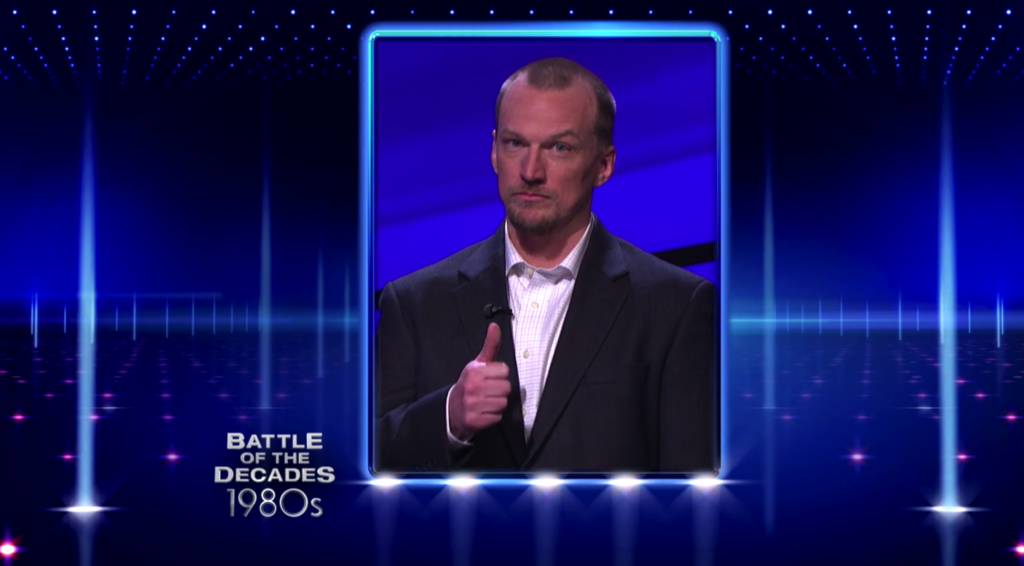 1. First things first: Allow me to explain what the Tournament of Champions and Battle of the Decades are. The Tournament of Champions is basically the best of the winners from a particular season, which in this case is 2013's Season 29. The Battle of the Decades, on the other hand, is a round robin of all the champions from each decade the show's been on air — broken into the 1980s, 1990s and 2000s — with the eventual winner collecting a cool mil.
2. Right off the bat, it's clear that everyone has used their previous winnings way smarter ways than I ever would. If I won $250,000, as one does when they win a Tournament of Champions, I'd probably fly first class on Emirates. Not these model citizens.
Jim Scott, five-time winner and the youngest Jeopardy! champion when he won in 1991, used his winnings to attend law school.
1992 Tournament of Champions winner Leszek Pawlowicz (and self-described "shovelbum") bought himself a house.
3. Speaking of things people bought with their Jeopardy! winnings, champion Jerome Vered wanted to buy a Steinway he'd had his eye on, but when he returned to the store with his $250,000 Tournament of Champions winnings, he found out his prized piano had been sold to a buyer in Europe — a buyer who turned out to be The Edge (from, you know, U2).
4. Jeopardy! doesn't exactly break the bank when it comes to its set pieces. Check out this guy tasked with playing the answers to the "Composer" category: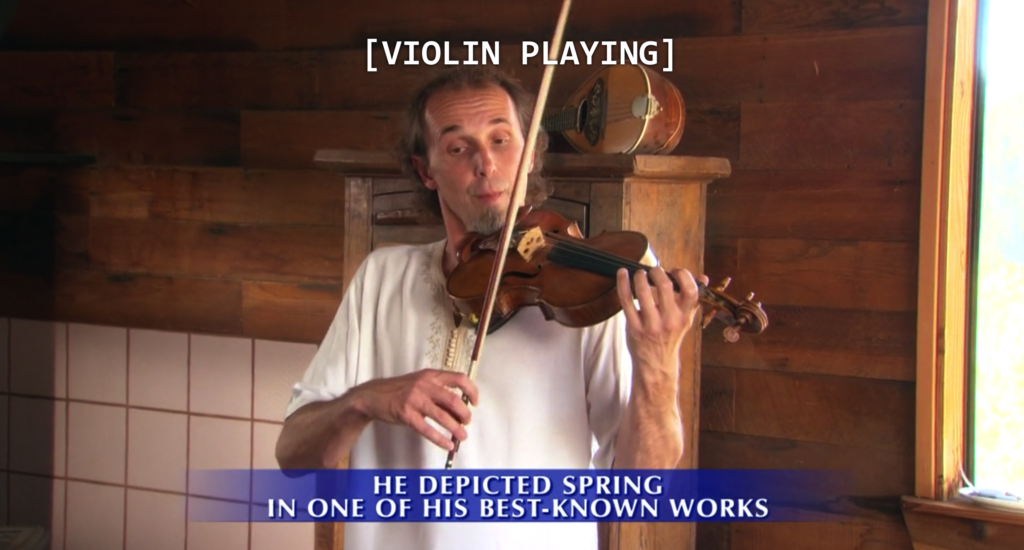 5. Contestant Robin Carroll is way too excited about the #WhoIsRobinCarroll hashtag her employer created to drum up business off the back of her Jeopardy! career. I've created hashtags, Robin. They're not that special.
6. FACT ALERT: I (and everyone else in the world) immediately knew that "I hope to see my friend and shake his hand. I hope the Pacific is as blue as it has been in my dreams. I hope" is a line from The Shawshank Redemption. And so, its usage as a Daily Double was super lame.
7. The Battle of the Decades: 1980s Week featured a champion who's also a real-life political celebrity in Richard Cordray, Barack Obama's appointee to be the first ever Director of the Consumer Financial Protection Bureau (CFPB). He came in second in his Jeopardy! round, but because he's a government worker, wasn't able to accept his $5,000 in runner-up winnings. Thanks Obama!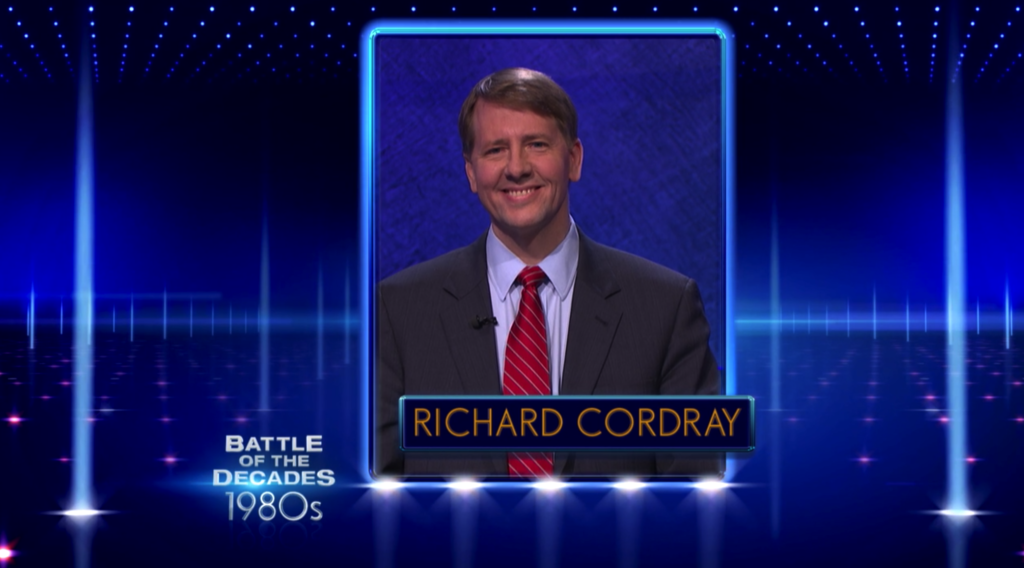 8. Director of the CFPB is cool and all, but personally, I'm more impressed with Cordray's fellow 1980s champion and former Assistant Director of the CIA, Mark Lowenthal. He got through to the quarterfinals in a squeaker of a final Jeopardy! round, which begs the question: What did he know?!?!
9. FACT ALERT: There are mountains in Maine, and the highest is Mount Katahdin.
10. Teacher Colby Burnett is a legend. The 2000s champion is wicked smart, his suits never fit and he always has this crazy look on his face like he's on a mission to kick some ass: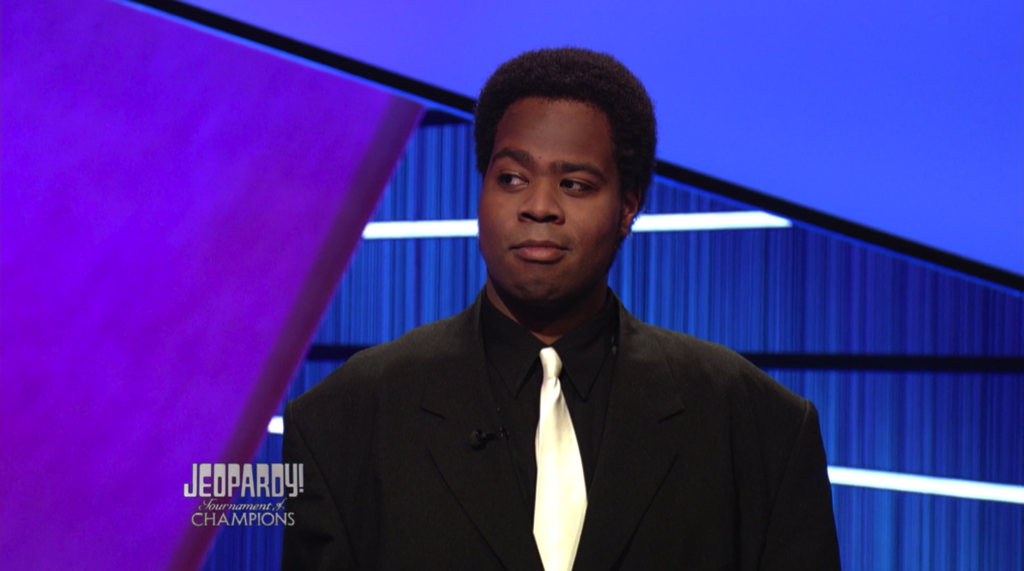 11. Being good at Jeopardy! isn't about reading almanacs — something that could've been brought to my attention 10 years ago — it's evidently about memorizing clues from online databases like the J! Archive.
12. Jeopardy! winners have used their fame in interesting ways.
Leslie Shannon owes her life's work to Jeopardy! after an apparent fan at the Wall Street Journal wrote a feature on her. That turned into 15 job interviews, and eventually, the career of her dreams in telecommunications.
Former Gov. Pat Quinn of Illinois declared December 18 "Colby Burnett Day" after Burnett won the 2013 Tournament of Champions.
2013 champion Stephanie Jass decided winning was reason enough to dress up as "herself" for a Halloween party, replete with a crown and "Jeopardy! winner" sash.
13. Unfortunately, though, Jass luck ran out this year when she was put on probation for breaking into the email accounts of her fellow Adrian College professors in order to get dirt on them.
14. FACT ALERT: In 1664, when the invading British sailed into New Amsterdam (part of what is now New York City), the governor who surrendered the town was Peter Stuyvesant. Thus, Bed-Stuy.
15. They may be longtime competitors, but that doesn't mean Jeopardy! won't occasionally throw a Wheel of Fortune-style clue in there every once in a while: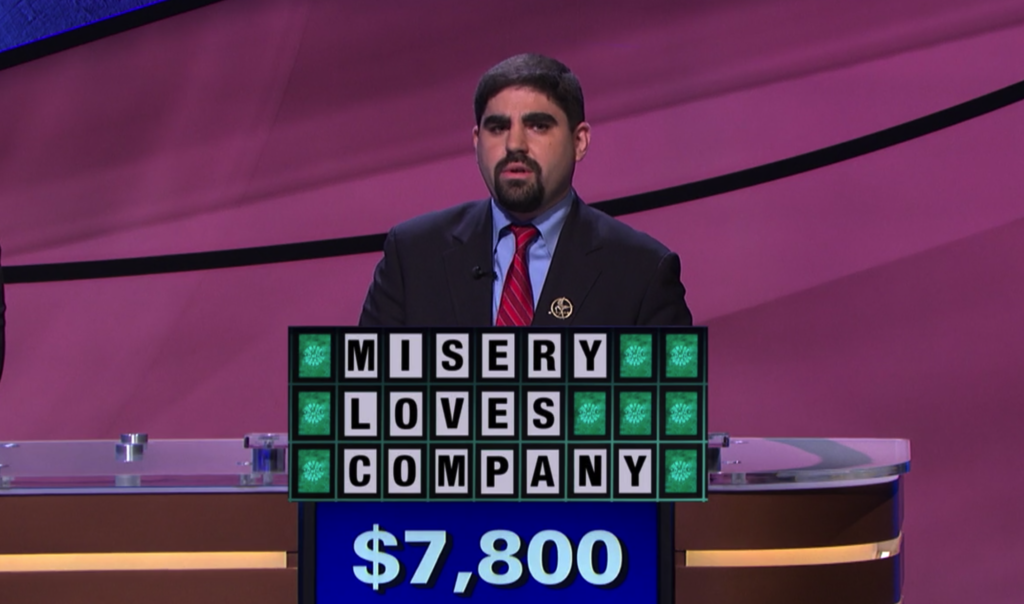 16. Rachael Schwartz was the first woman to win a Tournament of Champions all the way back in 1994.
17. The scene from Groundhog Day when Bill Murray "predicts" the answers features real footage from the show, including shots of eventual Tournament of Champions winner Jim Scott.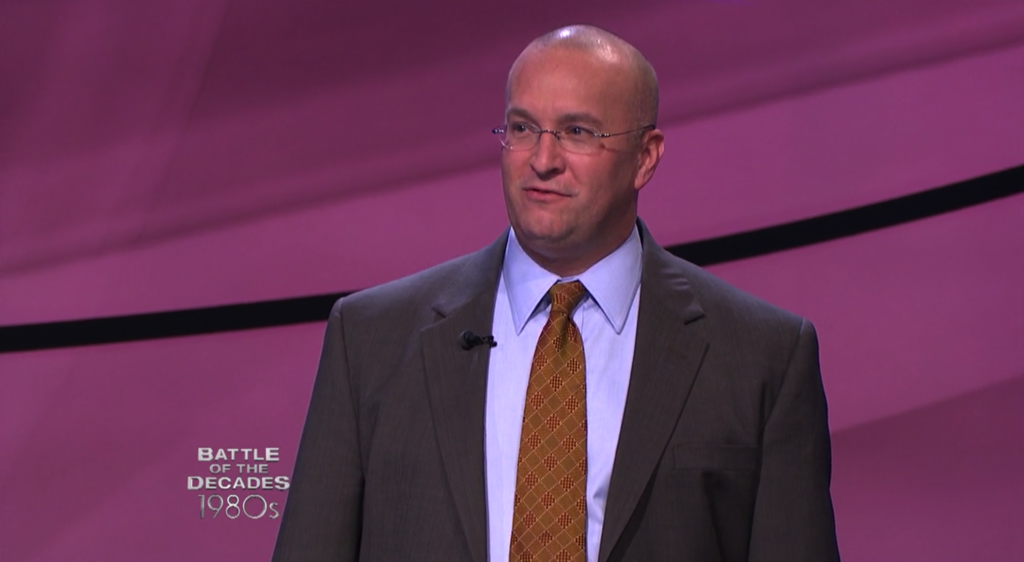 18. Battle of the Decades finalist Ken Jennings won a lot of games in a row back in 2004. Seventy-four, to be exact, a number so astronomical people say it can't be beat.
19. Fellow finalist Brad Rutter, however, might be the best to ever to do it. If it weren't for an old Jeopardy! rule that forced contestants to "retire" after winning five games in a row, it might be Rutter with the all-time consecutive wins record — especially considering he holds the record for most Jeopardy! winnings at $4,455,102, and has beaten Jennings on a couple of different occasions.
20. Neither of these two Jeopardy! masters are better than a computer, however. IBM's Watson waxed the floor with them back in 2011.
21. FACT ALERT: Dogs have "owners." Cats, on the other hand, have a "staff." Which is news to me and my cat, Marvin — I always explained to him that the correct nomenclature is "cat daddy."
22. Have you ever wanted to see what Caribbean-vacation Alex Trebek looks like? We got you covered: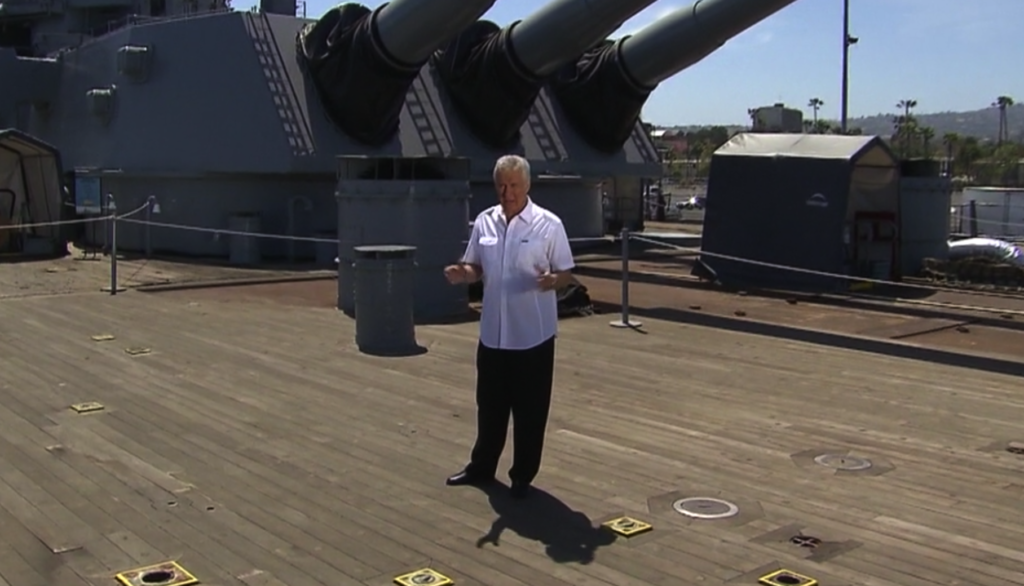 23. You can play Jeopardy! blind. When USA Today sportswriter and blind person Eddie Timanus went on the show (and returned again for the Battle of Decades: 1990s Week) producers gave him braille cards, a special braille keyboard for entering his name and his final Jeopardy! response and played a tone to identify when it was safe to begin buzzing in.
24. The Battle of the Decades final is two rounds, with money won in the first final round carried over to the second.
25. And the winner is… Nah, I won't spoil it.
So, after watching all 35 episodes of Jeopardy! on Netflix, what did I learn?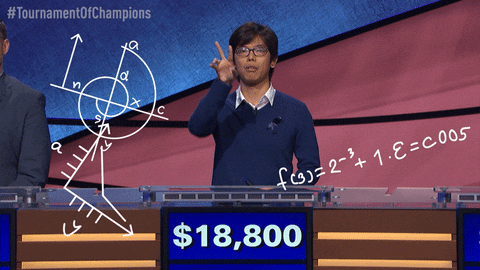 Mostly, that I didn't know shit.