Our sperm are dying.
First, men are responsible for 40 percent of cases of infertility, according to the American Society for Reproductive Medicine.
Second, sperm concentration among Western men has fallen by more than 50 percent since 1973.
Third, Father Time throttles whatever is left as male fertility gradually degrades once a guy hits his late 30s.
That adds up to a whole lotta blanks.
And a lot more interest in your microscopic Michael Phelpses.
Luckily, though, you no longer need a microscope to see them swim (or not). Instead, with the help of a flood of devices entering the so-called SpermTech space, you can MacGyver your iPhone into an at-home sperm test. "Home sperm tests like Trak and Yo allow men to take fertility into their own hands," says Florida urologist Jamin Brahmbhatt, adding that yes, the pun is intended. He does, however, suggest that even though the tests can be done in the comfort of your own home, you should review the results with a fertility expert before you come to any drastic conclusions. (Again, pun intended.)
Dr. Kenan Omurtag, a St. Louis-based OBGYN who specializes in infertility, says he uses data from the YO sperm test to preserve precious ticks from biological clocks. "I routinely see couples who have failed to conceive for years," he explains. "The wife is usually subjected to a barrage of tests before we can convince the male to offer a sample. We often find abnormalities in the sperm, but by then, the woman is 18 months older and her success with any fertility treatments will be lower."
Two of the most important parameters in a semen analysis, Brahmbhatt and Omurtag explain, are concentration (aka sperm count) and motility (how well the sperm swim), both of which can be tested via Trak and Yo respectively.
Given the dearth of sperm in the Western world over the last 45 years and curious about how cumbersome the tests are — as well as gross — we asked a number of the men on the MEL staff to try them out and report back just how potent their sperm are.
We considered it a swim meet of sorts among friends.
The results are below.
YO Sperm Test
What It Tests: Motile Sperm Concentration (the number of moving sperm)
Why It's Called Yo: According to Marcia Deutsch, CEO of the parent company that manufactures YO, "'YO' is the Japanese version of 'Yang,' a term associated with the male essence. YO is also a greeting commonly used by men; it's cool, which is also appealing."
How It Works: Put a small sample on a testing slide. Attach a mini-microscope to a smartphone that uses its light and camera to achieve a magnification of 400 times its size. Watch a video of your swimmers on the smartphone.
Price: About 60 bucks through the YO website, Amazon and eBay
The Rules: No lubricants. No partners. No fucking or jerking off for at least 48 hours beforehand.
How Our Guys' Little Guys Did: Everyone's motile sperm count was greater or equal to 6 million sperm per milliliter, considered a "Moderate / Normal Motile Sperm Concentration Range."
What It Means: Although only one sperm cell is needed to fertilize an egg, the World Health Organization (WHO) considers 6 million motile sperm per milliliter the "cutoff" of what determines a result of LOW v. MODERATE / NORMAL. (Fewer than 5 percent of men who created a pregnancy in the previous year have a range below 6 million.) So it's safe to say the men of MEL are at least more fertile than 5 percent of fathers worldwide.
The Doctor's Opinion: Given those numbers, Omurtag wasn't surprised that everyone was above the WHO's cutoff point. "In regard to everyone getting the same result, it's surprisingly not surprising. In the general population, only around 5 to 7 percent of men are infertile. So you guys are all producing a good amount of moving sperm, just like 90 percent of the population. If there was someone in the group, for example, who had a vasectomy, I would expect them to get a LOW result."
YO offers a binary result that Omurtag can use to treat patients. With the test, he can now eliminate any concerns about the swimming capability of your sperm and look at other parameters like sperm concentration (count) and morphology (size and shape), the latter of which, he explains, can be viewed in YO's smartphone app and reviewed by your physician. "A video with LOW results would allow me to better customize further diagnosis and treatment of both the male and his partner."
Testimonials: "For someone seriously interested in checking their sperm count and health, this is an incredibly handy product," says assistant editor Ian Lecklitner. "But dealing with a cup of your own semen in such close quarters to your iPhone is a… strange experience. If you're squeamish, I don't recommend it."
"I enjoyed the nuts and bolts of the sperm tests — putting the powder in, hooking the device up to my phone, etc.," says senior editor Nick Leftley, a man who once stuck a needle in his taint for a story. "It felt like some kind of junior science kit experiment."
That sentiment was echoed by my fellow staff writer John McDermott, who initially refused to participate but changed his mind once it became a competition: "I never knew your iPhone could function as a microscope, and seeing my sperm swimming was kind of exhilarating."
The most jarring part of the experience for assistant editor Andrew Fiouzi was having to produce a sperm sample sans lube. "It felt archaic, brazen and ultimately somewhat nostalgic," he notes.
Trak Fertility Test for Men
What It Tests: Concentration (sperm count)
How It Works: Put a small sample of your semen into a disposable cartridge and attach the cartridge to the base of a small, hockey-puck-shaped, double-A-powered centrifuge that spins the cartridge like a little propeller. The semen separates into its component parts, and the isolated sperm fills a visible chamber — like mercury in a thermometer. It categorizes you sperm concentration into one of three categories:
Optimal = Above 55 million sperm per milliliter of semen
Moderate = Between 55 million and 15 million sperm per milliliter of semen
Low = Below 15 million sperm per milliliter of semen
Price: About $200 through the Trak website and Amazon
The Rules: Same as above — no lubricants, no partners and at least 48 hours of abstinence.
Some Context: The World Health Organization found that 15 million sperm per milliliter of semen is in the 5th percentile among men who successfully fathered children within the past 12 months. This means that men who have a sperm concentration below that number will likely have fertility problems, which is why it's referred to as the clinical cutoff for subfertility.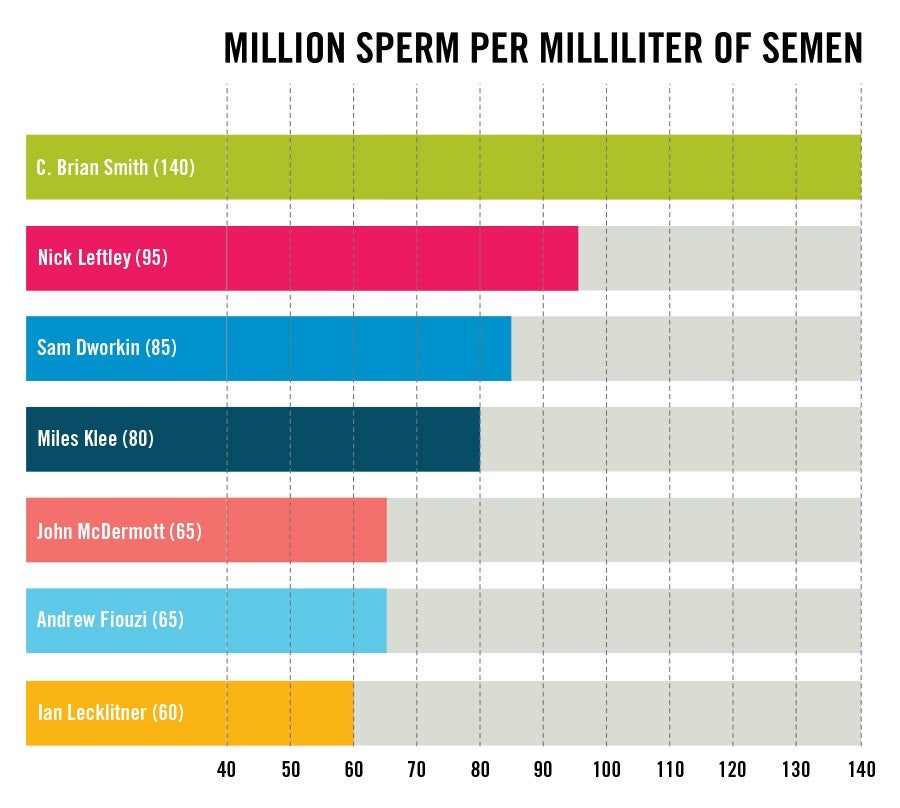 Testimonials:
Ian Lecklitner (60): "Honestly, I cared shockingly little about my results both before and after seeing them. Though that may have been different had I been infertile. Still, there are so many other options today for couples who have trouble making babies. So I'm not sure I can ever see myself stressing too much about my sperm count."
McDermott (65): "Being outed for having low T on Facebook Live is definitely the lowlight of my young career."
Miles Klee, Contributing Writer (80): "I'm cool with a subpar performance, I'm not trying to fertilize. At the same time, nice not to come in last, just as a point of dignity. I'd never tried to jizz into a cup before — I was most stressed about that, because aiming this stuff is not a forte of mine — but everything went cleanly."
Sam Dworkin, Assistant Art Director (85): "For me, the toughest part of the challenge was completing both tests with one sample. I procrastinate whenever I'm given a task, so I put myself in a pretty sticky situation. I was pleased with finishing first in my age bracket, especially because my coworkers chose me as the favorite to finish last!"
Nick (105): "Ejaculating into a small plastic salsa tub wasn't the greatest experience, but hey, I've probably had worse."
C. Brian Smith (140 M/mL): "I've always suspected I had way more sperm than my male colleagues (and the general population). It's ironic, though, that the gay guy on staff — and therefore the least likely to impregnate a female — is overflowing with sperm."
The Doctor's Opinion: Brahmbhatt was very impressed with our results, specifically my 140. "You are Superman, buddy. You're like overflowing!" While we can't all be Men of Steel, all of the MEL men greatly exceeded the WHO minimum. "Even if you have lower sperm counts you can still get someone pregnant," Brahmbhatt notes. "Anything over 15 million I'm happy with."