While their names are plentiful — e.g., "pocket pussy," "Fleshlight," "sleeve" and "stroker" — the origin story of male masturbators (essentially, the preeminent male sex toy) is far fuzzier.
In fairness, the emphasis has always been more about ease of service — from Amazon Prime delivery options to the plastic interior that creates the cum-worthy friction — than the entrepreneurial zeal that brought them to market in the first place. Not to mention, conceptually speaking at least, men have long found ways to masturbate with friction long before Jason Biggs fucked a pie. For example, the Romans lubed up fresh loaves of bread for them to butter as far back as 2,000 years ago. (And according to Rebecca Weinberg, general manager of the sex-toy manufacturer XR Brands, "Both fruits and vegetables have been used to get guys off" since similarly ancient times.)
Still, the contemporary history of the male masturbator is worth telling — if for no other reason than how it's allowed porn stars to license their brand (read: their genitals) and earn in an era when making money creating porn has grown increasingly more difficult.
To properly level set, I'm ignoring the sex doll, which existed before the proliferation of these streamlined male masturbators. Instead, my research focuses on the rubbery, gummy, frequently dishwasher-safe versions for sale today, the most popular of which have always been direct replicas of popular porn performers.

1. Marty Tucker, 78, is the founder of Topco, a sex-toy manufacturer that now sells a twerking butt that you can pair with VR goggles. He and the company are best-known, however, for creating the CyberSkin® masturbation material, which has made fresh bread, fruit and vegetables unnecessary (at least in the realm of male masturbation):
"I believe Gene Wallach and the Marche Company made the first rubber masturbator from PVC vinyl in the late 1970s. It was quite firm to the touch and pretty large, about 14 inches long and 9 or 10 inches wide. For the 10 years following that, manufacturers sought out anyone they could to help them find the best material. This entailed everything from contacting Halloween mask manufacturers to meeting with Universal Studios effects people in hopes of acquiring a movie makeup effects company. What stemmed from this was a material called plastisol, which is still used in some toy production today — despite it being semi-rigid and firm to the touch.
Early on, Doc Johnson acquired Wallach and Marche's companies and sold three types of male masturbators, all made from simple pipe-shaped cylinders that were closed at one end. One had an anus-shaped opening, just a round hole. Another had a vagina-shaped opening, a large slit with a hole in the center. The third was a vagina that you could fill with warm water. The material was quite firm so it couldn't have been very pleasurable. It still sold well. The downside was there was no easy way to clean it."
2. Doc Johnson was also the first company to mold actual porn stars for masturbation toys. As founder Ron Braverman explains, "I think the first person we molded was John Holmes. It was such a huge success that we decided to try molding a female star. We started with Barbara Dare. It was right around 1980. The early masturbators we sold in the 1970s were anatomically designed, but didn't include actual molds of people."
3. During those years, Tucker and Topco had begun their efforts to make things, um, softer. "We saw the creation of super soft, realistic material around 1982 or 1983," Tucker says. "Before that, raw material companies like Shell Oil Company and Raytheon were sending their salesman to sex-toy factories pushing a new proprietary material ingredient, something called Kraton. When you heated Kraton up and added oil to it, you could make these soft, stretchy masturbators. The secret ingredient was the amount of oil added. Too much oil and your product leached oil everywhere."
4. At Topco, their first porn-star Topco's first porn-star pussy made from plastisol of Chasey Lane. Later, they were the first to cast custom molds of porn legends Jenna Jameson and Nina Hartley, both of which sold incredibly well. Says Tucker, "Once we began molding actual porn stars, the products developed based on the imagination of the product development teams — from sewing in pubic hair, to hand painting the vagina lips, to creating multiple openings and then multiple tunnels and then multiple textures within the tunnels, to using foam to reduce the weight of the products, to molds of performers while they were in different positions, to including two women in the same mold."
5. History aside, today, Doc Johnson makes more than 2,500 products at their L.A. factory. Braverman, however, says one crossover superstar's masturbator is definitely their most popular: "Both anatomical masturbators and non-realistic masturbators are on the list of our 50 best-sellers, but the Sasha Grey Cream Pie Pussy is number one in terms of popularity. Of all the products we make, she consistently ranks number one in sales."
6. Over at XBrands, the iconic, doll-faced Jesse Jane is the newest star to be molded. "We're launching six products total — including double-sided strokers, mini-strokers, a full-size doggy-style piece, a missionary piece and her very own mouse pad with gel cushion breasts," Weinberg says.
7. According to Doc Johnson, male masturbators really started to take off during the the heyday of the "Vivid Girl." Vivid revolutionized the industry when they started developing exclusive contracts with adult stars. They signed the most popular adult stars and marketed and promoted them. This made Vivid Girls more popular than most porn performers had ever been and specifically transformed porn's fan culture. As that business model started to take off, the products associated with those stars followed suit and the partnership between Vivid and Doc Johnson became huge.
8. Not surprisingly, custom-molded pieces help fans feel connected to their favorite porn performers, explains Anne Hodder, a sexual health educator and marketing specialist: "Porn sells a fantasy and strokers molded from or shaped like performers' bodies turn that fantasy into a semi-reality."
9. As far as R&D goes, Braverman maintains it all comes down to texture: "The main thing that requires testing is the internal tunnel design. We keep pushing the limits on how to texture these tunnels in order to give them extra stimulating features. Sometimes guys don't get enough sensation from the texture or don't feel the internal texture actually makes a difference in their experience. That's what brings us back to the drawing board."
10. Part of the problem, too, is that men have historically been an afterthought in the sex-toy market. "For a time, manufacturers' focus was heavily on vibrators and 'products for women,' back when the world of sex toys was still a binary his-and-hers place," explains Hodder. "Women have typically shelled out more dough for health and beauty items, and sex toys have been no different. Statistics showed women were more willing to spend money on these products, so the market accommodated that for quite some time. As such, strokers tended to be quickies, lasting only one or two times. This also meant there wasn't as much profit margin for strokers as there was for vibrators."
11. FWIW: During a recent tour of the Doc Johnson factory in the San Fernando Valley, I was told that a majority of people buying rubber sex toys still purchase them with a single use — or event, like a long lover's weekend — in mind.
12. My friend Hunter, 24, was the first man to ever show me his chest of masturbation aids. His experience has been a mixed bag. "I used to masturbate about five times a day," he says. "My first fleshlight was the Tenga, the entry level one. I was probably 18, and the first run was incredible. Honest to God, it was like jerking off for the first time, probably because it was something new and didn't feel like my dirty, sandpaper hand. Eventually, though, the semen collected and began to ferment inside. It smelled like shit. I later learned you're supposed to throw those away after one use. After that, I got the bigger one, but the novelty had faded by that time and I only used it a couple of times."
13. In 2016, the cult streetwear brand Anti Social Social Club premiered its collaboration with Tenga — a pink male masturbator imprinted with the perfect message for any sexually frigid fuccboi in your life: "Get Weird."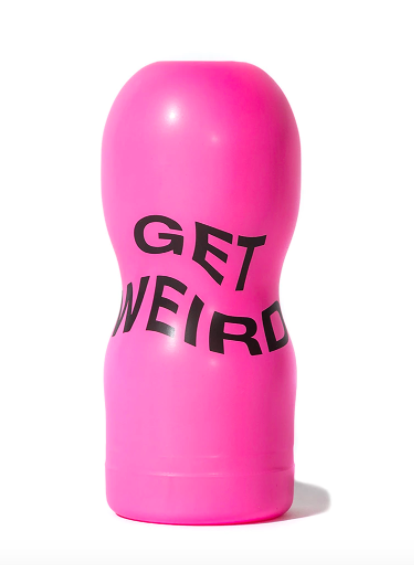 14. At Doc Johnson at least, the person responsible for all of these faux famous pussies is a captivating middle-aged bohemian woman named Anjani, a sculptor who I observed at work in her studio within the Doc Johnson headquarters. It was filled with found objects that inspire her sex toy designs — a Christmas decoration was being sourced for an anal bead design, for example — as well as mementos from the famous talent whose genitals she's cast. "I've been working at Doc Johnson since 2006. My friend, a bit of a trickster, knew me as a sculptor and invited me to interview there without telling me what products I'd be making. I like that what I make has beauty, but also function. I have to always design with that in mind."
"To make a realistic mold from a performer, the actor or actress will lie nude on a comfy bench as we apply our molding material to the areas in question," Anjani continues. "Most performers choose to shave prior to the process, but in the case of Dani Daniels — who is known for her bush — Vaseline is applied to the hair. Once the mold hardens, it's removed from the body. Then plaster is brushed onto the cast, and we go from there. It's a long process that takes several weeks. We can't give everything away, but that's the general process. I can tell you that all of the performers are really excited when they see the final product."
15. Searching for white space in the market, Brian Sloan, creator of the Autoblow 2, decided to take the opposite approach — eschewing the plastic vagina of stars for that of the girl you might have wanted to fuck at the bar earlier in the evening. "I made a different kind of 'star' masturbator from my World's Most Beautiful Vagina Contest. The reason I used amateur women is that I thought men would be more excited by 'the girl next door' idea. Before I held the contest, there were only two ways to get vulvas, mouths or anuses for sex toys: To ask a Chinese factory to invent them out of thin air or to mold them from porn stars. I wanted to do something different that men would enjoy.
"The participants entered the World's Most Beautiful Vagina Contest by visiting the website and uploading their photos. They ranged from 18 to 60 years old and came from more than 30 countries. We didn't set any criteria for what made these vaginas beautiful. That's very important to understand. After millions of votes were cast from people in nearly every country in the world, we hired a data scientist to tell us what features the winners had, if any, that others didn't. It's not easy to summarize, but generally, voters preferred non-protruding, non-wrinkly labia."
16. Sloan, however, wasn't done there. "Later, I conducted a contest to find the world's most beautiful scrotum. The contest worked the same way as the vagina contest, but there was a twist: The scientific paper I commissioned to find the answer to what an attractive scrotum looks like found that there was no such thing. In the vagina contest, the vulvas received an average score around five or so, but in the balls contest, the average was around two. That meant that all scrotums, no matter their appearance, scored so low that no type won."
17. More white space: "Look-Ma-No-Hands" male masturbators. And: Male masturbators that don't require an erection — or movement of any kind. "Over the last few years, manufacturers have started exploring with other ways to stimulate a penis that didn't necessarily require a rock-hard erection squeezing into a tight tube," says Hodder. "Rocks-Off created the Hand-Solo, an open-faced vibrating masturbator in the shape of a taco that lets the user adjust tightness by adjusting his grip. Fun Factory created the Cobra Libre, a race-car shaped stimulator that positioned a rumbling motor right where the user's frenulum would sit and could stimulate the user to orgasm even if he wasn't completely erect. He simply put his penis into the opening and that was it, no jerking or stroking necessary.
She continues, "Hot Octopuss is another company that created a masturbator that didn't require stroking motions and instead strategically positioned what it calls a Pulse Plate™ at the base so that, when the user inserted his penis, he could leave it there and enjoy pleasure without additional movement."
18. All of which is the best kind of ingenuity. This, on the other hand, is far more disturbing than using a loaf of bread to jerk off:
19. All this aside, if you have a penis and have seen Call Me By Your Name, it's clear that ancient tradition of plucking a fresh fruit to fuck still totally works: