As the old adage goes, men who drive expensive sports cars are obviously compensating for something — and that "something" is obviously their teeny-tiny dicks. But where did this idea come from? And does the stigma actually bother luxury car owners, or are they too busy knowing they have enough spare cash to afford a brand new Bugatti Veyron to give a shit what us normies think? I decided to track down a few automotive enthusiasts and ask them their dick size find out.
The first response, which came from automotive photographer Camden Thrasher, was simply this GIF (and only this GIF), which seems to suggest that the saying might be onto to something:
But needless to say, there's more to this old saying than any one GIF can unravel. "The idea is legit — or at least has some basis in practical theory," says bright red Audi A5 Sportback owner and aspiring psychiatrist Andrew Rezk. "People have always purchased nice clothes or other things to compensate for something, like having a shitty personality or being unattractive. I think guys with small dicks can be self-conscious because of societal bullshit, and if that's true, peacocking is a pretty natural reaction."
He's right: Studies show that peacocking — showing off our stuff and changing our behaviors to attract a mate — is deeply ingrained in our genes. But why the focus on fancy cars, rather than luxurious clothes or big houses? The owner of a heavily-modified Ford Mustang 50th Anniversary Edition (a friend of mine who asked to remain anonymous) points out that this might be because cars have long been associated with manliness, which makes them especially attractive to men looking to compensate (and for anyone looking to make assumptions about said man's dick size).
Still, the question remains: Does the adage hold true? At least one survey, performed by British car leasing company Flexed, points to yes. Researchers asked sports car owners, as well as their partners, about the size of their dicks — and while only seven percent of the car owners admitted to having a smaller than average dick, 42 percent of their partners claimed that they were, in fact, smaller than average. These percentages (especially the second, much more telling one) dropped drastically when the researchers asked family car owners, as well as their partners, the same question: In this case, six percent of the car owners admitted that they were smaller than average, whereas only 23 percent of their partners said the same.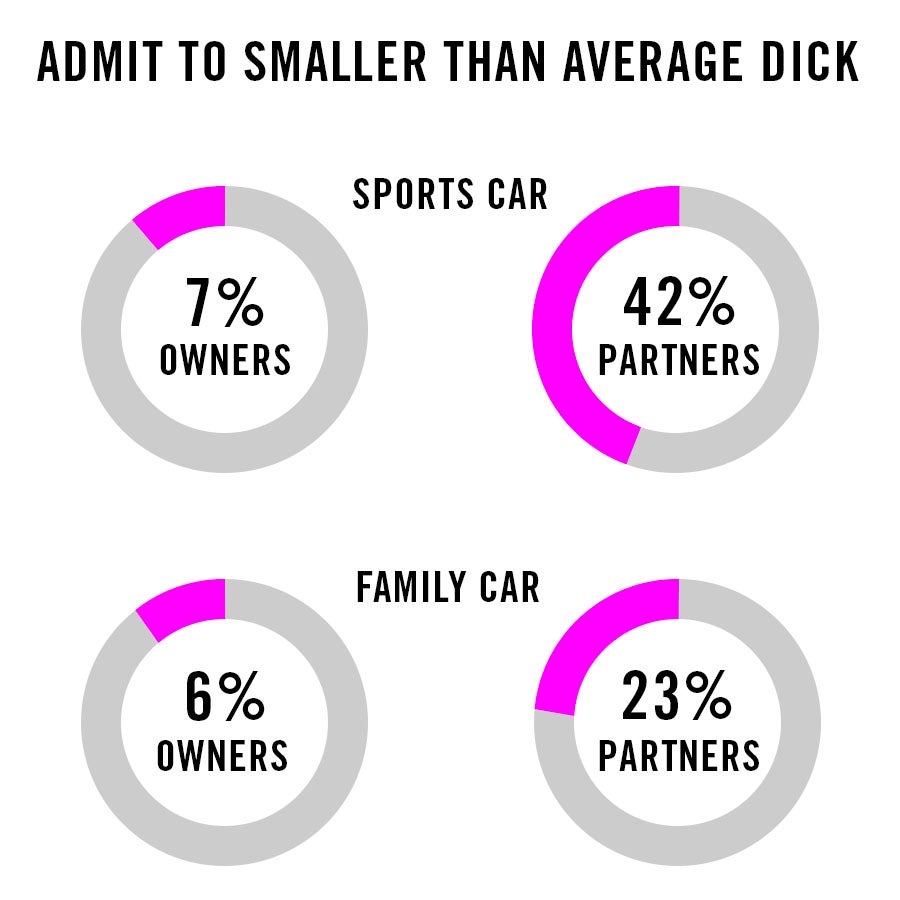 The takeaway? Firstly, there's a not inconsiderable chance that your partner has a very different view of your dick than you, and secondly, according to this survey, sports car owners are 19 percent more likely to have a smaller than average dick when compared to family car owners. This survey does, however, rely on the (almost certainly biased) opinions of the participants, so take these numbers with a grain of salt.
But if the adage is indeed true, award-winning automotive photographer Amy Shore says that the idea doesn't penetrate the world of competitive automobiling. "Deep within the automotive world, nobody thinks about this at all," she emphasizes. "We all love cars, and we share that passion without judgement. Besides, that guy in the Ferrari doesn't stand out the same within our world, where there's always another, even better Ferrari."
This isn't to say that Shore doesn't believe the stigma, though; she simply thinks that it only really applies to posers. "The stereotypical 'small dick' car owners probably don't participate in the automotive circles," she says. "They have their car as a status symbol used against their friends and peers — in our world, that wouldn't mean much." Shore goes on to theorize, though, that dick size is probably one of the last motivators for purchasing a fancy car. "There are types who are making up for something, but I doubt that it's their package size," she says. "Normally, it's a lack of other things, like personality, originality, taste and individuality."
All of which means that men are certainly prone to purchasing nice things (including fancy cars) to compensate for their small packages, but the same could be said for anyone and anything they decide to invest in. So next time you're about to yell "MICRO DICK!" at that guy driving down the road in a yellow Lamborghini, consider this passage from The Small Penis Bible:
"There's a deep irony in the 'compensating' idea because if a guy IS compensating it isn't because his dick is small — it's because he's lived a life of being shamed by poor attitudes."
Remember, kids, not only is saying that a guy has a small dick body shaming, dick size doesn't really even matter when it comes to sexual performance — two things that remain true regardless of whether or not the owner of said dick drives a bright pink Ferrari.