I read this piece from Magdalene Taylor about guys getting turned on by their gender-swapped selves thanks to Snapchat's new filters, and I have to laugh. I laugh because, when I tried it at least, I didn't turn into a sexy vixen worth rubbing one out to, as disturbing and depressing as that sounds now that I read it back to myself. I turned into a jowly, bug-eyed, bearded woman: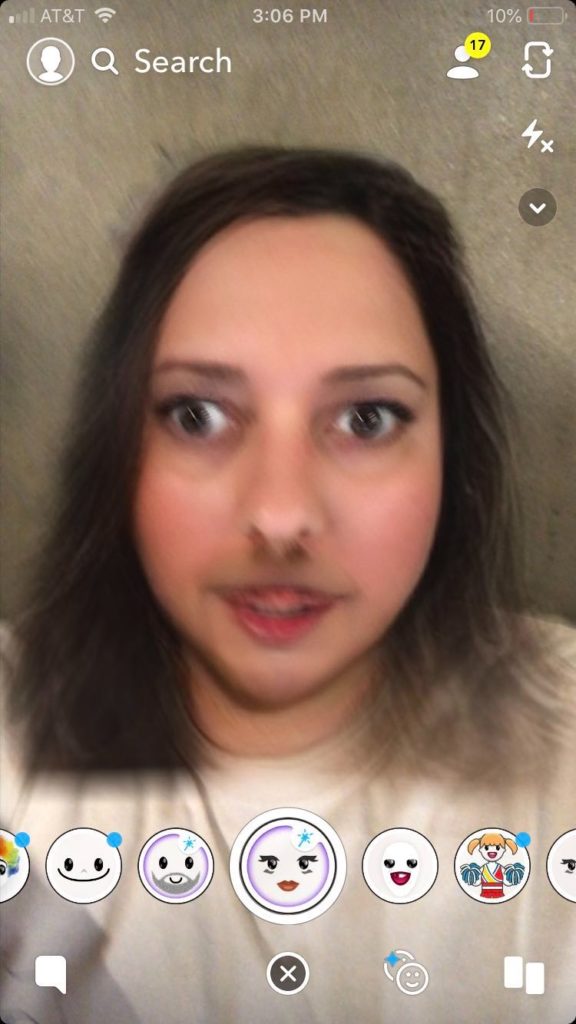 Well, you win some and you lose some. (P.S.: Don't @ me about charging my phone.)
Must Read
"The Anti-Abortion Men Who Falsely Claim They Have PTSD from Their Partners"
If you ask the pro-life movement, Male Post-Abortion Syndrome (PAS) is a dangerous PTSD-like condition that some men experience in the wake of a partner's abortion. Unfortunately for them, though, there is no reliable scientific evidence that PAS exists. But that hasn't stopped many conservatives from "doubling" the number of victims of abortion by claiming that male partners of women who aborted also suffered unnecessarily — an effective strategy for anti-abortion activists, researchers and policymakers when it comes to bending the law toward their side. READ MORE
Finding Love in a Hopeless Place
Just ask Joe Biden's son, Hunter — sometimes, in the midst of a tragedy, we find ourselves falling in love with someone we happen to be grieving with, as Hunter did with Hallie Biden, the widow of his late brother. The concept of family members becoming romantically involved after grieving over the same loss happens more often than you might think, and despite what some may say, it isn't worthy of scandal.
Momma Says
Contrary to our most popularly held assumptions, single mothers aren't responsible for producing terrible men, and absent fathers aren't a death sentence for boys. In fact, research (and a great deal of anecdotal evidence) suggests that the experience may make them stronger.
Damn, I Look Hot
By now you've likely tried out Snapchat's new gender-reversing filters and looked into the reflection of your sexier, swapped self. If you've found the woman (or man) peering back at you hot enough to jerk off to, don't be alarmed — the filter is designed to mimic the idealized version of beauty.
Unhappy Meal
Studies have long suggested that eating properly, in addition to making your body feel good, can improve your overall mental health. But for many of us, "healthy" is just a euphemism for boring and bland. And as anyone who's gone on a serious diet knows, forcing yourself to eat food that doesn't make you happy in an effort to make yourself, uh, happier, can sometimes have the opposite effect.
Running While Heavy
Male runners all over are torn when it comes to running shirtless — especially when they're carrying a few (or a lot) extra lbs. It's a popular opinion that guys who aren't rail-thin need to cover up or else passersby might recoil in disgust. Just ask CNN's Chris Cillizza:
But enough about the rantings of a politics-for-idiots blowhard — what do husky men have to say? Quinn Myers talked to a number of shirtless-and-proud runners about what it's like to run bare-chested when the weight they're shredding is on full display.
Let the Big Dog Eat
Everyone dies. Sadly, we can't all pick where and when we'll meet our maker, and for an unfortunate few of us, it might just be alone — and in the presence of a hungry dog. That's right, it might sound morbid, but if your furry friend happens to be around when you kick the bucket, you could very well end up a doggy dinner. And according to a dog trainer, a forensic anthropologist, a canine researcher and an EMT, it can happen sooner than you might think.
Hand Jobs for Hollywood
Sex worker and writer Antonia Crane documents her year working at a happy-ending massage parlor in L.A. not so dissimilar from the Orchids of Asia Day Spa famous for being a favorite of New England Patriots owner Robert Kraft. In Crane's opinion, it was a grubby and labor-intensive service job, jerking off Hollywood's elite. But, on the upside, it was also safer than striking out on her own.