The best thing about having an exercise bike is the unrivaled option it provides you to sit comfortably on your rear end, pump some pedals and shed some pounds. The best thing about not having an exercise bike is that you can forego the annoyance of having to walk completely around a fitness device that sits unused and worthless for the 23.5 hours a day that you're not training on it.
Well, a foldable exercise bike will provide you with the best of both worlds by letting you yank the bike out of storage, prop it up, pedal away, fold it back up to greatly reduce its footprint and then stash it against a wall somewhere. It's truly a win-win cardio option.
Admittedly, the one downside to foldable exercise bikes is that the resistance mechanisms within them tend to be universally magnetic as opposed to motorized. This feature isn't limiting in any meaningful way; it just fails to replicate the feel of pedaling a real bike out on the street, and for many people, this method of pedaling feels unbearably smooth and unnatural. However, if the goal is to pedal against resistance, work up a sweat and burn calories, foldable exercise bikes with magnetic resistance will definitely do the trick.
Three Ways to Identify a Worthwhile Exercise Bike
1) Sturdiness: The foldable, portable nature of your bike is a good thing, but if the bike is so flimsy that it wobbles, or it's so weakly constructed that it fails to support the full weight of well-intentioned people who are admittedly overweight and wish to use the bike to shed pounds, it isn't really doing its job.
2) Adaptability: You won't always approach your workout with the same heightened level of vigor each day, and you may wish to adjust your posture accordingly so that you can still train in some form or fashion even if your heart is less into it. A bike that doesn't necessitate that you be locked into an upright position is a plus in this regard.
3) Comprehensiveness: Some of us only have the budget or space to make one fitness purchase; and so, bikes that offer built-in resistance-training capabilities can allow you to develop total-body training programs with your foldable bike as the centerpiece.
Now, let's take a ride with the best foldable bikes on the market.
Best Foldable Compact Upright: ATIVAFIT Magnetic Stationary Upright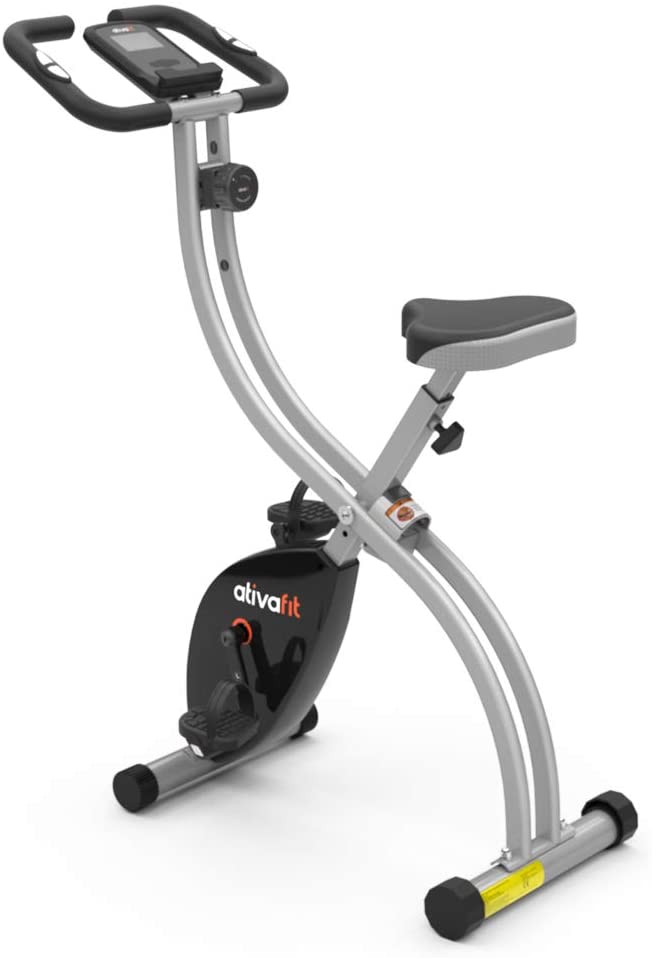 Why You'll Want to Ride It Home: You wanted a foldable exercise bike, and that's exactly what you went out and acquired. It has adjustable resistance, wheels on the bottom for easy maneuverability, heart rate sensors and a conveniently placed phone holder.
Why You'll Want to Fold: Because you got the bare-minimum foldable exercise bike. The ATIVAFIT Magnetic Stationary Upright contraption won't allow you to assume a relaxed position — which can be both a blessing and a curse — and it lacks any of the bells and whistles that are becoming customary in the space, like upper-body resistance options. It also has a weight ceiling of 265 pounds, so it's certainly not for everyone.
Before We Hit the Road…: If all you're looking for is a compact, no-frills, introductory bike model for weight maintenance, the ATIVAFIT Magnetic Stationary Upright is exactly what you're looking for. If you're hoping for something that offers a little bit more, keep reading.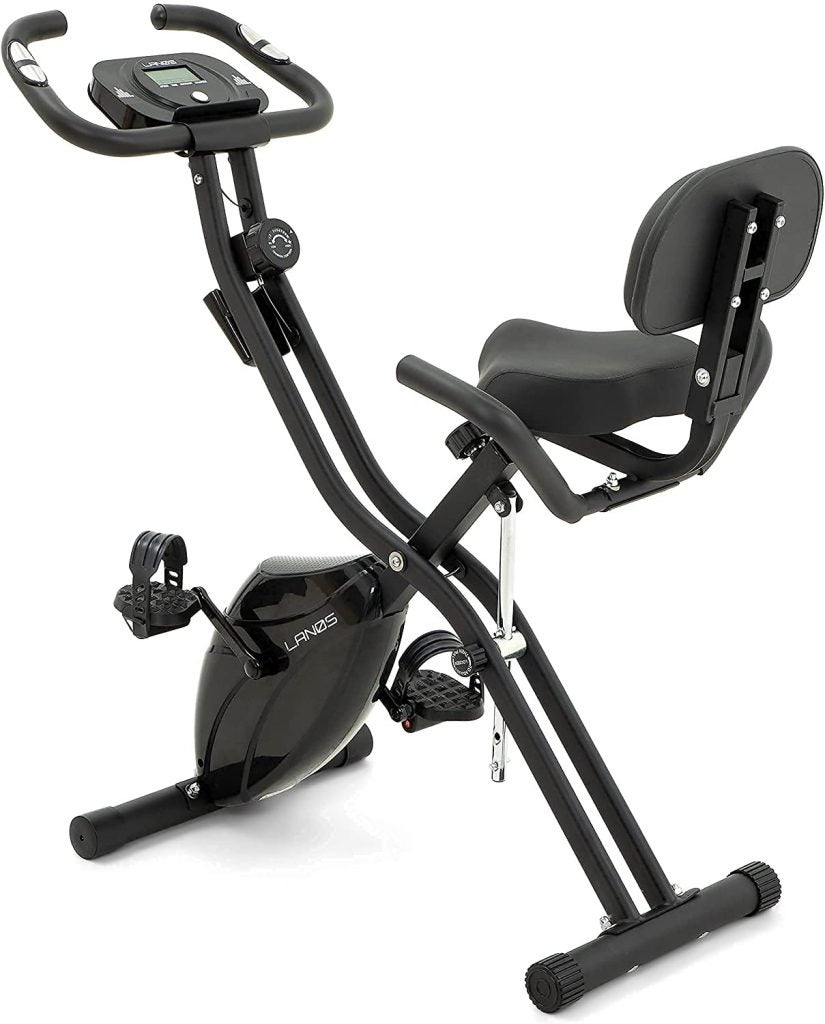 Why You'll Want to Fold: Why have a two-in-one when you can have a three-in-one? This is an admitted upgrade from the most basic foldable model, but there are bikes with more plentiful options to be had for only slightly more money.
Why You'll Want to Ride It Home: If you're a slacker like me, you'll enjoy having the option of assuming two different postures on your bike, one of which is decidedly more relaxed than the other. It also has 10 levels of intensity, which is more than enough resistance variance for most people who merely wish to be able to casually burn some calories while they have a seat and watch whatever is on Hulu. It also has a weight limit of 330 pounds, meaning that anyone who weighs less than an average NFL offensive tackle can ride this bike with no problems.
Before We Hit the Road…: When your sole objective is to burn calories on a machine that will enable you to assume a reclined position before you fold it up and shove it into a closet, the LANOS Reclinable will fulfill that objective for well under $200.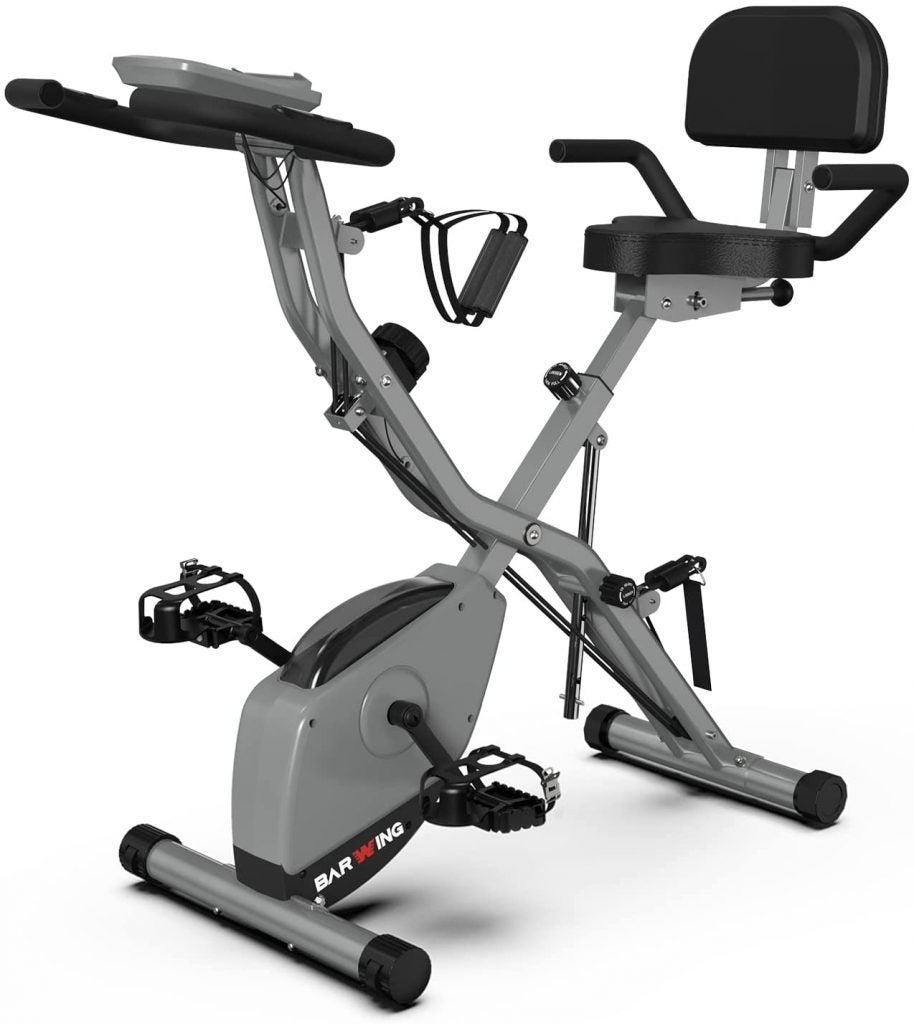 Why You'll Want to Ride It Home: The Barwing Stationary Spin Bike will help to turn your makeshift training area into a multi-purpose aerobic studio. It has two different height positions, which will determine whether your body is upright or reclined. On top of that, it has 16 resistance levels, and elastic bands with attachments that enable you to train your upper body while you ride the bike, or engage your legs from a standing position while the bike remains anchored to the floor.
Why You'll Want to Fold: If you only need light upper-body training, the elastic bands that pair with this bike might be a viable option for you. However, if you prefer to train with actual weights, the resistance bands that are included will probably elicit an eye roll.
Before We Hit the Road…: Now we're talkin'! This is the sort of foldable bike that truly gives your living room the feel of a (purposefully) temporary training space. If you can only afford to buy one piece of portable workout equipment and it absolutely must be a bike, the Barwing Stationary Spin Bike will provide some additional benefits to the upper and lower extremities for anyone who knows how to manipulate an elastic band with a tiny bit of finesse.
Best Multi-Position Bike With Twister: Cycool Twister Bike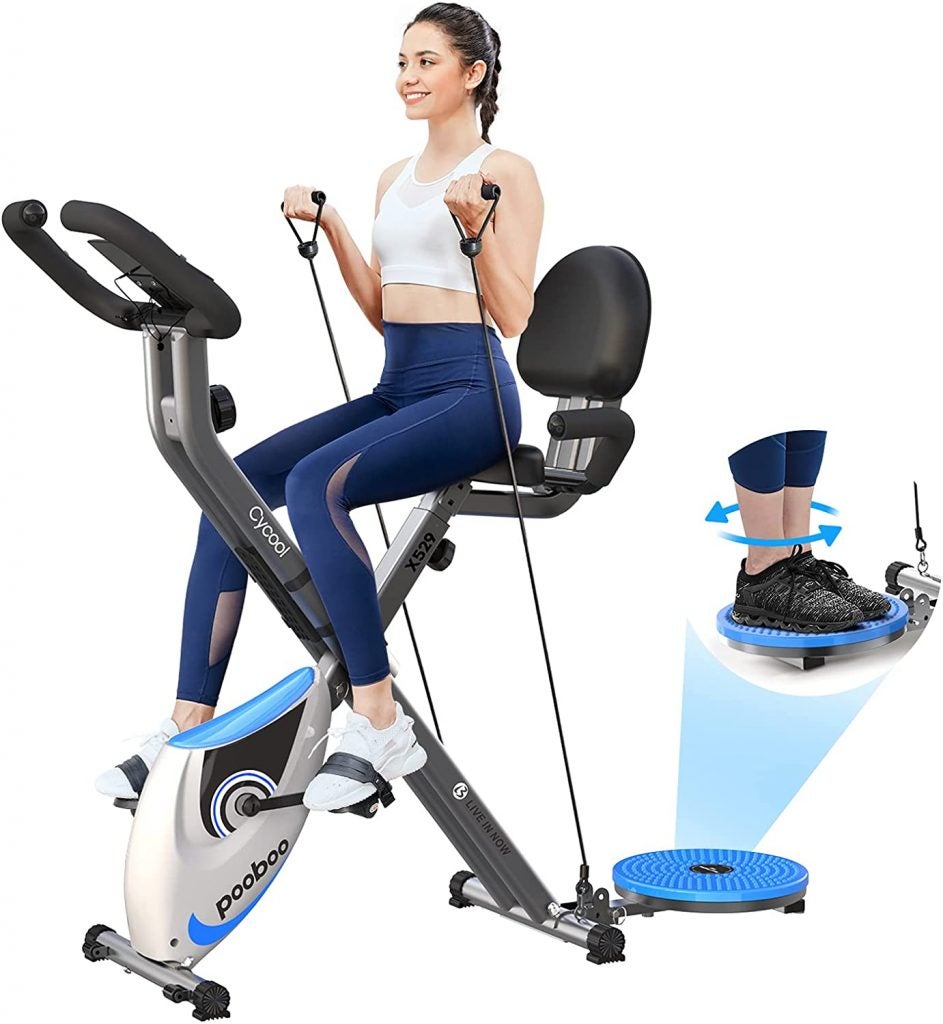 Why You'll Want to Ride It Home: For the most part, the Cycool Twister Bike provides you with everything you most desired about the three-in-one bike and tops it all off with a twister plate. Twisting isn't exactly the most effective abdominal exercise in the world, nor is it the most efficient form of cardio, but it does offer some benefits, and it does provide a break from riding the bike all of the time.
Why You'll Want to Fold: The maximum user weight on this thing is a paltry 220 pounds, which means that an average sized football player occupying eight of the 13 reviewed NFL positions wouldn't dare sit down on it. All pro-sports comparisons aside, there are many adults who can't use this device due to that stiflingly low weight ceiling.
Before We Hit the Road…: Given the low weight-bearing threshold and low-impact accouterments, the Cycool Twister Bike is more than likely directed toward folks who are either older than 60, or who are limited in terms of what they can do on other fitness devices, or even on the floor. For that group, a bike like this could be a game changer.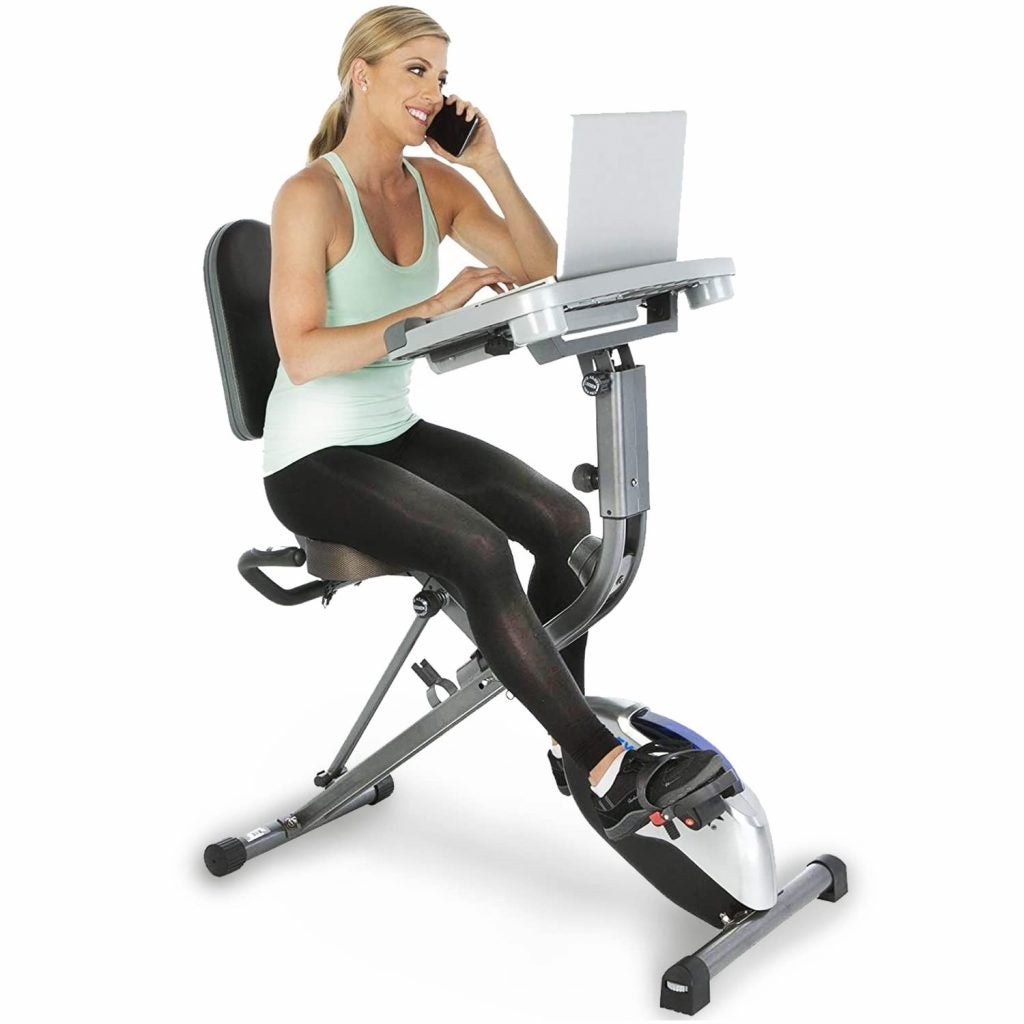 Why You'll Want to Ride It Home: If you work from home, you can slowly pedal away while you fulfill your daily job and school responsibilities, never being able to claim that you have an excuse not to exercise ever again.
Why You'll Want to Fold: If you don't intend to type while you pedal, that desktop is simply going to interfere with the efficiency of your workout, and it's going to come at the cost of several features that you may have preferred, like a more engaging display screen to track the progress of your workout.
Before We Hit the Road…: It's hard to think of a better fitness gift for someone who works from home, is glued to a computer screen all day long and who complains about never being able to get enough exercise because they're overworked. The Exerpeutic ExerWork can turn an eight-hour workday into eight hours of productivity mixed with slow pedaling — and that translates into meaningful calories being seared away no matter how slowly you decide to move along the way.