On TikTok, I often find myself deep within a bout of mindless scrolling. My thumb will be on auto-pilot, my eyes will be glazed over and my brain will be set to neutral. Then, suddenly, I'll come to, realizing I've been watching one video for much longer than the rest. Usually, there's nothing particularly interesting about it, and the song is the same viral clip I've heard in every other video. So, what is it that's subconsciously drawn me in?
Oh. There it is. It's a woman with a pair of gigantic bozangas.
Whatever shifts in aesthetics and politics we might ascribe to the body, big naturals are fundamentally timeless. The power they have on TikTok is just one example of this — regularly, a video will go viral for no other reason than the fact that large breasts are present, even when they're entirely covered. They don't just bring 15 minutes of fame, either. Often, they're translated into a full-on following, one that may even be carried over onto other platforms and potentially prove lucrative. Big boobs offer the chance to showcase all the features and talents of their owner, too: People come for the breasts, and stay for the person who possesses them.
Such is the case with 40-year-old Erika Love, an OnlyFans model, comedian, TikToker and soon-to-be podcaster whose most prominent feature is indeed her big naturals. And like the countless savvy women before her, Love uses her 36K breasts as bait. Mesmerized by her boobs, hundreds of thousands of people follow her across TikTok, Instagram, Twitter and OnlyFans. Love's success on these platforms proves that even in an ass-dominated era, large breasts can still carry clout.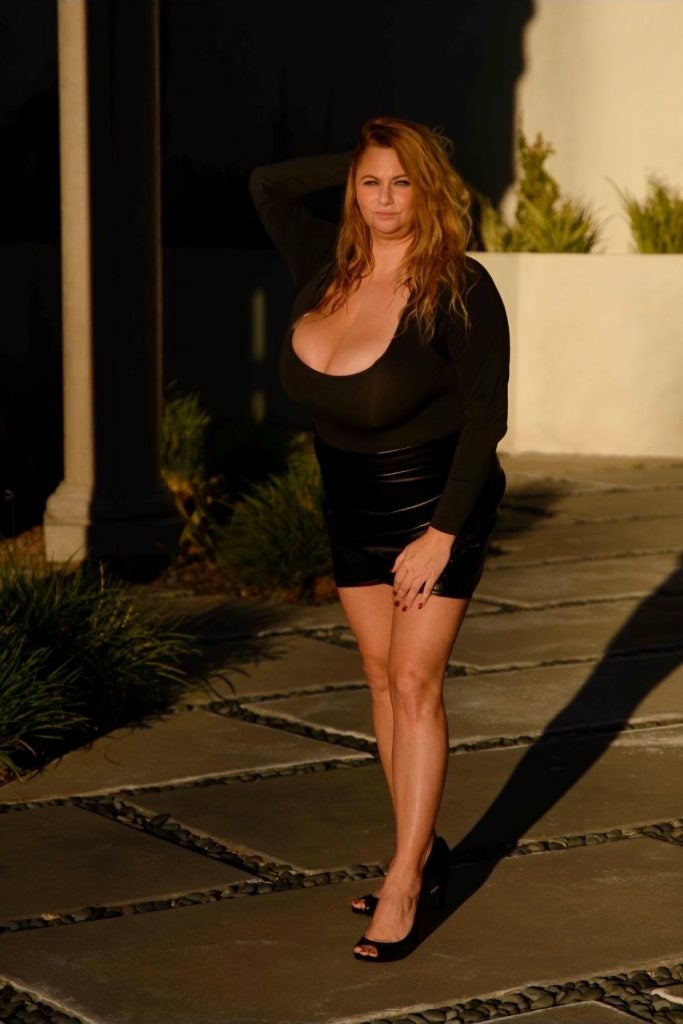 "I always thought I'd love to make money off my big boobs, but of course I was concerned with [questions like], 'What if my job finds out?' and 'What if my family finds out?'" Love tells me. She had no prior experience with any form of sex work, but it was always something she considered. Then, of course, the pandemic happened. Laid off from her career in marketing and with the initial decision to remain anonymous, Love decided there was no reason not to give monetizing her breasts a go. And so, she joined OnlyFans, and used some of her marketing know-how to promote herself on social media, joining Facebook and Telegram groups with other creators who help share each other's work.
Last summer, however, she was presented with a choice: She'd begun blowing up on TikTok, and her following on OnlyFans had grown to the point where it was either go all in, or get out. Though she doesn't use her real name, she does show her face, and she knew that if she was going to keep making content on OnlyFans and social media, it would only be a matter of time before her family found out. So, rather than go back to the corporate world, she decided to fully lean in. Now, many of her closest friends and family know about her work and are supportive of it. And by fully embracing it, she's been able to build out her online presence well beyond her most notable asset.
"For me, it's not just the big boobs," she says. "Of course that attracts eyeballs and all that, but my personality and sense of humor has really helped to build more of a platform and a brand for myself."
The boobs are obviously still a significant part of that. On her TikTok, she makes lots of jokes about wondering why her back hurts or losing the entire cast of Lost in her chest. And just by nature of her body, even videos where she's doing yoga to Nine Inch Nails end up being breast-focused. The pervasive role of boobs in her life is part of the inspiration for her forthcoming podcast, Tit Talk, which will feature stories and interviews surrounding the OnlyFans industry. The name is (naturally) inspired by her tits as well as a running joke she's repeatedly encountered on TikTok — when viewers see her on the app, they often say "TitTok" rather than "TikTok." While the podcast is still in production, she's already recorded episodes with Swedish Bella and Ozzy Lusth of Survivor. In some episodes, which will have a visual component, she and her interviewees will be topless.
The show is meant to combine her two distinctly different online presences (if just from an NSFW standpoint). On OnlyFans, followers are primarily interested in sex and nudity. On TikTok, she's extremely limited in what she's allowed to show. But with a podcast of her own design, she's free to mix nudity and humor however she sees fit. "On TikTok, there's a lot of me [in] sports bras hinting about boob jokes," she says. "I tried to keep it PG-13, but I've absolutely found a niche with men aged 25 to 50 who seem to really like what I'm doing. It's flirty, and I do some cougar stuff. But I also do everything with a sense of humor. You can't just be a hot girl on TikTok — you have to stand out in some way. I genuinely want to make you smile, whether you're smiling at my titties or you're smiling because I made you laugh."
Essentially, Love's not afraid to have her breasts be the center of attention, because she knows exactly how to keep that attention on her. On a larger scale, it's precisely the move employed by women like Dolly Parton, Pamela Anderson or Anna Nicole Smith. Their boobs might have been the first thing people noticed about them, but they certainly weren't the last. Even in our BBL moment, the influence of big naturals remains.