Forget Thanksgiving. The most gluttonous day of the year is Super Bowl Sunday, where bowl after bowl and paper plate after paper plate is filled with finger-food bacchanalia that would make even the mad genius responsible for the TGI Friday's appetizer selection blush (and certainly the ancient Romans). And so, all week leading up to game day, we'll be offering up our own menu of scientific investigations, origin stories and majestic feats of snacking that not even the biggest sporting event of the year can top. Read all of the stories here.
So you've planned a Southwest-style Super Bowl soiree, but you somehow lack any of the skills necessary to prepare an acceptable soft-shell chicken taco. (Seriously, shame on you!) In order to compensate for your lack of even the most basic stovetop skills, you decide you've only got two real options to choose from: 1) Make a run to Taco Bell; or 2) swing by the grocery store and snare some El Monterey Chicken & Cheese Taquitos to heat in the microwave.
If you go the latter route, let's consider the ingredients of the taquitos in question to ascertain whether or not (dare I say it?) you might actually be better off driving over to Taco Bell.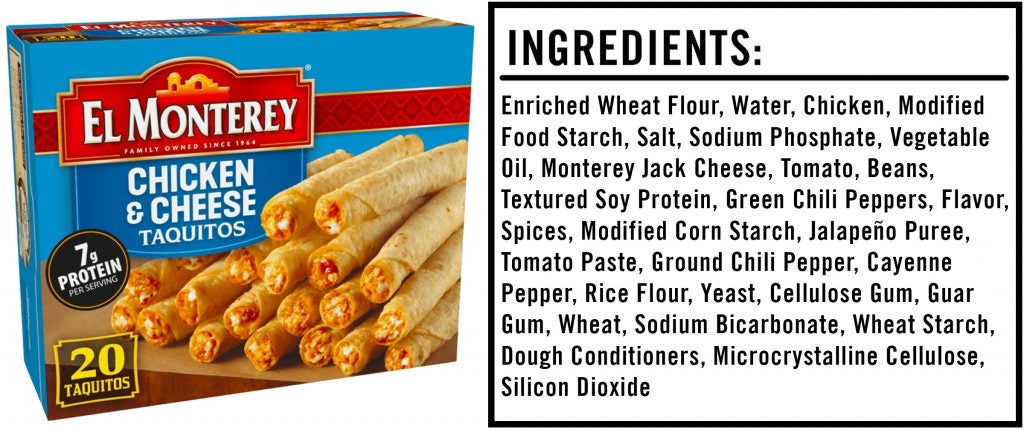 Ingredients
Enriched Wheat Flour (Enriched with Niacin, Reduced Iron, Thiamine Mononitrate, Riboflavin, Folic Acid): Flour with certain ingredients added back into it, usually comprising the vitamin B complex and iron lost during the preparation process.
Water: Enough water to keep a taquito moist after it has been nuked in the microwave.
Chicken: Obviously.
Water: To keep the chicken moist and malleable enough to stuff into a taquito.
Modified Food Starch: The dried starch from corn added to improve the texture of food.
Salt: Some standard sodium.
Sodium Phosphate: A mixture of salts and phosphates used as a thickening agent to make your chicken chunks appear plump and appetizing.
Vegetable Oil (Soybean, Sunflower, Canola and/or Corn Oil): In the U.S., "vegetable oil" almost always refers specifically to soybean oil. This specific list of ingredients leaves the opening for three other plant-based oils to be used in its stead. You shouldn't have too many problems with vegetable oil if you heat your taquitos in a microwave, but overheating oils causes oxidation, which is damaging to your DNA.
Monterey Jack Cheese (Cultured Pasteurized Milk, Calcium Chloride, Salt, Enzymes): A white cheese first crafted by Franciscan Friars in Monterey, Alta California. It can be further fortified with peppers and herbs to produce pepper jack.
Tomato (with Tomato Juice, Calcium Chloride, Citric Acid): This is tomato that's been stewing in its own juices, along with calcium chloride in its role as a firming agent, and some citric acid extracted from a lemon to provide it with some tartness.
Contains 2 Percent or Less of…
Beans: Since the label provides no description other than "bean," we're just going to take some liberties and assume that these are pinto beans. After all, they're the most widely produced type of bean in Northern Mexico and the Southern U.S. Of course, these could also be black beans — formally known as black turtle beans — due to their hard outer shells. If you're wondering why this taquito is going to have you forcefully breaking wind rather quickly, it's because your body has difficulty breaking down the raffinose carbohydrate contained in the beans.
Textured Soy Protein (Soy Flour): Learning about this stuff may leave you feeling cheated. The process of extracting soybean oil from soybeans leaves behind this textured byproduct, which is often used as a meat imitator, or extender. In essence, it's intended to make you think you're eating more chicken than you actually are.
Green Chili Peppers (with Citric Acid): Green peppers are usually picked young, and possess an herbier taste than the red, riper versions.
Flavor: Generally refers to natural flavors, which are quite literally flavors derived from an actual food source — e.g., mustard flavoring taken from real mustard seeds.
Spices: This catchall term can refer to any number of plant-based ingredients that are rarely set aside and served whole as their own side dishes. To that end, vegetables used as spices, like onions and garlic, are required to be listed separately.
Modified Corn Starch: The dried starch from corn added to improve the texture of food, like gravies and sauces. Outside of the kitchen, corn starch has a shocking number of uses, including athlete's foot prevention and homemade deodorant creation.
Jalapeño Puree (Jalapeño, Peppers, Salt, Acetic Acid, Calcium Chloride): Liquified jalapeños, mixed with the core ingredients of vinegar and the same salt substitute (calcium chloride) frequently used to store pickles.
Salt: One serving of chicken taquitos consists of two individual taquitos, so if there are 20 in your box, you've got 10 total servings at your disposal. Collectively, each two-taquito serving contains 310 milligrams of sodium, which is only 13 percent of the recommended daily total for most people. With this in mind, you could eat 15 of these bad boys and still be within the acceptable daily limits. No, I'm not advising that you do that; I'm just saying that you've got some leeway here.
Tomato Paste (Tomatoes): Twice-cooked tomatoes with all of the seeds and skins strained out of them. Despite the nutrient damage that cooking vegetables often does to them, tomatoes are one such vegetable that experiences an increase in its absorbability — specifically to its lycopene — and a boost to antioxidant activity as a result of cooking.
Ground Chili Pepper: Pulverized, dry hot pepper, which could technically and legally be cayenne pepper, except that cayenne pepper is the next listed item on the list.
Cayenne Pepper: The dehydrated form of one of the hottest, spiciest peppers. It can also be capsulized and ingested as a supplement due to its antibacterial and antioxidant properties.
Flour Blend
Salt: More sodium.
Rice Flour: Made out of finely milled rice, and usually used as a thickening agent.
Yeast: The fungus that causes dough to rise.
Cellulose Gum: A thickening agent from the cell walls of plants intended to make foods heftier and creamier.
Guar Gum: Made from guar beans and used as a food thickener. This one has been abused by drug companies in the past to create products that swell in the stomach to create the feeling of fullness. Taken in small doses, guar gum should cause no issues.
Wheat: The cereal grain that occupies more of the world's land area than any other crop.
Sodium Bicarbonate: Gives food a light fluffy texture, and doubles as a legitimate medicine to combat heartburn and indigestion. It's a win-win!
Wheat Starch: Another food thickener.
Food Starch: A mystery thickener made by something other than wheat, usually corn or potato.
Dough Conditioners (Sodium Metabisulfite, Sodium Stearoyl Lactylate, L-Cysteine, Mono and Diglycerides, Dicalcium Phosphate): A collection of baking ingredients intended to improve the consistency of dough, especially during large-scale production.
Microcrystalline Cellulose: Refined wood pulp used to prevent caking in baked goods. Long-term ingestion of microcrystalline cellulose can produce symptoms as serious as convulsions and mood changes. Far more likely are stomach discomfort and diarrhea. After all, it is wood pulp.
Silicon Dioxide (to Prevent Caking): Another anti-caking agent usually extracted from rice.
The Takeaway
Just for the sake of argument, let's suppose that the decision here is between four servings of chicken and cheese taquitos — eight in total — or four soft Taco Bell chicken tacos. The taquitos will give you 920 calories to Taco Bell's 640 calories; 1,240 milligrams of sodium to Taco Bell's 2,000 milligrams; and 32 grams of protein to Taco Bell's 48 grams. This is really only a slam-dunk decision if you're adamantly opposed to eating an additional 280 calories (Taco Bell wins!), or you consider 2,000 milligrams of sodium to be much too high (El Monterey wins!).
On the flip side, we do need to consider the risk of eating something with a built-in medical laxative and some wood pulp. These aren't exactly items that I'd hand-select for myself if I saw them listed on a dining menu.
Now, if none of those factors matter, and you want the convenience of running off to the kitchen and cranking out additional Mexican-themed food offerings in five minutes or less, there's nothing about El Monterey's taquitos that sets off a glaring number of alarm bells, especially considering the next best option.
Of course, you could simply learn to cook, but maybe that's a discussion to be had before next year's Super Bowl.