Growing up, I had all the usual Christmas icons present in my home. We'd watch Rudolph the Red-Nosed Reindeer on TV, and Frosty the Snowman as well. Toy elves were scattered all around the house and, of course, Santa Claus and Mrs. Claus took center stage. But there was another figure — represented by several Christmas ornaments — who was equally important. It was a talking egg with bright red lips and a little face adorned with a crown. His name was Eggbert, and I love him to this day.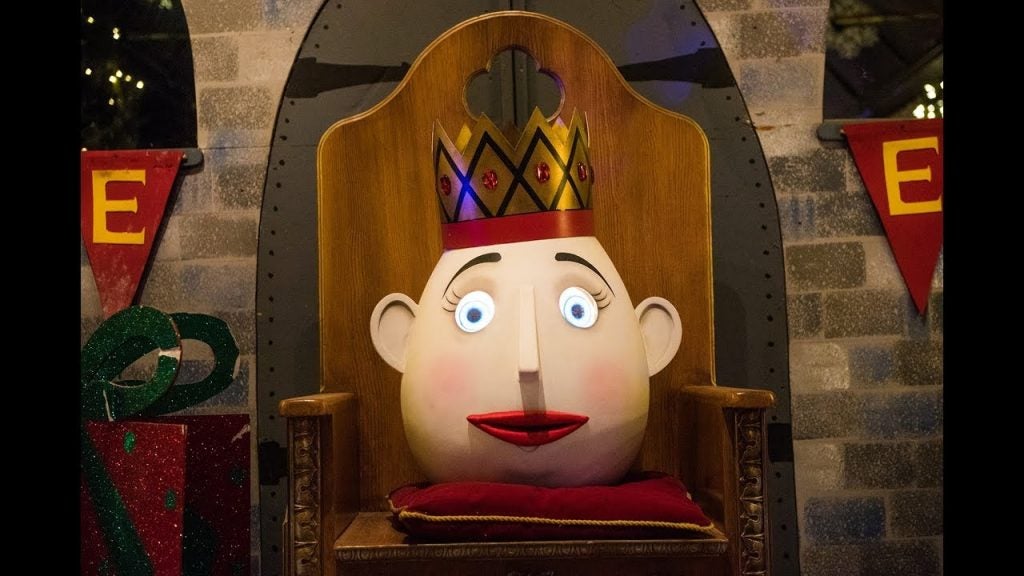 Known only to people who grew up in New York's Hudson Valley, Eggbert has been a fixture at a local garden-supply store named Devitt's for decades. Every Christmas season, Devitt's sets up an attraction featuring animatronic Christmas characters and a spattering of live farm animals. At the end of the trail is a three-foot-tall Eggbert mounted to a throne. From a distance, kids stand and tell the egg what they want for Christmas (Eggbert would, apparently, relay this message to Santa).
When I was a kid, my Uncle Gene — who was the closest thing I had to a dad after my father died — took me and my brother to see Eggbert every year. We'd also always get an Eggbert ornament from the gift shop.
Only years later did I realize how strange-looking Eggbert was and how no one knew what the hell I was talking about outside of the Hudson Valley. Still, my love for Eggbert has never diminished, and I even take my daughter to see him now. I've also since found out that there are a number of other local Christmas icons scattered all over the country. Below are a handful of my favorites. My apologies, of course, if I missed your town's. I'm simply too busy with Eggbert over here.
Eggbert
Created: 1950s
Location: Hudson Valley, New York
Origin: Before Eggbert began asking kids what they wanted for Christmas, he was created some time in the 1950s by Cornell University as a promotional tool for the sale of eggs at the New York State Fair. In 1971, Eggbert was sold to the owner of Devitt's Nursery in New Windsor, New York, where he was made the centerpiece of their annual "Christmas on the Farm" celebration.
Until 1999, Eggbert remained a fixture at Christmas time, but after a fire at Devitt's, he was thought to have been destroyed. Luckily, he was just put into storage, and in 2011, he returned to much fanfare (even the New York Times covered his comeback). While he was on hiatus in 2020 and 2021 due to COVID, previous years found him discovering new ways to tap into the nostalgia people in the Hudson Valley have for him. Notably, he teamed up with a local brewery for the seasonal beer "Angry Eggbert IPA" — which I must have every year now.
Rudolph the Red-Nosed Reindeer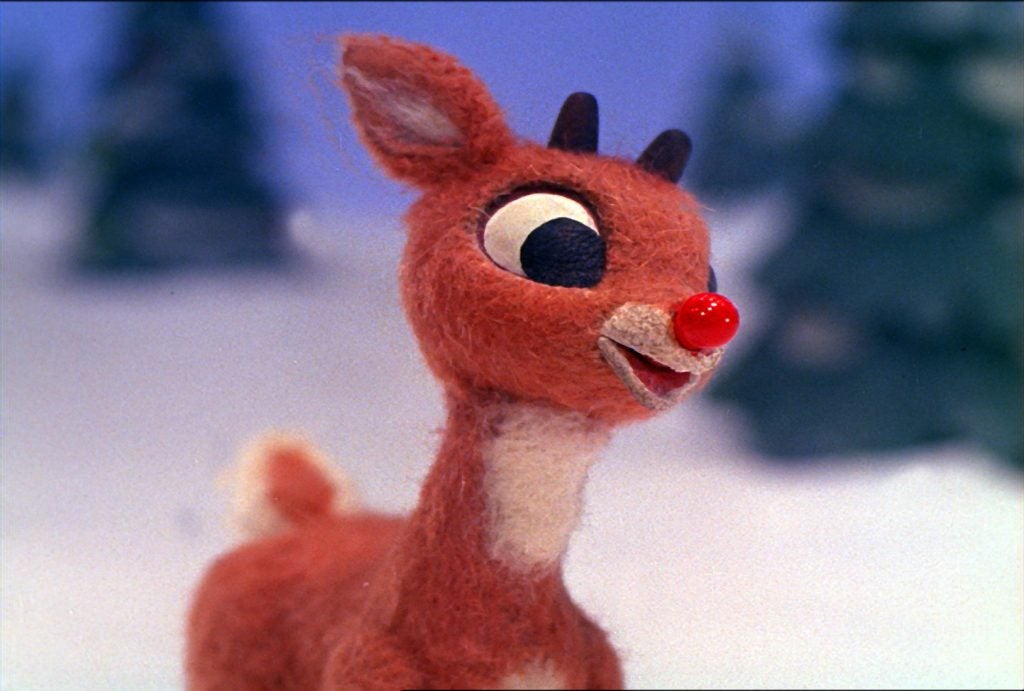 Created: 1939
Location: Chicago, Illinois
Origin: Now nationally recognized, Rudolph was originally the product of the now-defunct department store chain Montgomery Ward. Every Christmas season, Montgomery Ward distributed coloring books to children, and in 1939, they had their in-house ad man Robert L. May come up with something new. One night, while peering out his window from Downtown Chicago, a thick fog blocked his view, and the idea for Rudolph was born.
The booklet telling Rudolph's story was a hit, and a few years later, May was able to get Rudolph's rights from Montgomery Ward. In 1948, he hired his brother-in-law, musician Johnny Marks, to adapt Rudolph's story into a song. After that, it became a cartoon theatrical short, and in 1964, the well-known stop-motion Christmas special was born. Because of Rudolph's massive success, many other department stores and retailers tried to copy the formula, particularly in the 1940s and 1950s. Unsurprisingly, none reached the heights Rudolph did, perhaps because a lot of the new Christmas characters were pretty damn creepy (admittedly, Eggbert included).
Mr. Bingle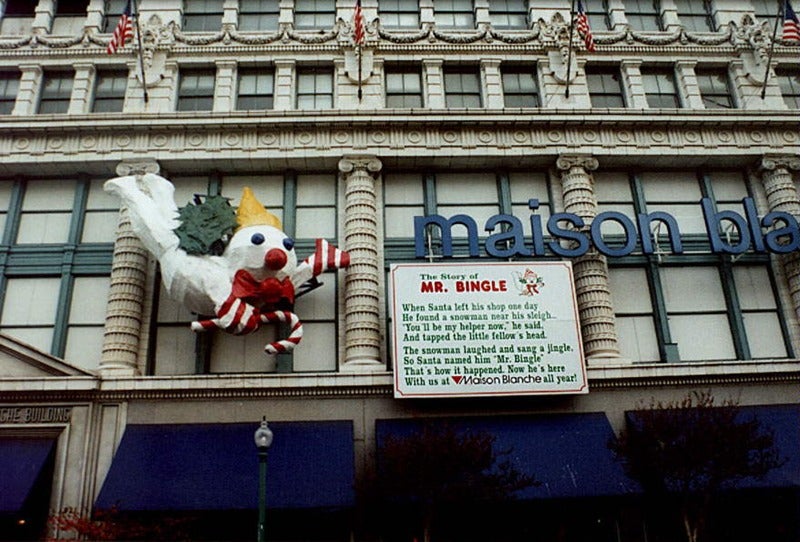 Created: 1945
Location: New Orleans, Louisiana
Origin: Following Montgomery Ward's success with Rudolph, New Orleans department store Maison Blanche created Mr. Bingle. The story of the little snowman was that Santa discovered him in the snow at the North Pole, gave him ornament eyes and holly leaf wings and made him his helper. Originally represented as a puppet in the store, a giant Mr. Bingle was later made from fiberglass and put on the outside of Maison Blanche for years. Maison Blanche closed in 1998, and since then, the giant fiberglass Mr. Bingle makes an annual appearance at the New Orleans' Christmas festival, "Celebration in the Oaks." Locally, they also sell stuffed animals of Mr. Bingle and all sorts of Christmas decorations.
Uncle Mistletoe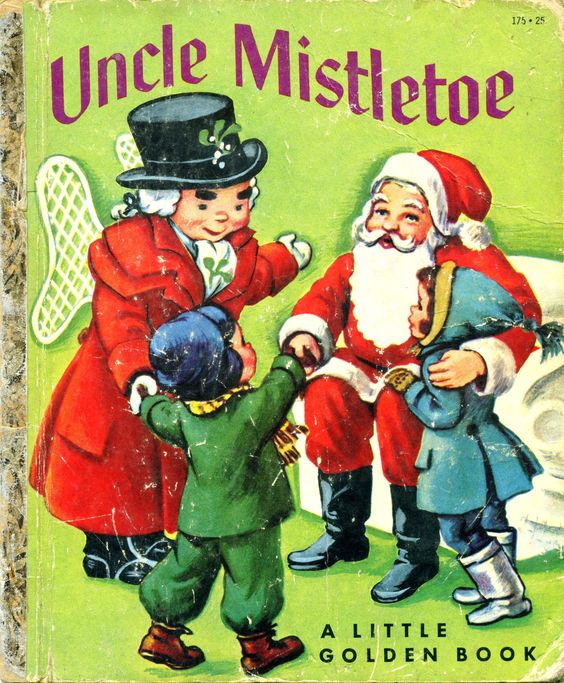 Created: 1946
Location: Chicago, Illinois
Origin: Yet another answer to Rudolph was Uncle Mistletoe, who was created by the Marshall Field's department store. Uncle Mistletoe is Santa's kindly bookkeeper, keeping track of Santa's naughty-or-nice records. Sporting a top hat and wings, Uncle Mistletoe also has a wife, Aunt Holly. While he never quite reached Rudolph's popularity, Uncle Mistletoe did pretty well for himself. Aside from the normal ornaments and other Christmas decor, he was also the subject of a Golden Book, a song and a local TV series that lasted from 1948 to 1952.
Mr. Jingeling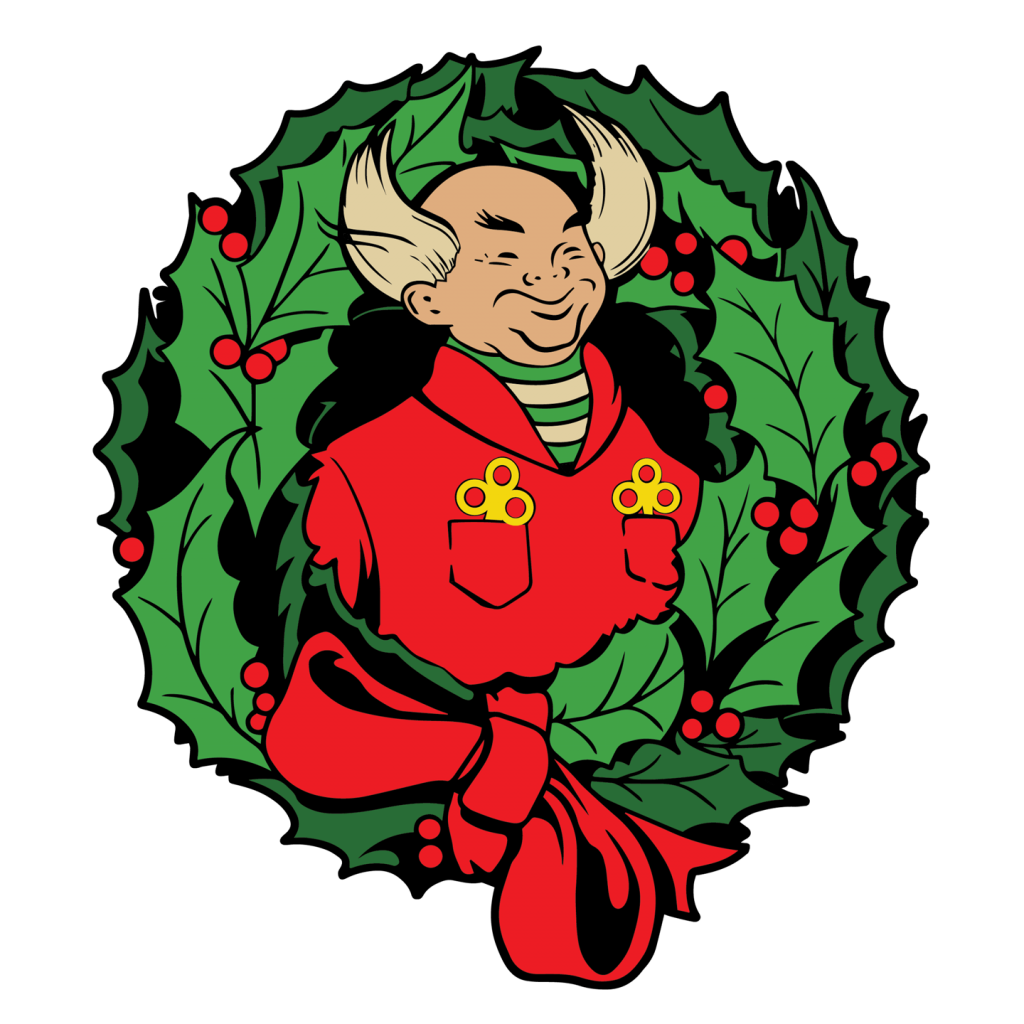 Created: 1956
Location: Cleveland, Ohio
Origin: Looking for a way to promote the toys at The Halle Bros. Co., a Cleveland department store, owner Walter Halle turned to ad man Frank Jacobi, who cooked up the idea of Mr. Jingeling, Santa's head elf. One of Mr. Jingeling's main responsibilities was holding the keys to Santa's workshop, so when a local police officer was hired to play Mr. Jingeling at the department store, he brought along a big ring of keys from the local jail as a prop. Along with Mr. Jingeling, the big ring of keys were a hit, and in the decades since, actors playing Mr. Jingeling on radio and local TV have always had a big ring of keys.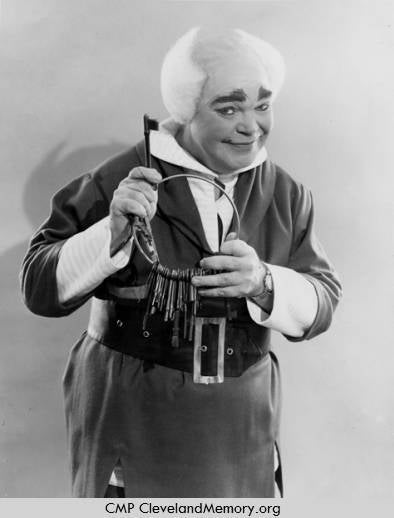 The Halle Bros. Co. closed in 1982, but Mr. Jingeling stuck around for another decade or so, making local appearances around Cleveland before fading away. However, in 2003, a group of friends who remembered the character from their childhood brought him back. Nowadays, Mr. Jingeling makes personal appearances in Cleveland, sporting the same strange haircut from when he first debuted.
The Fairy Princess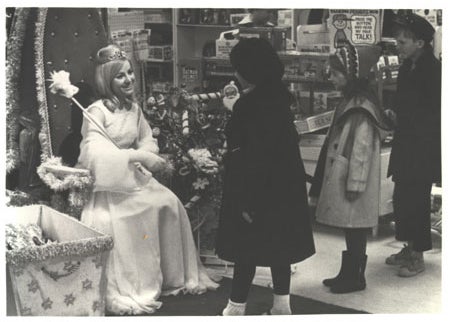 Created: 1935
Location: Kansas City, Missouri
Origin: While the story of Kansas City's Fairy Princess resembles that of other department store Christmas characters, the Fairy Princess predates Rudolph, and was the only mascot that I could find who's a woman. Created to bring business to Kline's Toyland, The Fairy Princess would present each kid with a gift that seemed to appear out of thin air (but was actually from a chute hidden behind a wall). For decades parents paid just a quarter to Kline's to see the Fairy Princess, but she went away in the 1970s when Kline's Toyland closed. However, in 1987, the Kansas City Museum revived the tradition and has continued with it ever since.
The Christmas Chicken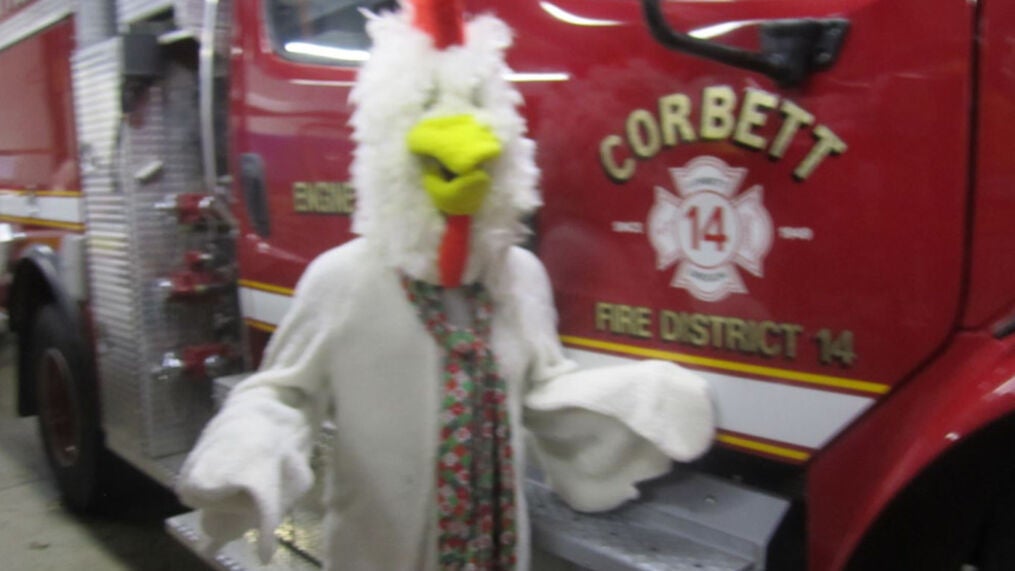 Created: 1970s
Location: Corbett, Oregon
Origin: The Christmas Chicken was born out of necessity. As the story goes, decades ago, firefighters in Corbett wanted to have Santa distribute gifts to their families. Unfortunately, the local costume shop was out of Santa costumes, so Nev Scott, wife of the fire chief, chose a chicken costume instead. Since then, the tradition has stuck, and every year, the Corbett Fire Department dresses one of their members as poultry to distribute presents and food to needy families.
Precisely which year the Christmas Chicken first took flight is unknown, though it dates back to sometime in the 1970s, around the same time Eggbert began as a New York Christmas tradition. Which one came first, though — the chicken or the Eggbert — remains unclear.