Kaniela Ing is a former elected official, Native Hawaiian activist and current climate justice campaign director for the grassroots organizing nonprofit People's Action. He was born and raised on Maui, and his upbringing and education in Hawaii informed his passion for both Native issues and progressive politics. He is the 15th in a series of men we've interviewed about the dishes that — either through nostalgia or comfort — fill the soul. 
When you come from the working class, you're not learning politics off the bat. Maybe if your parents are lawyers, you might think about politics, or maybe you know someone who's in the game, like a family friend or something. But politics found me, I guess. My dad passed away when I was 11; my mom was left with four kids and her grandma to take care of, and she was a shoe clerk at Macy's. So we relied on a lot of government programs, and I had to work the pineapple fields starting at age 14. That's what formed my worldview early on.
I grew up in a town called Makawao, in the upcountry of Maui. It felt real slow — we had to drive far to go see a movie, and a half hour to the beach. But it's an interesting neighborhood that's suburban but also rural. Driving to school, sometimes we had to wait for little cows to cross the road. It was a beautiful neighborhood, and my parents were lucky to buy a house when they were young. 
Growing up, food was a mix of coming together and also just finding conveniences. My mom's half-Japanese, so we had this cross-leg little dining table on the carpet. We always had rice, but we didn't have money for good ingredients and stuff, so my mom had a lot of specialties with canned goods. Sausage gravy was one — just Vienna sausage and onions, bell peppers and tomatoes as a kind of stew. Another thing was mixing cream of mushroom soup with cans of tuna, adding peas and putting that over rice. It's almost war food, you know? Kind of that plantation lifestyle where everything came from cans. 
But when I was little, one of the biggest treats was lau lau. My dad transitioned from working as a waiter to being in this multilevel-marketing insurance thing called Primerica. He didn't go to college, but he saw it as a way forward — that born-again Christian stubbornness of If I put my head down, I can do it. To be honest, the only ones doing well in the company were white guys that had come from money, and he struggled with that. He did, though, build this huge network, mostly of working-class Native Hawaiians and Portuguese plantation folks. At least one of his clients was offering lau lau for him to take home as thanks, and we'd eat it every couple of weeks. It was amazing to smell the steam coming off the pork and taro leaves. I like mine with a chunk of butterfish, too. Maybe it's the Japanese side. 
We usually ate it with poi, which is more expensive than rice but traditional. Nowadays, I like my poi super thick, like pa'i'ai, freshly pounded. But back then, in a family of six, we needed to stretch it out. My mom would buy a small bag of poi, and she'd put it in a bowl for me to doctor with a bunch of water and ice. I'd spend half an hour doing that as a kid. 
For Hawaiians, kalo, the taro plant, is believed to be the source of where our ancestors came from. It's a staple of the diet, and a microcosm of nature in how the lo'i (taro pond) was harvested. It was, in a sense, aquaponics — and you had certain creatures living in the lo'i that could be used as food. Poi is the product of a symbiotic relationship between a person, the plant and its roots, sustaining in a cycle. And thinking about lo'i can be a political act. Most of Waikiki Beach was lo'i back in the day. 
I think food will continue to play an important role in Hawaiian identity, especially as we fight for rights and things that were taken away. A few years ago, we blew up Aloha Poke, which was a Chicago-based company run by two white guys who were trying to sue Hawaiians over a trademark they created. So it's easy to see why food is tied to a fight about identity. Vienna sausage, Spam, pasteles, Filipino lumpia, lau lau… it's all fascinating because in 1898, the Philippines, Hawaii and Puerto Rico were all facing the same thing — getting taken over by the U.S. that same year. So to have all those foods on our table here draws a line between our parallel struggles.
* * * * *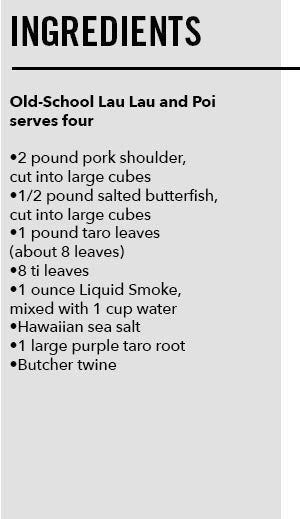 Note: It might be a little tricky to find some of these ingredients where you live, though they're available online. An easy substitute for taro leaves are collard greens, and you can use foil in place of a ti-leaf wrap. The salted butterfish can be replaced with a chunk of fresh black cod, skin-on, with an extra sprinkle of salt. 
For the lau lau, prep the ti leaves by cutting into, and peeling off, the stiff "rib" on the underside of each leaf. Set aside. Layer two taro leaves on top of each other, and place a quarter of the pork and a chunk of butterfish in the center. Use your fingers to sprinkle on a few drops of the Liquid Smoke mixture, then add a pinch of salt. Wrap the entire bundle up as if you're making a tight, round burrito. 
Place this bundle into the center of two crossing ti leaves, and carefully bring the leaves up, keeping the package tight. Use butcher twine to tie it closed. Repeat with three more lau lau bundles. 
To cook the lau lau, bring a large pot with about two inches of water to a simmer. Place a steamer insert or some upturned cups in the pot to elevate the bundles above the water as they steam. Lay in the bundles, cover and cook for about 4 hours (you can test them with a paring knife for tenderness). 
For the poi, scrub the purple taro root well, and place it into a pot with enough cold water to cover. Bring to a boil, then reduce to a simmer and cook the taro root until it's tender all the way though. Drain and rinse with cold water. 
Cut the taro into one-inch chunks and place it in a food processor, just two cups at a time. Add a tablespoon of water and blend into a smooth, sticky paste that clings to one finger (you can add water to adjust to your desired texture). You can eat it fresh, but a lot of Hawaiian food lovers prefer it a little sour from fermentation. To do that, pour the mix into a clean, non-reactive bowl, top with a thin layer of fresh water, and let it sit out at cool room temperature for 2 to 3 days.