"Smokin'" Ed Currie is a horticulturist and business owner who produces some of the hottest peppers in the world, including the world-record-holding Carolina Reaper. He's the founder of PuckerButt Pepper Company, based in South Carolina, and a tireless cheerleader for cutting-edge spice. Currie is the 12th in a series of men we've interviewed about the dishes that — either through nostalgia or comfort — fill the soul. 
My dad was Irish, and my mom was Italian, so we joked that we had to alternate between really plain food and really flavorful food all the time. But we leaned on the Italian side a lot. My grandfather and his father owned a bread company and bakery in New York. I grew up in Queens, but we always were going to grandpa's house on the weekend and having a massive Italian meal with the family. Even at home, Italian food was almost an every-other-day thing. 
It was the kind of environment where, you know, I spent pretty much my entire childhood running tomatoes through a hand grinder to separate out the seeds and make sauce. Every summer and fall, my mom would end up jarring somewhere between 300 and 500 quarts. 
Still, I never realized I came from a real, privileged food culture until we moved to Michigan and I went to college. I just thought it was normal — the pastries, the big meals, the fact that my grandfather made his own wine. But when my parents would come visit me and my mom would bring trays of lasagna, sausage, meatballs and braciole, all my friends thought it was amazing. They'd never been exposed to it before. That was a surprise, because braciole and lasagna must be my absolute favorite meal in the whole world. 
I make it for myself these days. And every time, it reminds me of family and how we always sat around and discussed our lives. A Sunday afternoon meal or even a weeknight dinner was never a "let's eat fast and go do our thing" event. It was more of a get-together, with the eating happening over a long period of time, as everyone caught up with each other and shared laughs, jokes, heartaches and pain. It was more of a communal experience, not a meal. 
Unfortunately, I was essentially an addict all throughout the 1970s, 1980s and 1990s. So those big dinners are particularly nostalgic for me because I was never around after college, and if I did show up, I didn't even remember the meal because I was drunk or stoned out of my mind on something.
Luckily, I got clean after seeking help in 1999, and after a few years of treatment, I moved to South Carolina, where my parents now were. I got serious about where my food was coming from at that point. I really dove into farming, learning how to grow vegetables, peppers and other things. I started doing research into organic versus non-organic growing methods. I just really wanted to be healthy. After all, I'd been basically destroying my body for 30 years. 
As for how I got into peppers, I'd loved them since 1981, when I ate what I then considered hot chilies at a Vietnamese restaurant. I've been addicted to them ever since, too — in fact, I eat them with every meal. 
Usually when I'm doing Italian, though, I'll just add a homemade pepper flake or maybe a little Reaper powder. I don't particularly like sliced peppers with an Italian meal, unless it's a sweeter pepper, because of the acidity of the tomatoes. The flavor doesn't come out when you go with a super-hot, acidic pepper — it's just food science, you want more sugar to offset the acid of the tomato. Maybe a nice Scotch Bonnet, or one of the annuum varieties that have more sugars, could work — that's why pepperoncinis are more common in Italian restaurants than anything with real heat. 
Otherwise, the braciole recipe I make today is what I remember from way back. The braciole isn't meant to be bathed in tomato sauce. Everyone has their own version depending on their family's lineage, but you're supposed to be dipping some nice bread into the juice. The only thing my mom would have done differently is use veal instead of flank steak. 
* * * * *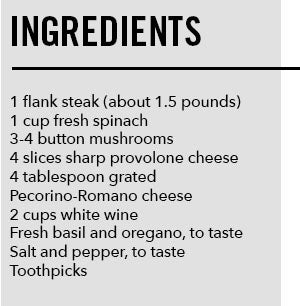 First, prep the veg: Roughly chop your washed spinach, finely mince the button mushrooms and chop your fresh herbs — a big pinch of basil and a smaller pinch of oregano will go into each rolled-up braciole. 
Take the flank steak and cut it into four even pieces. You need to pound the meat out, using a meat mallet, rolling pin, saucepan or other heavy object, so that it gets thin and tender — aim for 1/4-inch thickness as a guide. When you're done, you should have equally sized pieces that are wide enough to accommodate the cheese and other ingredients on top. 
Grab a piece of meat, lay on a slice of provolone, then top with pinches of chopped mushroom, spinach, and herbs. Season the bundle with a little salt and pepper, then carefully roll it up and secure with a toothpick or two. Repeat with the other pieces of steak. Once you're done, cover with plastic wrap and let sit overnight (or as long as you can) in the fridge — the wait will help the ingredients stick together during the cooking process. 
Preheat your oven to 300 degrees. Put a skillet over high heat and season the outside of the roll-ups with more salt and pepper. When the pan is hot, add some olive oil and brown the steaks until they're seared on all sides. Next, throw in your wine and scrape up all the sticky bits on the bottom of the pan. If your pan is oven-safe, just go ahead and stick it in. If not, transfer the ingredients to a small baking pan. Roast for 2 to 3 hours and check for doneness using a small knife — the meat should be tender, but not falling apart. 
Eat with warm bread to soak up the pan juices, as Currie recommends.