Emmanuel Kalu never really figured out why his first viral video took off the way it did — it was just a simple pun, delivered with conviction. "All I did was ask, 'What has two butts and kills people?'" he says, pausing for effect. "An assassin. And man, that pun was going well. The views kept coming. It was the first time I ever hit 500,000 views, and I thought, 'Yo, this is mad.'" 
Then he saw the top comment, racking up likes almost as quickly as his video: This guy deserves all the water. He didn't know the person who said it. He didn't even understand what it meant. Was it slang? Was it a metaphor? 
"It got so many likes that I asked for someone to explain it to me in the comments. And in a reply, someone said that there's a perception that Africa doesn't have water, so he's implying you don't have clean water," Kalu says. 
It struck a nerve in the 22-year-old, who lives in the city of Aba in the south of Nigeria. He grew up in the West African nation, and is currently studying law at the University of Nigeria. Or, at least he was studying law, until the pandemic swept across the globe and shut down the normal rhythms of life for billions of people. Those enrolled in pricey private schools had the opportunity for online classes, but for Kalu, the only thing on his daily agenda was sitting at home, reading and staring at his phone. He felt stir-crazed energy bouncing inside him, and pondered an out. "Honestly, I'm so loud as a person," he shrugs. "I needed to express."
So he started filming: Skits, puns, bits of life in his beautiful rural home. Kalu started uploading on Facebook, then pivoted to YouTube, then again to Instagram. The results were barely promising, and mostly frustrating. Then he downloaded TikTok, and found that only after a few reuploads of old content, the view count was trickling upward, steady each day. His account, Dede UK — a mashup of his nickname, Ukaegbu (or UK in short) and the Nigerian honorific "dede," which means "uncle" or "elder brother" — even landed on the coveted "for you" page. 
So far, so good. But the water comment, and months of reading similar takes, sat in his mind. Kalu didn't want to respond, but couldn't stop noticing a pattern. One afternoon, while sitting on his patio after a game of badminton with his father, Kalu saw a simple response: the water tap in a stone wall in the yard. Phone in hand, he filmed himself walking to the tap, flipping it on, letting crystal-clear water run, and run, and run. 
The next day, he woke up to 200,000 more views. "I was stunned. Like dang, why? Because I proved I have water?" he says, eyes wide in exaggerated shock. "You guys think we're underdeveloped. But we don't know that this is what Americans think of us. So it was pretty funny." 
Thus began a full-on information campaign, with Kalu escalating the comedic timing and intensity with a video aimed at the best dumb comments from English-speaking trolls. And like clockwork, someone popped up to say something outright ignorant. UK was pretending the water was clean, they said. He was "wasting the village's supply," they said. It didn't matter because he was still poor, they said. Kalu's retorts just got funnier and more exaggerated each time. 
Unlike his more straightforward pun and sketch videos, the water war funneled a mass of new viewers to Dede UK, and he credits the content for rocketing his follower count from just around 5,000 to nearly 450,000 today. He grew up admiring young, Extremely Online™ comic stars like David Dobrik and Liza Koshy on Vine, and always had a sense that TikTok could give him the right audience for his own irreverent humor. But he never imagined that his greatest success would come from upturning dumb stereotypes about Africa, nor that the bulk of his views would come from America (64 percent of his traffic, versus just 3 percent from Nigeria, he tells me). 
And boy, are there a lot of dumb stereotypes to dispel. In the U.S., a tag team of the educational system and broader pop culture has primarily spread a narrative consisting of slavery, starving children ("for just 50 cents a day…") and misleading imagery about African conflict. Kalu isn't personally bothered by much of the ignorance on TikTok — "Apart from when someone called me a slave some time ago" — but he has no problems mining moronic thoughts for content. Recently, he's gone beyond the water gag, showing off some beautiful homes in his city and flexing the pleasantries of life in West Africa on livestreams. 
"You guys have a perception of Africa, and there are so many people who are saying, 'Until I saw your page, I legit thought Africa was still totally underdeveloped.' The funny thing is, where I live, it's not even the good part of Nigeria," he explains. "Now, if you go to places like Banana Island in Lagos, it's absolutely mad, man. You have to see it." 
Nevermind the luxuries of pricier neighborhoods — Kalu's eyes gleam as he talks about the peace and quiet he experiences every day in his village, situated far from main roads and surrounded by the wildness of untouched nature. And with TikTok in mind, he plans to travel across Africa to create more videos and shed more assumptions. It still bothers him that international media purposely seek out the most impoverished people and places. "I didn't know we live in huts. Or that we don't have cars. Or that 70 percent of Africa is starving," he deadpans. "When American media come here, they aren't worried about the good. They want to go to the bad. Maybe their mind is, they want to go there to help those people. But if they've been trying to help those people, they should have done something tangible by now." 
He's less sure when it'll be appropriate and safe to travel out of Nigeria, or how exactly he can fund such an adventure — TikTok doesn't include African creators in its creator fund, so for now, the Dede UK account only makes money off of livestream gifts and a fledgling merch line. Still, Kalu never expected he would hit it so big on social media amid a truly depressing year, and he tells me that showing a much more nuanced story of Africa remains his long-term goal. 
His messaging appears to be working, given the kinds of comments he's been getting more recently: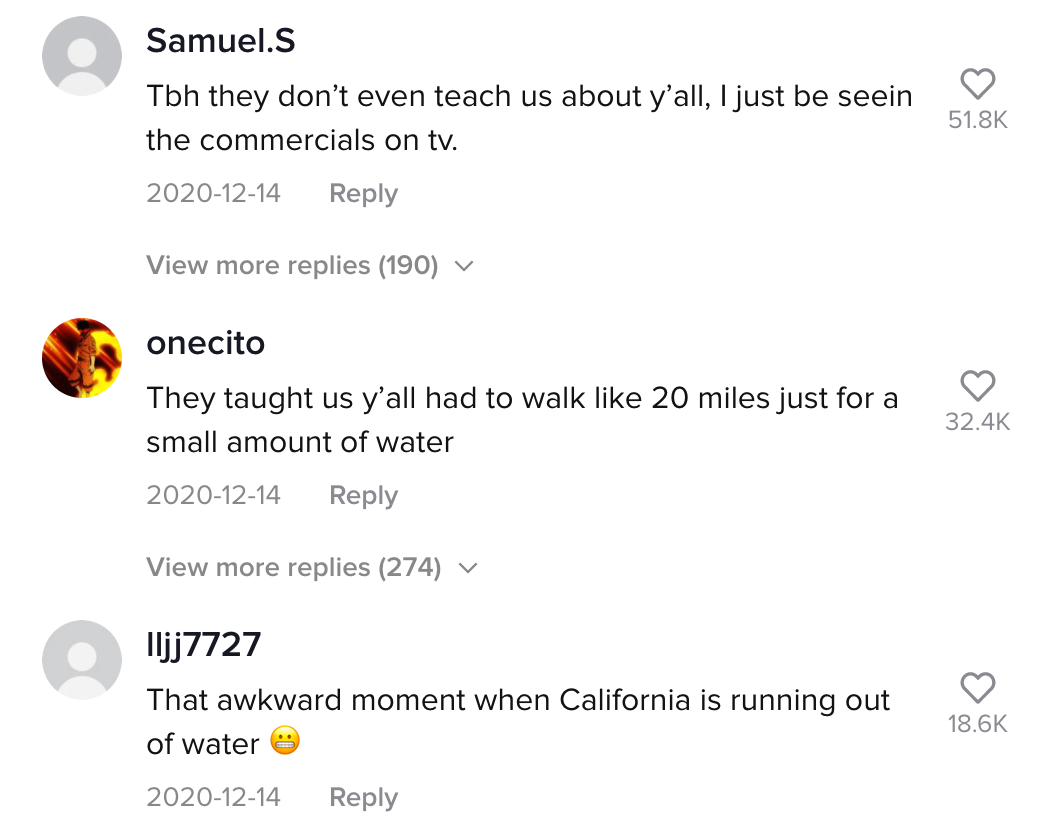 It shouldn't take the endless TikToking of a 22-year-old in Nigeria to dispel Americans' superiority complex over an Africa that only exists in their minds. But this lawyer-to-be has found a calling in witty arguments about his homeland — and he's making a convincing case, one glass of water at a time.