When I think of my dad, he's usually trimming a hedge. Or maybe he's mowing the lawn, folding socks, ironing around the house or doing some other dad thing out in the yard — it doesn't matter. In these memories of my pop, he's always wearing the same thing: a shapeless gray blob of a sweatshirt with some dorky-ass slogan like "Illini Dad: Finance Division" peeling off.
At 30, I'm a decade away from his age when he had me. He was a lawyer then, with his fifth kid and stable homeownership — clearly, our life couldn't be more different. However, as I get closer and closer to that milestone, I'm reminded every day of how much I'm already basically him.
These similarities aren't limited to curmudgeonly behavior or back problems — it's my wardrobe, too. Yesterday I found myself going grocery shopping in a hoodless, baggy Notre Dame sweatshirt, jeans and sneakers. Some might call this "normcore" — that is, wearing "unpretentious" Seinfeldian '90s clothes that don't stand out — but to others, it's dadcore.
The Dad Sweatshirt is in, and god help us: It's the only thing I want to wear, even if it makes me look 10 years older and like I've completely forgotten how to bathe.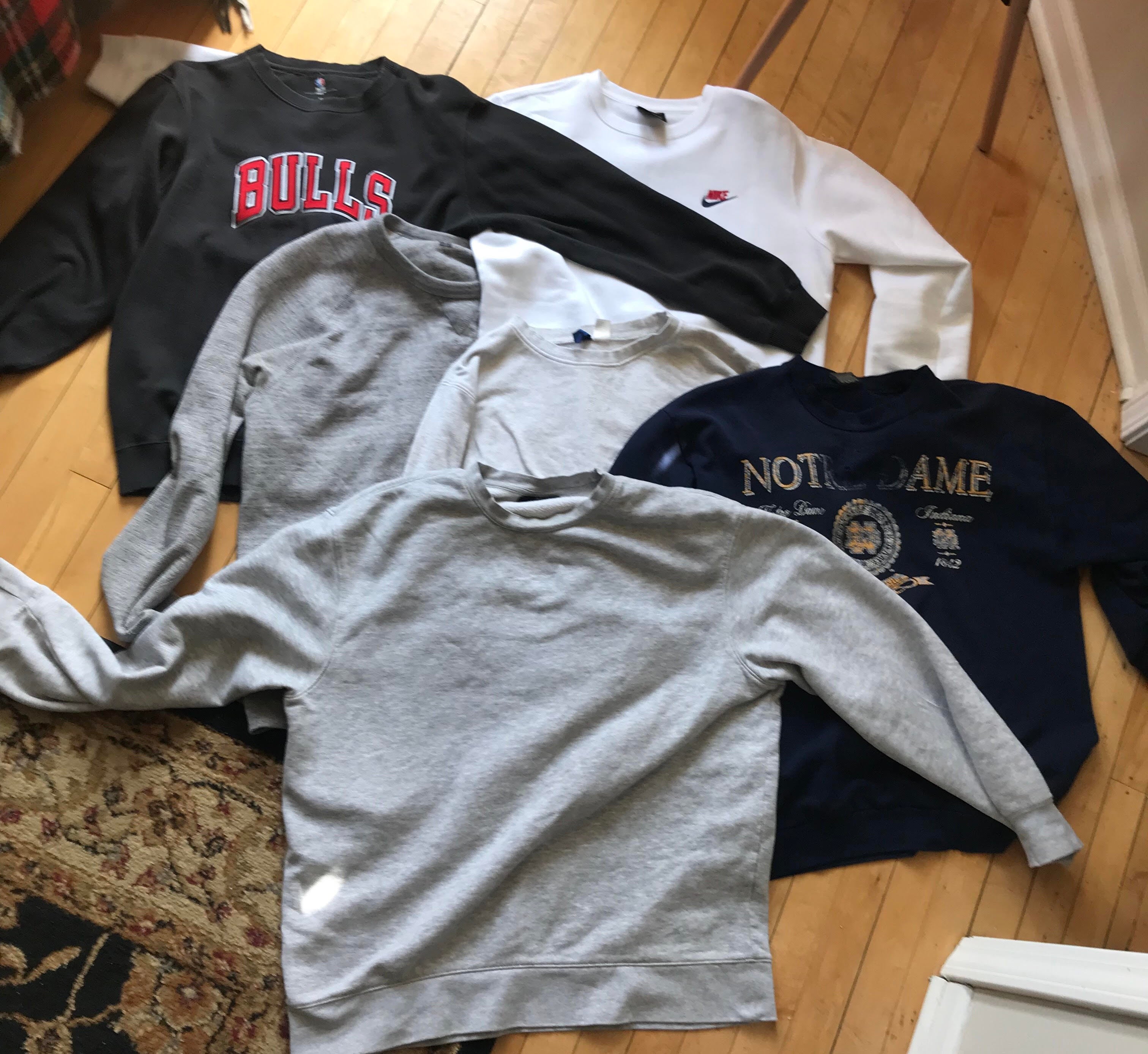 Russell Athletic claims to have invented the crewneck sweatshirt back in 1902, when Benjamin Russell Jr. grew tired of the itchy wool uniforms worn by University of Alabama football players. He went to his father with the idea for an all-cotton crewneck sweatshirt, and Russell Athletic mills put the new style into production in 1930.
During World War II, the crewneck style grew in popularity when it was adopted as undergarments for men in the Army and Navy. When those men grew old, college kids began to adopt their style, and the crewneck saw a resurgence in the 1950s.
"Whatever happened to young men's clothes and — you'll pardon the expression — old men's clothes? It wasn't too long ago that there were fairly distinct areas staked out for each and one crossed the line only at his own risk," according to a 1957 Milwaukee Journal article titled "Sweaters Go Bulky: Pullovers and Crew Necks Get Favor of Collegians."  
It continues: "The [ordinary crewneck] make a man look warm and comfortable and athletic. Pullovers probably will cling to the most collegiate backs. And the round crewneck appears headed for the top of the heap — perhaps to give a crew cut look right down to the shoulders."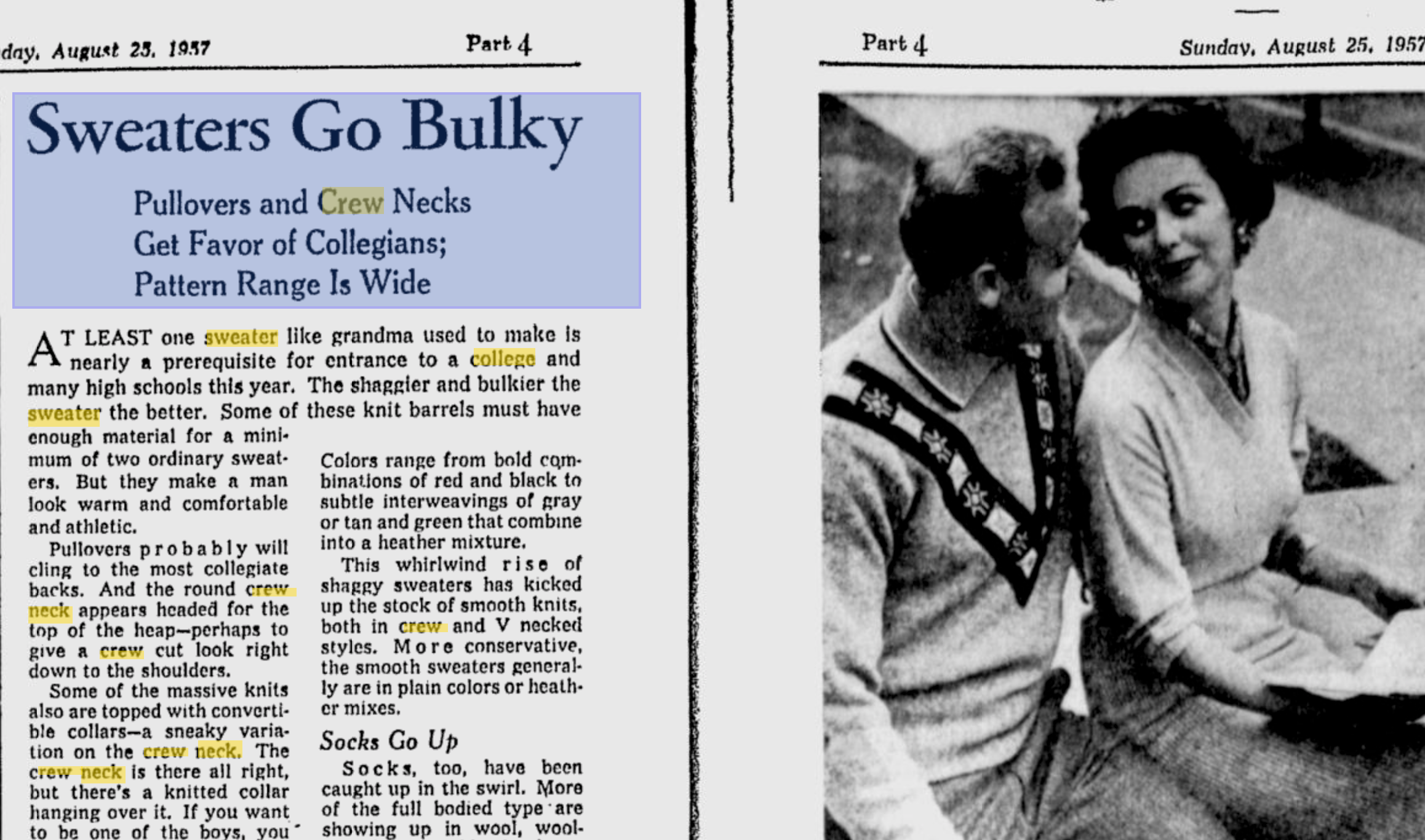 And now, in 2019, the Dad Sweatshirt is bigger than ever. Kanye West, the dad messiah of fashion, has made his Dad Sweatshirts a wardrobe staple, helping to push the schlubby crewneck into the world of haute couture. Men's retailers are jumping onboard. Everlane sells a warm, cozy, fleece-lined dad sweatshirt for $50 and a lightweight French terry option for 10 bucks less. Mack Weldon has the same thing for $68. J.Crew's terry option is $69.50. Todd Snyder teamed up with Champion for a fashion-forward, GQ-endorsed, tight-in-the-arms terry sweatshirt in an attractive salt-and-pepper style, but at $98, you can't quite justify the brand name when the real thing is $12 at Hanes. Same for the Sunspel men's cotton loopback sweatshirt, selling for $145. Is all this luxury dadcore worth it?
No, I say! The high price point defeats the purpose: This thing should look ready for a marathon of This Is Us at home with a bowl of chili. The effort required to make it fashion-forward ruins the appeal. Plus, there are equally flattering and far cheaper options if you need a better fit — like Uniqlo's, which is $29.50.
An informal poll of women in the MEL office suggested the same: Those extra details, like the weird line in the back of Everlane's fleece sweatshirt or Todd Snyder/Champion's chest pocket, just feel strange and unnecessary. What would you keep in that pocket? A condom, a single wet wipe, eight almonds or three Cheetos? Staff writer Tracy Moore resents how "fresh and new" they all look — "like it goes on a teddy bear or something." I must agree: Simple and well-worn is the way to go. Buy one new if you must, but wash it on hot about 20 times before wearing.
So is the Dad Sweatshirt simply a tweaked version of Silicon Valley's hoodie fashion du jour? Are millennial tastemakers gently taking the lead so millennial dads can be "cool"? Or is it something much deeper, and sexier?
One Dad Sweatshirt aficionado, MEL editor Cooper Fleishman, praises the sentimental appeal of the crewneck. "The genesis of the Dad Sweatshirt is important," he says. "My wife, Ellie, actually turned me on to the style. She has a gray Hanes sweatshirt she got for $10 that looks exactly like one her dad wears on weekends."
After years of jealousy, he bought a similar one from Everlane (and stupidly paid five times as much), he says. "When we go to Hastings-on-Hudson to hang out with the family, we rock the dad looks. It's like wearing a hug. I don't want to wear anything else ever again. Now I have one in black, navy and heather gray."
Cooper adds that some Dad Sweatshirt diehards "live or die" by the classic V-stitch, that little triangle below the neckline. "It used to prevent you from stretching out your crewneck but now it's just a fashionable throwback look. You don't need it! The cleaner the lines, the better."
Brock McGoff, who runs the male fashion blog The Modest Man, says it's the casual comfort that makes the style so promising. "Men's fashion has been trending, and will continue to trend, more casual, which is good news for guys everywhere," he tells MEL.
As for why the Dad Sweatshirt is re-emerging on the shoulders of male fashion influencers everywhere, he posits two theories. "It might have to do with the fact that millennial guys are becoming dads (as might've been the case with normcore). The dads I know definitely value comfort and functionality over form!"
"The whole #normcore trend was sort of the same thing — just people wanting to not have to try so hard every day," he adds, directing me to a four-year-old Reddit post in r/FemaleFashionAdvice analyzing the emergence of normcore.
His second theory is that the style is simply a "rebound" from the "ultra-slim-fit trend that has dominated the men's fashion scene for the past few years."
McGoff adds that as a slim guy, he enjoys slim-fitting clothes, but "it's nice to see silhouettes loosening up a bit, and I think we can all agree that slightly roomier fits can be more comfortable."
Fleishman, who is now going on day three of eating the same chili in the same gray crewneck, believes it's flattering, too. "The sweatshirt provides bulk to a skinny frame and structure to a hunched posture. It hides the gut, especially when rocking dark colors, and streamlines the whole torso into one boxy, masculine shape — basically emphasizing your chest and upper arms. It feels a bit like streetwear, but it also has a cozy, hygge quality."  
The Dad Sweatshirt is safe in every sense of the word. "It provides emotional and physical comfort, but it's also cool and youthful without trying too hard or being a big fashion risk," he says.
Any advice for actually wearing it? "Try a gray sweatshirt with black jeans and white shoes: You look like a menswear influencer in Copenhagen," Coop advises. "Or try a black sweatshirt with anything — mid-blue jeans, brown chinos, you name it."
But don't go overboard! McGoff warns that it's easy to take dadcore too far. "Experiment with this trend in small doses," he says. "Wear a dad hat, relaxed sweatshirt, straight-cut light-wash jeans, chunky sneakers, etc. — just not all at the same time!
"You should wear clothes that fit your body. If you're super-skinny, slim or skinny-fit clothing will look best on you. For bigger guys, though, the looser fits are perfect."
"Basically," he says, "never go full dad."