Early last Friday morning, I sat in my car in an empty, desolate gas station parking lot, patiently waiting for the drop. The delivery driver was already 30 minutes late, raising the suspicions of the elderly cashier working the night shift who kept eyeing me. I didn't know much about my driver — just that his name was "Omar" and that he was, in the words of a friend, "the most reliable distributor in all of London," and a guy with the "highest quality product on the market." 
Omar had already canceled on me several times before, saying that his products were in high demand. Plus, considering that the cops were (supposedly) pulling people over and questioning their reasons for making long trips during the lockdown, he didn't want to be criss-crossing the city too much.
It might seem like Omar is running a drug operation, but the truth is more innocent (and legal): He's selling COVID-19 antibody tests.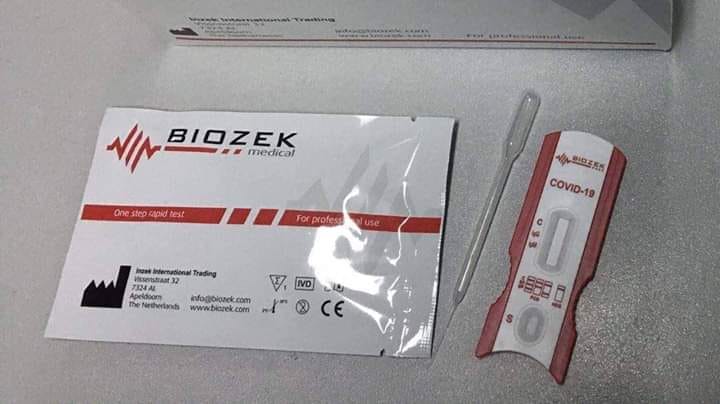 In fact, he's just one of hundreds of vendors on the black market importing large volumes of the tests from overseas, and either selling them to grocery stores, independent traders or, more often than not, individuals looking to get themselves and their families tested. Demand is high — despite sellers such as Omar having been accused of price gouging (the tests run anywhere from $25 to $200 a piece); scamming them outright; overstating the accuracy of the tests; and, in some cases, undercutting rival vendors, resulting in public brawls. It's largely because the U.K. currently has limited capacity for official coronavirus testing, and priority is usually given to essential health-care workers. 
That leaves pretty much everyone else in the cold — especially those who are still working. "My dad has been on a waiting list to get tested for weeks," says Raza Shah, a 21-year-old university student who currently lives with his parents and three sisters in East London. His dad is a driver for a popular taxi service, which puts him at high risk of infection (or spreading the infection). "He took a week off when he was trying to get an official COVID-19 test, but that was a huge hit on our income," Shah tells me. "My mom has diabetes, so she's also vulnerable. My family can't afford a big financial hit, otherwise we'll get evicted." 
And so, without a government-approved test, his dad felt he had little choice but to buy enough antibody tests to take one every week, and carry them around with him as proof of being coronavirus-free. "It set us back a good few hundred pounds," Shah says. "But it was the only way for people to trust him enough to let him drive them."
Of course, even with weekly antibody tests, there's no real guarantee that Shah's father is either safe or immune from infection. As my colleague Andrew Fiouzi reported in April, though there has been a rapid proliferation of antibody tests across the world, many of those have been found to be fake or an excuse to collect biological information from customers with virtually no oversight or regulation. 
"It's kind of like the Wild West," Janko Nikolich-Zugich, head of the University of Arizona College of Medicine-Tucson's Department of Immunobiology, told the Verge earlier this month when describing the black market antibody tests. Moreover, even antibody tests that do pass rigorous testing for detecting known viruses (e.g., SARS) have been criticized by medical practitioners for generating more false positives than not. Along those lines, because the antibodies that are produced in response to a virus are unique to each person, even the best tests can miss the detection of IgG, the long-term antibody found in people already exposed to any kind of virus or vaccine. 
In other words, even if an antibody test has a high rate of detection, just a small number of false results could result in the virus spreading again, which is why the CDC and the U.K.'s Department of Health haven't recommended existing tests be used for general population testing.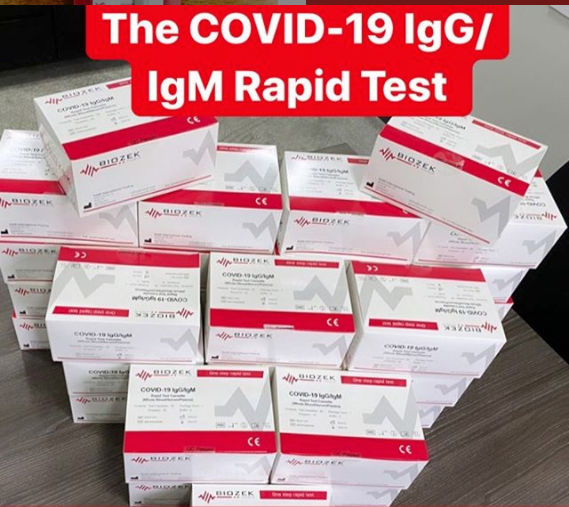 That said, a functioning antibody test is essential for any country looking to ease shelter-in-place orders, putting pressure on companies like the U.K.-based Biosure. A company spokesperson tells me that they're in the process of developing and rolling out the British government's approved antibody at-home kit, based on their existing HIV self-tests. The spokesperson also emphasizes that people wanting to return to work do not fully rely on the results of antibody tests they buy over the internet. 
But those purchasing such tests today say that waiting for a government-approved version isn't realistic. In some cases, they tell me that their bosses have encouraged — and even threatened to fire — employees and contractors who wouldn't take tests; in others, they know that their companies won't pay the extra insurance needed in the event that they become infected. 
"Coronavirus has definitely made us more disposable," says Tom, 26, who works in a warehouse that manages home deliveries. "There's no guarantee that you'll even get your job back if you get infected and have to self-isolate, because you can be easily replaced by someone else. So I bought some tests from a friend who has connections in Hong Kong, and when the tests showed I was negative for antibodies, I used it as proof to [my manager] that I could work." 
Tom admits that he doesn't know how accurate the tests are, but he sees them as a quick fix to keep a roof over his family's head. "I'm as careful as I can be, and I wear masks, gloves and all of that," he says. "The negative antibody test is really [to assure] other people that I'm safe to be around."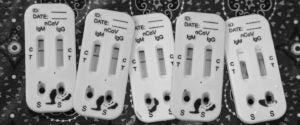 I'm not sure how much black-market antibody-test vendors like Omar are making, but based on the fact that I had to pay $50 for mine (allegedly, a middle-of-the-road price) and that I'd been stood up for weeks, it suggests that business is strong — and likely to become even higher as the government encourages more and more people to go back to work.
As for Omar, he finally called around 2 a.m. He confirmed that he'd received my PayPal transaction, and that my antibody test was awaiting me under a road sign on a nearby residential street. Later, he also texted one last request: "When you take the test, can you take a picture and post it on your social media? Tell anyone who wants a test to WhatsApp me."