"It's FANTASTIC," writes my friend Victoria. "I literally cannot STOP staring." 
"Flawless," adds Ben. 
"It's all I care about," E.J. announces. 
"It's like a juicy, ripe melon, or, in Italian… melone," notes Chuck.
"Oh man," is all Christine can say.
If people praised one of your body parts like this, you might feel both flattered and alarmed at the intensity of such approval. Or you might lean into the objectification — make that attribute a calling card — and be celebrated for owning it. Dolly Parton has boob jokes. Winston Duke loves showing off his "thickalicious" thighs. And Christopher Meloni knows fans want to see what the comments above all refer to: his legendary ass, which has graced our TV screens for 30 years now, straining against the seat of tight pants or on full, proud, naked display. 
Meloni claims that the lore and viral interest around his derrière can be blamed on the actress Rachael Harris, his co-star in the short-lived Fox sitcom Surviving Jack. "Fuckin' Rachael Harris lit the fuse," he told the Daily Beast in 2014. It was earlier that year, as their show aired, that Harris appeared on Conan and described the experience of collaborating with Meloni: "You go to work with Chris and Chris' butt," she explained. "His butt has a presence." She praised his ass for being "high and firm," which she attributed to "a lot of squats," but here and there, you can tell she is searching for more elusive words to convey the profundity of this badonkadonk. 
While Harris' evangelizing no doubt kicked off a heyday for Meloni's hindquarters (the horndogs of Tumblr took the meme and ran with it, and by the end of 2015, BuzzFeed had published a listicle headlined "Literally Just 17 Pictures of Christopher Meloni's Butt"), these sumptuous cheeks had long ago made a name for themselves. In the course of two extended TV gigs that placed the actor on opposing sides of the law, he took dude ass to heights previously unscaled.  
From 1998 to 2003, Meloni was Chris Keller, a bisexual serial killer in the gritty HBO prison drama Oz, and from 1999 to 2011, he was Detective Elliot Stabler of Law & Order: Special Victims Unit. The latter series saw Meloni's character in a near-permanent state of tension that often boiled over into rage at those he suspected of sex crimes — one YouTube compilation nicknames him "Unstabler" — with his buttocks reliably flexed in kind. Oz, meanwhile, was groundbreaking in its frank depiction of male nudity, Meloni among the most exposed of the ensemble. Few who saw it can forget when the volatile Keller, as taunt and come-on to his sometime lover Tobias Beecher, bent over to moon him, then spread his ass for a hole shot.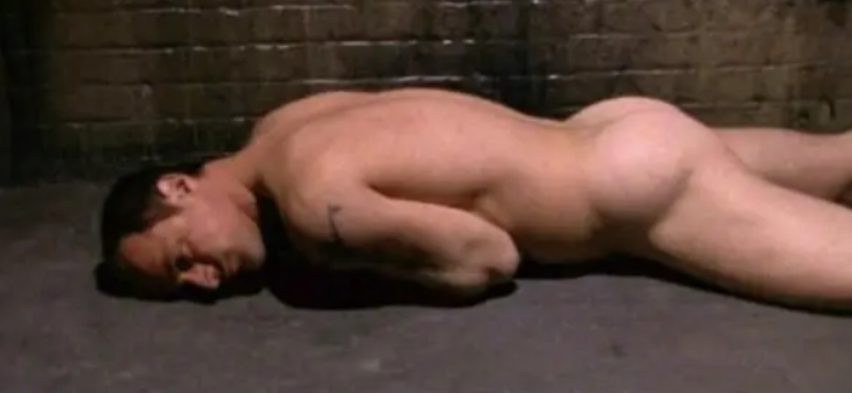 By the era of Surviving Jack and his current series, Happy!, the Meloni Butt was a go-to gag: he's stuck it out for a wrestling sequence and paraded around New York in nothing but a Hawaiian shirt and a pair of boots. But earlier on, the rump routine must have been the organic result of Meloni's gifts as a performer, and a surpassing comfort in his own skin. He pairs meathead machismo with a manic, febrile and even menacing style of humor — the kind that makes the sight of his anus a threat as well as a joke, or sells him as the unhinged Vietnam vet and fetishist camp cook in Wet Hot American Summer.
Clearly, he's always been in touch with his animalistic side. His muscular figure exudes a Spartan air that makes clothes all but pointless. And like those warriors of antiquity, he wields his primal strength with something akin to balletic grace. There is control and poise to his power, whether he's dancing or tenderly humping a refrigerator. The well-toned bubble butt is, perhaps, the fundament of this physical magnetism, which he uses to fill characters with taut vigor and pansexual frenzy. Meloni's ass is ready to explode out of his jeans the same way he blows up scenes as a human powder keg.          
The appeal of this bodacious behind is delicately balanced between the athletic prowess it takes to maintain and its seemingly effortless, natural form — Meloni as both jock and idealized sculpture. Victoria, my pal who can't stop staring at the thing, says, "It's like someone took the idea for a Perfect Ass and synthesized it in a lab." Others echo this claim to platonic greatness: "It's just… so nice," says Connor. "It's just so perfect you want to bite it," Andrew says. "Two perfect scoops of vanilla ice cream as served by god," Jameson declares. Rachel shares this celestial view, having once tweeted: "Chris Meloni's ass is why I get up in the morning." 
But a 23-year-old male friend in Ottawa, who prefers to remain anonymous, has an appreciation grounded in anatomy. "Literally the only thing that kept teenage me watching Oz from beginning to end" was Meloni's thicc booty, he tells me. It's "big, but not disproportionate," he says, and "very functional — he looks great when he (used to) post kickboxing stuff on Instagram."
He's not alone in valuing the ability of the ass as much as its shape. The oldest Meloni bum-thirst I could find is a clip from 1st & Ten, a 1984 to 1991 HBO sitcom about the fictional football team the California Bulls, labeled "Chris Meloni Football Ass." (In real life, Meloni was captain and quarterback of his 1978 high school team, storied in the hometown for going undefeated.) 
Surely, there's no wrong way to adore Meloni's greatest asset. Though if we're in near-universal agreement regarding its allure (only a single acquaintance of mine voiced some dissent, saying he prefers butts that are smaller, darker and less hairy), it's probably because of how his career has aligned with the evolution of the male body in pop media. He was goofy, daring and uninhibited enough to give us all the juicy caboose we didn't realize we were missing, to become the principal subject of a multiplying but communal gaze: You are transfixed regardless of gender and orientation, either with lust in your heart or just scientific curiosity. That his curvy glutes made him a simultaneous sex symbol for gay teens growing up on Oz and moms addicted to SVU sums it up — this ass is a party that goes all night, and everyone is invited. 
So thank you, king, for showing us the virtuous path to posterior bliss. May your return to the role of Elliot Stabler in a Law & Order spinoff be the most butt-forward project on your list of credits to date.
Yeah, the bigshot producer's name is "Dick," but we know who the real star is.