A little more than halfway through The Karate Kid, Mr. Miyagi gets hammered. Alone and upbeat at first, he explains to his just-arrived martial arts pupil, to whom he refers as "Daniel-san," that he's celebrating his anniversary — news that puzzles Daniel-san because, up to that point, he's never observed Mr. Miyagi in the company of a woman. 
As melancholy progressively inflects Mr. Miyagi's slurred speech, his body beginning to betray him, Daniel-san pieces together what's ailing him. Turns out Mr. Miyagi fought on behalf of the U.S. in World War II, while the federal government relocated his immigrant, pregnant wife to a California internment camp. There, during childbirth, she experienced "complications" and died. The baby didn't make it either.  
In front of Daniel-san, Mr. Miyagi stumbles around his home, finds his bed and eventually passes out, tears streaming down his cheeks. Daniel-san tucks him in, bows to his sensei and leaves. 
The scene — which flew way over your head when you were a kid, I know — reveals Mr. Miyagi's motivation for training Daniel-san in karate: He's the son Mr. Miyagi never had, and always wanted. The fatherless Daniel-san is a willing substitute, ready to absorb the primary Miyagi ethos: the achievement of balance, something Mr. Miyagi himself doesn't possess here, as symbolized by his drunken teetering. 
Over the course of Daniel-san's more advanced karate tutorials, Mr. Miyagi stresses that he first "learn balance" before honing his ability to strike. Daniel-san's patience and persistence pays off, of course, and not just in the climactic karate tournament, which he wins by executing the "crane technique" kick, his right foot flying out of a one-legged stance, requiring optimal balance. More presciently, as Daniel-san tells Mr. Miyagi in the locker room before he gets the magic hot palm massage, the victory will help him establish balance in life. 
Judging by the film's final shot of Mr. Miyagi — smiling, standing tall and proud of his more-than-protégé, a far cry from the version of him we saw on his anniversary — the presence of an ostensible son in his life has also given him balance, perhaps for the first time. 
This focus on achieving such balance in the film is exemplified through the bonsai tree. When Mr. Miyagi shows Daniel-san how to trim one, he says he should shape it however his body and mind compels him to. "Think only tree," Mr. Miyagi tells him. The bonsai later appears as a piece of spiritual iconography, emblazoned across the back of Daniel-san's gi as he competes in the tournament. 
With such positive representation, The Karate Kid prompted a surge of bonsai tree curiosity around the world. Thirty-six years later, a new wave of global interest in the pint-sized plants has emerged, but it's got nothing to do with the film's TV spinoff, Cobra Kai, landing on Netflix and becoming a cultural phenomenon. Instead, it's the pandemic that's spurred skyrocketing sales of bonsai trees — a factor perhaps more authentically tied to their subtle yet outsized ability to help people find balance.
"It's crazy, I mean it's just crazy," says renowned bonsai artist Tony Tickle, 64, about the trees' latest popularity boom. Based outside Manchester, England, Tickle trims and maintains bonsai trees for (usually wealthy) clients, and says business inquiries have increased 300 to 400 percent since the start of spring, when the pandemic sent large portions of Western countries into lockdown.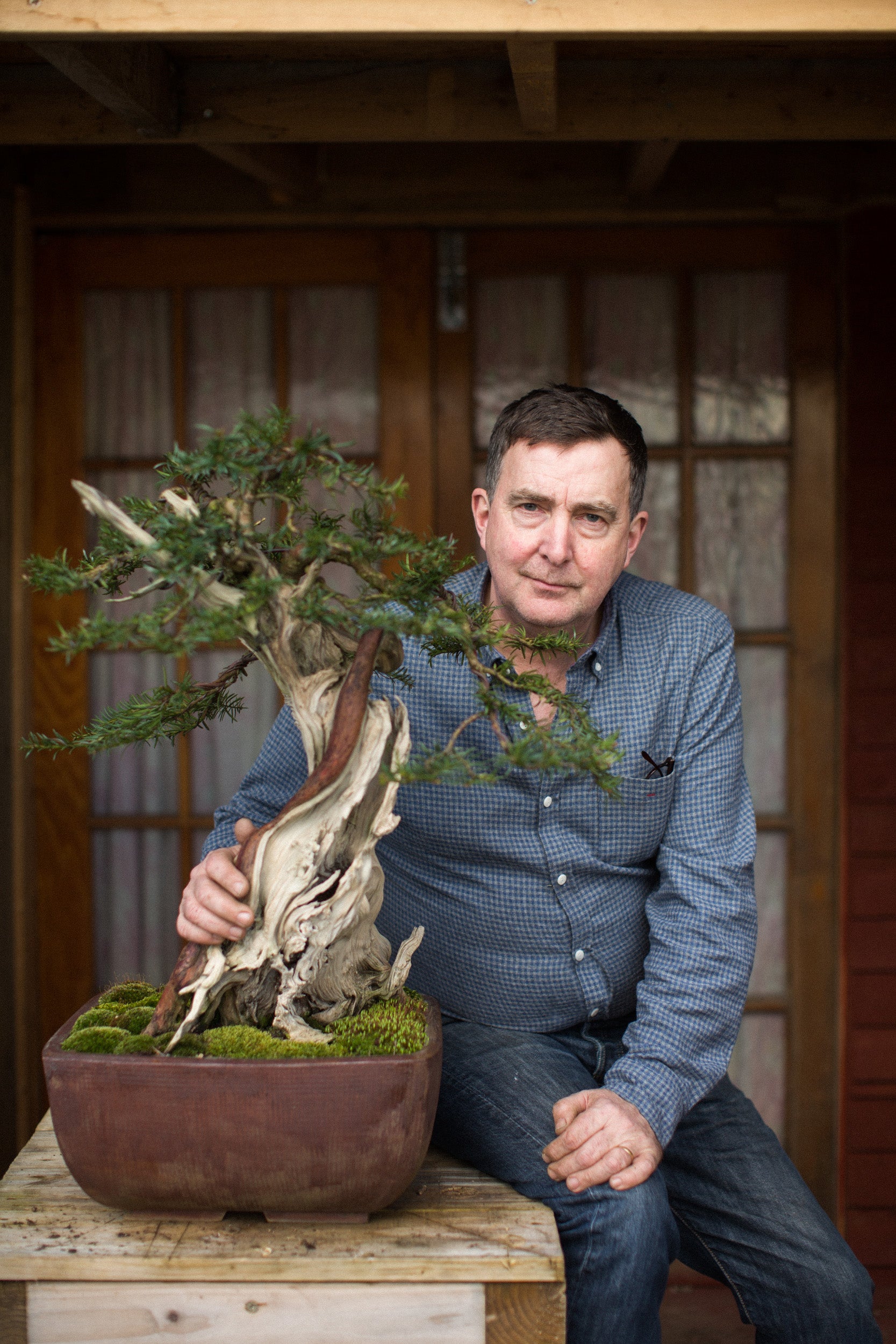 But it's not just rich folk doing rich folk things here. Netherlands resident Oscar, who operates the Bonsai Empire digital store and information platform — where starter kits that include a tree, shears, fertilizer, wire and other necessities start at just $44.99 — tells me the site has seen a 30 percent increase in visitors since springtime as well, with sales nearly doubling. In Poland, Jacek Rostkowski, proprietor of Jack Rost Bonsai Manufacturers, says his bonsai tree sales have gone up 250 percent, while another broker in Brooklyn, says he's seen "a significant upsurge in business since mid-March." 
If The Karate Kid was the greatest thing to happen to bonsai community growth in modern times, is COVID-19 now second-best? "It could be, for sure," Tickle responds.
The reasons for this latest groundswell of interest is pretty obvious — people have more time on their hands, and they're stressed the fuck out. "If you're requested to stay home as much as possible and you can't do anything in groups, you very quickly come to, Okay, I have all this time at home, what do I do with it?" says Jelle Ferwerda, a 44-year-old whose home garden in a small German city near the Netherlands border boasts 150 bonsai trees. "You look for a hobby you can do pretty much solo with very little tools — with bonsai all you need is a pair of scissors, a bit of wire and plants and you're pretty much good to go."
Nursing and then shaping bonsai trees lends itself to pandemic circumstances, because "it's something you cannot speed up; you're following the pace of the tree," Ferwerda says. "If the tree doesn't grow or if the tree is unhealthy, you can't do anything, so you need to make sure that they're completely healthy. And even then, they dictate the speed at which you can work on them."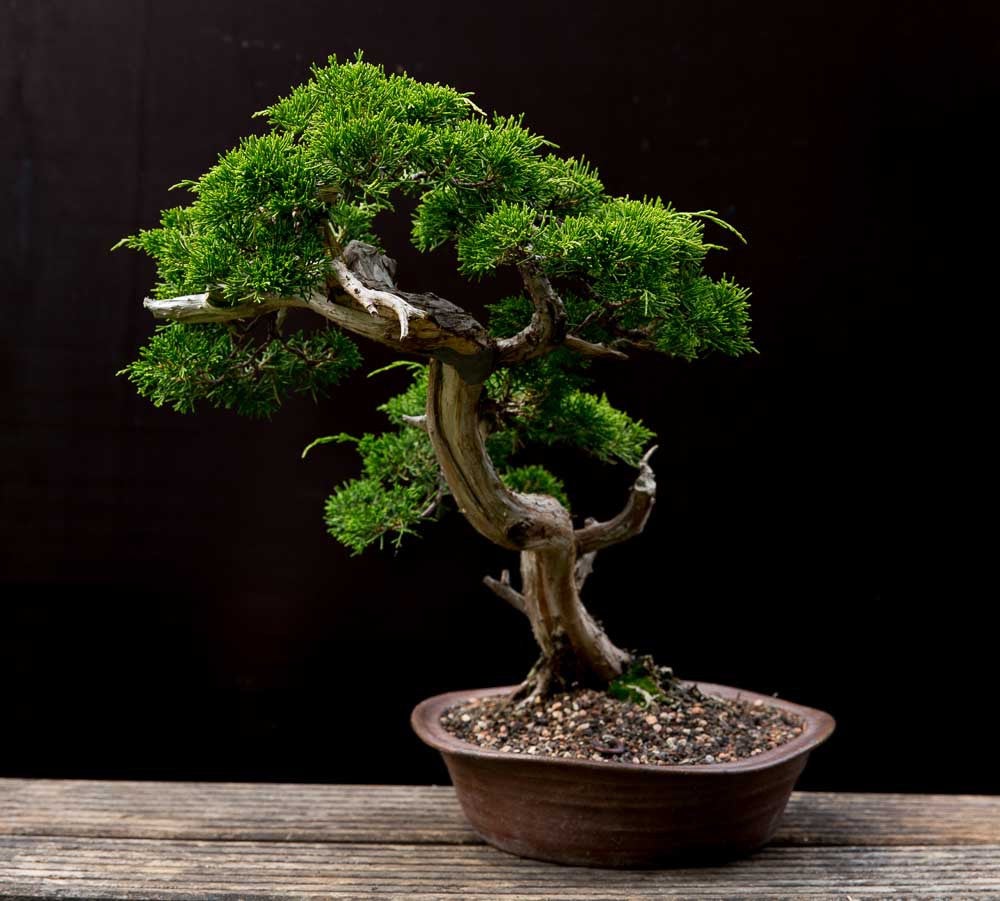 The relationship between gardener and bonsai, thus, is "symbiotic," as Ferwerda puts it. A bonsai caretaker helps it grow by watering it, fertilizing it, exposing it to light and through other measures. (It's way easier to keep a bonsai tree alive than most people think; if they've had a bad experience with one, it's probably because they bought it from a disreputable source, say, in a shopping mall, and weren't taught the proper ways to nurture it.) But then, throughout the shearing process, the tree gives its gardener the joy of generating art by sacrificing its limbs and leaves.
The benefits don't end there. "If we can take care of something else, it helps to feel better about the world imploding," says Matt Puntigam, 38, founder of Dandy Farmer, a New York City-based bonsai dealer. "It's something within our control, [and] it's almost a return to where our roots lie, a return to what makes us kind of human, our connection to the land." Engaging with nature, perhaps in the form of bonsai tree tending, is one way people can tap into their "biophilia," says Puntigam — humankind's innate attraction to nature, spawned throughout our early evolution. Benefits of such activity are said to include stress relief, reduced blood pressure, a boosted immune system, better sleep and pain relief.
The biophilic element of bonsai is what primarily attracted Puntigam to the trees when he lived in Japan during his mid-20s, a period of self-discovery. He grew up surrounded by nature at the foothills of the Appalachian Mountains, in Maryland, and later studied art and anthropology in undergrad. He found elements of both in Japanese gardens during his seven year stay in the East. 
Puntigam then moved to New York and earned a graduate degree in landscape design. He "always felt like something was missing" in the big metropolises he'd lived in, such as Tokyo, Rio de Janeiro and New York, and he launched Dandy Farmer — which deals in indoor bonsai that are more fit for urban dwellings — in large part because he feels "it's a shame that we can't have more access to nature in cities."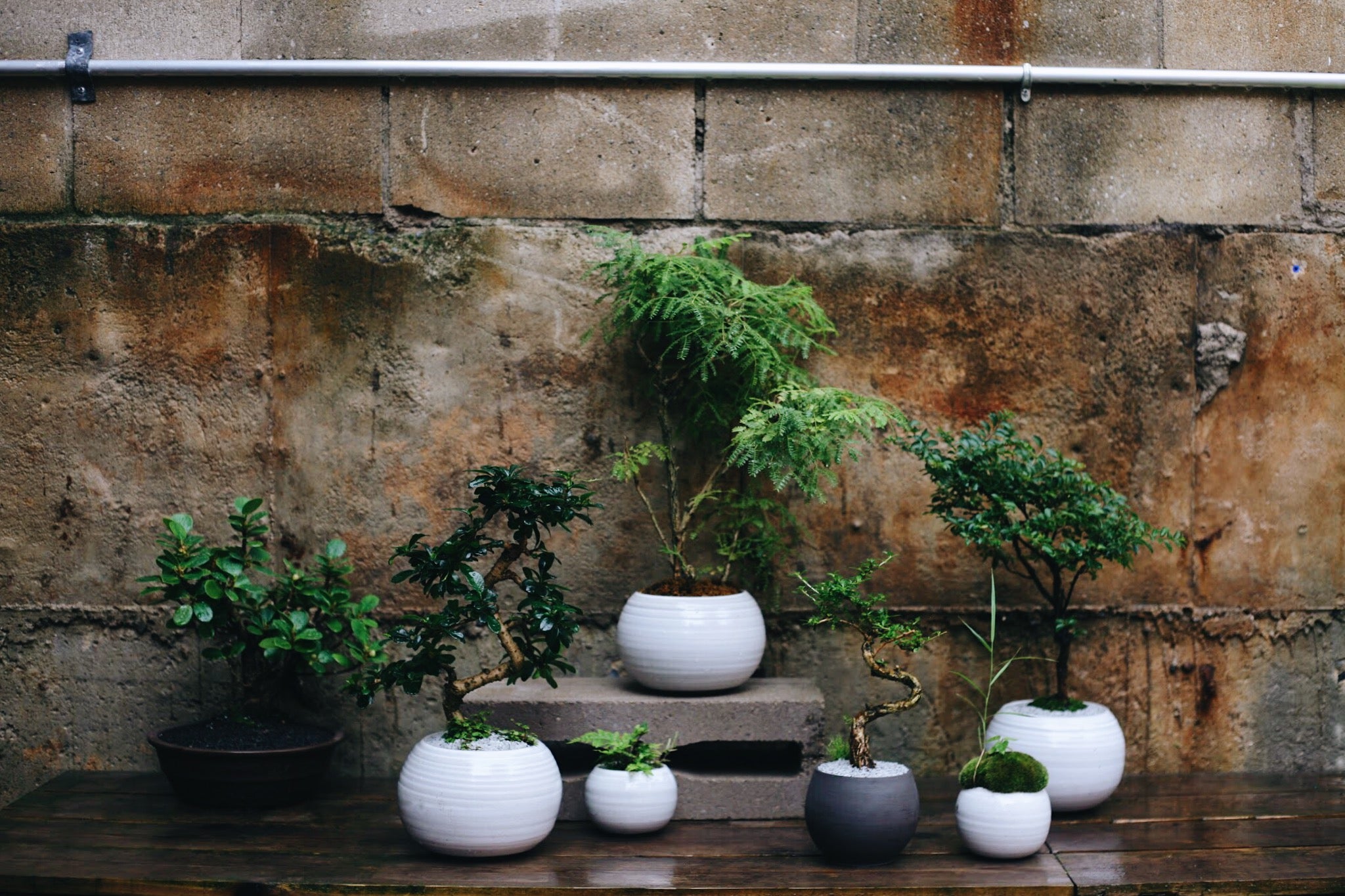 Ferwerda, a trained biologist who, after years of fieldwork, got into bonsai a decade ago, shortly after taking a university administration office job, calls his interactions with bonsai trees "me time." Like so many people around the world, he says his day job — typically, when there's no goddamn pandemic — demands 40 or 50 hours in the office and some additional hours spent on a computer at home. "You're constantly under pressure to perform and to get something done," he says, broadly. "To then just take two or three hours and say, 'No, now I'm going to sit down and spend two hours completely wiring a tree and shaping it' … that brings a certain level of calm to yourself."
People always "try to determine everything" and strive for it all to "go faster," Ferwerda adds. "It needs to be 'now,' and [bonsai] is something where it just can't; the plants take their time." If a bonsai's not ready for a trim, "You have to wait another month," he says — often longer.
Bonsai is a counterpoint to the world most of us live in, giving its gardeners an opportunity for balance. To find it requires patience, and the gardener's ability to stay present. (Remember Mr. Miyagi's instruction to Daniel-san: "Think only tree.") Remaining in the moment, or practicing mindfulness, also has an array of mental health benefits, like reduced stress, anxiety and depression, as well as improved focus, less emotional reactivity and more.
"The amount of people I know in the world of bonsai who have and do suffer from depression is out of all proportion with society in general," Tickle says. He meets these individuals in normal times at conventions, competitions and club gatherings, and sees that they find comfort in the trees. This observation falls in line with the research a friend of his, Caroll Hermann, conducted while earning her PhD. In her paper about the influence of bonsai on health and well-being, she wrote, "The practice of Bonsai can be exceptionally beneficial as a therapy tool, especially in settings where the client/patient has been isolated from family or society." (Sound familiar?)
Tickle ran a design company in his previous day job. Like Ferwerda, he says during that period he endured copious amounts of stress. However, upon selling the company and devoting his life to bonsai artistry 10 years ago, he claims to be completely stress free, falling asleep nightly to thoughts of how he'll work on his bonsai — of which he has around 250 in various states of development — the next day. 
The Karate Kid didn't influence Puntigam, Ferwerda or Tickle to seek bonsai tree artistry as a hobby or business. (Ferwerda had never even seen the film before I urged him to watch it. He did, and wound up disliking it so much he turned it off before Mr. Miyagi's bonsai even appeared onscreen.) But there's no shame in the bonsai community for admitting the contrary, according to Tickle — who proudly showed off a Mr. Miyagi action figure he keeps in his office during our Zoom call — and to this Bonsai Empire blog post. 
Some do feel inclined to defend their infatuation to others, though. Ferwerda admits bonsai tree caretaking is "a little bit of a strange hobby," and finds himself at the butt end of jokes because of it from time to time. Ferwerda's wife also asked him to relegate all his bonsai trees to a garden on the side of their house, separate from another garden located just behind the house, so that the miniature trees aren't visible from inside.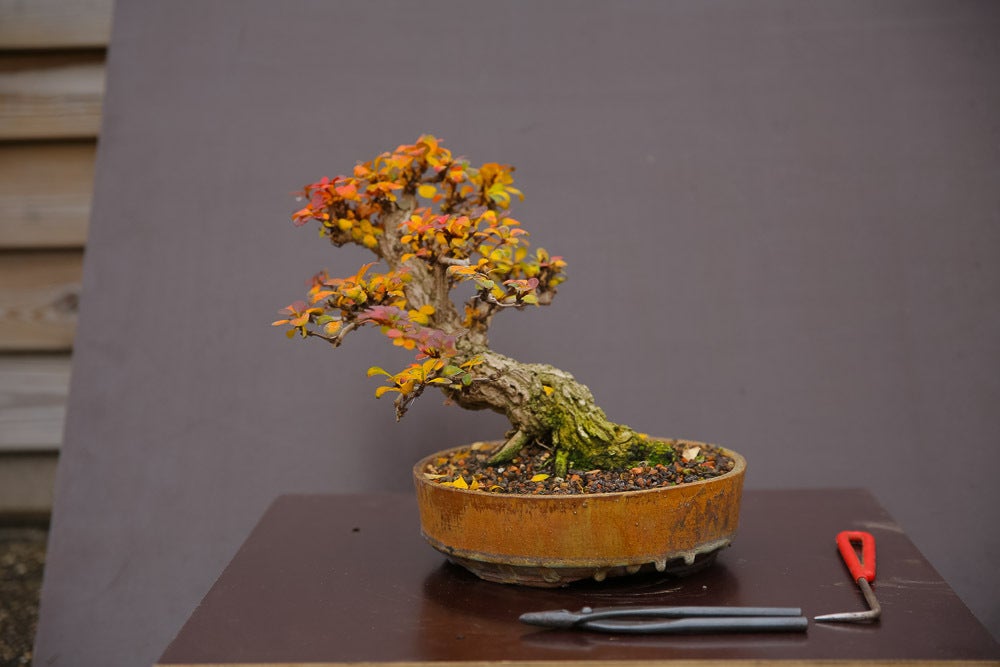 "In general, she recognizes it's an interesting hobby, but it's definitely not for her," Ferwerda says. "My wife and I have lots of discussions on making sure we don't annoy each other." Likewise, one anonymous Bonsai Empire user jokes in a post that he owns 15 trees, which, in his wife's mind, is "12 too many." 
On the other hand, when Tickle got into the bonsai game — which, outside of India, he says, is dominated by men — his wife told him she didn't mind his gardening because it meant he wasn't "down at the pub."
If you've watched The Karate Kid or Cobra Kai recently and found yourself taken by the allure of the bonsai, or you're just depressed as fuck because, y'know, 2020, a bonsai tree of your own should probably be in your future. "You can enjoy bonsai without having to spend a lot of money," Tickle says. "It can be an expensive hobby, but so can driving cars."
Tickle's trees start at around $30,000 to $40,000. However, if for some crazy reason you don't have that kind of cash to burn, he says you can get one, at a dependable bonsai tree nursery, for 10 bucks — an amount you can easily earn by, say, waxing cars, painting a house or sanding some floors. Just make sure while you're carrying out those tasks, and trimming your bonsai tree to perfection, that you also learn balance.