The moment that Zoe Ligon decided it was time to buy her first sex toy in 2011, she knew she wanted a dildo. Though she hadn't used one before, she was dead-set on getting a big one. "As a size queen, I automatically knew I wanted a larger toy, and my first dildo was a very wide toy indeed," she tells me, fondly recalling the nearly two-inch-wide purple dildo that caught her eye. It was enough to pique her interest. A few years later in 2015, she founded the online sex shop Spectrum Boutique. 
Though she was a sex toy novice at the time, her girthy selection might have seemed more "advanced" to other first-time toy owners. And, truth be told, many novices do wonder if the toy they're interested in might leave them biting off more than they can chew (sometimes literally). When I worked at The Pleasure Chest, a sex shop in L.A., customers would constantly ask if I could show them some "beginner-friendly" options, while others would breeze past those and inquire we had anything more "advanced."
That brings up a question many people wonder when they're shopping for a toy: What's the introductory model, and what's a better option for someone who's been around the block?
To answer that, we first have to define the meaning of "advanced," which, sorry, we can't! "Advanced" means something different to everyone, and what kind of experience level it corresponds to completely depends on the type of toy in question. Are we talking vibrators? Butt plugs? Dildos? Dildos for your balls? BDSM stuff? A VR-compatible sex doll who's "greedy for sex and love and all other erotic experiments"? Something else?
Each of these has a different function, is made out of a different material and is meant to stimulate different parts of the body, which makes it difficult to parse out what's beginner-friendly and what's better left to the professionals. A person's experience level also matters; someone might be the kinkiest freak in the world but have never tried butt stuff. In that case, even the babiest of butt plugs might feel advanced. Likewise, someone who's never tried a sex toy in their lives — or who's never had an orgasm — might do just fine with a vibrator so strong their fillings fall out. So, when it comes to defining what "advanced" sex toy really means, there's no real convention. 
That said, if you walk into a sex store and announce that you're looking for something "advanced" — as well as what type of item you're after — chances are they'll catch your drift. Generally speaking, "advanced" sex toys are larger, stronger, more rigid, more textured or intended for a more specific purpose or niche sensation. As such, they occasionally come with a higher price tag, which could make them less attractive to beginners. There's no sense in throwing down $300 for a bedazzled, app-compatible butt plug with 50 vibration settings if you're not even sure you like butt plugs in the first place. 
A super high-tech teledildonic set-up could also be considered a more advanced purchase. Not only is the technology bordering on the kind that lives in your smartphone, it's pricey enough to make many people wonder if they should work up to it with something cheaper. Thus, price could also be considered an element of "advanced," but there are plenty of expensive beginner's toys and inexpensive advanced ones, too. 
Strength can also be a factor, and the infamous Hitachi Magic Wand might be nature's most perfect example of what an "advanced" toy can be. Heavy, loud, pricey and shaped like a baseball bat, it's one of the strongest clitoral vibrators known to man and has the reputation of helping people orgasm who have difficulty getting there on their own, with partners or with other toys. Yet, it might be too strong, expensive and intense for someone who's never used a vibrator before — or who's new to masturbation — so, generally speaking, it might be better suited for someone who's used toys before, knows they enjoy clitoral stimulation and is looking for something stronger than what they started with. 
But again, lots of people's first sex toy is a Magic Wand, and for many of them, it works out great (you can also put attachments on it to use it inside vaginas and anuses too, and a lot of people with penises also think they're pretty cool). 
In the dildo arena, some Bad Dragon dildos could also be characterized as "advanced." Girthy, textured, curvy and molded into all sorts of fantasy shapes from dragon dicks to octopus tentacles to alien tongues, they're a far cry from the more demure phallaces you might see in a typical sex store, and most people will find them a lot more intense. But while they might make some people shake in their shoes, others might take a look at their horse-cock selection, shrug and go, "Got anything bigger?"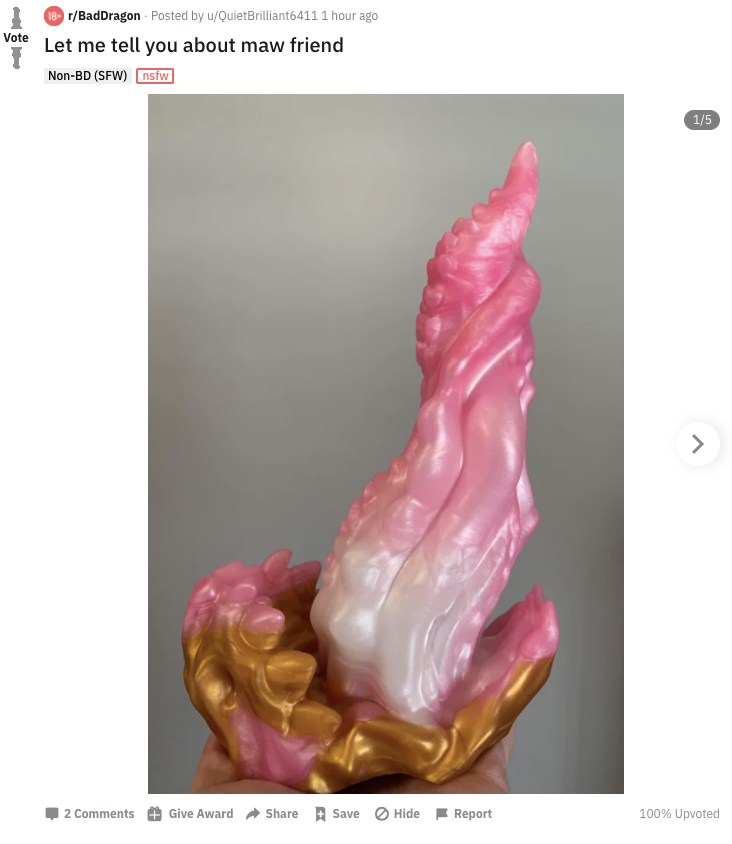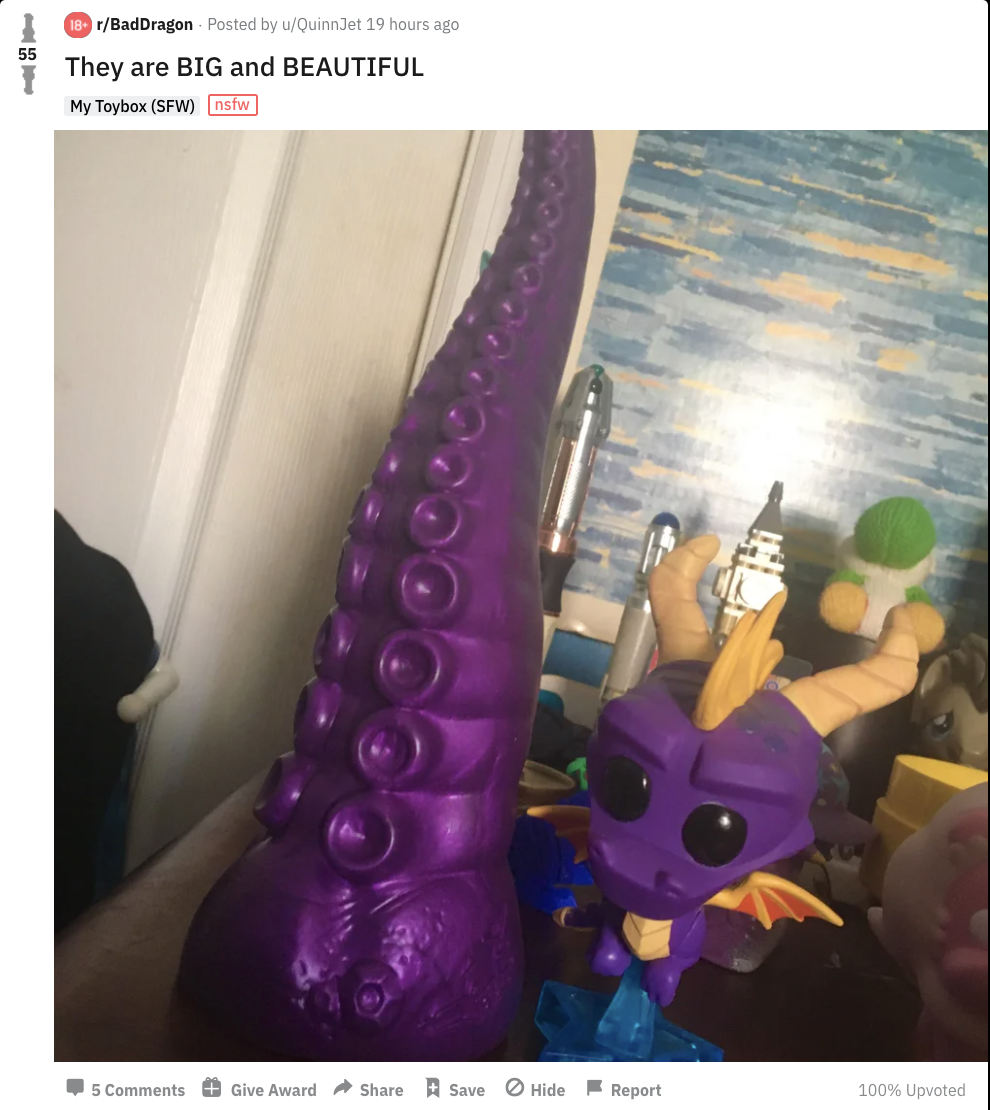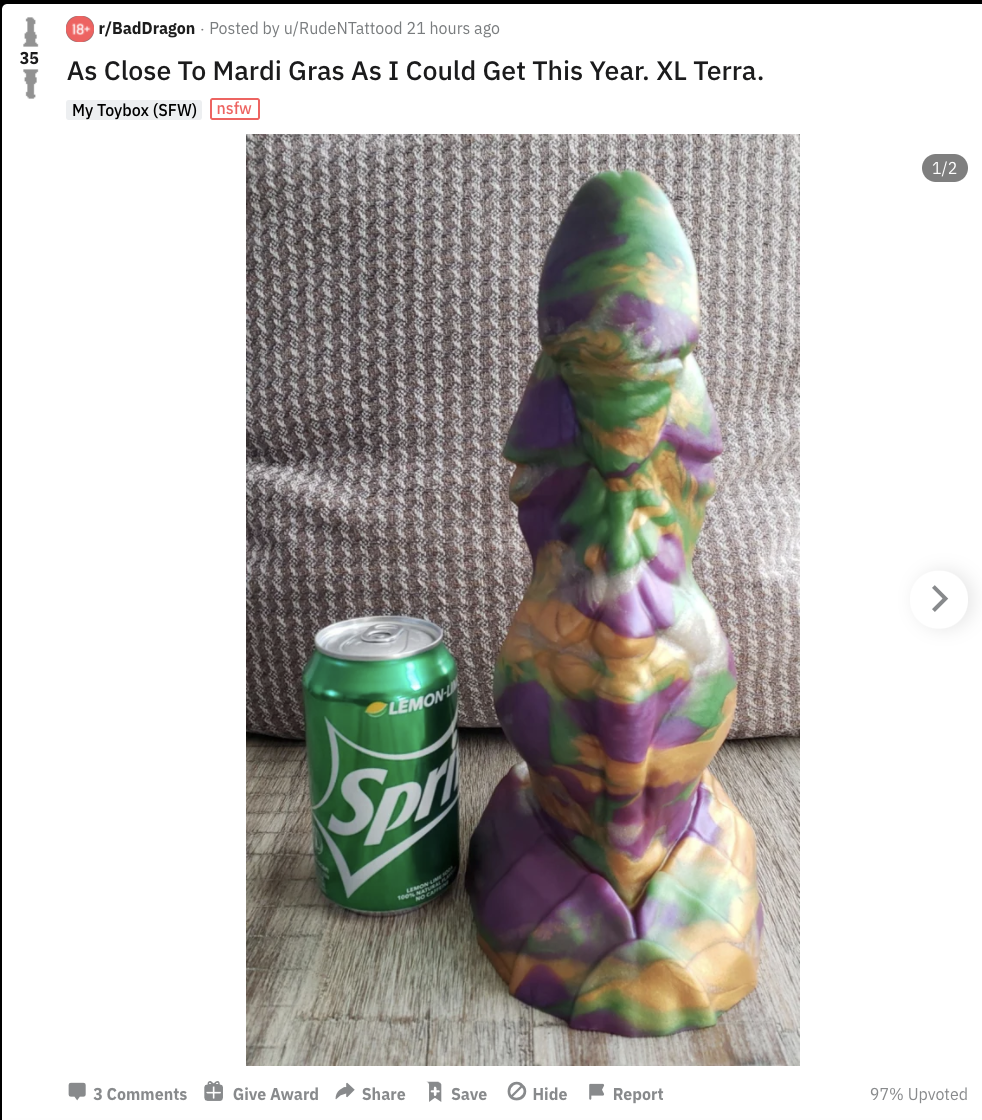 That's where Elise, a 25-year-old porn performer and OnlyFans star who makes content under the name Siswet, is at. If you've been on a porn site, I guarantee you've seen her; she's the adorable blonde girl who pops up anytime you type in "anal" or "dildo," and is known far and wide for using large, interestingly shaped sex toys most people would consider beyond their reach. 
Elise holds the coveted title of Pornhub's Top Anal Performer, and it's easy to see why: She can pack some serious cargo. Though she started with smaller dildos and the inflatable kind that can stretch you out slowly, she soon discovered that these "weren't enough for [her] butt" and that she needed something girthier to meet the need. Check her out here with the thigh-sized Boss Hogg dildo, a very large and in-charge textured crocodile toy or with her entire forearm making a backdoor entry, a gorgeous ouroboros collapsing into herself. 
For most people, toys like these would be considered extra, extra advanced, but for Elise, they're part of the regular rotation. The only toy that's been giving her trouble — and the one she says might be too wide — is a large fist-shaped curiosity that just … won't … fit. That one might be "advanced" for now, but she's sure that after some more training, it'll seem more approachable, and she'll work up to something else even larger.
"Larger," however, definitely doesn't always mean "advanced." Take BDSM canes, for example. Often made of wood no more than an inch wide, they're light, thin and relatively innocuous-looking, but when applied to the ass of a willing partner with a satisfying swish, they can leave some serious marks. As a result, they shouldn't be used without doing some research on how to do it safely, a pretty sure sign something is "advanced." 
Likewise, the smaller and thinner a cock ring is, the more "advanced" it can feel. A smaller circumference typically means more restricted blood flow, and a thinner ring adds more direct pressure. Once more, though, you could be the world's most prolific cock ring user and still like something wider and larger. It's all about personal preference and the type of sensation you're after. To that end, there are also some incredibly tiny vibrators that are almost Hitachi-level strong. 
What material a toy is made out of is also a consideration, and usually, the harder and less flexible the material, the more "advanced" it seems. Glass and stainless steel have a reputation for being less beginner-friendly due to their heft and inflexibility, but those same qualities also make them nice for anyone who likes a fuller feeling or more direct stimulation. The njoy Pure Wand is prime example: Made of stainless steel, it's weighty and so curved that it's only really meant to stimulate the G-spot or prostate. Still, Ligon says there's no real reason that it, or another glass or steel toy couldn't be someone's first-time pick. 
https://www.youtube.com/watch?v=DlRegXk-0BY
"It's so relative to what people are looking for on a personal level, and what sensation they're wanting to explore," she tells me. That's why instead of making hard-and-fast rules about what's advanced and what's not, she defines a toy that's good for beginners as one that's versatile and can be used in a multitude of ways. "If you're new to toys, you may not know which specific features you want to look for or avoid," Ligon continues. "Therefore, something with many speed options and potential uses (i.e., it can be used externally, vaginally or anally) is more likely going to be something you enjoy." A small or mid-sized vibrator with a base, like the Lelo Billy 2, would be a good option — you can use it on the clit, penis, balls or taint, or can insert it into a vagina or butt if you want. A vibrating cock ring can also be handy for couples who feel spicy but don't know where to start — you can put it on a dick or use it as a clit vibe. 
Conversely, Ligon defines an advanced toy as something that "delivers a specific type of stimulation," like the Fun Factory Stronic series. "While they could technically be used by anyone, it's a more expensive toy with a very specific function (pulsation) that may frustrate a first-time toy buyer who's expecting it to be a standard vibrator or thrusting toy. Stronics are beloved by many (myself included — I prefer them to thrusters), but I've definitely heard disappointment from those who didn't read the description on the website or the box. Therefore, I'd very rarely suggest it to someone looking to buy a first-time vibe."
https://www.youtube.com/watch?v=fiV7XFB8RkY
All of this boils down to the following a-ha moment: It's not a toy that qualifies as beginner, advanced or somewhere in-between, it's a person's experience level and how they plan to use it. Case in point: There are plenty of remote-controlled panty vibrators, butt plugs and cock rings of all sizes and strengths, but if you wear one out to dinner with a partner and control the vibration while they try their hardest to eat their Cobb salad like normal, that could be considered more "advanced" than using it at home. 
That's why if you're looking for an advanced toy, Ligon recommends getting more specific with the qualities you're after as opposed to focusing on whether it should be used by beginners or seasoned pros. "Instead of asking for an advanced toy, it would more likely be a question like, 'What's your biggest dildo?,' 'What's your strongest vibrator?' and 'What's an unusual new design?'" she says. 
Fingers crossed that you wind up with the VR-compatible vibrating octopus tentacle of your dreams.