Given that "What do you bench?" — often delivered as the four-syllable word "wadayabench" — is the most frequent question posed between humans attempting to gauge each other's strength, it makes sense that any at-home gym wouldn't be without a device to bench press from.
At the same time, you also don't want a bench that's going to sit out in the middle of the family room to double as a coffee table whenever you're not sweating all over it. So the convenience of a weight bench that can be folded up and stashed in a closet is definitely an attractive option — and a practical necessity if you want to maximize the expansion of your pectoral muscles while not expanding your fitness footprint at home.
Three Things to Look for in a Foldable Weight Bench
1) Minimization: The entire point to owning a foldable weight bench is that it can be collapsed into a tiny space, shoved off to the side and forgotten about until you remember that you need to train again.
2) Reinforcement: Here's the thing, the more opportunities you create for a weight bench to move — incline, decline, etc. — the more potential exists for instability in the bench to result in its catastrophic breakdown in the middle of a lift. Ideally then, you want your bench to have the highest reinforcement and total weight capacity in spite of its functionality.
3) Mobilization: The most stable of benches is going to be a flat one, but if you want to get the utmost out of your training, you're going to want a bench with mobile components that can help you optimize the angles of some of your lifts to encourage muscle growth in the places you want it.
Alright, with that out of the way, shall we press on and look at five of the best foldable weight benches on the market?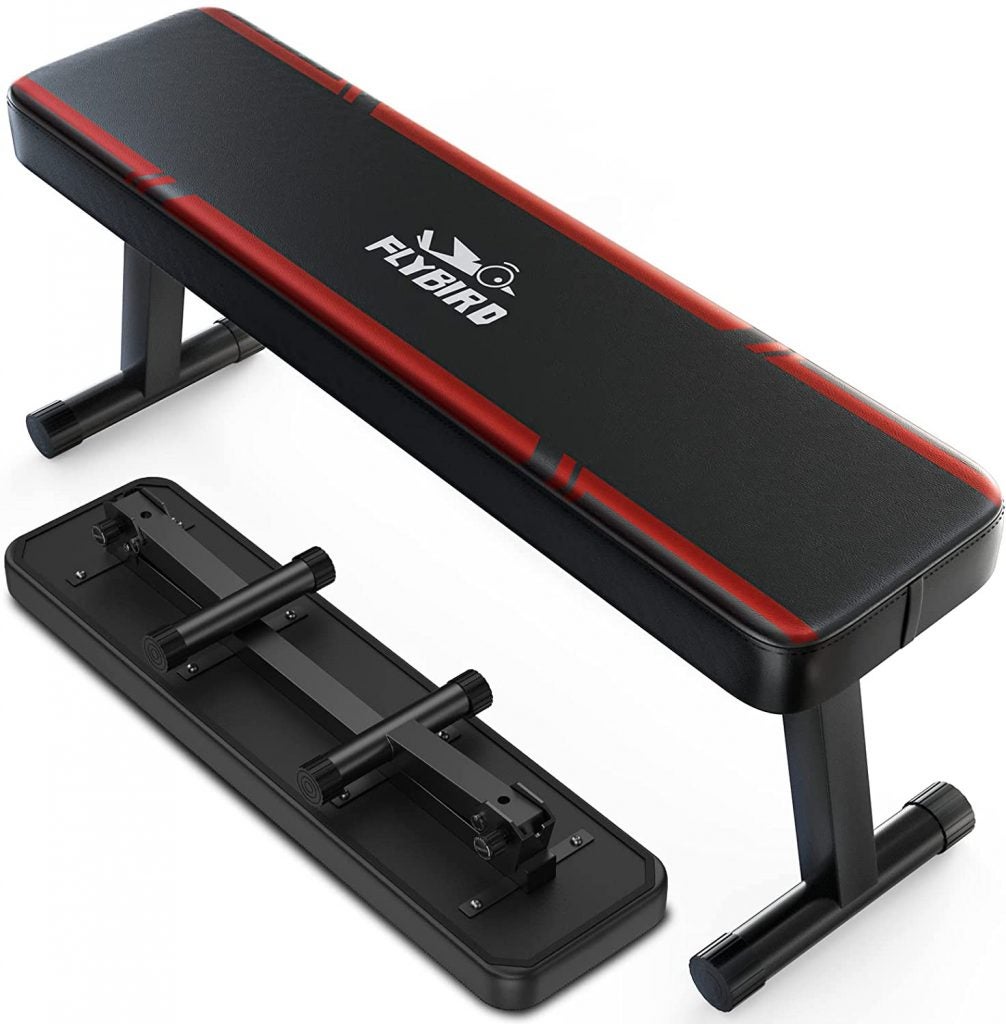 Why You Should Ride This Bench: From a square-footage-conservation standpoint, the FLYBIRD Flat Foldable Weight Bench can't be beat. The legs fold upward and inward, permitting the primary platform of the bench to remain as one solid, parallel piece that can support up to 1,000 pounds of weight. So unless you're 300 pounds and attempting world-class lifts, you needn't be concerned about the bench bursting to pieces just as you're on the brink of immortalizing your strength on TikTok. Also, you can use the entire length of the bench as a step for movements like step-up lunges.
Why It Should Be Benched: Not only are flat benches boring, but most people don't need their absolute stability all that badly, and will gladly exchange hundreds of pounds of max-weight capacity for the ability to alter the pad angle for incline lifts, added back support for military presses or to have a functioning preacher-curl angle to work with.
The Last Word: If you really want a flat bench to lift from, you enjoy having the utmost stability and you like being able to have the maximum level surface area to step upon, the FLYBIRD Flat Foldable Weight Bench is exactly what you're looking for.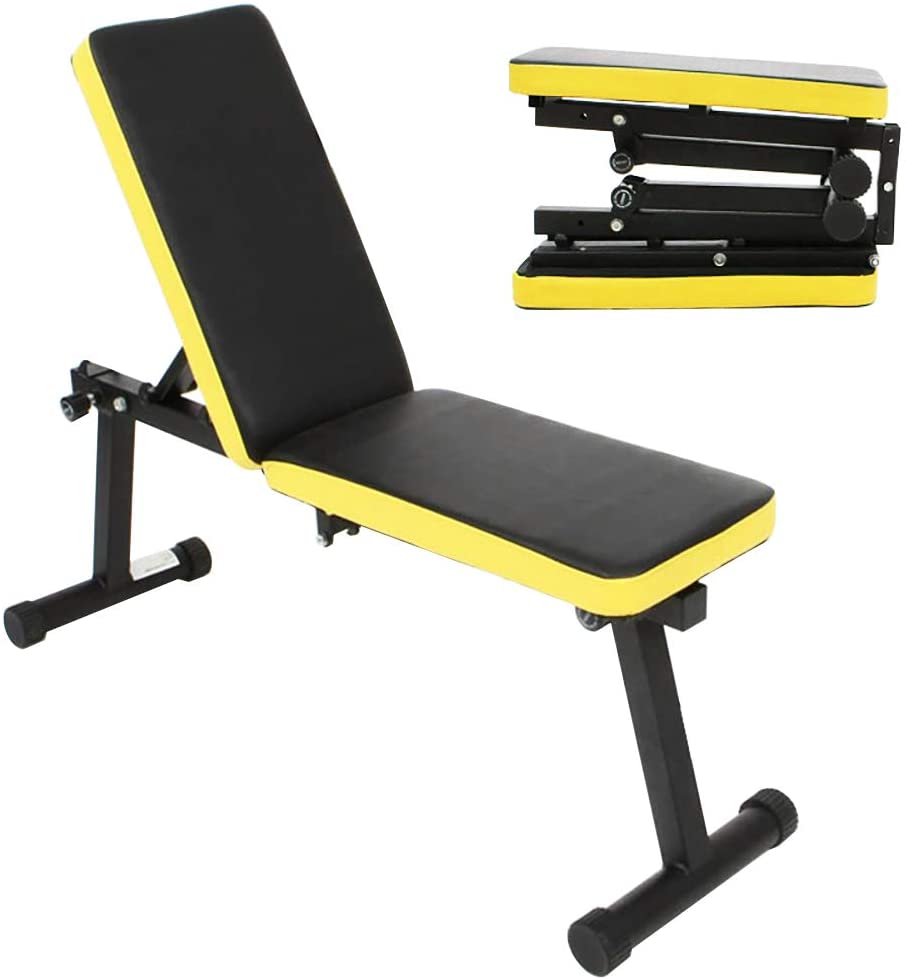 Why You Should Ride This Bench: In certain respects, the Soges Folding Dumbbell Bench is a best-of-both-worlds option. It can incline for you, but its base is rigid enough that you never have to worry about a collapse. Meanwhile, in its flat position, it retains almost all of the stability of a flat bench, since its uppermost portion remains completely supported by the base of the unit.
Why It Should Be Benched: The upper-body support will incline, but the lower portion will not, often creating scenarios where you'd prefer it if your legs and feet could be elevated for the sake of creating a more stable alignment, and yet, you're never supplied with that option.
The Last Word: If all you're hoping for is a bench that possesses an inclining feature, and your only reason for desiring that incline is to have the sturdiest inclining platform from which to press heavy weights, the Soges Folding Dumbbell Bench is the ticket. Even if the inclined portion somehow caved in, your back could never dip beneath a parallel position.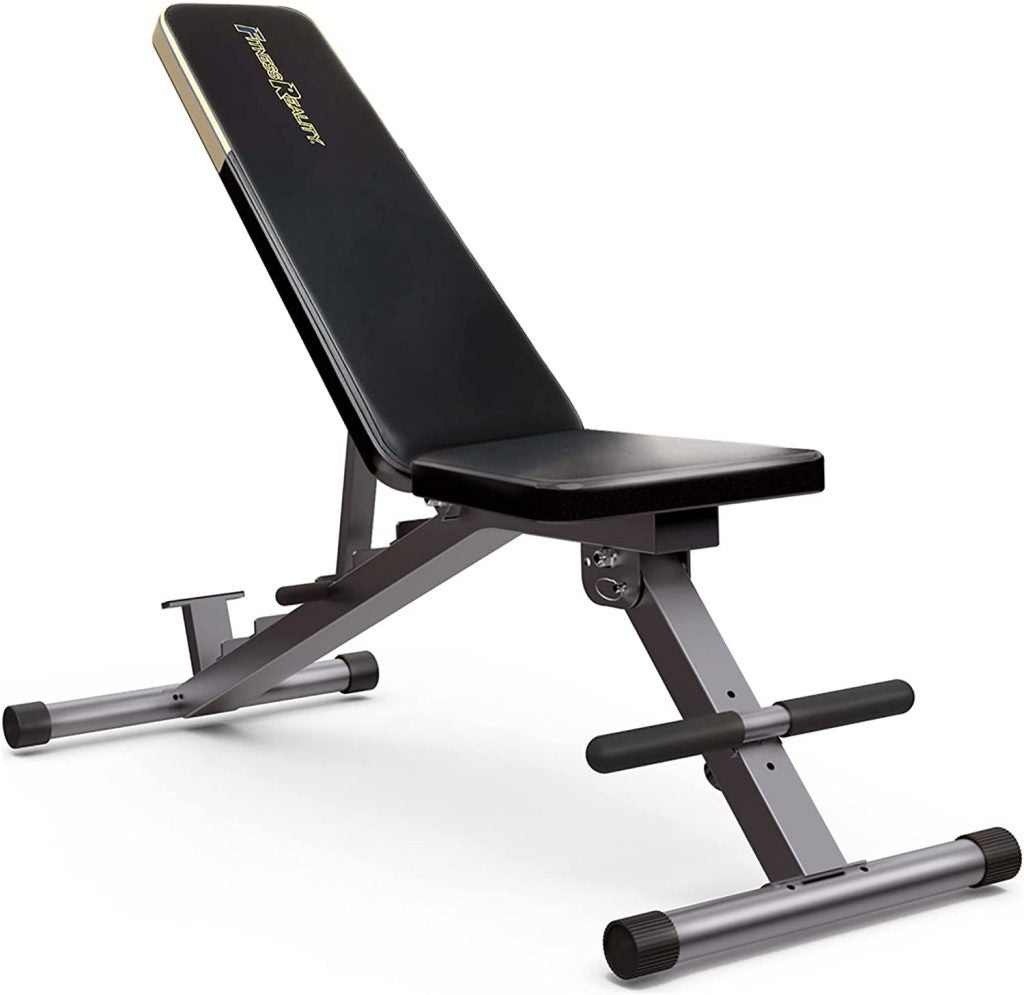 Why You Should Ride This Bench: Now we're talkin'! If you have a bench that both inclines and declines like the Supermax Adjustable Bench Press, it will enable you to set your back at every essential angle for training your body, with one of my personal favorites being decline skull crushers, because they prevent you from cheating on the fullness of the extension. However, an underrated benefit is also the leg positions the declining bench enables you to strike for exercises like barbell rows, if you don't want your shin to be forced to rest completely parallel to the floor.
Why It Should Be Benched: Here's where things begin to get dicey with respect to bench stability. For a declinable bench, the only truly stable back position is when the back is resting flush against the support bar. In this case, that will only occur when the bench is entirely declined. As a result, even when you're lifting weights in a fully parallel position, you're still going to be beset by the shaking and rattling of the bench. There are always unforeseen trade-offs whenever a supposed convenience is introduced.
The Last Word: At least a portion of this bench will remain stable for you. While it may not provide you with all of the most optimal angles for every segment of your body, the Supermax Adjustable Bench Press is practical enough to meet the home fitness demands of most people who are interested in total-body development, but who also aren't intending to set any new powerlifting records.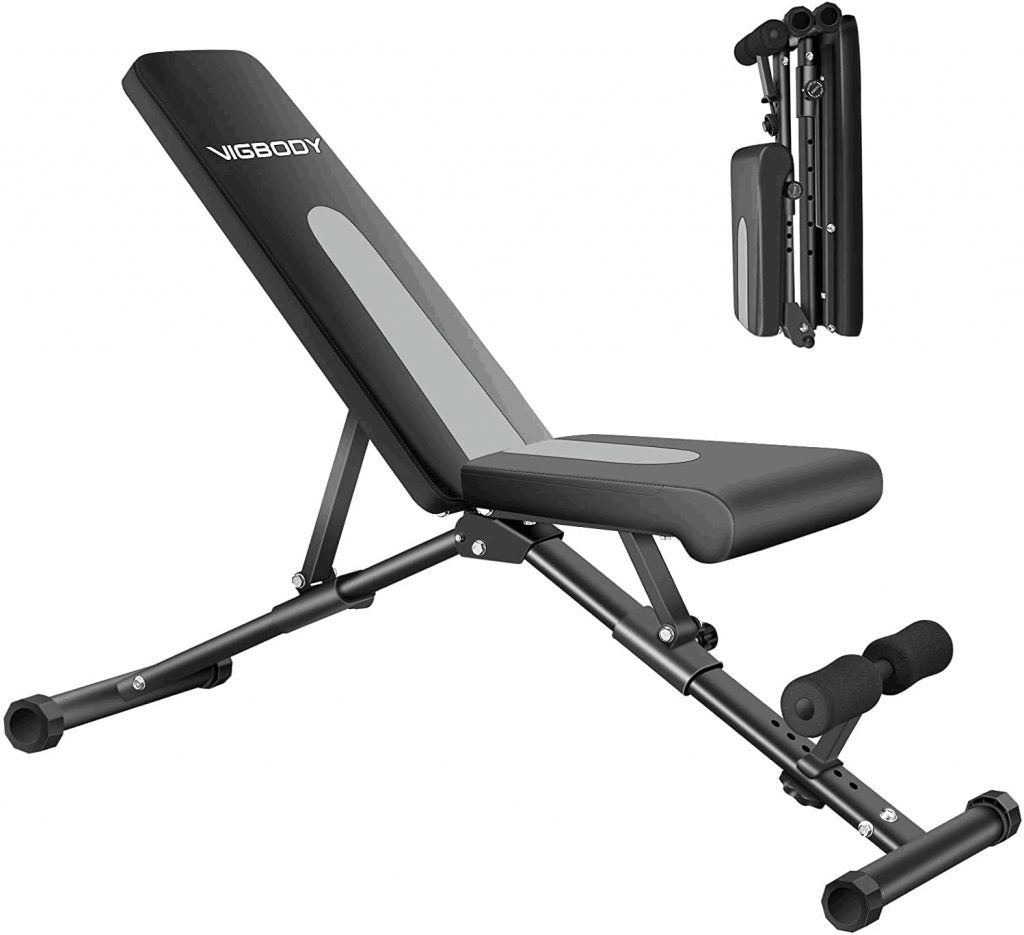 Why You Should Ride This Bench: If there's one thing I like about the incline bench press machines at the gym, it's that the seat of the machine usually helps my legs and back achieve a perfect 90-degree angle while I'm lifting. The fact that the VIGBODY Adjustable Strength Training Bench avails you of that option will help you to feel very comfortable while you're cranking out your inclined lifts. It will also enable your body to achieve the correct ergonomic alignment for declining exercises, including decline bench and decline skull crushers, along with angled sit-ups and crunches.
Why It Should Be Benched: Remember how I mentioned that benches wobbled and rattled when only one of their segments was intended for movement? Well, with two moving segments, these benches will cause you to feel like you're on the set of Tremors if you're not too careful. Be careful as well about the heaviness of the dumbbells you pair with this bench — not because you won't be able to lift them, but because the steepness of your training angle may make it difficult for you to sit up with heavy dumbbells in your hand and then to set them down properly, thereby requiring you to drop them on the floor. If you want to see a grown man cry, slam his 1090 SelectTech dumbbells to the floor and watch what ensues.
The Last Word: The VIGBODY Adjustable Strength Training Bench definitely has its shortcomings. But if your priority is completeness and comfort in your upper-body training, it will provide you with both of those things, and transform your home-training space into a haven for total body fitness.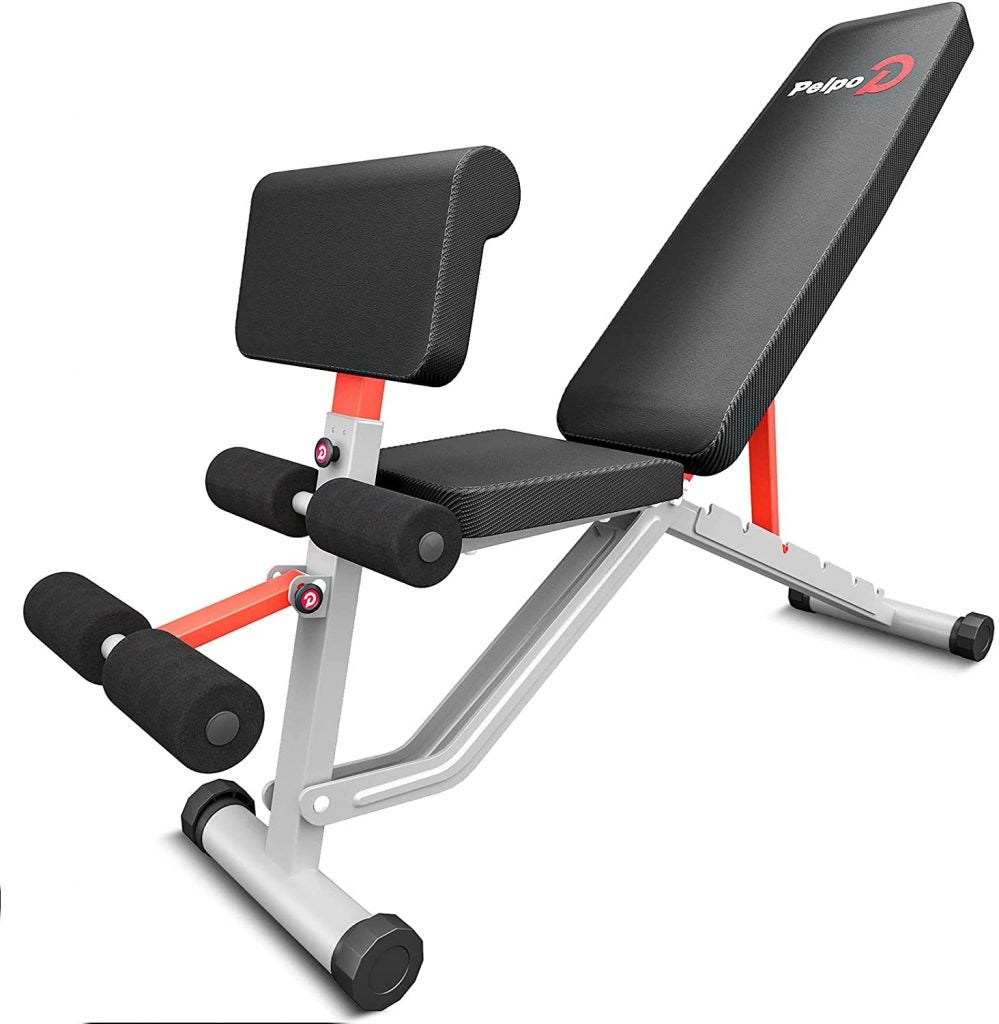 Why You Should Ride This Bench: You don't want to forget about your lower back. By adding a feature that enables back extensions to a bench that already inclines and declines, you've also added the capability to train the lower lumbar region of the back.
Why It Should Be Benched: Bonus features and add-ons are nice, but we don't want to lose sight of what we're attempting to do, which is to acquire a functional bench that's capable of disappearing faster than the Invisible Man. The more you add to it, the harder that requisite function — the primary reason you wanted a foldable bench in the first place — becomes to pull off. Speaking of pulling off, make sure you get the version of the Pelpo Adjustable Weight Bench Pro with the removable pad; you don't want the awkwardness of being forced to lift weights with a superfluous pad getting in the way.
The Last Word: Whether or not the Pelpo Adjustable Weight Bench Pro will appeal to you will be wholly dependent upon what you require it to accomplish on a daily basis. If your bench needs to be packed up quickly and effortlessly while taking up minimal space, there will be some less bulky options. However, if you prioritize versatility over size (or lack thereof), this is a handy bench to have at the ready.