It was in the mid to late 1990s when the elliptical first began to offer serious competition to the treadmill as the world's preferred form of absentminded cardio, and I can certainly understand why. As a personal trainer from that era who watched more than one Bally Total Fitness member trip, bounce and roll violently off the back of a treadmill, possibly while distracted by a television program on one of the club's many television screens, I respect why the transition to a self-powered cardio machine might have been desirable.
That said, should you break the bank and buy your own elliptical?
Let's do some quick math to answer that question. If you spend $40 per month on your gym membership, and the elliptical is the centerpiece of your workout, that obviously translates into $480 per year. Now, if you visit the gym even 200 times per year, driving five miles each way, and spending $3 per gallon on gasoline, each trip to the gym costs you an additional dollar. By adding that $200 fuel surcharge to the expense of your gym membership, it now costs you $680 per year just to use an elliptical.
The solution? If you can find an elliptical for less than $1,000, you'll be financially ahead on the exchange in about a year and a half!
The Three Main Considerations When Buying an Elliptical for Under $1,000
1) Stability: One of the hallmarks of commercial elliptical machines is their stability. No matter how much or how little exertion you apply to your efforts on the machine, you never want to feel like it's on the verge of tipping over.
2) Stride: The average walking stride length for a man is around 30 inches under normal circumstances, which means most commercial elliptical machines are already cutting into that with their average stride lengths of 19 to 20 inches. Anything shorter than that, unless it makes up for the shortage by offering some sort of incline, is going to feel noticeably — and often uncomfortably — short.
3) Resistance: There are two major types of resistance on elliptical machines: motorized or magnetic. There are different reasons to prefer each, but there are also gradients of resistance within those settings. The more precise the application of resistance is, the more advanced and applicable the system is.
Got it? Good. Let's take a look at five of the underrated gems of the elliptical world all frequently — or occasionally, if they're on sale — available to you at a price of $1,000 or less.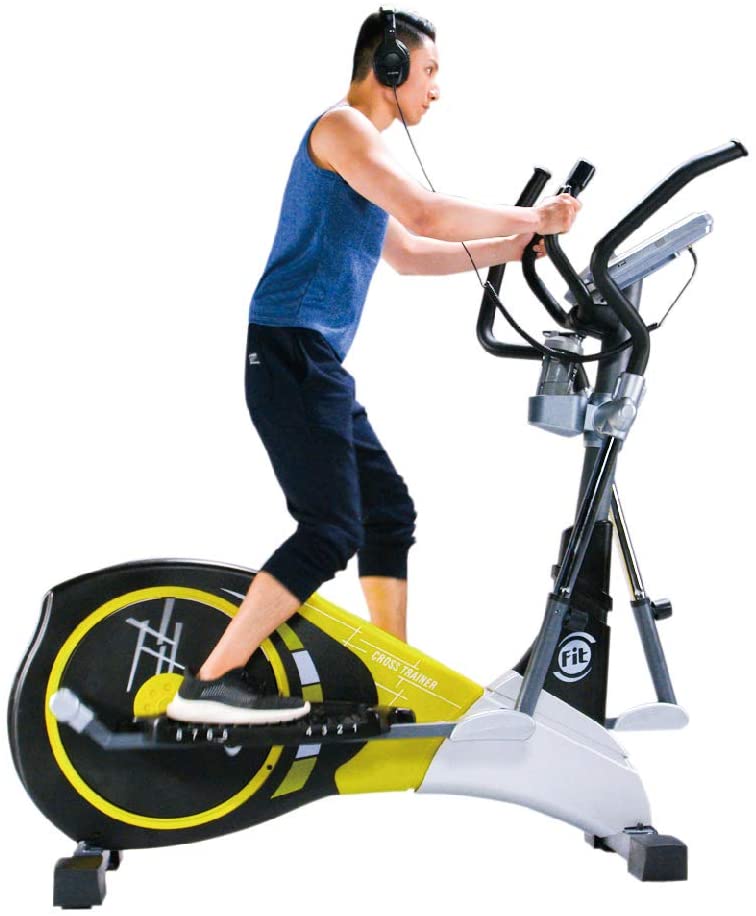 Price: $1,169 (Okay, I'm cheating a bit here, and praying for a sale)
Advantages: If you can get this one on sale, it has all of the functionality of a traditional gym-quality elliptical machine, including the 19-inch stride length, the cup holder, 24 resistance settings and the center handle grip for legs-only training. By "traditional," I'm also referring to its rear-drive, motorized nature, which is the standard of the original health club ellipticals, and harkens back to the earliest models that consumers first interacted with on the cardio floors of their gyms.
Disadvantages: Because of its traditional rear-drive design, this model doesn't have incline capabilities. It's not a huge deal given that no one really expects that benefit to materialize in an elliptical designed in this fashion, but it's worth mentioning since there are front-drive models that feature both the long stride length and the inclinable feature.
Final Thoughts: The Goelliptical V-950X unit is going to provide you with the experience that most people are looking for when they think about an elliptical. Other units may have some attractive special features to them, but this offering will satisfy the raw spirit of what most people are striving to find through their elliptical search.
Price: $599
Advantages: The Niceday Elliptical arrives at your residence 90 percent assembled, which should count for something. It's also extremely quiet due to its magnetic flywheel. This allows you to comfortably engage in conversations with other people in the room while you train, never necessitating that you raise your voice.
Disadvantages: No matter what other features a magnetic elliptical machine might provide, it will never satisfy those who are wedded to the exact feel of the commercial-grade elliptical machines they first embraced at the gym. At 15.5 inches, the stride is also shorter than average, and the unit naturally lacks the ability to incline due to its rear-drive nature.
Final Thoughts: If you prioritize silence, or if you never developed your own schema for the way an elliptical is supposed to feel, possibly because you never used one in a gym, this is a decent pickup for a shade under $600. If nothing else, it acceptably replicates the function of a classic elliptical machine, even if the stride length and feel aren't quite fully authentic.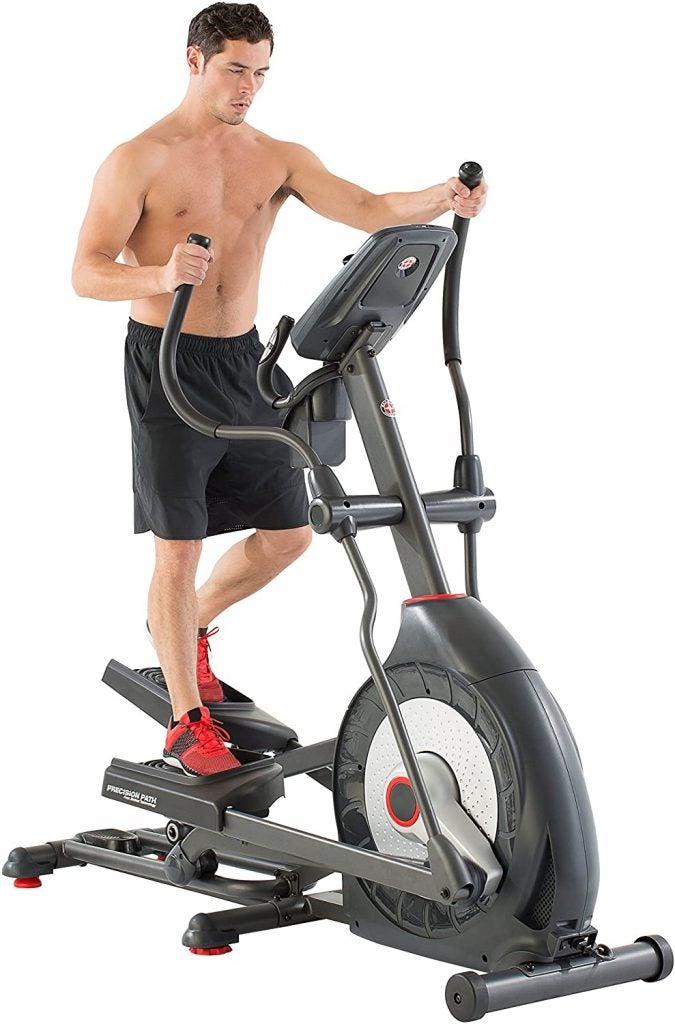 Price: $899
Advantages: For a front-drive elliptical with motorized resistance, the Schwinn Fitness 470 possesses an embarrassment of riches: a 20-inch stride length, 25 levels of resistance, 29 training programs and incline control. Compare this to the more expensive, front-drive Bowflex model that's just a shade under $1,000; it has two training programs, and eight resistance levels, and it's forced to rely heavily on a vertical incline feature to compensate for its lack of stride length.
Disadvantages: Some people believe the rear-drive models have a more natural-feeling movement, in which case there's nothing a front-drive model can do to combat that. Also, this certainly makes more noise than any elliptical machine with a magnetic-resistance setting would.
Final Thoughts: Assuming that there aren't all that many rear-drive purists out there, and you're just looking to extract the most value you can out of any elliptical machine, the Schwinn Fitness 470 has the stride length, resistance settings, incline and basic functionality that will make you feel like you've scored a commercial-grade elliptical machine.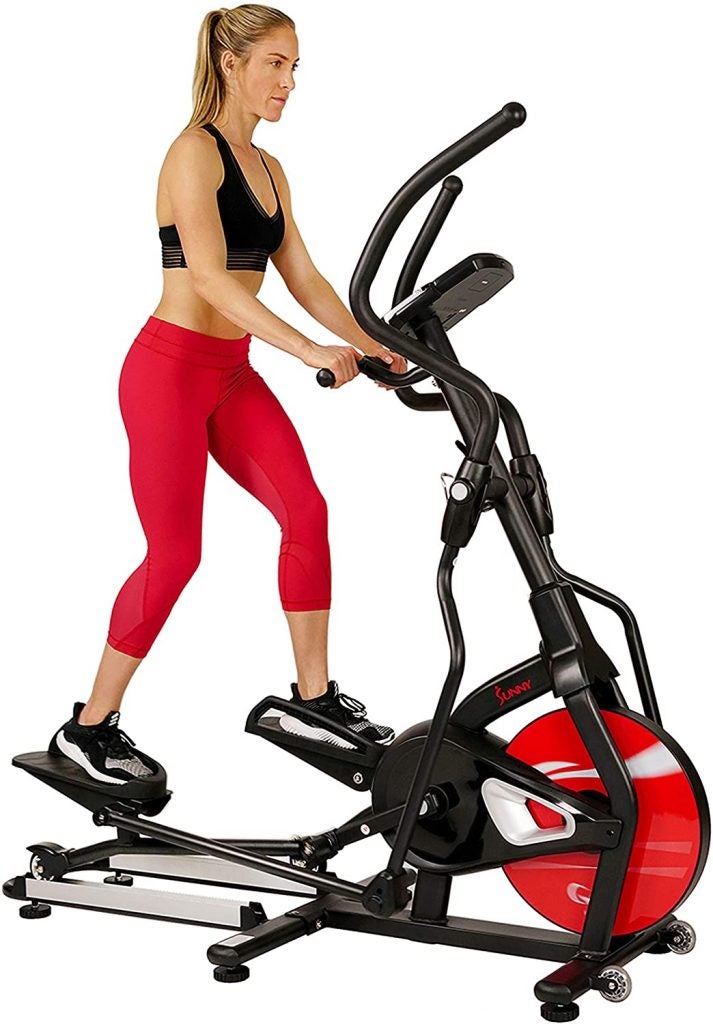 Price: $677.42 (it's currently on sale)
Advantages: This front-drive unit has multiple handle grips, including a motionless central handle if you want to exercise without involving your hands in the process. It also possesses a full 20-inch stride length, which again replicates the full stride length available on the units you'd encounter at the gym.
Disadvantages: The maximum weight that the Sunny Health & Fitness Elliptical is designed to hold is 265 pounds. This excludes a lot of people from being able to take advantage of its relatively low price. As always, too, the magnetic resistance won't cut it for people who are in love with the feel of motorized resistance.
Final Thoughts: The Sunny Health & Fitness Elliptical is another relatively inexpensive unit, which means you can't expect it to deliver absolutely everything that you might desire in an elliptical. You also can't exercise on this unit if you happen to weigh more than 265 pounds, and I had a roommate for whom using an elliptical was a key part of his strategy to dip from 395 pounds down to a comparatively svelte 270.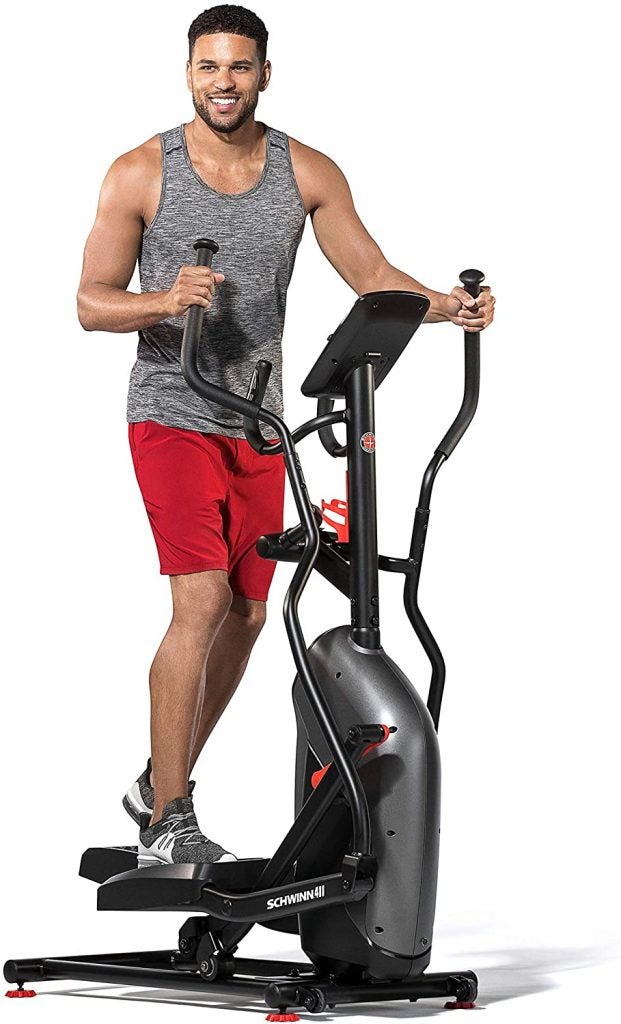 Price: $549 (also currently on sale)
Advantages: This is the no-BS elliptical model for when you only need the basic functionality without any of the bells and whistles. It still has an 18-inch stride length despite its compact design, and also has specialized app compatibility allowing you to virtually traverse different sites of the world from the comfort of your own home.
Disadvantages: Obviously, scaling a unit down to such a substantial degree takes a toll on what it can include. It has fewer programs and resistance levels than most other units, and it also lacks the stereo speakers possessed by some of the other ellipticals that have plug-in capabilities. Finally, it lacks the inclinability feature that a lot of front-drive ellipticals have.
Final Thoughts: The Schwinn Fitness 411 is ideal for folks who simply need an elliptical to park in front of a television at home, and don't need all of the frills attached. It's good enough in all of the respects that matter, meaning you'll definitely burn calories and shed pounds if you use it correctly.