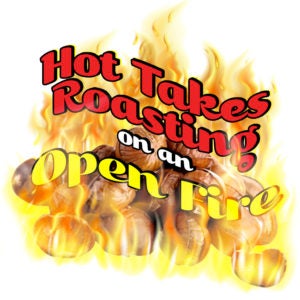 Oh, you thought our Thanksgiving op-eds were bad? Gird your stockings for the least wonderful time of the year, when the merry gentlepeople of MEL attempt to outdo one another with the most heinous holiday takes we can unwrap. We can already feel the angry tweets nipping at our noses.
I'll be blunt: If you're one of those people who makes a show of rolling their eyes when Christmas music comes on, I simply don't believe you. Christmas songs are Christmas: In their most basic form, they're an emotional mnemonic, latching onto your nostalgia for excitable Christmases past and catapulting you forcibly into that state of being. If you hate Christmas itself, okay, sure, despising its official soundtrack makes sense. If you otherwise enjoy a perfectly nice holiday that has many agreeable qualities, why deny yourself one entire sensory aspect of the occasion? (And if you're the type who claims to be offended by Christmas music being a cynical cash grab, boy, do I have some things to tell you about how the whole music industry works!)
The thing about Christmas is that it's a holiday built on familiarity and repetition. We do the same things, year after year, in large part because we want to — it's a season where most of us look to try and recapture some of that lost magic the holiday had when we were young. And so, we gather with the same people; we eat the same food; we play the same games; we have the same arguments; we watch the same movies; and, yes, we listen to the same songs. Without that, you're missing an essential component of the holiday. What the hell are you listening to while eating Christmas dinner or exchanging gifts or drunkenly pouring eggnog into grandpa's sock after he passes out by 4 p.m. if it's not Christmas music? Come on people, you have the whole rest of the year to be sad to Phoebe Bridgers. For now, let yourself indulge in the festive cheese.
In a year like the one we've just had, when there has been so much strife and so very little to look forward to, Christmas is one small glimmer of hope for a good time following 10 long months of brutal, awful monotony at best, and crushing poverty, pain and grief at worst. If there has ever been a year to find pleasure in simple familiarity, it's this one. Frankly, the stores should have started playing Christmas music in goddamn April. (We wouldn't have been in them to hear it, of course, but you get my point.)
Now, while I stand by all of the above, it does ignore one important aspect of Christmas music, which is that, if you give the genre even the most cursory glance, you'll find a lot of Christmas songs from artists that are legitimately great. It's not just end-of-career hacks that record this stuff — by dismissing all Christmas music, you dismiss original songs by everyone from Run DMC to Tom Petty to The Killers to Smokey Robinson to Louis Armstrong to The Cleaners From Venus to frickin' GWAR to… well, anyone you care to name. If you're a music lover and you don't at least want to try listening to Slipknot's Corey Taylor smirk his way through a foul-mouthed, punk-country anti-Christmas ditty, then I don't know what to tell you.
The sheer amount of covers reveals a goldmine, too. There's a genuine muso delight to be found in checking out multiple different takes on the same song: The beauty of Christmas music is that, since we know these songs in our very DNA at this point, they're perfect for an artist to take and put their own stamp on them. The results range wildly: Lemmy growling out a punky "Run Rudolph Run"? Predictable! Johnny Clarke's sparse reggae take on "I Saw Mommy Kissing Santa Claus"? Incredible! Scott Weiland recording a whole album of entirely sincere Christmas staples in his "12 Gracious Melodies" crooner voice? Absolutely baffling, and I am so glad it exists!
Look, yes, there are stinkers, to be sure. How could there not be in such a wide-ranging mix of styles and performers? It bums me out more than I can say to tell you that the Manic Street Preachers — the formative band of my adolescence — wrote the most God-awful attempt at a 1970s-style glam rock Christmas song I've ever heard (as music writer Simon Price notes in his excellent biography of the band, Everything, the Manics "have a sense of humor, but crucially, no sense of irony," the latter being a vital component any time an otherwise "serious" band attempts to tackle a festive hit).
And then there is "Mistletoe and Wine" by Cliff Richard, the song that plays in the elevator full of hot goat piss that carries you from Hell's main concourse to its deepest, most atrocious oubliettes.
But these are in the minority. Most Christmas music — and I'll say it again — is good! And it should be played in stores for longer! Because, tell me honestly, are you really that in love with the music they play in stores the rest of the year? Do you regularly go into CVS and whip out your earbuds because, Oh shit, they're playing my jam! AGAIN!! 
Once more: I simply don't believe you.