It was January 2017. Donald Trump had recently been elected president, El Chapo was days away from being recaptured, and inside a gray-walled bunker, Georgian fashion designer Demna Gvasalia unveiled his fall collection. It made headlines for two reasons: 1) It predominantly paid homage to 2016 Democratic presidential nominee Bernie Sanders; and 2) it was the first time hypebeasts glimpsed their footwear future.
Not even 20 seconds into the nearly eight-minute show, a gaunt man, with long, light brown hair and an austere expression, entered the concrete-colored room and began his stroll down the catwalk. Heads turned in his direction, though little mind was paid to his clean brown suit or bare chest. Instead, everyone was staring at his exceedingly thicc shoes.
The Balenciaga Triple S was described by the brand as a "visual composite." Gvasalia had taken molds from three different sports — running, basketball and track and field — and sandwiched them together to create the unmistakable bulky sole. Then, he stuck a $795 price tag on them, immediately inspiring ridicule. "$795 to get herbed up in the streets and get laughed at?" one HYPEBEAST commenter wrote. "Who comes up with these prices for rock-climbing instructor shoes?" Along those lines, another asked if the Triple S came with a helmet. Others suggested there must be a typo: "Balenciaga x Heelys. Please change the title."
But Gvasalia knew what he was doing and would ultimately have the last laugh. "I believe when you create a new silhouette, the product succeeds," he told WWD in 2019. As for his inspiration for the chunky sneaker, Gvasalia's explanation was simple: He hates to see small feet. "A lot of guys don't like to have small feet," he continued. "To me, large shoes are more stable, and more masculine."
His foresight was dead-on. Prior to the Triple S shoes, the predominant shoe designs were marked by sleek silhouettes. There were Vans and Converse, of course, but the popularity of TOMS' Alpargata had helped usher in an era of minimalism. Meanwhile, Common Projects' Achilles sneakers defined the luxury side of things. The Triple S blew all of this up. A few months after their September 2017 release, searches for "chunky sneakers" on Google began to climb. The imitators arrived shortly thereafter. Fila re-released their sawtooth-soled behemoth the Disruptor, dubbed the Disruptor 2. Nike had their M2K Tekno. Yeezy's got thicker soles. And in 2019, Swedish sneaker brand Eytys took chunky soles to a whole new level with their Halo shoe.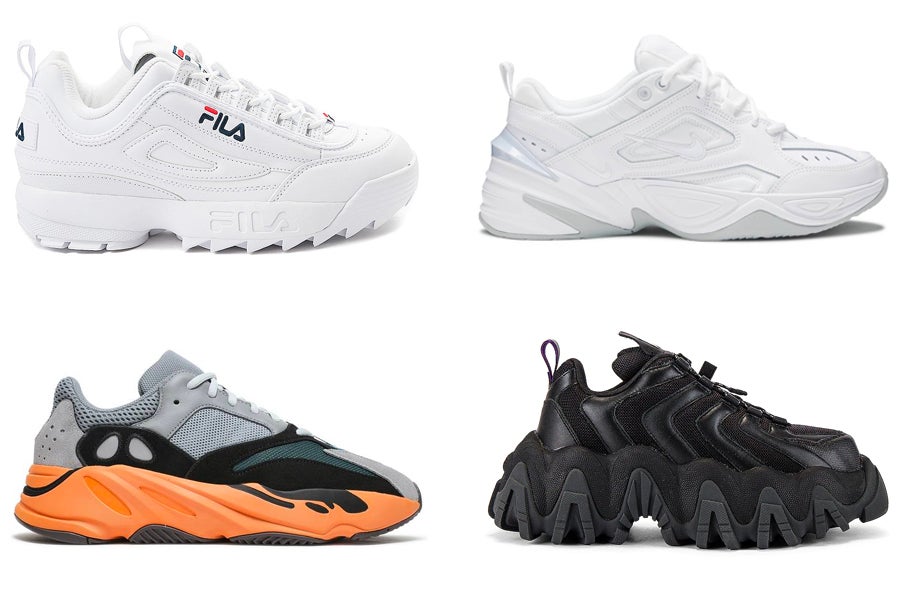 From there, the chunky sole bled into nearly every other type of shoe design. Leather loafers were ornamented with lug soles. Dress shoes got thick rubber platforms. Crocs, again thanks to Gvasalia, became popular once more. So did boots that looked like they were designed for a walk on the moon. "The visual weight of chunkier shoes really serves to anchor an outfit more than a slimmer shoe would," a subscriber to the Male Fashion Advice (MFA) subreddit tells me. "I find that bigger shoes often have more interesting details, too."
Everything, per another MFA subscriber, "is trending looser and bigger," and "chunky soles work better with wider leg pants." What began as a desire to make men's feet look bigger has transformed into the defining characteristic of this moment in menswear — the appeal of disproportionate proportions. "Rick Owens' whole thing is basically taking conventional silhouettes and exaggerating them, to give more visual interest," yet another MFAer says.
How much thiccer things get from here is hard to know. But if Gvasalia's most recent Croc-inspired Pool Slides and the rumored Balenciaga-Adidas Triple S with three stripes are any indication, we're clearly still in the bulking phase.