A basic item of clothing shouldn't induce an identity crisis. But as my short, athletically built compadres can confirm, we undertake an exhausting mental calculus when selecting a T-shirt. Namely: A tee too small may appear to be a vainglorious attempt to prominently display our gym-enhanced arms and chest. Meanwhile, a tee too large makes us look as though we're halfway through a Benjamin Button-esque reverse-aging shrink.
This is the plight of the shmedium.
For its featured definition of "shmedium," Google prominently displays a 2013 entry in the Rice University Neologisms Database, compiled by 200-level English and linguistics students: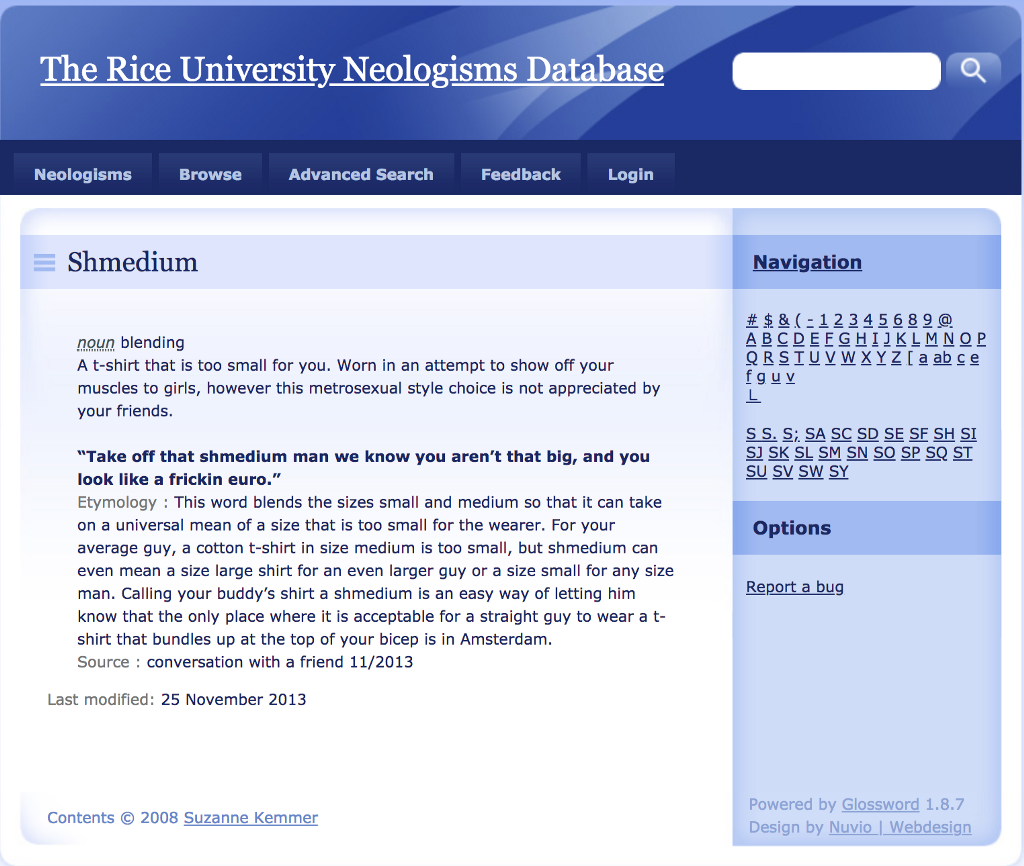 Though the initial definition is relatively accurate (a shirt too small for the wearer), the overall sentiment is wrong. (Also important to note: "Shmedium" as colloquially used, does NOT refer to a size between small and medium.) This sentence in particular demonstrates the inconsistency in the Rice University definition: "Take off that shmedium man, we know you aren't that big" — as if being larger would justify a smaller shirt.
Could then the entire shmedium conundrum be avoided by going up a size? This unfortunately presents a new, but related problem: Often, you'll look like a child swimming in their clothes, which ultimately gives off an unwanted youthfulness.
In the absence of professional advice of how to bridge the shmedium gap, I turned to the logical alternative: Reddit, specifically r/MaleFashionAdvice. It doesn't have an impervious track record, but with 1.3 million followers, there was at least the potential for a large sample size of opinions. And so, using the handle shmedium_mane, I made an inquiry: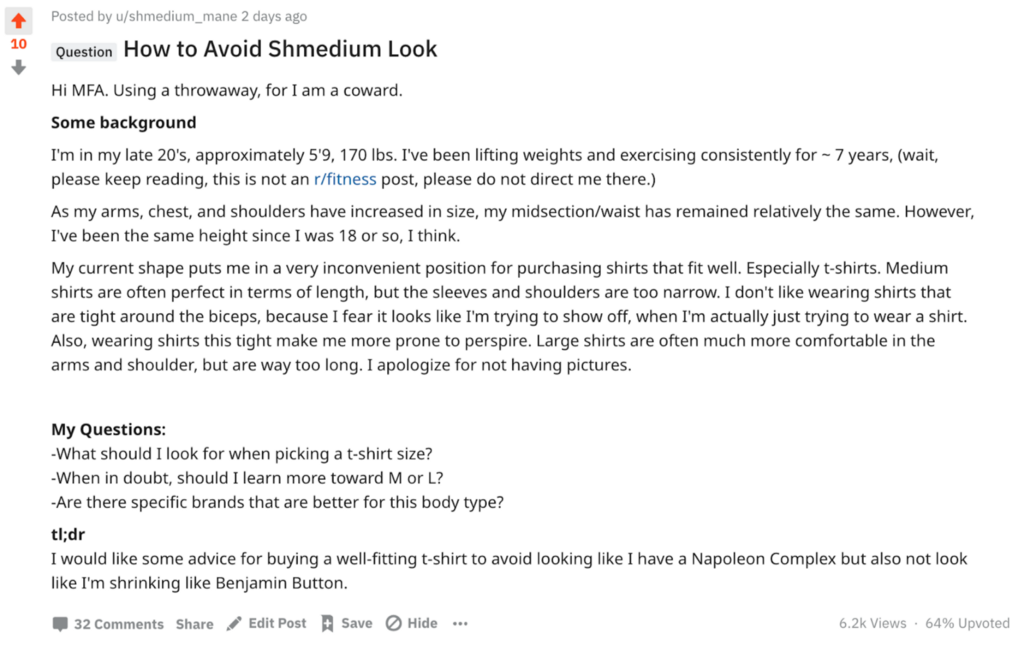 The reactions were varied, but all were helpful in their own ways. "[S]top being scared of showing off your muscles. You worked hard for them," read the top comment. Another opined, "Just because the sleeves and shoulders are a little snug doesn't mean you're trying too hard. If you buy those skin-tight clothes like the fitness bro douches on Instagram wear, then I think you might be pushing it a little." Vintage and loopwheeled (the antiquated loopwheel machines apparently produce superior quality garments) T-shirts were recommended, too, as the cut better fits shmediums. Several people also suggested buying large shirts, and then having them altered, which is beyond my patience or capabilities, but shows the lengths some men will go to find the right fit.
Still, not everyone strives for perfection in this regard. "If you've been working out and you're confident in how your body looks, then you'll look good, even if something isn't necessarily fitting you perfectly in all areas." Finally, some just stated the obvious — suggesting I should simply bite the bullet and wear a medium.
Maybe that's true. But personally, I avoid the "medium" for four main reasons:
From a comfort perspective, tighter shirts are less comfortable, and seem to prompt a perspiration response from my armpits.
An unexpected drop in temperature can result in conspicuous "ice nips"
Wearing a shirt that tightly cuffs the arms and shoulders might send the signal that I'm a "fitness bro douche." (This concern might contribute to the aforementioned perspiration.)
Someone mistaking me for a "fitness bro douche" may interrogate me for my weightlifting stats.
I also got a handful of specific brand suggestions. Such as: Hanes Beefy-T's, which I respect on the name alone. Uniqlo also came up, though historically, they've been too delicate for my frame. Unbeknownst to me, Muji, purveyor of fine knick-knacks like aroma diffusers and wicker stationary trays, makes a commendable T-shirt for the shmedium man, according to one commenter. And 1976dave, who says he's an inch taller and five pounds heavier than me, calls the Eddie Bauer Legend Wash Short-Sleeve T-Shirt "his favorite shirts by a mile."
For more of an IRL perspective, I contact the other shmediums in my life. My friend Niko Hatzis, who resides in Boston, says he tends to buy large shirts, because his arms and shoulders are too big for mediums. Moreover, he's found companies like Hugh & Crye that offer custom shirts based on your measurements, though he notes they're too expensive for his taste. (At $25 per plain tee, I agree.)
For the final word, I ask another friend, Ashish Gurnani, who started a clothing company in India, for his thoughts, figuring he'd have a detailed selection process. He, however, does not: "Shoulders should fit, and I should look jacked af," he replies.
Could it be that there's no right answer? Maybe.
One thing is clear, though: There's clearly a market looking for better-fitting T-shirts, and the first person to cater to it will make more than a shmedium amount of money.