Painted in shades of orange and crimson, garnished with a head of fine bubbles and a slice of orange shining through ice cubes, the Aperol spritz is an unusually pretty drink, even by modern "craft cocktail" standards.
It tastes as striking as it looks, melding the floral bitterness of Aperol with the bright acidity and fizz of prosecco and soda water. I start craving one every time the weather begins to heat up in spring, and luckily for me, there's one on the menu of a majority of the bars and restaurants around me.
That's not a coincidence — and if it feels like Aperol suddenly blew up in the last five years, you're not wrong to question how it happened.
The Aperol spritz didn't become fashionable in the mid-2010s out of organic growth online or simple word of mouth. Its virality is largely thanks to a perfectly designed marketing push that pushed a breezy, delicious cocktail to the masses. But in my mind, this is one of the rare times where an astroturfing campaign has been a win for the public.
Aperol is a genuinely wonderful product that more or less didn't exist to the American palate for decades. More than a trend or a fad, the rise of Aperol opened our mouths to an exotic universe of delicious aperitifs, amaros and liqueurs that will continue to influence cocktails in the future.
Aperol was invented in 1919 by the Barbieri brothers of Padua, Italy, who had taken over their father's booze company in 1912. Named after the French slang word for aperitif, apéro, the bitter liqueur was made primarily from a blend of rhubarb, the herb gentian and a flowering plant named cinchona — ingredients chosen not just for their flavor, but appetite-inducing effects. Aperol was marketed in the 1920s and 1930s as a lower-proof alternative for women and lighter drinkers, but really took off in the 1950s with the spread of the spritz in Italian bars.
The story of Aperol's boom in contemporary America is also indebted to the spritz, with one key difference being that there wasn't a multinational corporation like Campari Group back then to push the cocktail by investing millions into marketing. It was, in hindsight, a brilliantly simple plan: Campari pushed Aperol by marketing directly to bars and bartenders, seeking out "cool brunch spots" and other buzzy venues that would benefit from an instantly Instagrammable (yet easily made) drink. The company also invested heavily into staff and resources to push Aperol around the world.
"We saw there was a growing interest in Aperol in the U.S., especially at summer events and destinations," Melanie Batchelor, the vice president of marketing at Campari America, told the New York Times in 2018. "We invested behind that."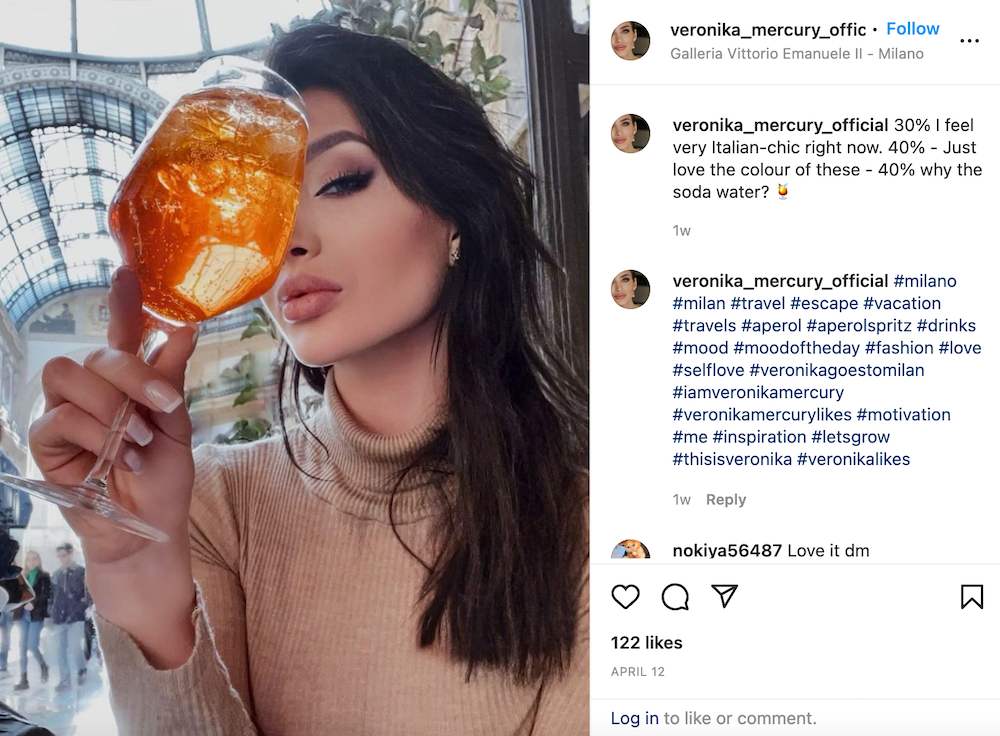 It wasn't exactly a subtle campaign; one bar manager described it to CNN as a "very aggressive" effort to get Aperol on menus and poured at every major glitzy event. But it worked out in the long run, perhaps because the drink itself was delicious and arrived at the perfect time. The rise of the mellow Aperol spritz coincided with trends around "sober curious" lifestyles and low- or no-alcohol beverages; it also didn't hurt that its photogenic cool only grew as bartenders started riffing with Aperol in other drinks.
Sales of the liqueur jumped 48 percent between the summer of 2017 and 2018, and it's no coincidence that Google searches for "Aperol" began to spike in 2018. Along the way, the share price of Campari Group rocketed from $2.56 to a peak of about $12 in 2019, according to a Quartz report. While Aperol's gains have leveled out over the last few years, it remains subject to an intriguing pattern of interest: When the spring warms up and transitions into summer, the Google traffic shows a huge jump in searches for the liqueur.
The cynic in me wants to hate on this, but there are worse things in life than high-quality Italian aperitifs getting popular with a younger, more diverse crowd. So brace yourself: We're officially entering Aperol season, and there's no stopping the onslaught of pretty spritzes coming to tables near you.