They were new — brands most people hadn't heard of, and often so plump they made a skater's feet look like two leathery loaves of bread. And yet, by the turn of the millennium, skateboarding shoes were on the feet of pop stars, rock stars, rappers, celebrities, every kind of action-sports athlete and kids all across America. On the one hand, it's easy to look back and give the whole phenomenon a brief, "Hey, it was the '90s" shrug, but in all seriousness, how did a small industry populated by a bunch of upstart companies so visibly dominate American footwear for that short time? 
Although skate shoes had been around since the 1970s and Airwalk had come to represent skateboarding footwear in the 1980s, starting in the early 1990s, Etnies and other brands ushered in an era of skate-specific sneakers that crossed over into the culture in an unprecedented way. By the time the year 2000 rolled around, millions of people who'd never fallen off a skateboard were wearing shoes that were, at least in theory, purpose-built for skateboarding — something that, a few years earlier, would have been super weird to even consider.
DC, Etnies, éS, DVS, Osiris, Lakai, Emerica, Circa, Duffs, Ipath, Adio, Axion, Kastel, Vita…the list goes on and on. They were so hot that they briefly made billion-dollar shoe giant staples like Nike and Adidas look heinously uncool. But then like that [Keyser Soze puff] — they were gone. But where did they go? What happened to all the money they raked in? Did Nike, Adidas, Vans and Converse conspire to kill the skate-specific sneaker?
'The '90s Were Full of Opportunities'
"Things were happening fast in the 1990s," says Tim Gavin, a professional skateboarder who co-founded DVS shoes in 1995, and later Lakai Footwear. "Skateboarding progression was happening fast, the business was really starting to take off. The 1990s were full of opportunities. From 1992 to 1997, things seemed very untapped but very progressive."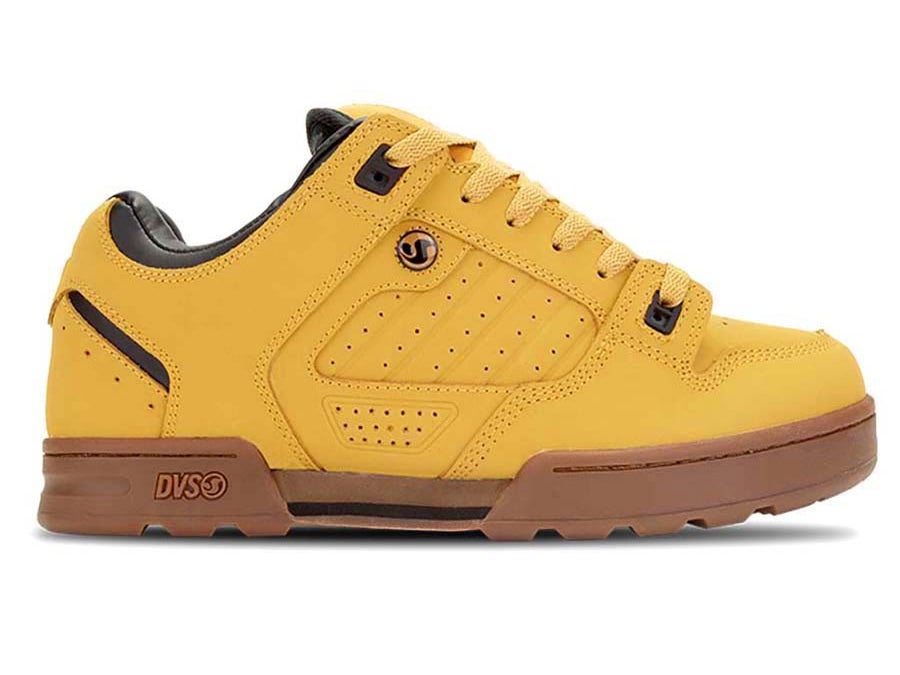 Skateboarding was busy reinventing itself as the 1990s rolled around, going from something done largely on vert ramps, punctuated by bright colors, a lot of punk music and a bit of lycra, to something now largely done on the streets. City kids and graffiti artists were getting into skating, and its aesthetic, styling and videos were taking cues from hip hop. Even the wheels were changing, now barely larger than the bearings — it all presented itself as a rebellion against skating's previous incarnation. New brands were being formed, and yet, Gavin says, skateboarding was still a small industry with very few brands in total, mostly focusing on decks, equipment and clothing. Shoes, he says, just seemed like an untapped opportunity for skateboarders.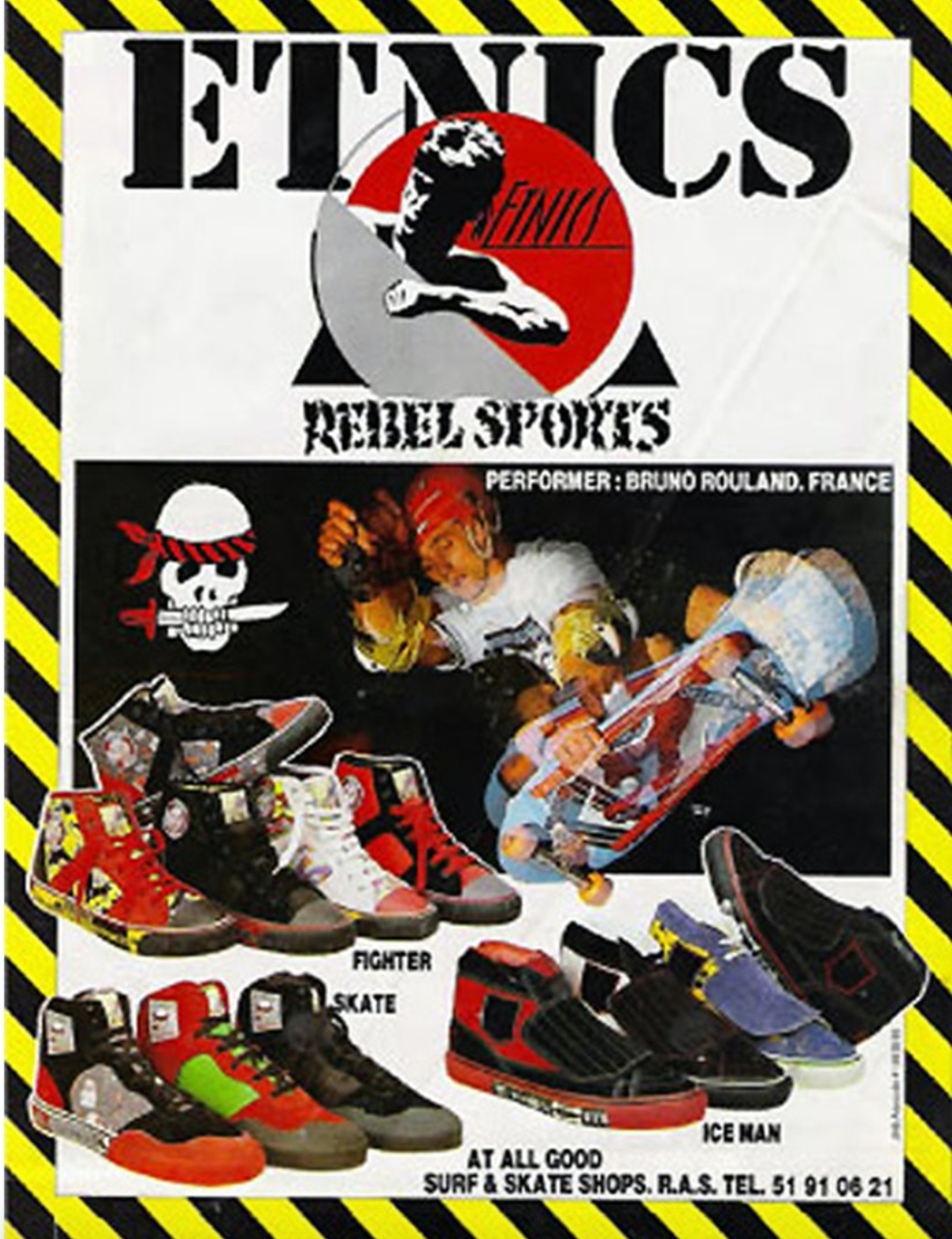 According to Fran Richards, former publisher of Transworld Skateboarding magazine, who worked there from 1987 to 2002, by this time Vans and Airwalk had taken their eyes off the sport with larger aspirations in mind, and many skateboarders often wore Nike court shoes, Chucks or Puma Clydes. Though it's an activity that's pretty brutal on footwear, there'd been few attempts at making a shoe for skateboarders until skater Pierre-Andre Senizergues went back to France in the late 1980s and worked with a company called Etnics, which were making some ugly attempts at a skateboard shoe. He renamed the company Etnies and began designing shoes with an eye to distributing to America. The models he helped design, of less-techy and more stylish shoes — riffs on then-dead-stock Adidas and Puma styles — took off. He was followed by skateboard-industry svengali Steve Rocco, who started Duffs Footwear in 1993.
Street skating, though, wasn't just existing in a vacuum. Spike Jonze, who co-founded Girl Skateboards and got his start filming skate videos, quickly started seeding skateboarding through pop culture, such as this Sonic Youth video he directed, co-starring Jason Lee. 
The Beastie Boys — friends and frequent collaborators of his at the time — provided some low-key but important assists. Supreme opened its doors in 1994. Amid all of this, it didn't take long for various trend forecasters to eyeball skateboarding as a style influence, even as it continued to cultivate an alluring shock value: In 1995, Harmony Korine's indie movie Kids caused one of a thousand low-grade moral panics in the 1990s, with the media swooning over its provocative portrayal of a young, nihilistic, multiethnic pack of skateboarders who were, like, HIV super-spreaders or something. "There was an underground force of marketing that was, in my opinion, more authentic, and I think the skaters were the influencers on style," says Richards.
Predictably, corporate America was soon sniffing skateboarding's rear end again. ESPN invented the X Games, which looked even more "How do you do, fellow kids?" in its 1995 debut than it does now, with all the stilted verve of a Mountain Dew commercial. Tony Hawk's Pro Skater became a monumental video game. Jackass (co-created by Jonze), whose stars and concepts originated from 1990s skate-video vignettes, took off on MTV. While street skating had started the decade somewhat underground, by the time the 1990s ended, street skaters were household names who appeared in US Weekly, and the shoes of the sport were worn by everyone.
'You Had a Lot of People That Don't Skate Buying Them'
In 1995, Gavin was approached by two brothers who owned a skateboarding shop in the San Fernando Valley, and were looking to get into shoes. Together, they started DVS. Initially, they had no idea how big skateboard shoes could — or would — become, and almost all the brands started similarly small. "Look, skateboarding was a super rad, small little industry, right?" Gavin says. "These individuals that lived and breathed skateboarding didn't want to do anything else, so they had to find a way to make a living off of it." 
Gavin's business partners already knew the ins and outs of distribution to skate shops. In fact, the local shop is how many shoe brands got their start, including a little footwear offshoot of Droors Clothing, which would soon be named DC Shoes.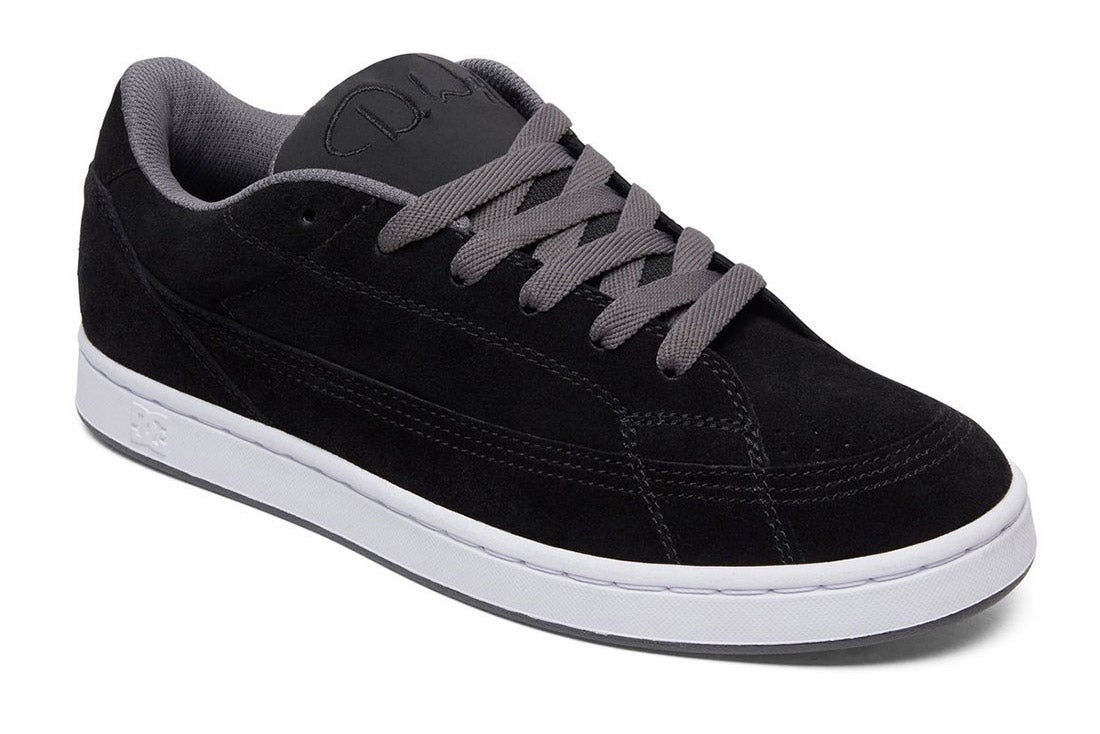 "DC started here with consignment stickers. Stickers!" says Jim Ruonala, owner of Pacific Drive, a legendary San Diego skate shop. DC also sold its first pair of shoes from the store, which was sponsoring skateboarder Danny Way, brother of one of DC's founders. Also in the area, pro skateboarder Tony Magnusson would cofound Osiris, and Chris Miller would co-create Adio. Meanwhile, Etnies unveiled another line, éS, with more technical styling. All of a sudden, skate shoes, a once untapped market, were blowing up, new brands were appearing all the time and local skateboard shops had a lot of new customers.
"You had a lot of people that don't skate buying them," Ruonala says. "Mom and dad wanted them even, because their kids thought they were cool. In a pure skate shop, we were selling a lot of skate shoes to people that don't skate. So that market was hyperinflated in the sense that, I don't know what the exact percentage is, but a healthy percentage were non-skateboarders."
Along the way, Gavin had cannily seen the much bigger picture — that music was an important glue connecting different scenes and genres. So in addition to sponsoring skateboarders, he started a music marketing department within DVS to sponsor the popular musicians of the day, like Travis Barker of Blink-182 and Fred Durst, as well as snowboarders, surfers and motocross riders.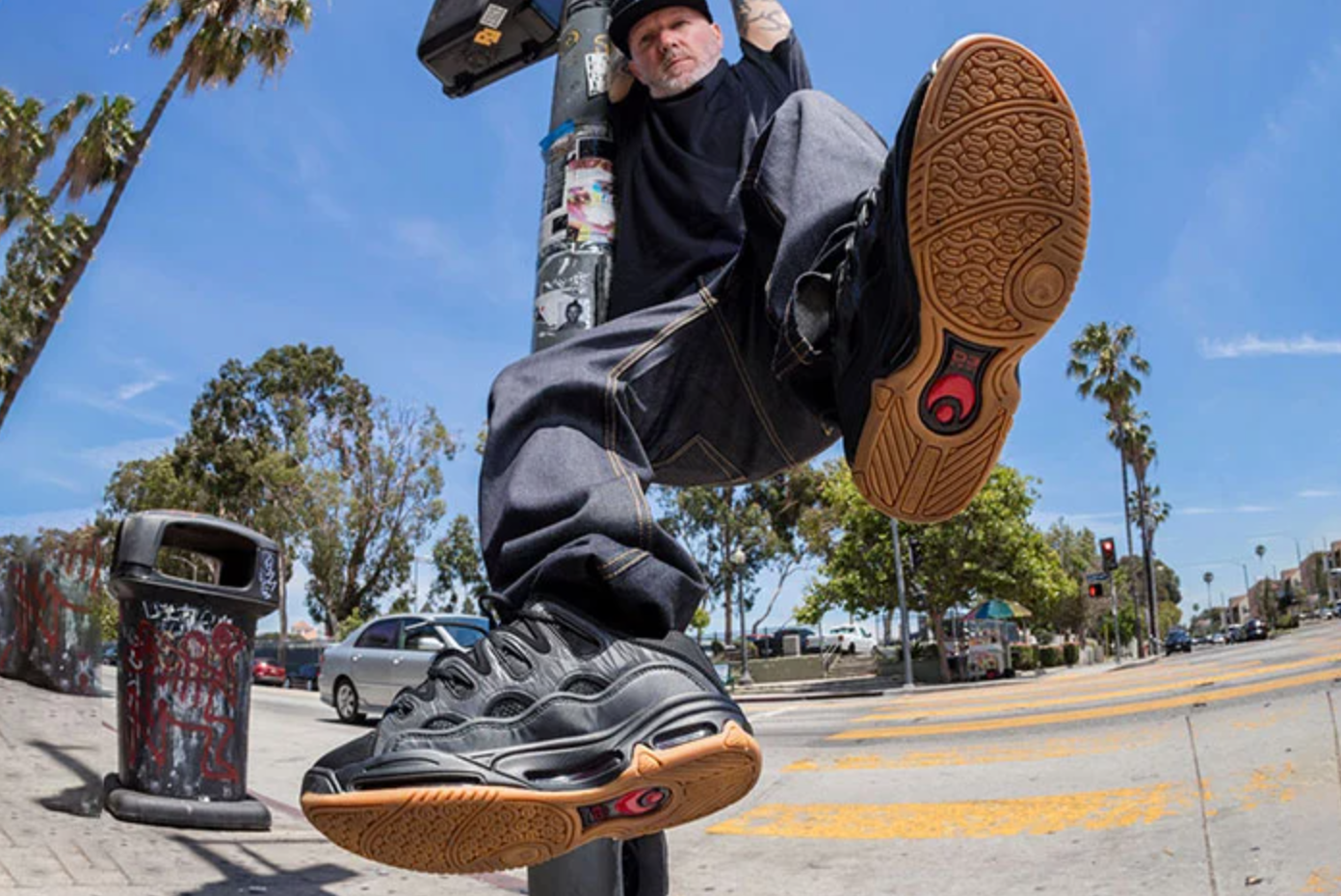 At the same time, these upstart shoe companies were also beginning to sell way outside of the local skate shop. "Skateboarding always just wanted to deal with skateboarding — just skateboard brands, and these skateboard shops and everybody involved were skateboarders," Gavin says. "But what happened because of the 1990s is, because skateboarding had such an impact on civilians — non-skateboarders — is that everybody started making a dollar off it. And more accounts opened up."
DVS exploded from $3 million in revenue in its first year to $7 million in its second, Gavin says. By the time they hit $20 million, they were still only within skate shops, and it was at that point, Gavin says, that he and his partners were making the most money and considered it a healthy, manageable business. But then they expanded into mall chain retailers like Zumiez and PacSun, and before they knew it, DVS was selling $20 million in goods just to Zumiez. At its high point, DVS broke $100 million in sales.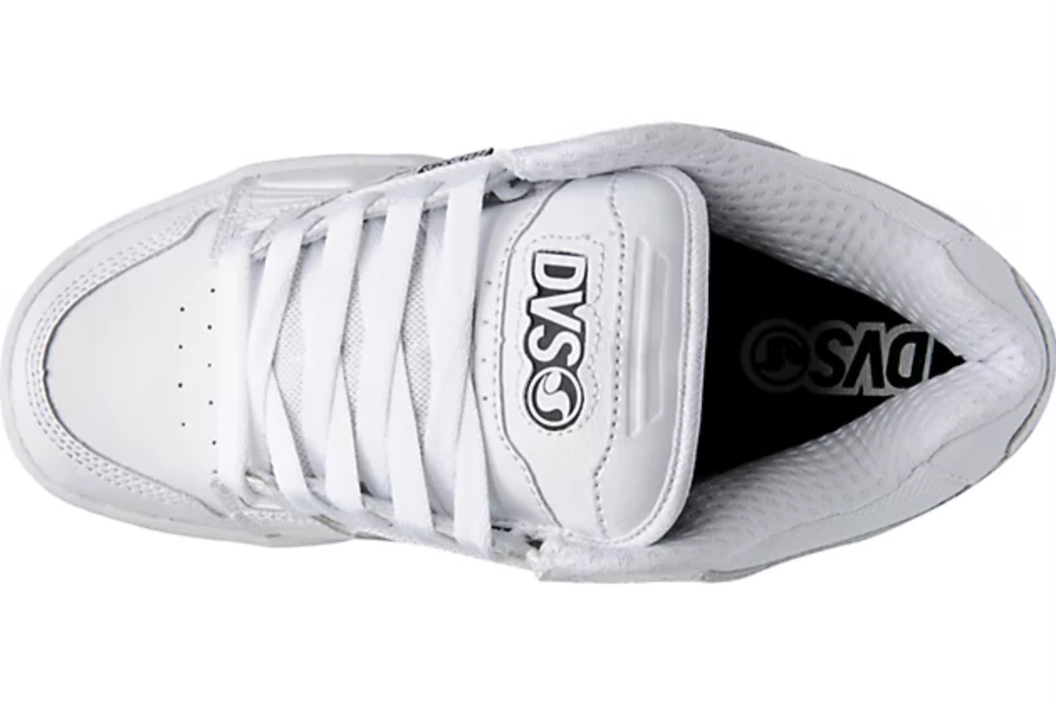 "It was the perfect storm," Gavin tells me. "You almost couldn't get away from it, it got so popular. You'd be watching TV, and you'd see skateboarding on a commercial. You'd watch ESPN and see the X Games. When you got away from the house, you were listening to a band sponsored by DVS. It just got so trendy, so to speak."
"Mind you, the shoes were shit," Gavin continues. "It was trial and error. My first signature shoe, I literally ripped off the first shoe I skated in, which was the Adidas Stan Smith."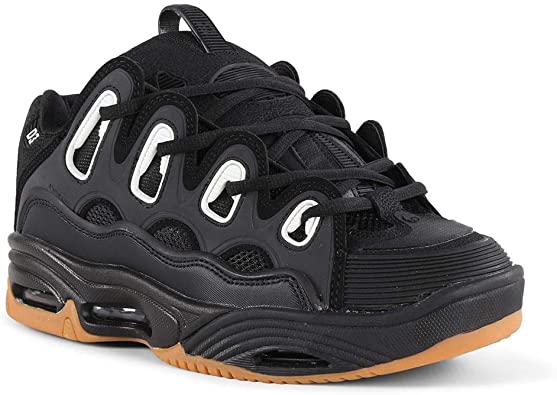 Nevertheless, the fact that the chunky, puffy skate-shoe look took off was no coincidence, as it dovetailed with the larger forces within fashion at the time — big and baggy. "That was part of the melding between hip hop and skate culture," explains Alphonzo Rawls, a former pro skater who went on to become a shoe designer for DC and Kastel. "With a looser aesthetic to the fashion, the super baggy pants, you had to have a shoe that matched that look, and so the shoes really puffy'd out to match that aesthetic." That, and the cartoonish stance popularized by a lot of graffiti artists of the time, he adds.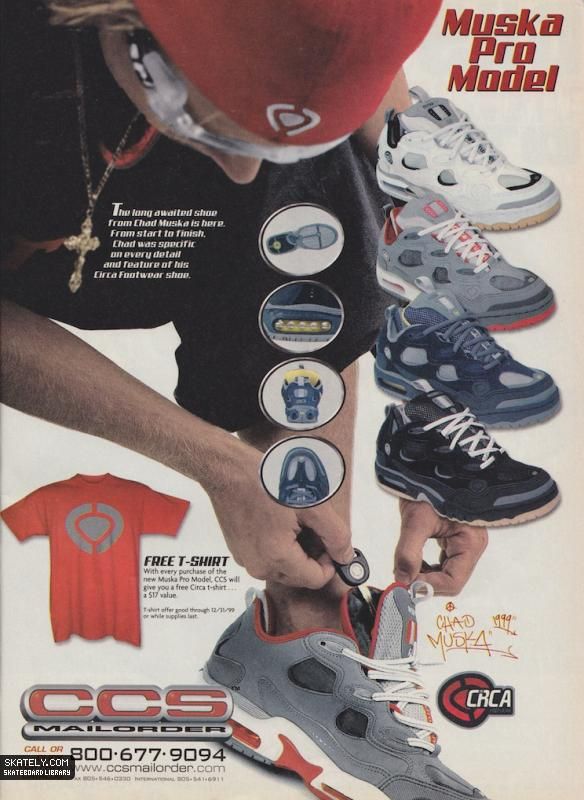 Taking other cues from hip hop, brands like éS and Osiris began pushing a more athletic, technical-looking shoe full of ever more intricate vamps and toe caps, based on the Air Jordans and other shoes that their sponsored pros wore to company headquarters when they weren't skating. Often, there was some vaguely defined midsole cushioning technology that resembled a Nike Air Sole. Other clever innovations appeared, too: The Chad Muska pro models for éS and Circa (along with models from a brand called Ipath) all had stash pockets in those poofy tongues that were big enough to conceal a surprisingly large amount of weed. Osiris' Peter Smolik shoe, the ODS (for Ol' Dirty Smolik), had a Velcro tab on the heel counter to keep his extra-large swooshy pants from dragging on the concrete — it was, in fact, all part of a package appropriately called SAG: Smolik Athletic Gear.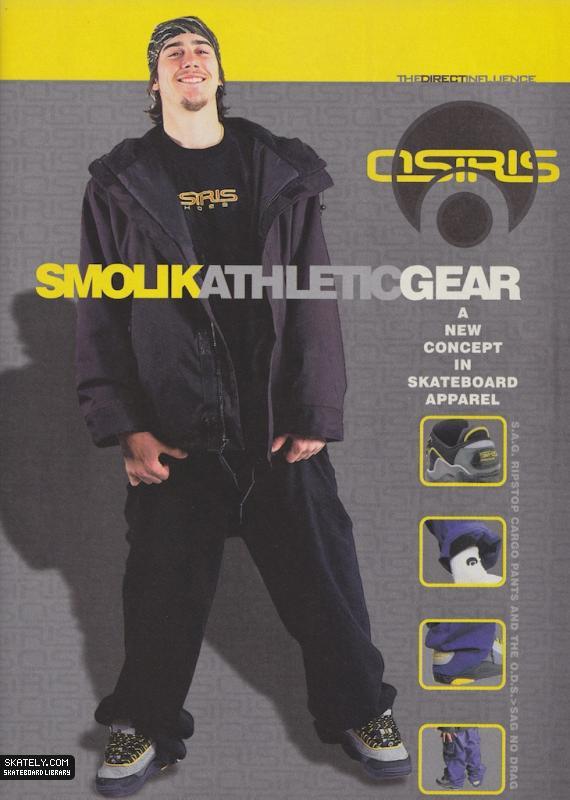 Among this proliferation of shoes, some classics emerged: The Etnies Sal 23s (Sal Barbier's pro model with the number 23 cheekily stitched onto the heel during peak Air Jordan mania); the éS Koston 1; the DC Lynx; and the Emerica Reynolds 1 chief among them. Then there was the Osiris D3, a bestselling shoe that, decades later, a lot of people still can't stand. It was heavy as hell and hard on the eyes, and as such, very much part of the DNA of the recent ugly-chic sneaker trend. There was so much stuff on the shoe that it looked like it was assembled at a buffet, but for whatever reason, they really struck a chord in the nü-metal community, especially with Fred Durst (who actually could skate vert). This savage-looking shoe had a softer side as well, though, with Avril Lavigne wearing them in a very on-brand sort of way during the turn of the millennium.
'What if We Treated All Skaters Like the Next Target Market?'
So what were the big shoe brands doing during all of this? Nike had been trying to get into skateboarding already, with no luck — they were basically seen as the uncool, rich jerk trying to slip the bouncer $50 to get into the club. "Initially, when Nike came in, they put a bunch of MBAs on it, none of whom got the culture," says Richards. "They did some fun [advertising], but there were cultural clues that anyone in the sport obviously realized — they didn't have a clue." 
In particular, there was a series of try-hard Nike ads that wondered: What if all athletes were treated like skateboarders? "But it was so quickly parodied by the skate industry," Richards remembers. "Etnies or éS did a brilliant ad that was like, 'What if we treated all skaters like the next target market?' So there was that sense of irreverence and ability to move quickly that big footwear companies never had."
Eventually, though, Nike managed to find a way in, and in doing so, accelerated the sneakerhead movement. The company's legendary maniacal drive and ruthless business strategies also worked to crowd out the skate-shoe brands from skate shops.
"From what I heard, Phil Knight, who was scratching his head after numerous failed attempts to get into this space, had said to his guy, Sandy Bodecker, 'Sandy, I'm putting you in charge of this, get it done,' so to speak," Gavin explains. Bodecker went on to launch the Nike SB line, which included vintage Nike models (most notably the Dunk) reintroduced in limited-edition colorways and quantities. The kicker was that they were mostly only available at the one place Nike, to that point, hadn't been welcome — core skate shops. At a time when many specialty skate shops were struggling, Nike had offered them a lifeline: The morning of a Nike quickstrike drop of a limited-edition shoe, skate shop owners would arrive to the store to find that 50 people — many of them not actual skaters, just garden-variety hypebeasts — had spent the night in front of their stores. The price in return was that many stores had to make large orders of Nikes, which had the completely intended effect of crowding out a store's shoe wall, as well as its budget to carry many other brands.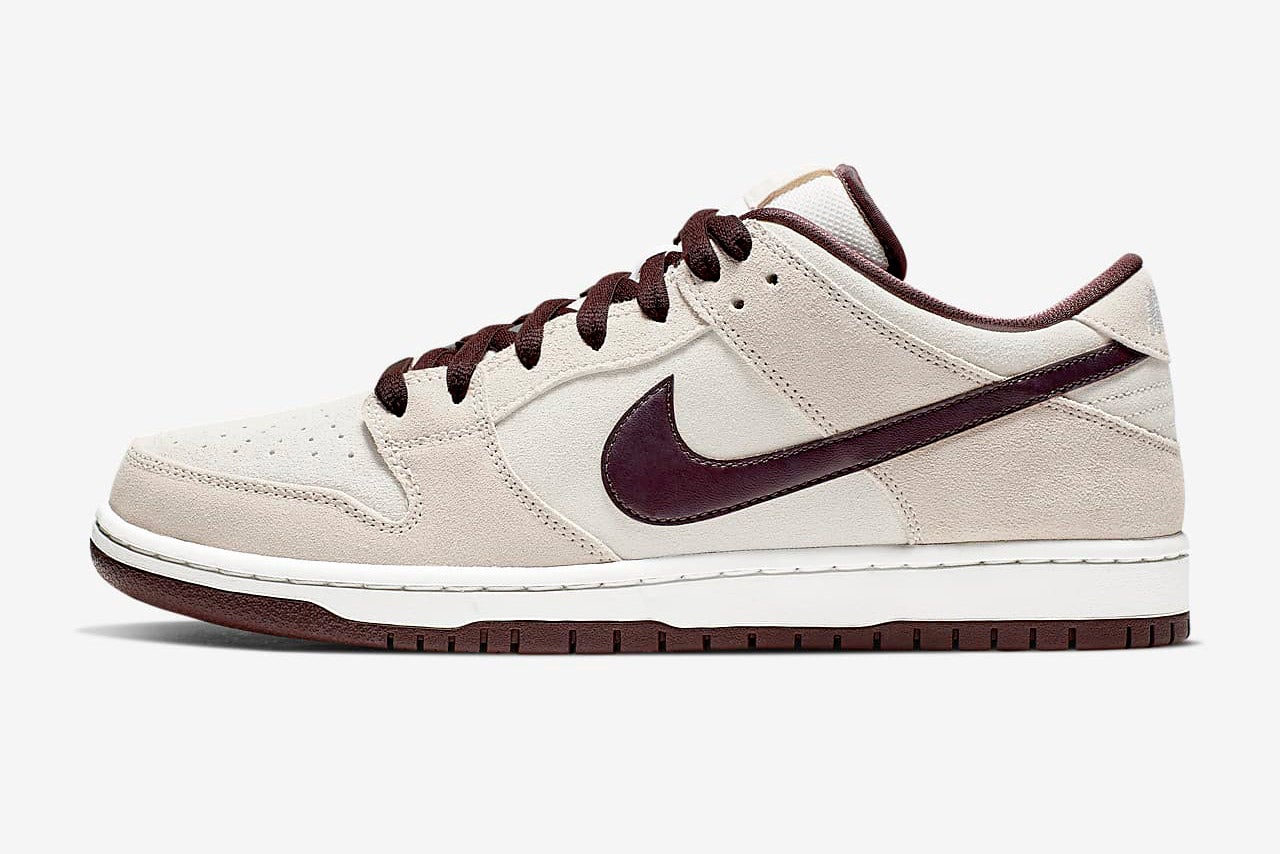 Simultaneously, Richards says that, this time, Nike and Bodecker had assembled a crew of experts with more credibility. The shoe giant started picking off some of the best skateboarders from other brands to skate for the Swoosh. There was no way any skate-shoe brands could offer what Nike could — more money, more visibility, cutting-edge technology and a seat at the table beside the likes of LeBron James, Tiger Woods and Cristiano Ronaldo. 
Soon Adidas and Converse followed suit, and Vans, which was sold to the mammoth VF Corporation in 2004 and had skate heritage on its side, was coming back in a big way. Just as fashion was slimming down as a reaction to 1990s bagginess, Vans' classic-profile shoes were getting looked at again. Suddenly, the upstart skate-shoe brands, already in a crowded space by now, were on the verge of getting pushed out by outsiders with far more resources.
Ruonala points out another important fact, though: "Those big companies were really good at making shoes. They had really good distribution, and they really knew what they were doing. Even though there was backlash — like, 'Corporate companies getting into skate shoes!' — the truth of the matter is they make really good shoes. People like skating in them."
A lot can go wrong in making and selling a shoe, and the smaller brands experienced all sorts of obstacles. Richards remembers going to a trade show and seeing a Skechers booth that displayed a Duffs shoe with "Duffs" literally crossed out on the inside. "Those guys are notorious for robbing anyone who has ever shipped a shoe," Richards says. "There was so much of that, that these [skate-shoe brands] had to deal with. It started coming from all angles."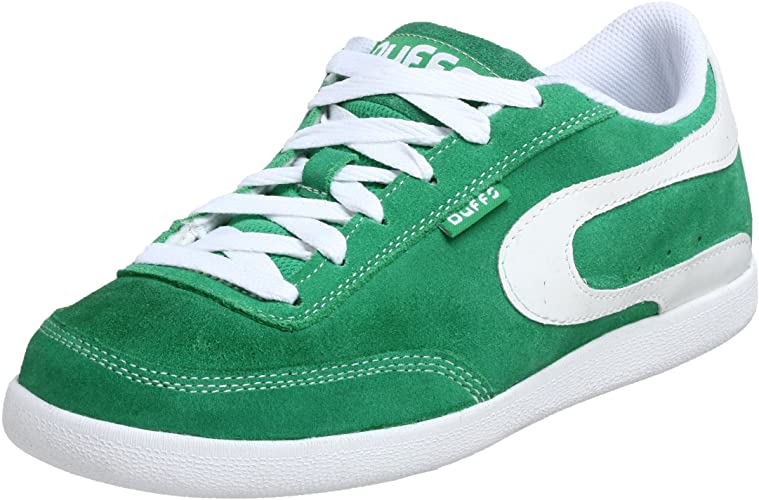 Richards tells stories of the overseas factory selling your shoe out the back door if you didn't pay them on time, often ending up at some discount retailer or Costco, and of shady business brokers who talked the shoe company into ordering more shoes than they could sell to retailers, only for that broker to buy back all those unsold shoes at a massive discount. "All that stuff happened on a very regular basis," he says.
Richards mentions another factor, too. Long after Nike, Adidas, Converse and Vans moved in, the skate-shoe brands were still marketing the old way — buying up multiple pages of ads in skateboard magazines whose readership was declining. Richards currently works for a digital analytics company, and he says that up until four years ago, even Vans didn't pay much attention to actual content on social media beyond the raw numbers. The fact that many skate-shoe brands didn't invest in e-commerce hurt them as well.
The final blow to many skate-shoe brands, though, was the 2008 recession. Gavin makes DVS sound like a cautionary tale. The problem with establishing a $20 million business relationship with a retailer like Zumiez, he points out, is that if it goes away, can you react swiftly enough to cut expenses, find a home for all that extra inventory and write down all that bad debt the retailer owes you? DVS had a $17 million loan from Bank of America that they used to finance the company by borrowing against their inventory. "We never missed a payment, never missed interest, nothing," Gavin says. "But the bank pulls the loan in 2008, because they're hardened criminals. And that's what crippled our business."
"When I hear people say things like, 'Yeah, the 2008 recession sucked,' it's like, dude: It really sucked," Gavin says. "It single handedly killed the business."
Other brands got sold on to holding companies or larger sporting-goods subsidiaries that mismanaged the brands by destroying the marketing budget (meaning the pro sponsorships and the advertising), the quality, the brand cachet or all of the above.
'Everyone's Rocking Nike. That Doesn't Mean Anything Special Anymore.'
And yet, after weathering a monumental recession, overwhelming competition from outsiders and an ebbing of interest from the non-core audience that blew up the phenomenon, a number of skate-shoe companies are still around, though not what they once were. Among others, the Sole Technologies brands — Etnies, éS and Emerica — all continue to make shoes. So is Lakai, Gavin's other, core skate shoe brand. DC shoes are still on the wall at Pacific Drive as well. In 2019, Osiris re-released the opinion-splitting D3 via a collab with the shoe's human analogue, Fred Durst himself. It reportedly sold out quickly.
But at this point, there's just no going back to the 1990s. Rawls points out that kids who skate nowadays don't know the difference between a skate-shoe brand and a Nike, Adidas or Converse shoe, because by now, these brands have been around skating for as long as the kids have.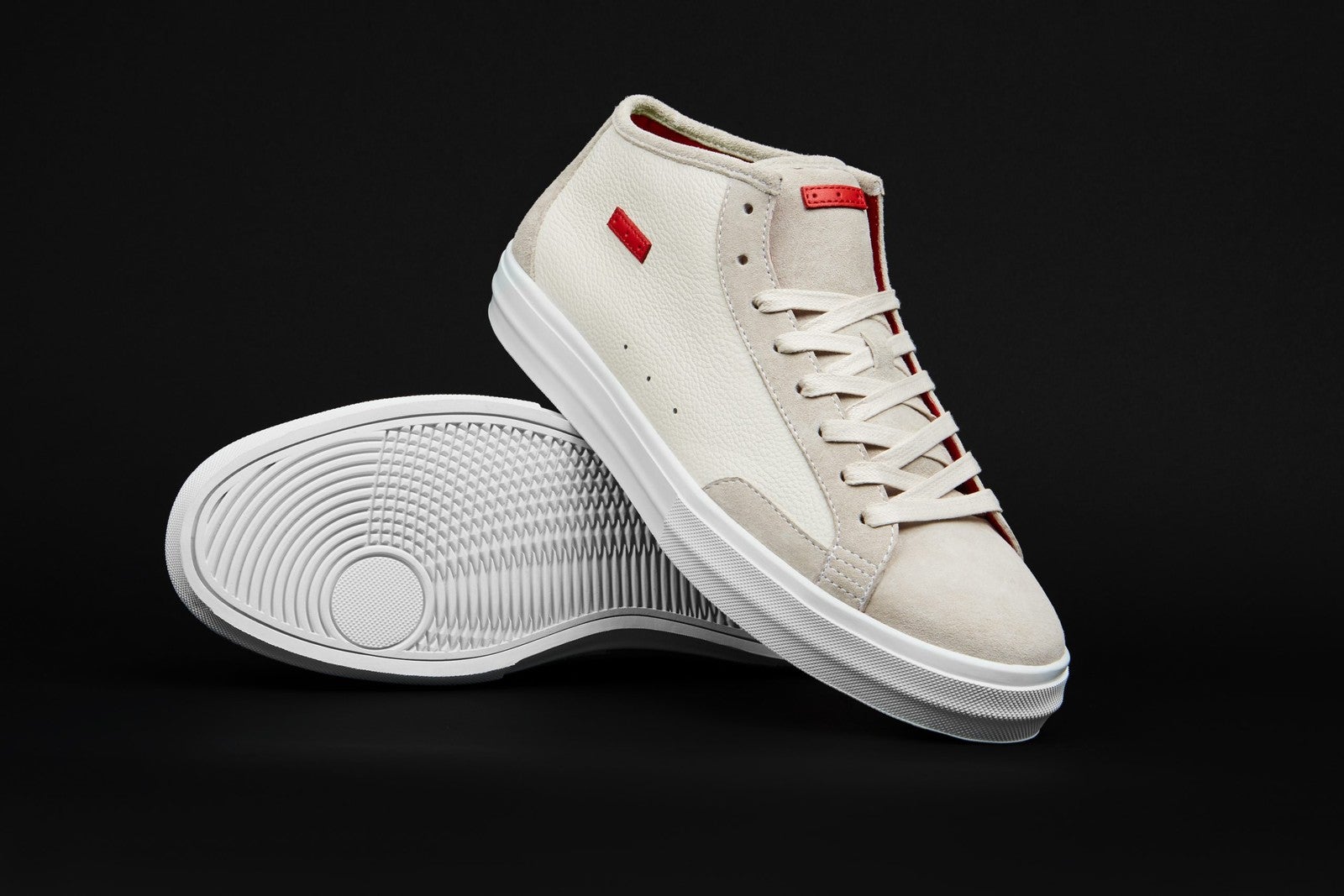 While Rawls thinks Nike and the others are here to stay, he predicts the future of skate-shoe brands will be small, boutique brands with high-end materials and limited quantity releases. That's actually what he's doing now with his own footwear brand, called Savalé. In the age of Instagram, there's no need to attend trade shows or get into specialty retailers, so the barrier to entry is lower, he says. Nowadays, it's all about how you sell the vibe to the customer, and the story behind the product.
Nike's dominance is now going on two decades. It'd be surprising if skateboarding — which is inveterately creative and anti-authoritarian — doesn't somehow find a way to eventually rebel, however it happens. "I think that it takes a different, compelling competitor to come in and say, 'Look what we're doing,'" Rawls says. "'Everyone's rocking Nike. That doesn't mean anything special anymore. Here's why you should be over here, fuckin' with what I'm doing.'"
It's not exactly what went down 30 years ago — but the spirit is the same.