When I began working from home in 2017, plagues and other apocalyptic events were far from my mind. Sure, my batshit crazy dad was an old-school prepper, hoarding hollow-point ammo rounds and bean cans at his cabin in Montana. That wild man counted his squares of toilet paper and taught me how to proceed right up to the end times (first you wipe with rags you can wash, then eventually the public water supply gets cut off or the well runs dry, so after that you're using the toilet paper cache, the pages of books and the leaves and grass, in that order). And yes, some of my grad school and media friends had started dabbling in prepping, perhaps for its aesthetic, LARP-y qualities, buying fancy "bug-out bag" sets and other expensive survival gear. Or maybe some deep unconscious urge, triggered by reading too much critical theory and too many hot takes, was pushing them to play-act a zombie apocalypse. 
But me, the boring, normie married guy? How did I end up so prepped for the latest national emergency? On the surface, I suppose it might seem as though I merely happened to be one of the lucky few who held down a corporate 9-to-5 and some freelance gigs, all of which could be done remotely. And while I was laboring upstairs in an office that featured both giant dumbbells and giant computer monitors, I guess I figured that I could save time (from the gym, from stores) by turning my basement into a powerlifting oasis-cum-supply bunker.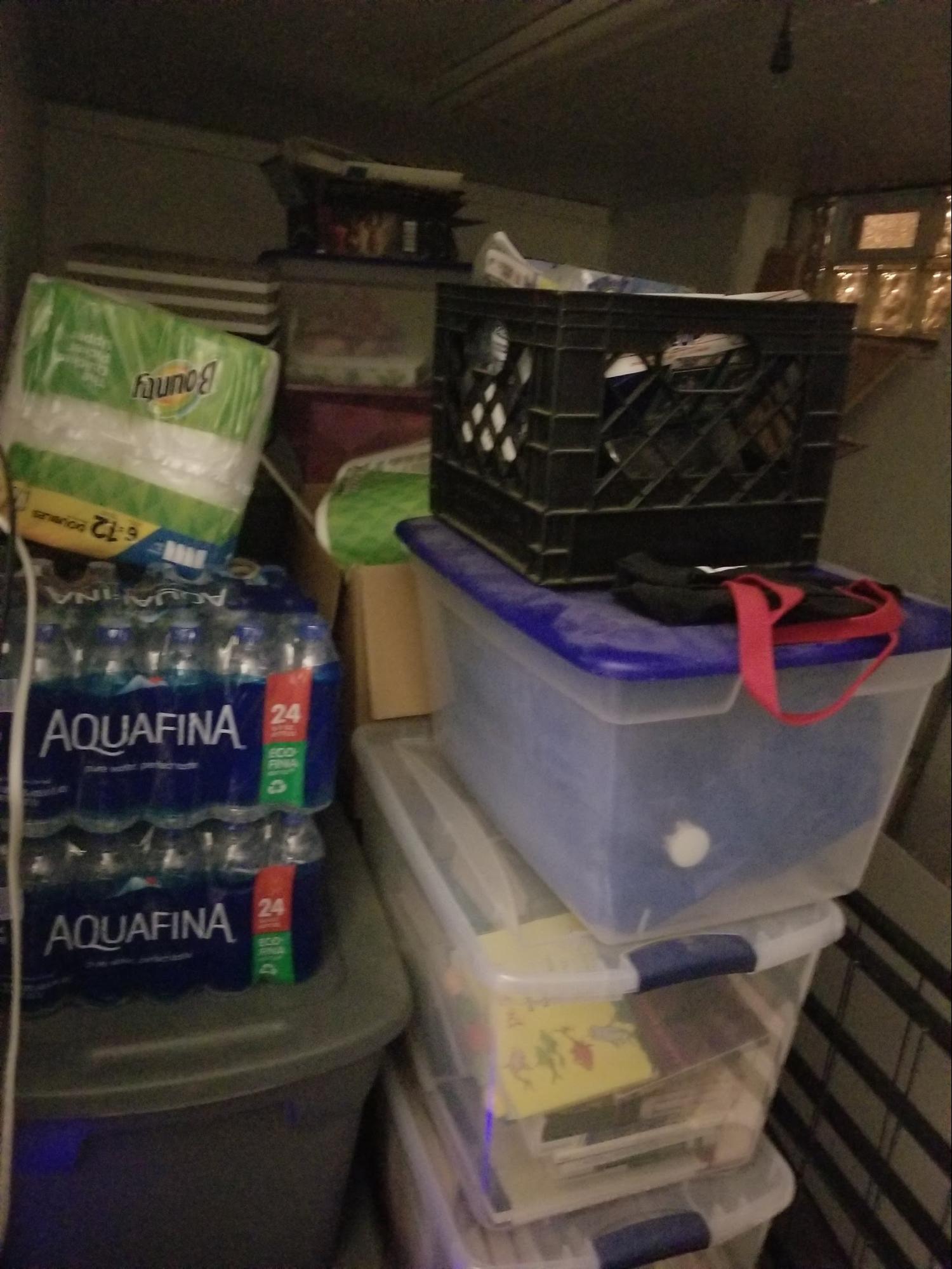 Yet this arrangement is about more than just optimizing my life in some silly, Silicon Valley CEO-type way. Because if I'm being honest, I've been socially distancing myself from others for years, and my house has become exactly like my body — serving as both temple and tomb. So now that the COVID-19 strain of coronavirus is upon us — leading to small-scale quarantines, endangering the most vulnerable among us, and, horror of horrors, causing gyms to close their doors — it seems like I've been in training for the cultural adjustments we'll have to make all along.
See, I've been staying home for weeks on end ever since I was a little kid and my parents decided I needed to be homeschooled. (My conspiracy theorist father didn't want me brainwashed by the state social studies curriculum, and my order-obsessed mother didn't want me picking up bad habits from my juvenile-delinquent peers, such as leaving the toilet seat up after use or chewing gum.) That peculiar method of instruction consisted of sitting alone in our house or at my dad's car dealership, reading books, playing video games or engaging in some other hobbies until my mom got home from her public school teaching job so that she could teach me — a state of affairs that continued from third grade until high school. And tumultuous as my life might have been when my parents and brother were home, it was perfect and peaceful when I was alone with my thoughts waiting for mom to return from her school so my school could start.
That said, up until about six months ago, I wasn't by my lonesome quite as much as I'd like. I used to travel a lot for work, until my little business unit within that Fortune 200 company was demobilized for budgetary reasons. Now, instead of hurrying through airports or cruising along the interstate in rental cars, I've been left at home, pushing paper virtually and settling down amid the spaces I've built for myself. My home office has the requisite computer monitors, but it also has weighted maces, Indian clubs, a 30-foot box jump and many different sets of heavy dumbbells — because ever since I established myself in this grind, I've taken breaks from work to do the work of working out. 
There's another box jump, at 24 feet, on the front porch, along with weighted and "speed" jump ropes. This wasn't just me blending work and play, or trying to work efficiently: On some deeper level, I was recreating my childhood form of "home schooling."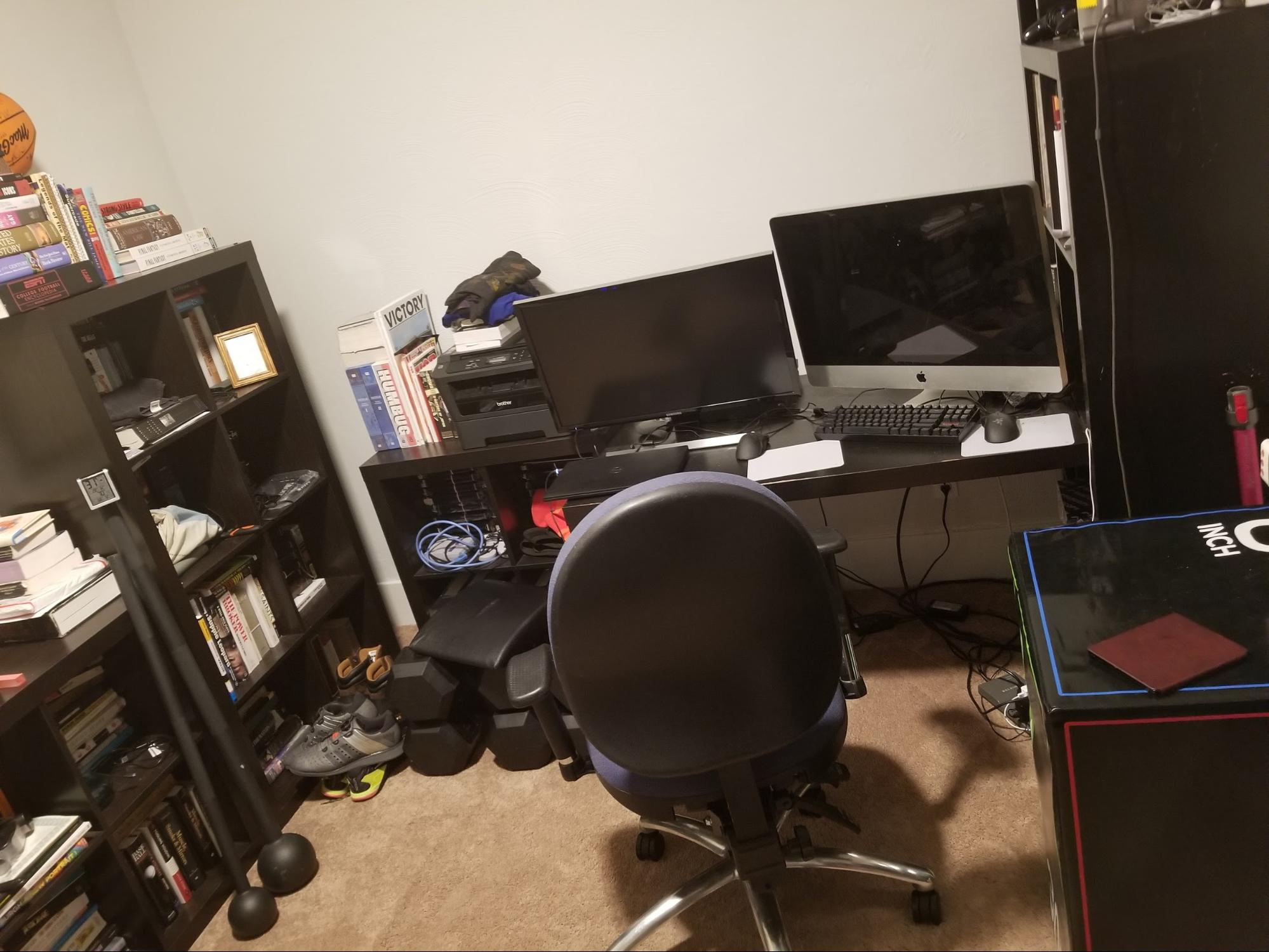 The porch, like the basement and the upstairs bedrooms, serves as a special "vacation" space — a place I go to when I'm leaving the "town square" that is my office, dining room, kitchen and living room. The days pass quickly, with my movements through my home marking the ebb and flow of time. My two cats, like my dogs when I was a kid, follow my every movement, and I treasure my time with them. People talk about these micro-sized "mini homes," but my home has gradually become its own miniature community, with cats, baby daughter and wife. And when my wife decompresses after work or on weekends, I take "trips" up to the study to read books in the nice recliner, or trudge down into the basement to lift weights.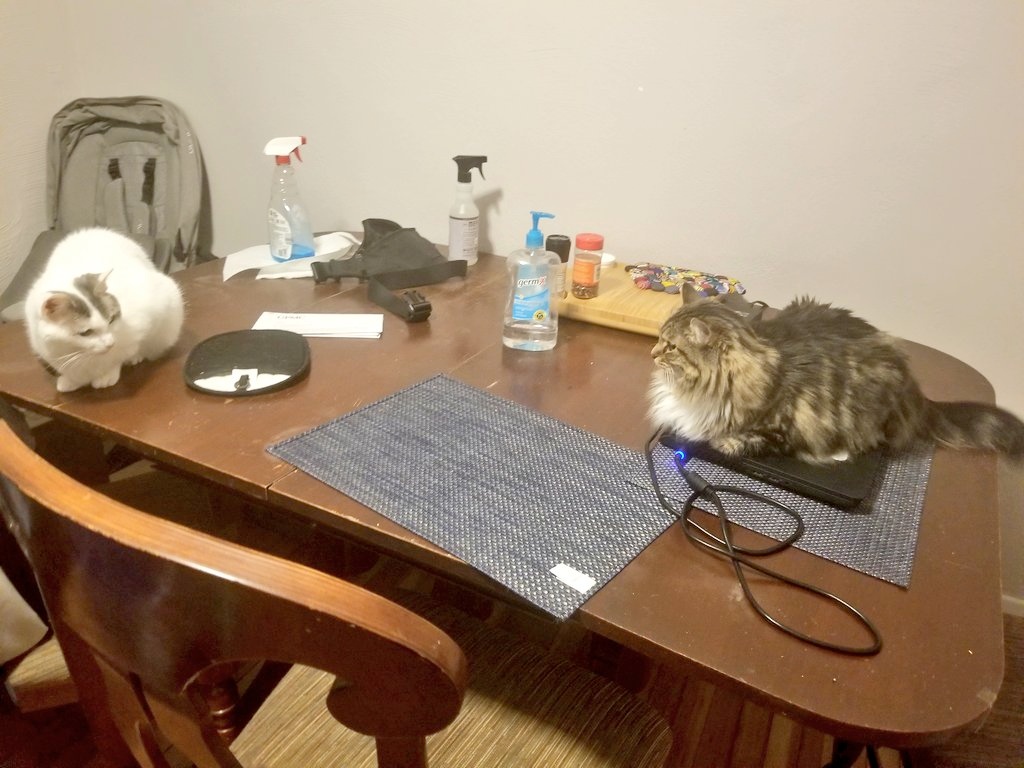 The gym that's slowly been built there, with its dozens of high-end barbells, Concept2 rower, Airdyne bike, inversion table, stepper and 900 pounds of weight, is a testament both to my desire to avoid the maddening crowds of gym bros and to all of the products I've accumulated during a half-decade covering the fitness industry. Although somewhat dimly lit and with low ceilings that require me to take my overhead lifts up to the office, it's better outfitted than anything within a several-mile radius of me. I cover fitness for a living, sure, but training has been a major piece of my life since I was a little kid and doing push-ups and pull-ups to earn $20 bills from my dad.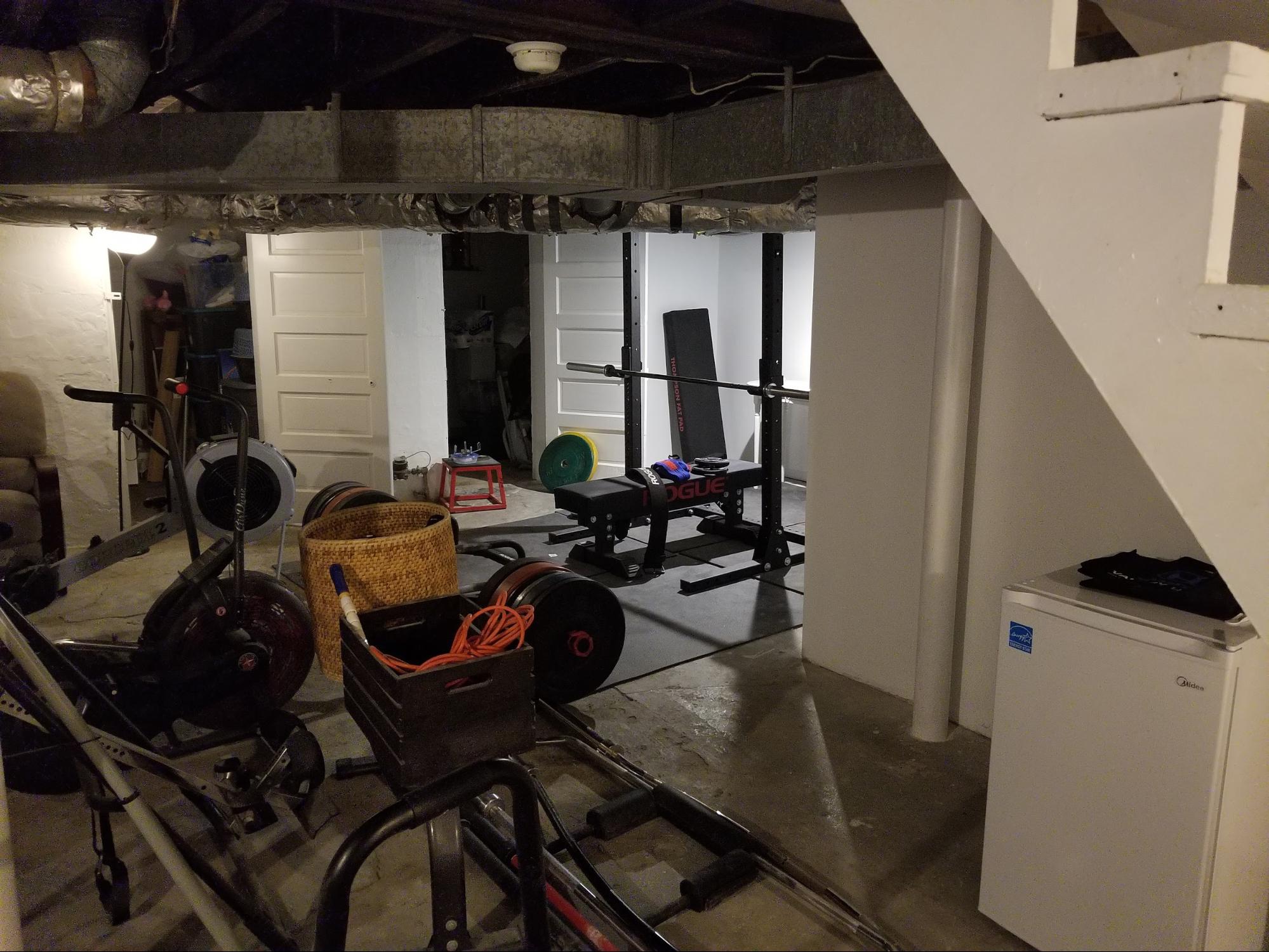 COVID-19 or no, this gym is always open. When my wife was pregnant, I wasn't getting spots, but by using safety spotter arms on the power rack and other tricks of the trade (e.g., leaving the weights on the barbell unclipped during the bench press so they could be dumped quickly), I've steered clear of injury. It's hard to explain how much my basement gym means to me, truthfully: It was something I said a decade ago that I'd create for myself when I could, and over the past few years, I proved that I can. It's definitely a space where I can hunker down for the long haul. (There's even a crash pad in a small room we recently finished, adjacent to the basement's jet tub, that we furnished with a memory-foam mattress that folds up into a couch — a fancy-pants updating of the low-quality "flip-n-fuck" pads found in my college dorms of yore.)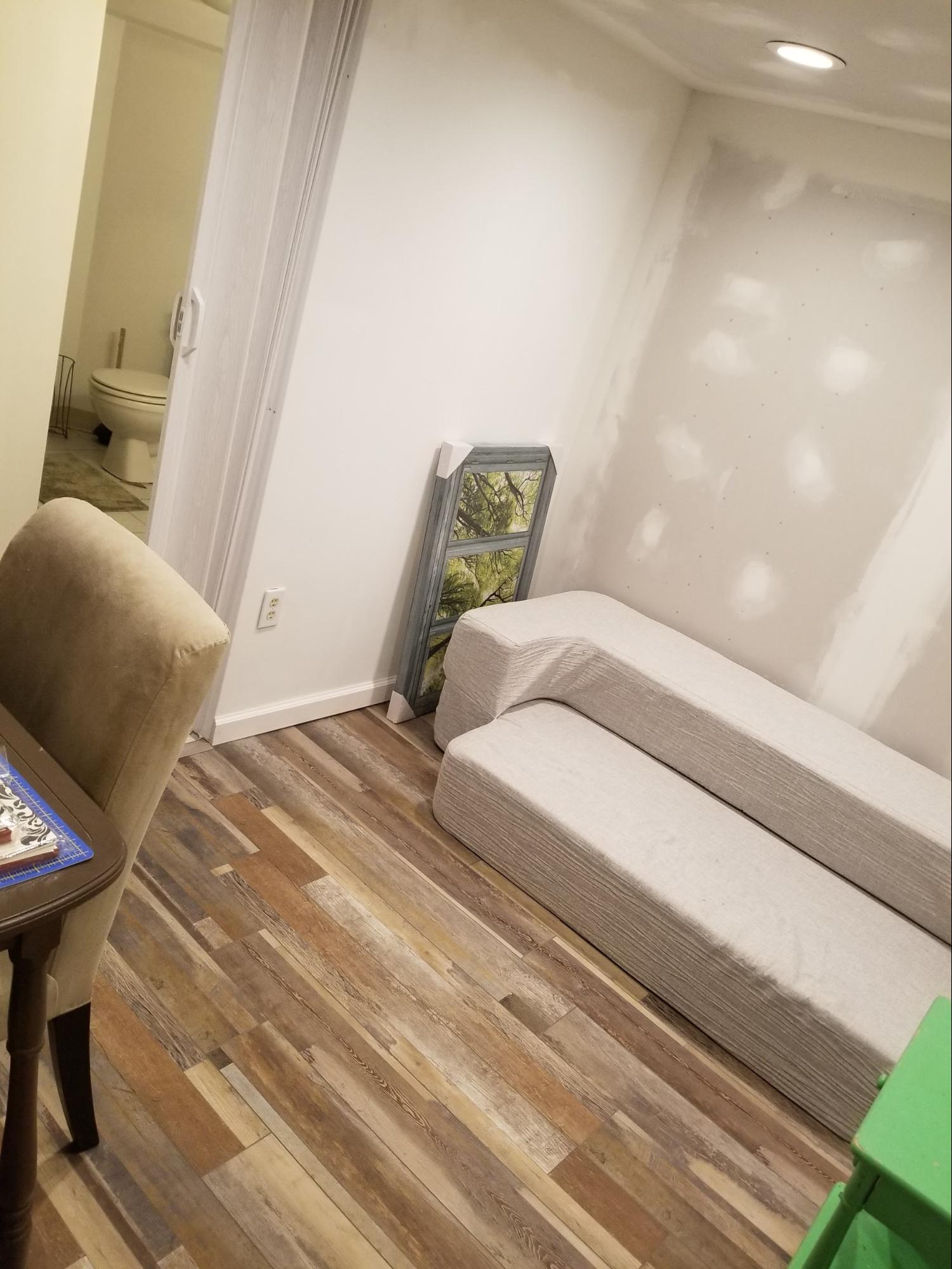 But all that is a bit beside the point — which is that, even though I was always a kind of no-drinking, no-smoking homebody, I've now built a house around me that helps me deal constructively with prolonged periods of isolation. Plus, I talk to dozens of people throughout the day, via multiple methods of communication; and so, it never truly feels like I'm alone. Colleagues ping me on Skype and video conference with me on Zoom. My oldest friends message me on Discord and Gchat. My wife and my mom text me with updates and requests. I tweet to stay in touch with professional contacts. In a single day, I might answer 100 emails, 50 calls and innumerable chat messages as well as fire off enough tweets that I feel like I'm participating in the larger conversation, too — compartmentalized interactions, I suppose, but whatever these folks are saying in their little chat windows usually seems urgent and interesting to me.
I do leave the house throughout the week, mind you — I'm not a recluse or someone genuinely struggling with agoraphobia, and getting together regularly with our large extended families and long-time friends is part of the reason why my wife and I moved back to our shared hometown in 2016. We were localists as well as homebodies, our happiness rooted deep in the polluted Pittsburgh topsoil. But I've had to be in the house more and more, increasingly so since the birth of our daughter in February and the onrush of ominous COVID-19 coverage.
There's no way to prepare for what's to come, of course, but if any good can arise from the tremendous amount of life we're likely to lose, I hope it's that we learn how to love living with ourselves better. "You never take for granted how you've got the run of the place," my dad used to say of my receptiveness to homeschooling, astonished that I always found ways to fill all this seemingly empty time. 
Why, though, would I have taken it for granted? Most people have little trouble serving as their own harshest critics, but I also got to spend five quiet days each week learning how to be my own best friend.