I'm a total fragrance newb. The last cologne I bought cost me probably 20 bucks at Pacific Sunwear. And when I say "me" I mean my mom, because I was 12.
Since then I've been lucky enough to be gifted at least a couple of bottles ranging in olfactory quality from fair to great, none of which I use(d) with any regularity, probably because cologne intimidates me, and reminds me of a kind of guy who I'm not quite sure I want to be.
You know who I'm talking about.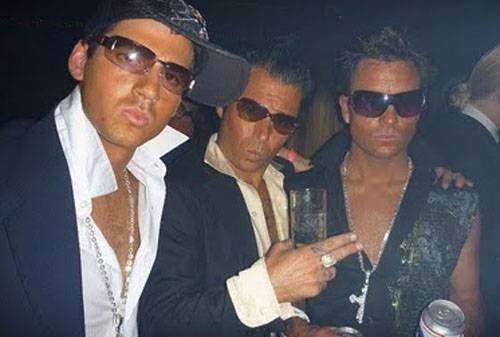 Which made this conversation between Zaron Burnett III and one of the fragrance industry's leading experts so fascinating to me. Mainly because it dispelled a lot of the things that had intimidated me about cologne in the first place, and also because it makes choosing a personal scent and using it the right way kind of exciting.
I still can't kick the feeling that it's mostly for sweaty club bros, however.
Must Read
"The Lonely Hell of Quitting Antidepressants"
About one in nine Americans use antidepressants and nearly 25 million adults have used them for at least two years. The majority of these users will not experience withdrawal symptoms, but if they do, experts say the problems are "usually mild… and usually last for one or two weeks." But anecdotally, symptoms last far longer, and can be incredibly intense, such as feelings of intense rage and even "brain zaps." Which makes it all the more disconcerting that former users are often left to deal with their "discontinuation symptoms" with little to no support from medical professionals. READ MORE
The Future in Your Pants
According to Sir David Attenborough, thanks to our technological and cultural sophistication, the physical evolution and natural selection that created humanity over thousands of years no longer applies to our species. But that made us wonder: What does that mean for the future of our dicks, balls and asses?
Fake It 'Till You Make It
"Extroversion deficit" is a real and distinct problem for introverts who buy into society's belief that their quiet nature is less valuable than extroverted traits like sociability and assertiveness. To make up for it, some are actually pretending to be more extroverted in an effort to conform their attitude to their behavior. But does that actually work? Can an introvert make themselves happier in social situations in the long term by faking it in the short term? Researchers are attempting to find out.
The Other Woman
Over her 45-year career, Glenn Close has earned three Emmys, three Tonys and been nominated for seven Oscars (including this year for her role in The Wife, and one that likely will result in her first win). But among all the remarkable characters she's played, none is as memorable as the broken, crazy, rabbit-boiling other woman "Alex" in Fatal Attraction. So memorable, in fact, that her performance has forever changed how we view the "other woman" forever.
Do You Even Bench, Bro?
Despite what the meatheads at your gym might tell you, the bench press is actually a very poor way of determining your raw power. But that hasn't stopped it from becoming bodybuilding's gold standard when it comes to strength. And how it earned its lofty position in the weightlifting pecking order is fascinating.
'Fortnite' to the Rescue
There's a growing number of young people who are turning to an unlikely refuge when struggling with their mental health: The free-to-play video game, Fortnite. In fact, Reddit is littered with stories of gamers who say Fortnite saved them when they were at their lowest. But it's also a trend that exposes the stark reality of America's mental health crisis.
Eau de You
Michael Edwards, the perfume expert's expert, is a man who knows his scents. He's the guy behind the annually updated Fragrances of the World guidebook (known around the industry as the "Fragrance Bible"), and in 2018 alone, he reviewed more than 2,700 different fragrances. In other words, he's hot shit (he smells good, too). And if there's one thing that sticks in his craw in the three decades he's worked in the business, it's how little men know about choosing (and using) their fragrances.
Basic Dad: 'Mommy and Daddy Were Just Tickle-Fighting' Edition
It's every parent's nightmare: You and your partner are having sex, and your kid walks in on you. What the hell do you do now? Use it as an excuse to explain the birds and the bees, or tell them you and mommy were just doing some light MMA? We asked a sex educator, someone who caught their parents banging and others for advice on how to make an awkward situation feel anything but.