In a recent, since-deleted Instagram photo taken at Louisiana Attorney General Jeff Landy's annual gator hunt, Donald Trump Jr. made a strong sartorial choice by underlining his man boob sweat with his monogram.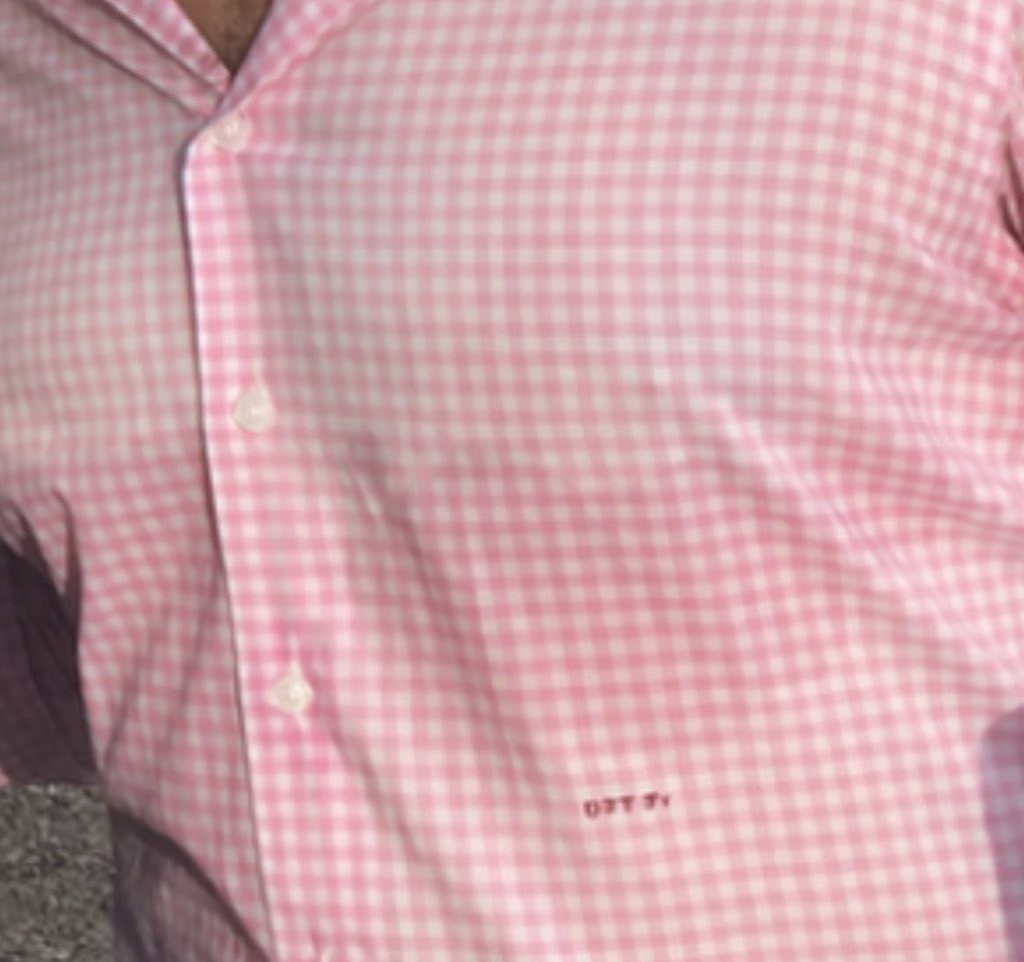 It was a departure for the first-born large adult son, whose shirts are typically branded on the cuff: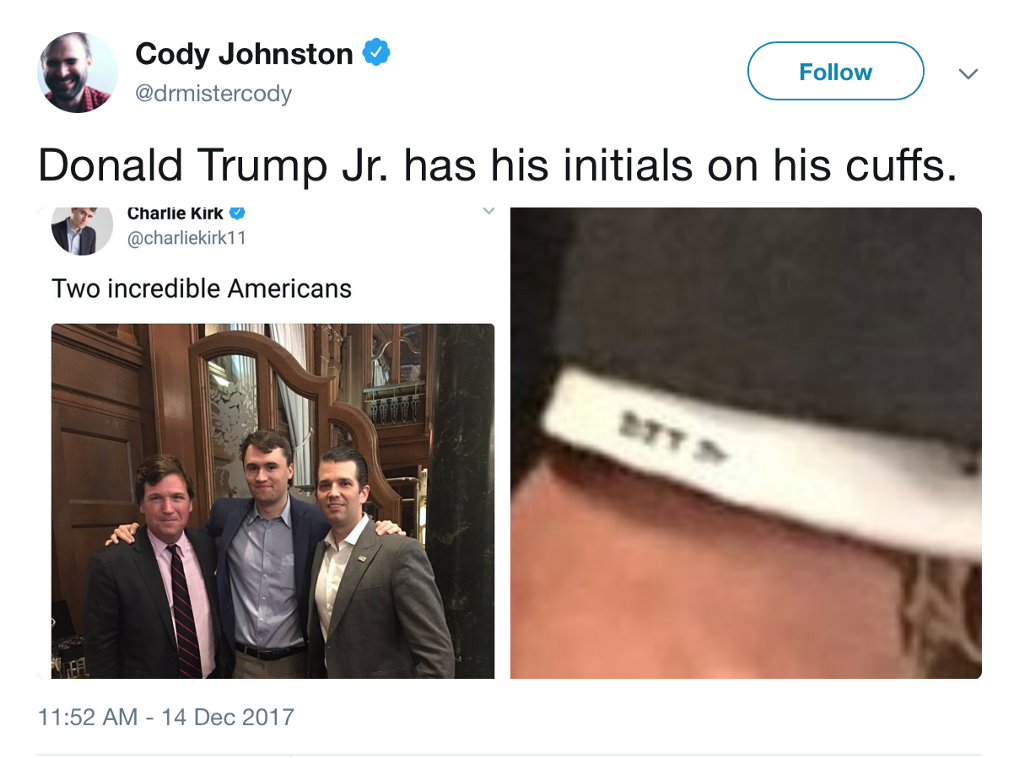 Senior's monogram on the other hand ("45"), photographed at a listening session with Parkland High School students in February, represents his place in the U.S. presidential order. Some called Trump "narcissistic" for employing the monogram, while others compared it to dictators weaving their names into pinstripe suits.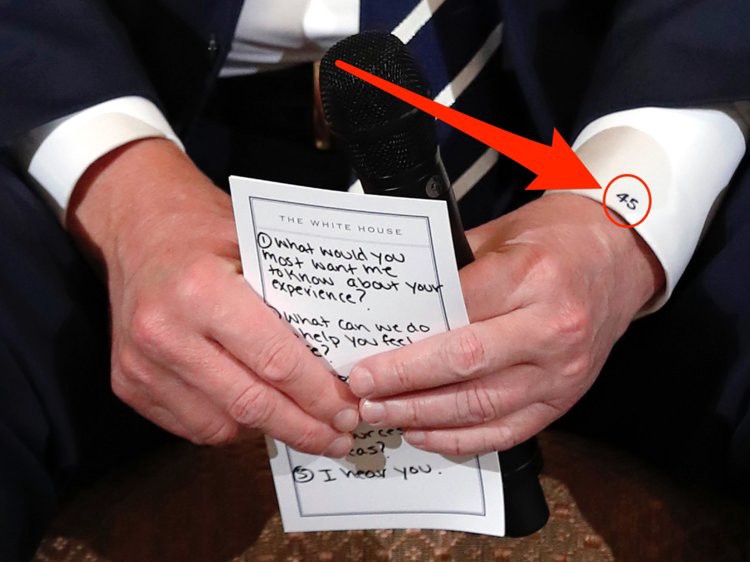 Alas, monograms are nearly as controversial as the president himself and can quickly become a minefield of sartorial dos and don'ts: What do they say? When do you wear them? Where do you place them?
In search of answers I spent the last couple days speaking with WASPs, style experts, historical novelists and Emily Post's great-great grandson to get a sense of the rules of the road for emblazoning one's initials on their belongings. Here's what I found…
1) A monogram is a combination of letters, usually two or three, intertwined or overlapped to represent an individual, company or kingdom. Yet if you ask Cynthia Brumback (cBf), author of The Art of the Monogram and founder of The Monogram Merchant in Orlando, those little characters represent so much more. "A monogram is a connection," she tells me, "linking a ruler to his people, a brand to its customer, a bride to a groom or generation of family to another. Monograms connect us to another time and place, to loved ones past and present, and to what we find essential in our own lives."
2) The first monograms were found way back in 6th century B.C., when Roman coins were marked with the ruler's initials to authenticate and legitimize them. Meanwhile, in the 8th century, Charlemagne branded military conquests with his monogram. During the Middle Ages monograms also were used by painters, engravers and ceramicists to sign their work. And through the late 1600s, the initials were used to authenticate official documents and mark government buildings.
3) Sartorially speaking, historical mystery novelist "Lady X" tells me that the signet ring was likely a precursor to monogramed shirts. "Signets rings engraved with a coat of arms become important in the Middle Ages when kings and the nobility wore them as an outward symbol of personal identity," she explains. Rags-to-riches lower/middle class entrepreneurs during the Industrial Revolution mimicked the aristocracy by wearing signet rings with their initials as an outward statement of individuality, which led to putting monograms on most pieces of clothing to signify, "I'm important!'"
4) In the 1950s, Brumback tells me, monograms symbolized a woman's performance as a housewife and mother. "It was perceived that a woman who truly cared about her husband and family made sure their home was well stocked with monogrammed belongings," she explains.
5) These days, technology has made monogramming affordable and accessible to everyone. Both L.L. Bean and Land's End, for example, will monogram any purchase for an additional $6 and $10, respectively. "It's become more of a signifier that someone took a little extra time ordering a product than demonstrating wealth," Brumback says, noting that contemporary initials adorned on laptops, tablets and smartphones serve as both a style statement and a theft deterrent.
6) Jonas Bell Pasht (JBP), a men's fashion connoisseur and TV producer whose current show, Netflix's Social Fabric, covers men's style around the globe, considers a monogram to be a classy, old-fashioned way of personalizing an item. "I have so many damn monograms in my place: hats, suits, shirts, ties, briefcases, sneakers, pocket squares. I still own a 50-year-old pocket linen from my grandfather because his initials are on it. That said, I don't like it when monograms are used in an elitist way with really prominently displayed initials."
7) As for placement, Beverly Hills shirtmaker Jack Sepetjian (HJS) — son of Anto Sepetjian, a master tailor from Beirut who emigrated to the U.S. in 1955 and became the country's leading bespoke shirt maker — tells me that most of his European customers wear monograms on the left breast (like DJT Jr.) while most Americans prefer them on the left cuff. His father's mob clients liked them higher on the sleeve for maximum exposure.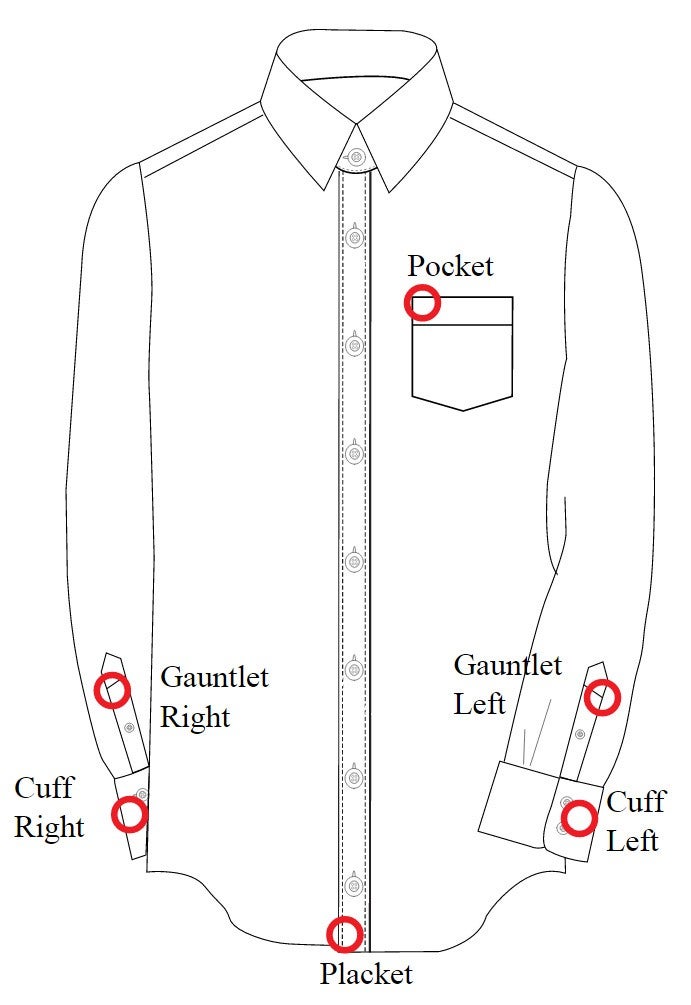 8) Menswear experts caution against placing monograms on the shirt cuff, though, since it can be distracting. "The place to not put your monogram is on the edge of the shirt cuff," warns Justin L. Jeffers (JLS), who runs the blog The Fine Young Gentleman. "I played around with this placement on a few shirts and could not get over the ever-presence of it, even when it matched the color of the shirt. Never again." Randy Goldberg (RG), co-founder and chief brand officer of Bombas, concurs. "I don't love a shirt-cuff monogram," he tells me. "But something classic like a Goyard passport case with painted initials, or a beat-up L.L. Bean Boat 'n' Tote with embroidered initials (even if they're not your own) seems cool to me. Just don't use a monogram as a way to show everyone that you had your shirt custom made. That's completely uninteresting."
9) "As most gentlemen know, when you sit, you unbutton your jacket," explains Kevin Godbee (KG) of Immaculate Style, "The Best Image Consultants in St. Petersburg." While sitting at the bar, Godbee's friend noticed a monogram on his left stomach and asked why he put it there. "I explained I like to do things differently than most men. It adds a little savoir faire, and it's sexy to have something hidden that's later revealed when your jacket swings open, or comes off — kind of like lingerie."
10) Mason Phelps, Jr., (MPJR), president of the National Horse Show tells me he wears a monogram on his shirts because "I'm a big, old WASP, and monograms are just one of those things we do. It's a big equestrian thing. My father used to get his shirts monogrammed, and his initials are the same as mine. He died five years ago, and I took all his shirts. I also put my company logo and monogram down the outside seam of all of my jeans."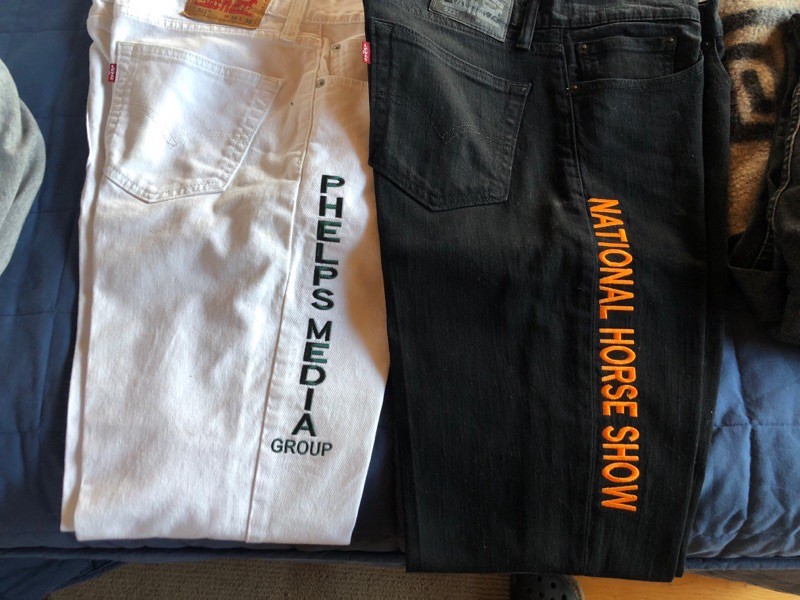 11) There are two ways to write a man's monogram, Brumback explains. If you want the letters to be all the same size, list the initials for the first, middle and last name in order. If you prefer a circle-style or a diamond-style monogram, put the last name initial in the center, slightly larger than the others. (Men typically choose the straight line across.) That said, Brumback explains that her most popular monogrammed male gifts isn't clothing, it's barware (e.g., tumblers, flasks, wine glasses, decanters, etc.) and golf equipment (e.g., club covers, bags, gloves, carts, etc.). "Men tend to monogram things that are more practical rather than decorative," she notes.
12) You'll typically find monograms wherever "Sunday Best" attire is appropriate. Like in court, says public defender Matt Hale (MCH), who tells me he wears a monogram on his left cuff to keep up with the other public defenders. "They're real clothes horses," he explains. "Court is one of the last places you really dress up. Clients have a certain idea of what a publicly appointed lawyer is — that we're going to be wearing some shabby old sports coat with a frayed tie. So when you show up in a nice suit with cufflinks and a monogrammed shirt, it breaks those expectations."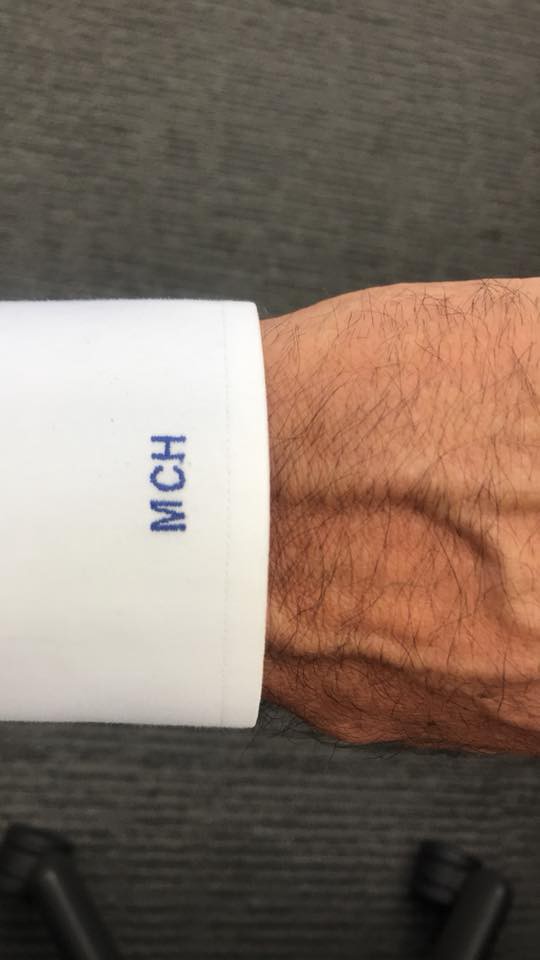 13) Monogrammed cowboy boots are essential footwear in the Bush family. W flashed a new pair with both the presidential seal and his monogram during his first inauguration. They were made by Rocky Carroll of Houston, who also created a pair for H.W. in 1988.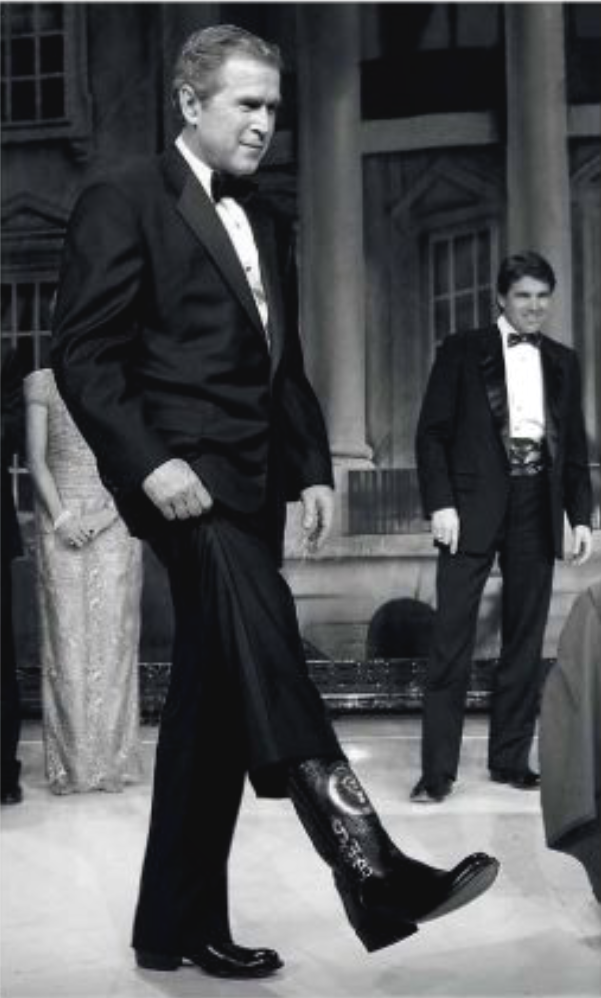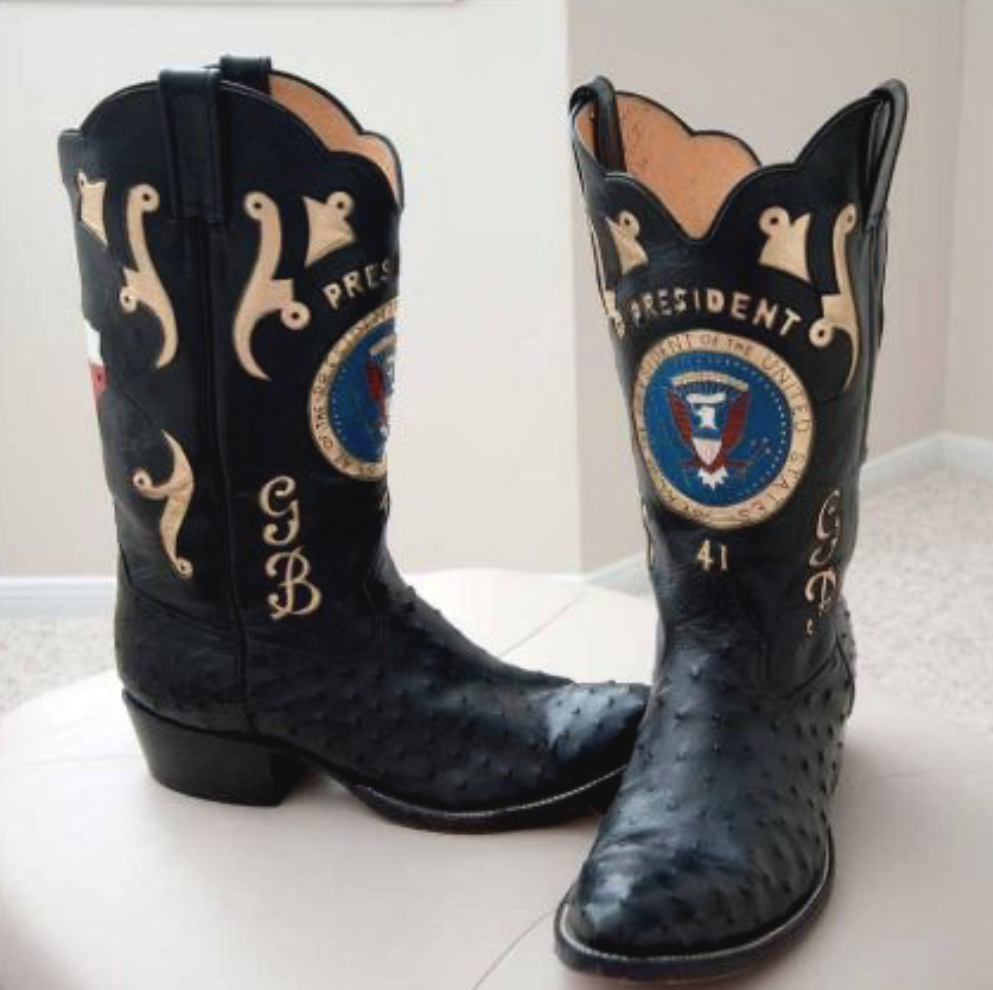 14) Forty years earlier, JFK — the owner of perhaps the most famous presidential initials — was photographed with a monogram on his left breast.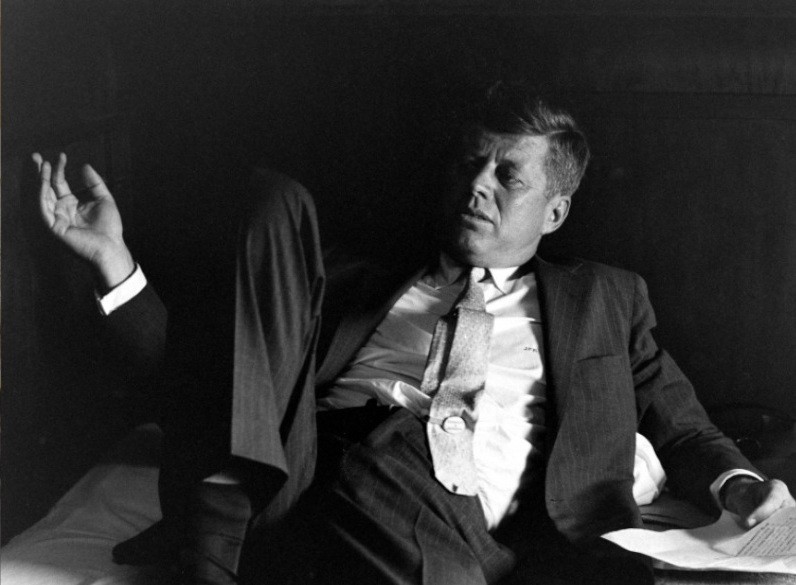 15) Apparently, though, the men of Reddit don't take sartorial cues from the Bushes or the Kennedys. When I ask if any of them wear monograms, they reply:
TheRealPizzaHut: No, I'm not a rich narcissist.
Hmmoknothanks: No because I'm not a massive twat.
Singefume: (Seemingly confusing "monogram" with "monocle") No, I don't think people still wear monograms, everyone has easy access to glasses now-a-days.
16) Still, concerns of being a rich narcissist or a massive twat — or a rich narcissistic massive twat — needn't dissuade you from flaunting your initials says Daniel Post Senning (DPS), Emily Posts's great-great grandson and torchbearer of the family name. "Monograms have an old-world style," he says. "You can overdo it, though. So go ahead and try French cuffs, a tie clip or a monogrammed shirt. Just don't try them all at once."