Michael Mora first met Esmerelda Tovar-Contreras on Halloween night five years ago. They were helping their church's youth group by passing out candy at the annual Halloween Trunk-or-Treat. "When I saw her, she stood out to me," Mora says. "She was really nice. She talked smoothly. I gave her my number, and we started dating."
She remembers the encounter slightly differently. "I was president of the Catholic Youth Ministries," she says. "We arranged a big Halloween event for the kids, where we'd pass out candy before going to a haunted house or bonfire. This dude in a vest and pink cast on his arm decided to steal my candy, because I had the good candy and he had the sucky candy. From there we started talking, and we've been together ever since."
"He's my soulmate," she adds.
Today, Mora, 19, is a specialist in the Kansas National Guard. He's set to deploy, somewhere, next March or April. Tovar-Contreras, 20, is a nursing student at the University of Kansas. They have a nearly 1-year-old daughter named Rose, and they're planning to get married in 2019.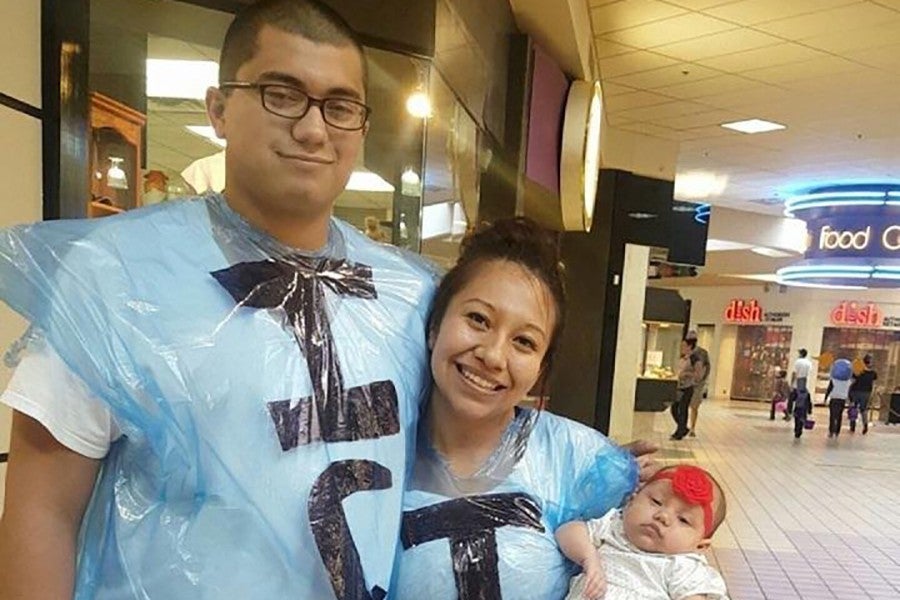 "I didn't know [Tovar-Contreras] wasn't from [the U.S.] until about halfway through our relationship," Mora says. "She asked me if that made a difference. I told her I loved her for who she was. I've always been a conservative. But since I met her, I've had a change in my thinking. I love her, and I'm just happy she's here."
In 1999, when she was just 2, Tovar-Contreras's parents smuggled her into the country from Mexico. They wanted a better life for her and were willing to risk everything to create a new world for her. Her father, who Mora says works three jobs to make ends meet, had already been in the U.S. for two years. Over time, he was able to save enough money to bring Tovar-Contreras and her mother to the U.S. as well. He worked in California and New York, but they all agreed to meet in Kansas. "It's been home ever since," Tovar-Contreras says.
She's been able to remain in Kansas despite having been born in Mexico because of the Deferred Action for Childhood Arrivals program, or DACA, which President Donald Trump announced last week he was ending. Essentially, the program — popularly known as the "Dream Act" — extended the ability to live and work for people who came to the country under the age of 16 and were in the U.S. before June 15, 2007. Applicants are required to prove they were in school, had obtained a GED or had been honorably discharged by the U.S. Armed Forces. Conviction of a felony or "significant" misdemeanor terminates the agreement, which must be renewed every two years. The program allows Dreamers to legally obtain driver's licenses and work permits and to file and pay taxes.
The suspension of DACA is expected to upset the lives of nearly 800,000 Dreamers. In Kansas, it will affect approximately 13,000 people — people Secretary of State and gubernatorial candidate Kris Kobach described as "gangbangers." In a column for Breitbart, Kobach not only supported the president's decision, but lamented that DACA wasn't ending soon enough. (There's a six-month grace period before the president's decision will go into effect.)
Tovar-Contreras heard about the decision while learning how to insert a foley catheter as part of her nursing education. She held her emotions in check during school, but afterward, on her way to work as a nurse's aide at a retirement facility about 45 miles away, she couldn't hold it together anymore. The thought of being forced to leave her home and husband and live in a foreign country was overwhelming. She spent the rest of the drive sobbing.
"For as long as I can remember, I've pledged allegiance to this flag," she explains. "I couldn't imagine how someone could want to take away something I love so much. I can't stand the thought of losing everything I've worked so hard to get."
"She's having a tough time coping," Mora says. "This is something she has no control over. We have to leave it up to people we've never met, who we've never even said 'hi' to."
Mora isn't taking it well, either. "I told her that I made a vow to my country, and I'll be committed [to my military service] until my time is up. But I refuse to get separated. I hear the stories about when someone gets picked up by ICE, and it's hard to hear from them again. I refuse to go on anybody else's terms. I refuse to not have them in the picture with me. The country I'm serving is stripping her of everything. It's not fair. She's a good mother and a good person."
Tovar-Contreras says she is proud of her Mexican heritage. She talks excitedly about family gatherings to make enchiladas and tamales, which her mother sells by the dozen around town. She reminisces about her family life in Mexico City, and she's forever grateful for what her parents had to endure to get her into the U.S. She is well aware of the "doomsday" box where her family tucks away money in case they have to start over.
But she's decidedly American. "If I was to go back, even though I'm fluent in Spanish, I'm not fluent in the ways," she says. "I feel like I'm an American. I love this country. I wouldn't know anything there. I'll be naive to everything. It's where I was born, but it's not my home."
"This generation that's here right now, they don't know squat about Mexico," Mora says. "They'll go down there, they won't have a house or family, and barely enough money to survive."
Tovar-Contreras has done what she can for now — namely, filing another DACA application in the hope that it will be approved before the termination deadline. If it is, it'll grant her another two years in the U.S. If not, she and Rose will go to Mexico, while Mora will request a transfer to a border state so he can visit them as often as possible.
Unfortunately, getting married sooner won't result in naturalization for Tovar-Contreras. DACA allows immigrants to work and live here, but the path to citizenship is byzantine. Because Tovar-Contreras wasn't "inspected" when she entered the country, she's not eligible for a green card — the traditional first step toward citizenship — and the measure that would make marriage a viable option. In fact, to secure a green card, she'd have to leave the country for a time, so she could re-enter under the process known as "Advance Parole." While this might result in a green card, it also carries the risk that she wouldn't be able to return.
Up until this point, she's been scared to say anything about the effect of the president's decision on her life. As has been reported numerous times over the last week, people registered under DACA have provided the government with all of their pertinent contact info, meaning they're much easier to find (and deport) than those who are here illegally. "We haven't talked to anyone," Mora offers when I ask about efforts to reach out to their congressman about the issue. (Full disclosure: I'm their state congressman. I'm not, however, working with them in this capacity. As a state official, there's nothing I can do; it's a federal issue.) "There's a fear of speaking to anyone official. For her to go out there and put her name out there publicly, to say, 'I'm not a citizen, but I want to talk to you about what's going on,' that's scary."
Still, she now believes it's the only she can do. "There's a point where enough is enough, and someone has to speak up for people like me."