"Thirst," according to the only lexicon that counts, is a measure not of dehydration but embarrassing, all-consuming horniness. To thirst is to lust after friends and strangers; to crave their attention and approval. But halfway through 2016, the election invaded this sacred, erotic turf. Now one's personal Twitter brand is defined one Beltway take at a time; we care less about physical attraction and more about party-spectrum affiliation.
The thirst remains. Like matter in a closed system, thirst cannot be created nor destroyed. It has to go somewhere. Given the climate, these passions divert to politics.
There's no shortage of stories about Trump's ill effects on intimacy. Between his grotesque treatment of women and his throttling of the news cycle—not to mention omnipresent images of him in a bathrobe or attempting to exercise—he's killed the mood nationwide. It's a far cry from the Obama years, when we slid into DMs and Insta-stalked with abandon — the heyday of hot selfies and dating apps, from Tinder to Grindr to whatever vegans use to get laid. Yet how can we possibly set aside an hour to fool around, knowing that by the time we get back online, Trump may have nuked Argentina?
That's why, if you want likes these days, you've got to drop the hot selfies and become a "source." Consider the strangely popular social news style lately developed by NBC editor Bradd Jaffy and MSNBC producer Kyle Griffin: Their jobs entail staying up-to-the-second on breaking items, so they're always early to unexpected developments and comments from prominent officials. But then, instead of just retweeting, they quote-tweet in a way that makes it seem like they're adding information — though they usually aren't. Like this: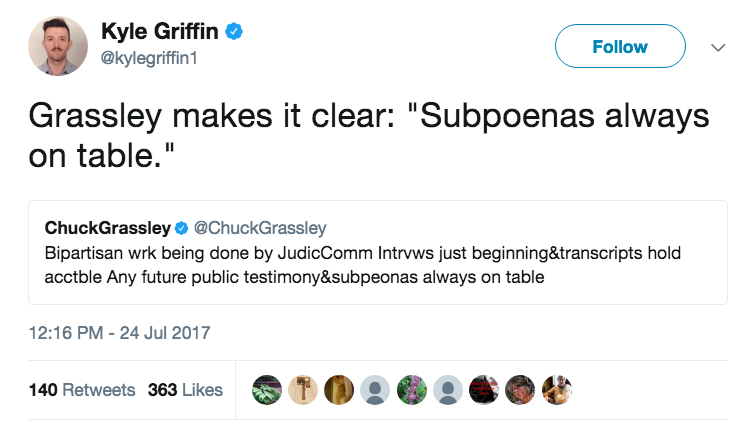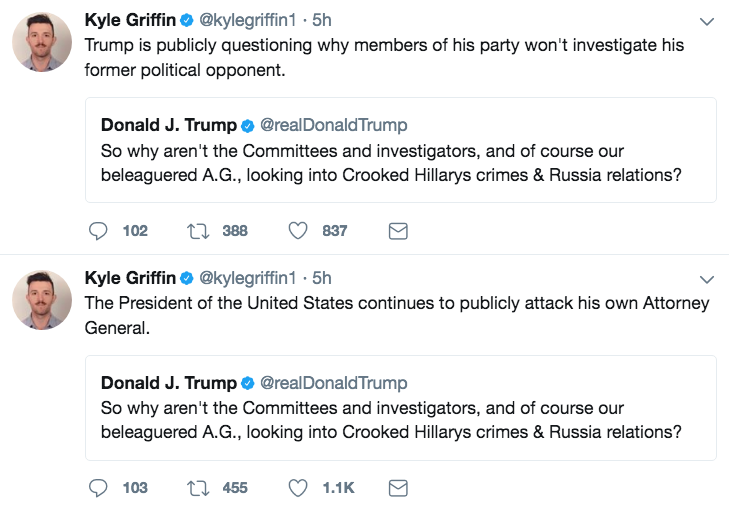 The redundancy of these communiqués has become something of a joke among media circles, and for good reason — we're trying to cut through the dross here, not add to the noise. How does like-harvesting help us stay in the loop or dispel toxic untruths?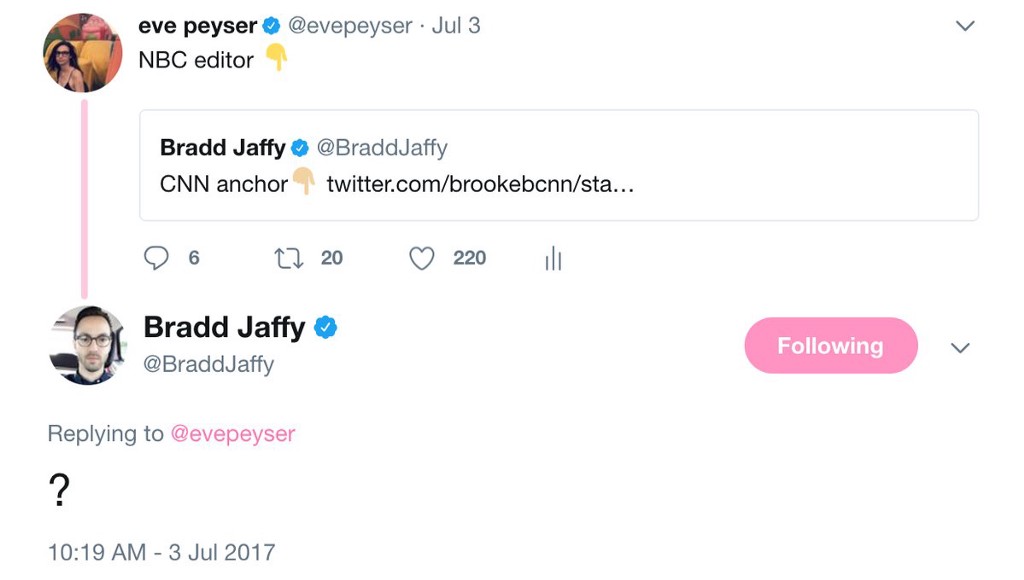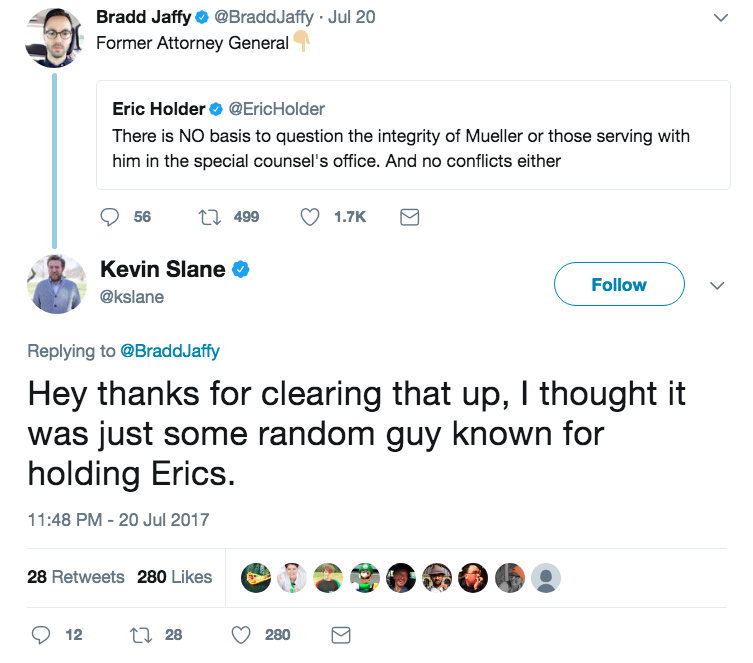 A different breed of thirsters, meanwhile, stalk the president's mentions, either applauding or rebutting his lies. Jules Suzaltsev, a video journalist and producer who maintains that he is "not political," tells me that his follower count has ballooned to more than 30,000 (from the 5,000–10,000 range) since he started directly replying to some of Trump's most outrageous claims. He's also racked up 12,000 likes on screenshots that imply Trump blocked him for suggesting he spend more time with his youngest son, Barron.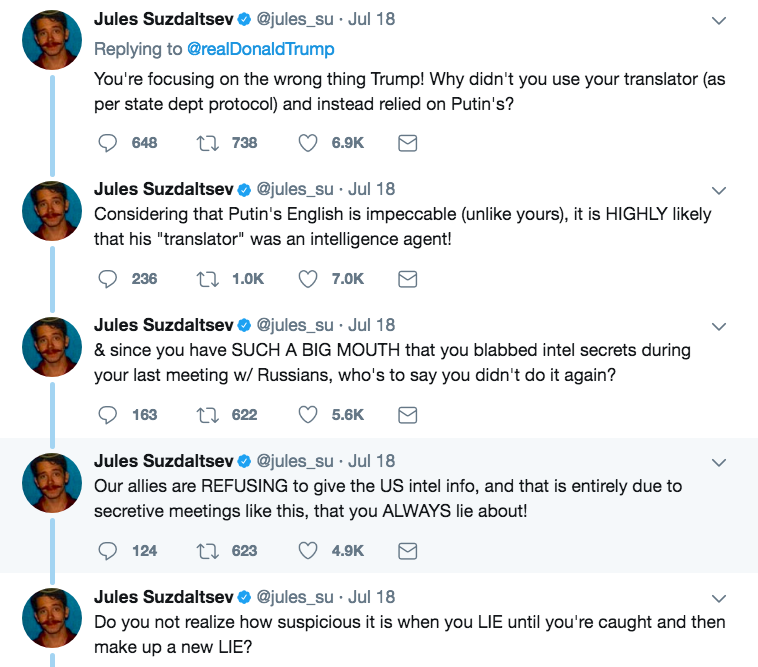 Suzdaltsev has even tweeted about his method for getting around the Trump block: Instead of going directly to the president's timeline, he finds the tweets in search mode.
"I just reply whenever I catch a tweet that contains a particularly ridiculous claim that I can quickly think of a biting response to," Suzaltsev says. "My main goal is to promote political discourse, which I see in my @ replies every time I tweet. Positive, negative, unrelated, irrational — all of it's great for the political process. Which is why it's almost ironic that Trump is dead-set on preventing political discourse that doesn't favor him."
I see where he's coming from, but when I refer to the Trump Twitter Vortex as "discourse," I'm being sarcastic. For years we were warned never to read the comments, but then the comments conquered the White House. The trolls took the election, and now guys like Suzaltsev are wading into their world for digital back-slaps from the rest of The Resistance. Even congressional representatives like Maxine Waters and Ted Lieu are competing to see who can dunk hardest on this administration and reap millennial support for their burns. Because while aligning oneself against our current commander-in-chief is to invite abuse, it also gets you way more social capital.
Pro-Trump repliers like Jacob Wohl, a 19-year-old who claims to have run hedge funds since he was in high school but has routinely run afoul of financial regulators, have more trouble cracking the 1,000-like threshold with their uncritical boosterism.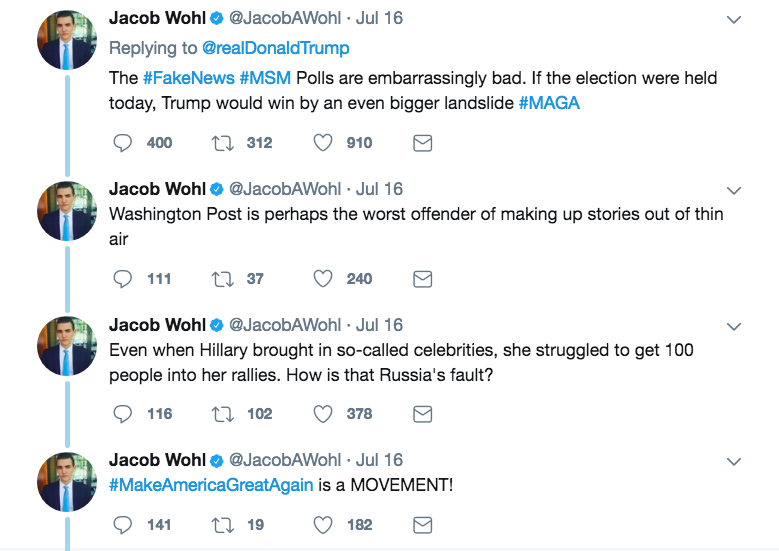 Wohl received the ultimate honor earlier this month — a retweet from Trump himself. Both his profile and his professional website feature a picture of him posing with the president. This is all curated to create the impression of a friendship, and Wohl believes that proximity to Trump is good for his own image and career. "In terms of whether or not it helps me," Wohl tells me in a Twitter DM, I know that it certainly can't hurt." As far as his role in aiding Trump's agenda, he says: "My objective is to point out all the positive to people who other wise might not see it, and bring them into the tent."
"President Trump's tweets are the biggest, brightest billboard in the world," he adds. "I see replying to Trump's tweets as a way to spread the truth on that billboard. In terms of my 'relationship' with the administration, I would describe it as a good one." But he demurs when I ask if this engagement has attracted more followers. "Hard to say. I know that I receive a lot of attention via my replies, in terms of impressions."
It's a comment that underscores where we're at: Accruing fake political points and commanding notice in the endless pie-fight of a real-time microblogging platform is the prime validation in 2017. It doesn't matter what you've achieved, where you're from or where you're going, how you look or why you're online in the first place. What counts is whether you can forcefully insert yourself into the center of the fray, so that you look almost as important and influential as the people in power.
To actually help your side with protest or campaign donations — or by fighting to get the facts out — is comparatively hard, invisible work. It takes a measure of selflessness. And you don't get likes for that.