On Saturday, HBO premieres Tina, a documentary that promises to deliver "an unvarnished and dynamic account of the life and career of music icon Tina Turner." Certainly, there's a lot to cover: Starting in the late 1950s, the singer was a fairly consistent chart presence for decades, first with her husband Ike Turner and then as a solo force in the early 1980s with the Grammy-winning, quintuple-platinum Private Dancer. She's one of pop and rock's greatest vocalists, but in our modern era, in which domestic abuse is treated with more seriousness, her story of survival — she's been open for years about the brutal treatment she endured at the hands of Ike — is just as relevant. I haven't seen Tina yet, but I'm especially interested in its exploration, according to a press release, of how she "struggled with the survivor narrative that meant her past was never fully behind her."
That struggle began, in some ways, with the triumph of Private Dancer, the 1984 record that featured three Top 10 singles, including "What's Love Got to Do With It," which went to No. 1. Hailed as her comeback, Private Dancer was also viewed in some quarters as her official professional emancipation from Ike. True, they'd been divorced since the late 1970s, but her solo career had sputtered afterward: Private Dancer (which was also beloved by critics) proved definitively to any doubters that she didn't need him to be a star. 
But one of her biggest smashes of that era wasn't found on that record. In fact, it might be a bit overlooked today, although it was always a staple of her live shows. Nonetheless, the story behind "We Don't Need Another Hero (Thunderdome)" speaks to just how revered she was at the time. The song happened because of her casting in a big action movie, playing a part that had been written specifically for her. Most soundtrack hits have a brief shelf life, destined (and cursed) to be attached to the film that inspired them. But, remarkably, "We Don't Need Another Hero (Thunderdome)" has ended up returning to the culture in new ways over time. Aunty Entity lives. 
In the early 1980s, Turner was in her 40s and had become a Vegas act, long before such a thing had cachet with younger audiences thanks to recent successful residencies from the likes of Britney Spears and others. After leaving Ike — and the string of successful singles they'd had together, like "Proud Mary" and "Nutbush City Limits" — she'd had to not only rebuild her career but her life. "I had nothing. I didn't even know how to get money," she told Rolling Stone in 1986 about walking out on her abuser. "I had a girl working for me who had worked for Ike, because she knew about ways of getting money. I didn't know how to do any of that stuff. Ike didn't think I'd be able to find a house, but I did." 
But it wasn't until 1982, when she recorded a cover of "Ball of Confusion," which became a hit overseas, that she started to regain her commercial footing. Following "Ball of Confusion" with a rendition of "Let's Stay Together," she landed her first Top 40 hit in the U.S. in a decade — and her first without Ike. Now armed with a record contract from Capitol, she quickly went to work, choosing choice covers ("I Can't Stand the Rain") and working with songwriters who gave her indelible originals that spoke to her desire to break free of her difficult past ("What's Love Got to Do With It," "Better Be Good to Me," "I Might Have Been Queen"). "I don't want to depend on a man to give me money," she said in that Rolling Stone interview. "I don't want to be afraid anymore. I used to think I had to get married to help me get the things I wanted in life. When I realized I could get those things for myself, by myself, I began to like that feeling."
As part of her desire to be independent, she was also interested in doing a little acting. She'd been in some movies in the 1970s — musicals like Tommy and Sgt. Pepper's Lonely Hearts Club Band — but Turner wanted to branch out into roles that required her to do more than sing. And she was forthright about it, once saying, "My dream has always been to act. I intend to become a popular and professional actress during this next stage of the rest of my life."
If things had been different, that first major role could have been in The Color Purple. Steven Spielberg had approached her to be in the film, which was going to his first drama after a string of crowd-pleasing blockbusters, but she couldn't bring herself to be involved with a story of abuse, no matter how acclaimed Alice Walker's novel had been. "It was too close to my personal life," she later admitted. "I had just left such a life, and it was too soon to be reminded of [it]. … Acting for me, I need something else. I don't need to do what I've just stepped out of. It was exciting and flattering I was asked by Mr. Spielberg, but it was the wrong movie for me at that time."
But because she passed on The Color Purple, she instead got the opportunity to do something else — and something very different. In Australia, George Miller was working on the script for what would be Mad Max Beyond Thunderdome, the third installment in the Road Warrior franchise. The first two films had been relatively male-centric, led by Mel Gibson's stoic lead performance, but for this new movie, Miller wanted a female villain — although not a clichéd bad guy.
"We have a saying that today's tyrant is yesterday's hero," Miller said in a Time Out interview from late 1985. "And if you really look at the rhythm of the way things are, that's often the case. You have political heroes, for instance … but if you go back to the classical sense, the definition of a hero, as far as we can decide, is that they're the agents of evolution. They are the characters by which the world changes to a new order, usually for the better."
His vision for Thunderdome's nemesis, Aunty Entity, was that the formidable ruler of Bartertown, where Max ends up finding himself, was an idealist who had lost the plot along the way and turned evil. She didn't see herself as the villain. Miller and co-writer Terry Hayes had pictured Turner in the role, although they didn't know if she even had any desire to act. "We wanted to have the sense that before [Entity] built Bartertown, she was a genuine hero," Miller said in that same interview, later adding, "One of the main reasons we cast Tina Turner is that she's perceived as being a fairly positive persona. You don't think of Tina Turner as someone dark. You think of the core of Tina Turner being basically a positive thing. And that's what we wanted. We felt that she might be more tragic in that sense."
This was during a period when pop stars were trying their hand at movies. (Who can forget Sting and his weird Speedo in Dune?) But if Turner had resisted putting herself through the anguish of The Color People, it made sense why she'd jump at playing Entity, who creates a settlement for survivors of Earth's nuclear holocaust. In an interview at the time, Turner remarked, "What she had to go through, when all was lost, to get those men to build that town and respect her, she could not be anything else but very strong. So I could definitely relate to her life."
When Turner signed up for Mad Max Beyond Thunderdome, Private Dancer hadn't come out yet, but the album started making waves while filming was going on. And although there are elements of Thunderdome that are over-the-top — including Turner's performance — the film, which opened in the summer of 1985, only further burnished her comeback. By then, she'd won three Grammys, including Record of the Year for "What's Love Got to Do With It," Private Dancer had sent multiple singles onto the charts and she'd been involved in the star-studded "We Are the World." The hot streak would only continue with the film and its accompanying song, "We Don't Need Another Hero (Thunderdome)."
"After Private Dancer, the record company said, 'Oh well, let's have another album,'" Miller recalled to Time Out, "and very wisely Tina and her manager said, 'Oh, that's a mistake, let's wait and get some really good songs. Wait till next year, and let's collect some great songs.' So the feeling was, let's tag something to the movie, and instead of coming out with one song, they came up with two, so we put two songs in the movie and the credits."
The other song, the rocking "One of the Living," was also a Top 20 hit. But "We Don't Need Another Hero (Thunderdome)" was the real sensation, peaking at No. 2 and spawning a memorable video. Like the Private Dancer material, "Hero" was written by others — specifically, Terry Britten and Graham Lyle, who'd also penned "What's Love Got to Do with It" — while drawing from Thunderdome's themes and imagery. In keeping with the film's bleak landscape, the song seemed to be set in a post-apocalyptic hellscape in which humanity was trying to rebuild:
Out of the ruins
Out from the wreckage
Can't make the same mistake this time
We are the children
The last generation
We are the ones they left behind
And I wonder when we are ever gonna change
Living under the fear
Until nothing else remains 
Private Dancer had deftly melded R&B and pop, incorporating rock and new wave influences, and "We Don't Need Another Hero (Thunderdome)" did the same. (There's even a saxophone solo at one point and, later, a children's choir singing the chorus — a nod to the kid army that helps Max defeat Entity in the movie.) If the muted keyboard opening evoked a similar start to "What's Love Got to Do With It," this song seemed less personal and more political, speaking to an era in which the fear of nuclear war between the U.S. and the Soviet Union prompted a series of protest anthems about the need for peace. But because "We Don't Need Another Hero (Thunderdome)" was attached to an action movie, Turner didn't have to worry about being accused of preachiness. She was just singing the plot of her film.
Looking for something we can rely on
There's gotta be something better out there
Love and compassion
Their day is coming
All else are castles built in the air
And I wonder when we are ever gonna change
Living under the fear until nothing else remains
But, of course, what made the song so huge was its undeniable chorus, which was the perfect combination of cheesy and epic. It's all big chords and pounding drums and Turner belting her lungs out. You may not remember the song well, but you probably know these words: 
We don't need another hero
We don't need to know the way home
All we want is life beyond
Thunderdome
"We Don't Need Another Hero (Thunderdome)" was sci-fi schlock done incredibly well, and the video doubled-down on the dramatics, with Turner wearing her chain-mail outfit from the movie, culminating in some Thunderdome-esque urchins singing the big sweeping finale. (You see, the children are the future.) But the main reason to check out the video is the moment that the saxophonist zooms into frame. It's the best.
The song received Golden Globe and Grammy nominations, but soon Turner focused on the follow-up to Private Dancer, 1986's Break Every Rule. That album also did well, but it wasn't the mammoth success that her previous record had been — and, indeed, she never again matched the heights of Private Dancer commercially or critically. As an actress, she appeared in Last Action Hero and an episode of Ally McBeal, but Thunderdome ended up being her highwater mark on screen. Let there be no doubt she's always been proud of that movie and that song: She retired from touring after her Tina!: 50th Anniversary Tour in 2009, and during those shows, when it was time to play "We Don't Need Another Hero (Thunderdome)," she donned the Entity duds all over again. Not surprisingly, audiences absolutely loved it. 
Thunderdome has a so-so reputation — it's generally considered the weakest of the series — but in Turner's Entity, Miller perhaps started to become open to the idea of how he could expand the franchise. In that Time Out interview from 36 years ago, he talked about the dearth of female action heroes: "If you agree that heroes are the agents of revolution, there have been very few women heroes in society. I don't think there's any reason why there can't be a female version, in fact the Tina Turner [character] in the subtext of Mad Max 3, before the story started, probably followed a very classic hero story — the story of how she built Bartertown would be a very interesting story. And — in the way we discussed her back story, she would pretty well follow the hero story — she would have to. So a short answer is yes, I think there can be a female hero in the same way. How we would respond collectively as audiences, I don't know. I suspect that we would respond very well, if the story was well told."
He'd prove his own thesis with 2015's Mad Max: Fury Road, in which Charlize Theron's Furiosa really is the main character. The movie was an Oscar-winning smash, inspiring a Furiosa prequel starring Anya Taylor-Joy that's set for release in 2023. But the first hint of the franchise's feminist side came from Turner.
In the years since she retired from touring, Turner has only seen her stature grow. Of course, there was the Oscar-nominated 1993 biopic, but more recently she was the subject of the musical Tina, which premiered in the West End in 2018. Katori Hall, who wrote the show, saw her as more than a musical icon. "She is at the forefront of the #MeToo movement," Hall said, "even though her #MeToo was a long time ago."
While I haven't yet seen the HBO documentary, which presumably covers this terrain, in the past Turner has been hesitant to attach her story to the wider movement. "I identify only with my life," she told The New York Times in 2019, later adding, "I don't necessarily want to be a 'strong' person. I had a terrible life. I just kept going. You just keep going, and you hope that something will come."
"We Don't Need Another Hero (Thunderdome)" emerged during one of those creative peaks, and while the song couldn't be more mid-1980s, it has continued to find its way into the culture. Soon after the single's release, the title inspired a work from celebrated conceptual artist Barbara Kruger, who appropriated the idea of "hero" to satirize a stereotypically gendered image of a boy flexing his muscles and a girl looking on in awe. If Turner's song was about self-confidence — believing that a group can work together to solve problems, as opposed to needing some outside hero to save the day — Kruger was even more pointed in her commentary, arguing that society's very notion of the masculine champion who is worshiped for his brawn should be eradicated.
Decades later, the art world continues to use Turner's song as a launching pad for provocative ideas. In 2018, the 10th Berlin Biennale for Contemporary Art was titled "We Don't Need Another Hero," and again, the idea was to deconstruct our fixation on heroes. When Biennale curator Gabi Ngcobo was asked about the significance of the title for the exhibition, she explained, "In South Africa there was a campaign to remove historically problematic statues that represented colonialism and white supremacism. … I was interested in the idea that a statue may disappear, yet the pedestal remains, and the space left behind provides a place to contemplate what might come instead. The title responds to the empty pedestal. It's a question, a provocation and a message to history."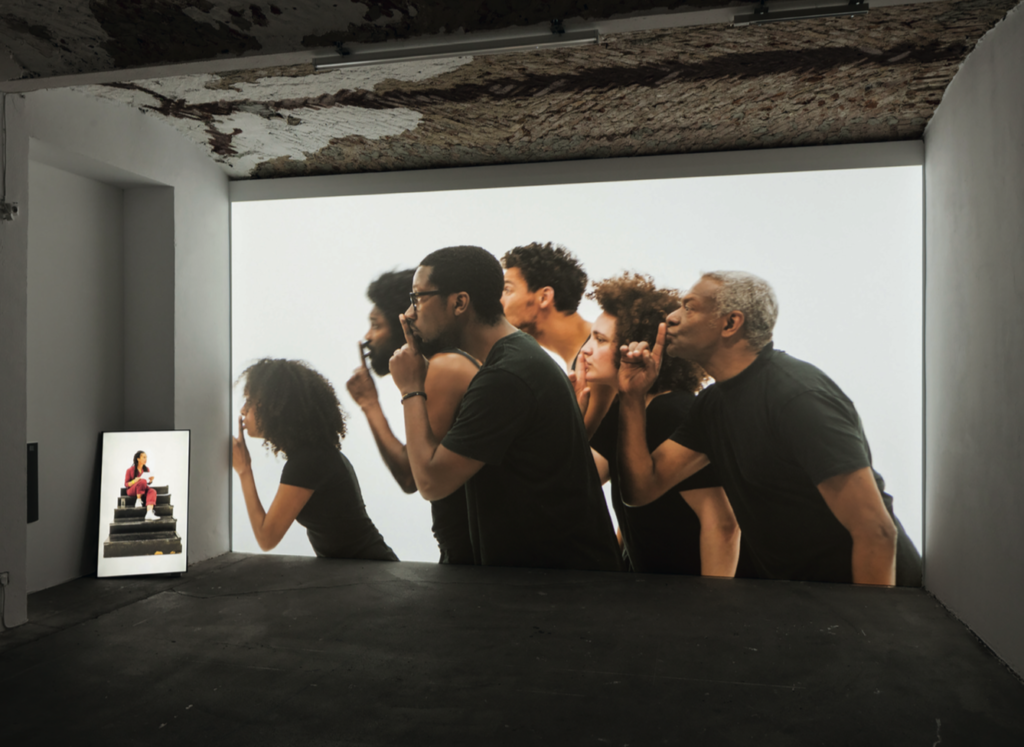 Whether or not Kruger or Ngcobo actually liked the Turner song, their understanding that its popularity struck a psychic chord has helped extend its message to new generations. But it's worth pointing out that, as far as Ngcobo was concerned, "We Don't Need Another Hero (Thunderdome)" wasn't some forgotten '80s relic. "The song seems very relevant to current discussions, it still resonates," she said. "The curatorial team had different relationships to the song. For instance, Thiago de Paula Souza told me that in Brazil the song became an anthem for anarchist groups and self-organization. We may not need more heroes, but what do we need? I have a feeling we know what we don't need, but the question of what we do, I'm not so sure. Each and every context can answer this gap in different ways."
The song's sustained relevance hasn't just been felt in the world of high art, though. Earlier this month, Future Islands unveiled a cover of "We Don't Need Another Hero (Thunderdome)." Sincere and fairly faithful, the Baltimore quartet's version was a little less strident, with vocalist Samuel T. Herring introducing a hint of melancholy in his performance. The song's bombast may have been replaced by a keyboard-heavy arrangement — no kids' chorus or saxophones here — but, nonetheless, it remained pretty stirring.
Is "We Don't Need Another Hero (Thunderdome)" a bit silly? Oh, probably. It's certainly a product of its era. But in retrospect, it also feels like a proud victory lap for an artist who could do no wrong after years of struggle and pain. Tina Turner saw Entity as a powerful figure who created order out of chaos — no wonder she related so strongly to the character. And even though she didn't write "We Don't Need Another Hero (Thunderdome)," it sure feels like it's reflecting her mindset at that moment. You don't need a hero if you're learning how to stand on your own two feet and, as she told The Times, just trying to "keep going, and you hope that something will come." She's been a survivor in more ways than one, and you hear the triumph and resilience in her voice in that song.
Tellingly, in that same Times profile, the author, Amanda Hess, recalled that, in the late 1980s, Turner was enjoying her well-earned success, living in a luxurious French villa. When the singer was profiled by 60 Minutes, Mike Wallace asked her, "Do you feel like you deserve all this?" 
Turner didn't hesitate. "I deserve more," she responded.