This summer will be the 10th anniversary of Jerome Holtzman's death. When I mention this to people who knew him — his colleagues, his coworkers, even his son — they're always taken aback. "It hasn't been 10 years? Is that true?" actor and entrepreneur Jack Merrill says about his father's passing. "I can't believe it's been 10 years." Holtzman, generally considered one of the greatest sportswriters to cover the game of baseball, died July 19, 2008, at the age of 82 from a stroke — a fact confirmed to the New York Times for its obituary by Merrill, who also helped plan his old man's memorial service in Chicago, a city where he was a legend among fans of both the Cubs and the White Sox. "I made a big speech at the service," Merrill remembers. "I made sure that there was some sort of legacy for him."
Similar eulogies came pouring in from former editors and rivals, Holtzman's longevity, love of the game and colorful presence all fondly recalled. He had a nickname — The Dean — and reputation as a kingmaker. (Lewis Grizzard, who worked with him at the Chicago Sun-Times memorably declared, "He never smiled, but he had the keys to Cooperstown. No major leaguer ever got into the Hall of Fame if Holtzman didn't want him there.") Known for his omnipresent suspenders, bushy eyebrows and cigar, Holtzman wrote about baseball for more than 50 years, many of them during the game's supposed golden age, and his 1974 book No Cheering in the Press Box, a collection of interviews with famous sportswriters, is considered a classic.
But what he's best known for, arguably, is his creation in 1959 of the save stat, the first official new baseball statistic since the introduction of the RBI in 1920. (Major League Baseball officially adopted the save in 1969.) By coming up with a metric for recognizing the important contribution of closers — baseball's so-called "firemen" whose job it is to nail down the win at the end of the game — Holtzman brought cachet to the position, helping make pitchers like Bruce Sutter and Mariano Rivera stars. It also propelled them into the Baseball Hall of Fame, the most exclusive enshrinement of the four major North American sports. When Trevor Hoffman is inducted on July 29, he'll be only the sixth pure reliever to ever enter the Hall — he probably won't thank Holtzman from the podium, but he should. Without Holtzman, guys like Hoffman wouldn't have a stat to hold up as proof that they were actually good at what they did.
That's an impressive legacy for a sportswriter who was also baseball's first official historian, not to mention the winner of multiple writing awards. And yet, in the decade since Holtzman's passing, there's been pushback from younger writers about his contributions to the game he loved. Specifically, it's a resistance to the save stat, which (like many seemingly sacrosanct elements of baseball) have been called into question thanks to the rise of sabermetrics (i.e., the Moneyball Effect).
Those feelings were articulated most compellingly by former scout and ESPN senior writer Keith Law in his 2017 book Smart Baseball, whose subtitle includes the provocative phrase "The Story Behind the Old Stats That Are Ruining the Game." One of those stats is the save, to which Law devotes a chapter entitled "Holtzman's Folly." In it, Law explains the mistakes managers make by strategizing to the stat — i.e. reserving a closer for a save situation rather than utilizing him for when the game might really be on the line, which could be several innings earlier. On a more philosophical level, though, Law also objects to the lionization of old-school sportswriters like Holtzman. "In an era without any alternative voices — every baseball writer was a white man who wrote for a local newspaper or one of the very small number of national sports publications — Holtzman's views went unchallenged," Law observes, calling Holtzman's reputation as a Cooperstown gatekeeper "an absolutely horrifying prospect of hubris and power concentrated in one individual."
Law's not alone in believing that the save stat — among other statistics — should be brushed aside. MLB Network's Brian Kenny and MLB.com columnists Joe Posnanski and Phil Rogers have argued that we're overvaluing the save and not letting the logic of a particular game-time situation dictate a manager's decision of when to go to the bullpen. And their numbers are growing in the big-league ranks: The 2016 World Series between the Cubs and the Cleveland Indians featured several moments when the teams' closer came in before the ninth inning, a rebuke to the conventional wisdom regarding the importance of the save.
But unlike ancient statistics such as batting average or a pitcher's win, the save has a human being attached to it — someone from our lifetime, as opposed to an amorphous, mysterious entity from the irretrievable past. As a result, it's hard not to see the debate around the save as also a referendum on Holtzman himself — particularly for younger baseball fans who weren't around when Holtzman was a revered figure in the press box.
So it's worth asking: Who was Jerome Holtzman?
Putting aside the hosannas, the résumé and the argument about the worthiness of the save, who was he as a person, a colleague and/or a father?
Not surprisingly, it depends on who you ask.


Law is in Nashville doing some scouting as part of his work for ESPN. Since Smart Baseball came out almost exactly a year ago, he's had to defend plenty of his views on how advanced statistics need to be embraced in baseball — and why arcane stats like batting average, RBIs and fielding percentage need to be junked. As part of those debates, his takedown of Holtzman has drawn ire. But Law is used to it — he's been railing against Holtzman and the save for years. "I've had a couple of writers who knew Holtzman speak in his defense and/or criticize me," he tells me. "They think it's me being too personal in my attack on Holtzman's legacy. But I am questioning the guy's legacy and saying, 'He's not what you thought he was — he shouldn't be held up in a way that we hold him up. What people consider his greatest contribution isn't that great after all.'"
"I couldn't tell you that he did something awful or that he was a racist," Law continues. "I just don't have a lot of respect for the guy's work. The fact that he was held up for a long time as some paragon of baseball thinking makes me more strident in saying, 'No, stop putting this guy on the pedestal.'"
Closer to Holtzman's death, Law's views were much more outside the baseball mainstream. But as sabermetrics have come to dominate the game's thinking, "the industry gets it now," he says. "They all think the save stat is stupid, and there are enough people on the media side now who recognize that it's stupid. People who want to defend Holtzman's legacy, especially around the save stat, are going to be a little more quiet about it [now], because suddenly they realize they might be outnumbered."
Like most aware of Holtzman's legacy, Law is familiar with the impetus for creating a save stat. In the years before Curt Flood helped pave the way for free agency, baseball players were woefully underpaid, with even major stars of the era having to work jobs in the offseason to support their families. In such a climate, starting pitchers (whose worth was validated by their win totals) were far better compensated then relievers. Holtzman's stat helped level that playing field by giving closers a metric by which to demonstrate their value. As Law points out though, "Instead, what we got was a three-tier system. Starters were well-compensated, and then relievers were well-compensated or highly valued in trades. But then there were the non-save relievers — non-closer relievers — who ended up as the underclass in terms of compensation and how they were valued. Even if they pitched just as well as the closers did, they weren't valued by the market correctly until the last 10 years."
Law is certainly sympathetic to how a man like Holtzman can't help but be a product of his specific environment and era. But he insists that we need to reassess Holtzman's contribution to the game, including his influence on who got into the Hall of Fame. "His way of thinking about players was the old way of thinking about players," Law says. "Batting average, RBIs — if a pitcher doesn't get 300 wins, you probably weren't Hall-of-Fame [worthy]. I won't [expect] a guy of his [era] to suddenly become a sabermetric advocate. But [73-year-old sportswriter] Peter Gammons has done that late in his career, which is one of the things that makes Gammons great: The sport changed, and Gammons changed with it."
"I'm not going to kill Holtzman for not making that shift," Law adds. "But the fact is, his way of thinking was just wrong."


George Langford is, as he puts it, "a guy closing in on his 80s." While he's retired and living in Florida, he still remembers his years competing with Holtzman for scoops and then, later, hiring him when he was the sports editor at the Chicago Tribune, luring Holtzman away from the rival Sun-Times where he'd worked for years. "He just beat my brains out over my career," says Langford, chuckling. "He just kicked my butt. I mean, I'd pick up the Sun-Times, and there was always another scoop. I'd say, 'How'd he do that?'"
The answer wasn't all that mysterious. "He would go where other reporters didn't go," says Langford. "His first stop was always the umpires' room. The umpires were gossipy guys — they were full of information back then in the 1960s and 1970s, and they didn't mind sharing. Nobody else went in there; he had them all to himself. Also, instead of sitting in the press box, a lot of times he would sit with the scouts behind home plate and learn all kinds of stuff."
Holtzman was a presence among journalists, starting out at the Daily News (which later was absorbed by the Sun-Times) in 1957 as a 17-year-old copyboy. "He had a bearing in the press box," remembers Langford, "and he had the respect of everybody that was there. Plus, he had a personality that was engaging. He could walk up to any stranger, start a conversation and they'd leave saying, 'Gee whiz, who was that?' He was good at that."
Langford was competing with Holtzman around the time that beloved Hall of Fame Cubs outfielder Billy Williams gave Holtzman his nickname. ("I started calling him 'the Dean' because he was the senior writer," Williams would later say. "We talked baseball all the time. Players didn't hesitate to give Jerome a story, because they knew he was always fair.") "I was disgusted," Langford says, laughing. "'Are [the rest of us] chopped liver or something?' Which we were. He was totally deserving of that [nickname]. The players really liked him, but they were deferential to him. They realized if Jerome had enough goods on somebody, it might be in the paper tomorrow."
When Langford got promoted to Tribune's sports editor in 1981, "the first thing I did was call Jerome. I said, 'Jerome, we need a baseball writer, would you come over?' And he said, 'Yeah.'"
Since retirement, Langford hasn't paid much attention to baseball — truth be told, he was always more of a hockey guy — but he kept in touch with Holtzman until the end. "We saw each other a lot," adding with a chuckle, "I think he wanted to keep me alive. When I retired from the paper, he wrote a piece about me, and it was really sweet. We were always connecting one way or the other. We stayed in touch until he got sick. I tried to keep up with him the best I could."


David Fletcher speaks to me by cellphone while driving. He's a doctor in Central Illinois who runs the Chicago Baseball Museum, which, according to its website, "will collect, preserve, document, research and interpret artifacts and events that are associated with the legacy, evolution and contemporary life of Chicago baseball." The museum is still trying to get off the ground, but Fletcher is confident it'll happen — in part because he's the owner of an invaluable resource.
"When we started the baseball museum project," Fletcher tells me, "one of our board members, who has since died, knew Jerome. Jerome was looking to move his personal papers and book collection. He didn't want it to go to Cooperstown — he wanted it to stay in Chicago because he was a Chicago guy." Fletcher describes what he calls "a two-year romance" to convince Holtzman to turn over his library to him. "We hit it off because of my knowledge of Chicago baseball history — plus, I was both a Sox and a Cubs fan, and he was as well. Chicago baseball was his passion."
As the New York Times mentioned in Holtzman's obituary, Fletcher's group purchased the collection — "some 4,000 volumes, along with his meticulously catalogued collection of documents, articles and other papers" — for $300,000. "He wanted to get some money for it," Fletcher says. "I don't know if Cooperstown was going to pay him for his collection."
That collection currently resides at Fletcher's home, a shrine to Holtzman's work. "I thought right at the time of the sale that MLB would come in and say, 'You've got too much confidential stuff [because of his work as baseball's official historian].' But there was [only] one box that we had to give back." When asked what sold Holtzman on teaming up with Fletcher, the doctor says, "I think that he felt that I was somebody that understood what his life's work was about."
Obviously then, Fletcher has spent a lot of time thinking about the save stat. "I talked hours and hours of baseball with him, about how the save got started," Fletcher says. The idea first popped into Holtzman's head because he was annoyed — specifically, at Pittsburgh Pirates right-hander Roy Face, a reliever who, in 1959, amassed a seemingly amazing record of 18–1. In a sense, Holtzman was a trailblazer for baseball's modern-day, sabermetric-focused observers, who discount the win as a rather arbitrary stat that can largely depend on a lot of circumstances outside of the pitcher's control. "Jerome would say, 'Well, Roy blew all these saves — he wasn't that effective. He won because the team came back after he blew the game.'"
In Fletcher's notes from conversations he had with Holtzman in 2007 and 2008, the sportswriter explained that his inspiration to develop the save stat also was a product of following the Cubs on a day-to-day basis. "The Cubs had two relief pitchers, right-hander Don Elston and left-hander Bill Henry," Fletcher's notes read. "They were constantly protecting leads, and no one even knew about it. … I thought it wasn't fair and that there should be some kind of index for the effectiveness of a relief pitcher. You couldn't judge him by his victories. You couldn't judge him by his earned run average because it should be lower than everybody else's. A lot of the runs he gives up are charged to the preceding pitcher. So I came up with the save rule, and obviously it's caught on."
Because Fletcher wanted to curate and protect Holtzman's legacy, he's aware of the brewing pushback against the save — a desire to discard a misleading stat in the same way Holtzman was infuriated by all of Face's dubious "wins." But he's not concerned that Holtzman's reputation is in danger because of that recent revisionism. "I don't need to defend [the save stat]," he says. "It's still a very valuable measure. Even though I believe I understand the basis behind sabermetrics, I still believe that there's also the element of manager's intuition and stuff like that. I still think the save is a basic statistic that most fans can relate to. As a huge baseball fan, I'm turned off by all these various statistics. It's overwhelming when you start getting into WHIP and slash lines. It makes it so complicated. I think it turns off the average fan. That's my opinion."
Near the end of Holtzman's life, the writer and the doctor spent a lot of time together — too much, according to Holtzman's wife, Marilyn, whom he married in 1949, who was worried about his health. "It was providing joy for him," Fletcher says of their visits. "He was obviously older but still that [cigar-chomping] figure. He had a lot of pride about himself. He had his little typewriter." They had talked about maybe revising No Cheering in the Press Box, possibly devoting a chapter on Holtzman to complement all the other giants he had interviewed years earlier. If Holtzman was aware of the criticism of his famous stat, Fletcher says it didn't seem to faze him — the two men discussed other things, including the seriousness with which he took his annual Hall of Fame vote.
"That was one thing he constantly talked to me about," Fletcher says. "'I'm never going to vote for Mark McGwire'" — one of baseball's greatest home-run hitters but also a confessed steroid user. "Steroids was a very huge thing for him. He did feel like he was a kingmaker for Cooperstown — he was on the Veterans Committee for a while. He was pissed off that [Cubs and White Sox third baseman Ron] Santo didn't get in." (Santo died in 2010 and was elected posthumously in 2012.)
Fletcher remains hopeful that a brick-and-mortar museum can get financed. In the meantime, Holtzman's library sits at his house. "I have to find a group like SABR to preserve it," he says. "It needs to be cataloged. I have a list of all the books, but his notes and letters are incredible. It's his personal papers collection, so I take it very serious. I'm protective."


Jack Merrill, 58, works in Venice, California. His father is Jerome Holtzman, a fact that rarely comes up when he auditions for acting roles or oversees his latest project, Newscrack, a website and app "that aggregates and organizes all the news the web has to offer." Occasionally, people like me will interview him to ask about what it was like to have Holtzman as a dad. "It's usually 'How did this affect me?' and 'How did I see it as a kid?'"
The first thing I ask him is if he's a baseball fan. "I mean, I'm not not," he responds. "You have two choices when you grow up like I grew up: You either go work for baseball or you don't. I used to say as a kid I was marinated in it. [My dad's job] garnered a great deal of attention as a child, to our family, particularly in Chicago. In some ways, I didn't mind that, but my sisters didn't always like it. My mother didn't always like it either. But I did have a sense that my dad had a different job than everybody else's — that was extremely clear. His picture was in the paper every day, and his face was on news trucks."
Merrill played some sports as a boy, but he just wasn't that interested. And it wasn't an activity Holtzman pushed on him. "The funny thing is, he never engaged me in sports," says Merrill. "As I got older, I wondered why, but he was busy. He was sorta gone. I mean, I didn't have a dad who threw a ball with me, which is ironic."
Acting was something Merrill gravitated to — although he didn't discuss it with Holtzman. "If you talk to anyone around my age whose father was involved with professional sports, they didn't have close relationships with them." In Merrill's mind, that lack of closeness was exacerbated by the period, in which fathers were better known for being emotionally withdrawn and stoic. "It was, 'Go do your thing,'" Merrill says. "It's a rugged individualist [mindset], which was fine with me. I mean, growing up, I was fine with it, but looking back… I just grew up a certain way, let's just say that. I wouldn't say me and my dad sat down and had heart-to-hearts about anything."
But if his dad was often absent in his life, there were perks, like the day Merrill brought Cubs great Ernie Banks to his school for show-and-tell. There also were trips to sunny Scottsdale for Spring Training when Chicago was typically frigid. "That was a very pleasant thing. And I was aware that my dad had a particular job that other men seemed envious of. People would always say, 'Oh, your father's got the job,' to me a whole lot growing up. These were my friends' parents — to go and watch a baseball game and then write about it is clearly a dream for a lot of people."
Merrill was born Merrill Holtzman, but he changed it 25 years ago — not because he was wanted to distance himself from his father, but because he just wanted to. "I thought, 'Who cares?' I want my own name."
His first film credit, ironically, was in a baseball film, John Sayles' Eight Men Out, and he's appeared on Law & Order and Sex in the City. Currently, he's doing a play in Santa Monica that's he quite proud of, The Alamo. But he's focused a lot of his energy on Newscrack, which was born out of his family's background. "I always grew up with the idea that, you know, there's no cheering in the press box — literally," says Merrill, a nod to his father's book, whose title references the old maxim that sportswriters should be objective about the games they cover. "You reported the game, and editorials took place on the editorials page, and that was that. Then, about 20 years ago, I started watching Fox News. I thought, 'This is against everything I grew up with.' I mean, we knew that the New York Times leaned left. We knew that the Chicago Tribune leaned right. But the whole organization didn't tilt the way that Fox News started tilting."
Merrill will forever be grateful to his old man for ensuring that his children would have a better life than he had as a kid. "I always definitely appreciated my father's career for where it landed us, and he was proud of that too," says Merrill, who grew up in a comfortable neighborhood in Evanston, Illinois. By comparison, Holtzman grew up an orphan, living on the far-from-affluent west side of Chicago during the Depression. "I thought it was terrific," the sportswriter once said of his upbringing. "The building was about a half-block square, and there was a ball field beside it, and we had ice cream every Friday night. My wife, Marilyn, says there has to be something wrong with someone who liked an orphanage."
Because he doesn't follow baseball, Merrill is aware of the rise of sabermetrics, but he's not all that keyed into the debate surrounding the save. "Statistics in sports, math in general, is something that isn't a talent of mine. There's definitely a randomness to things, and human beings are always trying to make order of things. But I'm not that interested in it."
Merrill also doesn't feel any urgency to defend his father's legacy as the save rule is called into question. "He recognized something that wasn't in existence," he says. "Now, whether that changes over time with better understanding or a different understanding or different interpretation, that's life. It doesn't take away from [the fact] that he first recognized that people were going uncredited. That doesn't change anything. But it wouldn't surprise me if there was some sort of reinvention of it."
That said: "It would've been nice if we had a residual attached to that [statistic]," he laughs. "We could have had a little chunk of relief pitchers' salary." I joke that they could have been like a manager or agent, getting five or 10 percent of all those earnings. "Oh yeah, even .001 percent, that'd be fine," he responds. "I'm not greedy."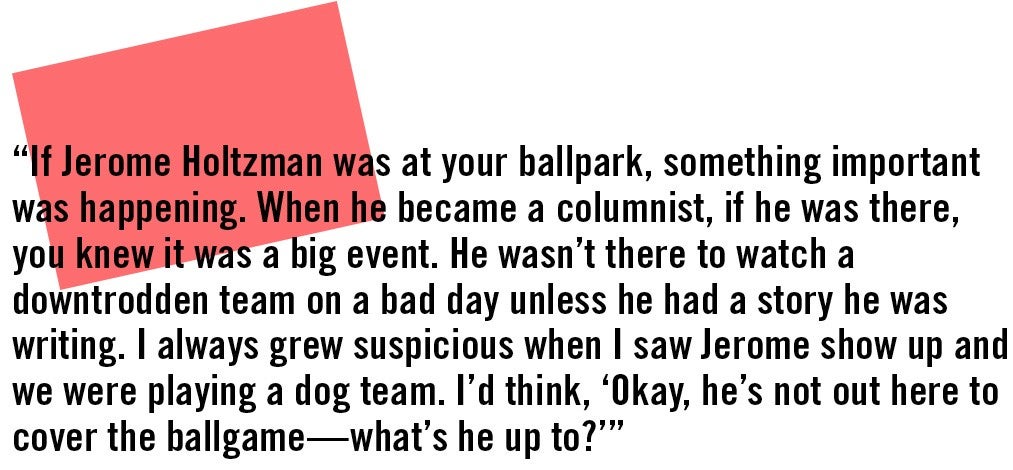 Bob Ibach runs Ibach & Associates, a media relations and sports marketing company, out of Deerfield, about 25 miles north of Chicago. Ibach got to know Holtzman in several different capacities. Starting in the 1970s, he was a newspaperman for the Washington Post and the Baltimore Evening Sun. Then, in the early 1980s, he became the director of public relations for the Cubs.
"When the Orioles were playing the White Sox, I'd always see Jerome in the press box," Ibach says. "I loved No Cheering in the Press Box — it was one of my favorite books." That fondness ran deeper than just admiration for a rival beat writer, though: Holtzman reminded him of his grandfather, who he called Pop. "They looked identical," he tells me. "They had the same bushy eyebrows. Jerome to me was a throwback to some of the great sportswriters back in the 1920s, 1930s and 1940s. He was an old-time guy and always had the suspenders and that grandfatherly look."
Unlike Pop, however, Holtzman was well-connected, which made it hell on his fellow writers or those trying to corral him. "He had so many contacts as a baseball man during the 1970s when I had to compete against him. So I knew what I was up against when I became PR director [for the Cubs]. [Former Cubs general manager] Dallas [Green] used to ask, 'Can you keep Jerome under control?' I said, 'He's got contacts, Dallas — you don't even know where they're buried. If there's a story to be had, he knows exactly where to sniff it out.'"
Like several of the people I interviewed about Holtzman, Ibach is taken to telling stories — sometimes about Holtzman, but other times just about growing up loving baseball. It's all part of the same continuum — a romanticism for the game and the people involved in it. "I grew up in an era in the 1950s reading the newspapers in New York City — the New York Daily News and the New York Post and so forth. First thing that I'd do, rather than get a donut, I'd flop down a nickel to get the newspaper because I wanted to read the box scores." When he became a beat reporter, he'd get a thrill out of occasionally riding the train from Baltimore to New York, largely because train travel used to be the primary mode of transportation for the teams and the media.
"Jerome used to tell me how they traveled on the trains," Ibach says. "You didn't have teams out in L.A. — the furthest West Coast team was in Kansas City in those days, it was a different time. You were on a train for a long period of time — you got to know the ballplayers. One of the things he always said: 'They trusted us not to report things that were going on behind the scenes back in those days because you were around them. These guys were bringing a broad in this town or whatever — you looked the other way.' It wasn't something that you'd put in the newspaper unless it was affecting their game, and then you might get around it a different way."
"Today, everything is about sensationalism," says Ibach. "Everything between Twitter and Facebook and all of the platforms that you have out there — it's 24/7, and it becomes more about, 'What can we do now to bring this person down off his pedestal as an athlete?'"
As for Holtzman himself: "He wasn't somebody who was a cut-up — he wasn't funny," remembers Ibach. "He was a good listener. He could ask tough questions, and he would listen to get the answers. He didn't go into a lot of talking to get somebody to open up, but he also could hold a good conversation. He was more of a presence."
"One of the things I regret the most — and I just thought about this — I have a copy of No Cheering in the Press Box," Ibach adds. "I can't tell you how many times I wanted to get Jerome to autograph it. I'd say, 'Jerry, I gotta bring your book by.' And he was happy [to sign it], but I never, ever got it autographed, and I don't know why. It was a hesitancy on my part…"
He gives this some thought. "I can't explain it… It wasn't that I didn't want his autograph in the book. Maybe it's because I held him in such high regard that it was that hesitancy to ask him for an autograph. I actually had the book in my hand once and was going to bring it over. But for some reason I didn't — I left it in the car."


George Castle has been a journalist for more than four decades, writing about Chicago baseball for daily newspapers and in many of the 17 books he's authored. He spent a lot of time with Holtzman, and unlike many of the people I spoke with, he's not shy about demystifying him. "He was an elitist," Castle says near the beginning of our conversation. "He was a revolutionary in terms of advocating the save, which was a major transformation of baseball to a bullpen-centric game. But he was an elitist and traditional in many other respects." Later, he'll refer to Holtzman as "a meat-and-potatoes writer. I remember him having a few catchphrases, like 'a doff of the chapeau' and 'He's a good man to know on a long day's march.' But he wasn't a stylist."
From Castle's perspective, Holtzman — an influential voice in the Baseball Writers' Association of America, whose members (among other things) vote for the Baseball Hall of Fame, hand out annual awards such as MVP and receive access to all MLB events — was part of the organization's close-minded contingent that was disinclined to change its rules. To back up his case, Castle mentions an incident in the early 1970s when the first female BBWAA member, Lynda Morstadt, covered the White Sox but wasn't permitted by team executives to enter the press box in old Comiskey Park. "Jerome Holtzman, then the chapter chairman of the BBWAA, put it to a vote [of the press-box writers] rather than just unequivocally backing Morstadt," Castle says. "The vote was a 2-to-2 tie. I think eventually Holtzman admitted her."
In his book Jerome Holtzman on Baseball, which was published in 2005, Holtzman writes about this incident: "I don't remember why, but there was a movement to put her in with the big boys. I was the chapter chairman and decided the four beat writers take a vote. It was a 2–2 tie. The macho Stu Holcomb … was then the executive vice president of the White Sox. 'I'm breaking the tie,' he announced. 'I vote against her.' I told Holcomb he didn't have a vote. The writers, not the ball club, controlled the press box. He was so angry we didn't speak for almost two years. But he did keep her out of the clubhouse."
Yet as much as Castle criticizes Holtzman — while insisting that he's not criticizing him personally — you sense some admiration, too. "He was tough," says Castle, an avid baseball historian. "He was a World War II Marine — he grew up in the rough-and-tumble Jewish west side, which was the biggest Jewish neighborhood pre-war. His toughness was sharpened by being a Marine. After the war, when he came back [to the Daily News], he came up the hard way, biding his time, did a good job as a high-school sports writer and was promoted as a reward for a job well done. In 1957, if you [became] a baseball beat writer, it was like the Supreme Court — you held that job for life."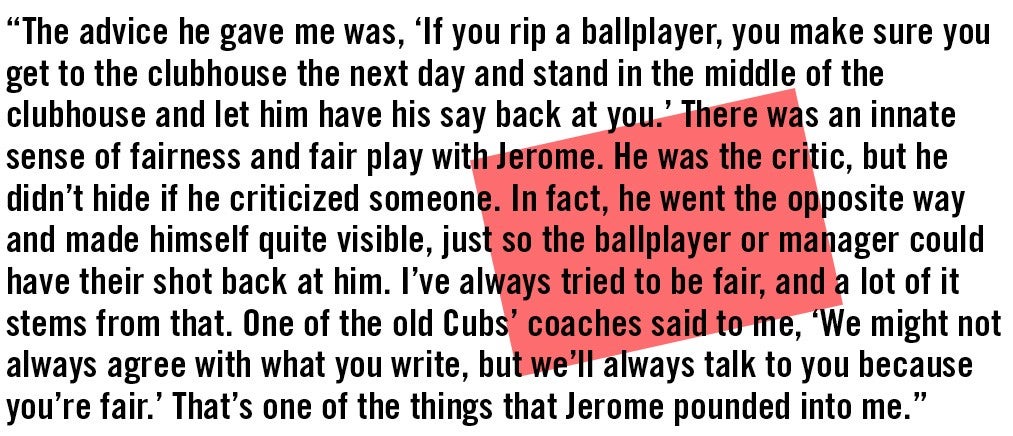 Bruce Miles is a 61-year-old Cubs beat writer for the Daily Herald who's been writing about sports for more than three decades. He loves doing a Jerome Holtzman impression: gravelly, slightly ornery, full of life. Miles delivers this impression with clear affection and a warm laugh.
He and Holtzman hit it off after meeting at Miles' first assigned game in 1989 between the White Sox and Oakland A's: "I don't know why, but during the game, he would tell me stories." Soon, Holtzman was showing the new guy the secret ways to enter different ballparks. Plus, Holtzman greased the wheels with crusty managers like Jim Leyland so that Miles' could get interviews. "Jerome said, 'Now Jim, these younger guys, they're much better than I was or any of us were coming up. They're smarter, they're brighter, they're more curious — so I want you to talk to them.' Those are the kind of things he did. He was always brimming with kindness for people. As gruff of an exterior as he had, he was really a soft-hearted person."
"You go into journalism, and if you're in a situation where you're covering a beat — whether it be politics or sports — there's a certain collegiality that develops," Miles continues. "You know that you have to compete for stories — and you're going to win some and you're going to lose some — but you have to get along with others that are covering [the same team] — you're living with that person for maybe six or eight months. And Jerome was such a gregarious person and such a decent person at heart that you couldn't lament losing out on a story to him — you knew that he didn't do it in any underhanded way. He had sources — he had people he trusted and who trusted him. He knew everybody in the game, from the commissioner to the bat boy to the umpires."
I ask if Holtzman's lionization is also a product of being a part of baseball when it was equally lionized. "Baseball was a coveted beat back in those days," Miles acknowledges. "Not now. With the rise of the NFL and the NBA, the baseball beat isn't as treasured as it once was. Baseball writing was a highly desired job back when Jerome was doing it."
Eventually, I bring up the save stat, curious if Miles thinks it's outlived its usefulness. "I'm going through a stack of books here right now, and there's a book called Smart Baseball by Keith Law — you may be familiar with it. One of the chapters is 'Holtzman's Folly,' which talks about the save.
"I do think that there's an evolution as far as what importance we put to certain stats," Miles continues. "I do believe, because he was so intellectually curious, that Jerome would be at the forefront of saying, 'You know what: We really ought to rethink [the save] or measure things in different ways.'"
It's remarkable to come across someone like Miles, part of an old-guard who also is comfortable with a shifting game in a shifting journalism culture — someone who admires Holtzman but also quotes from Smart Baseball. Maybe Holtzman could have adapted to baseball's brave new world?
"I go back to the person himself," Miles tells me. "How bright he was and how adaptable he was to different things." That's when he stops and laughs. "Although, he struggled with things like computers and tape recorders — there's a whole lot of stories I've got about that…"