"I should probably go take my gun off," says a police officer in Bend, Oregon, seemingly to himself, as he swigs break-room coffee and gets ready for a training session on a hot July morning. He exits his precinct's briefing room for a moment, then returns unarmed and ready to take his place on the turquoise carpet. Seven fellow cops are already there waiting, sitting cross-legged or kneeling amid round yoga pillows, which are arranged in a semicircle.
At the front of the room is Richard Goerling, a silver-haired lieutenant visiting from the police department in Hillsboro, a suburb of Portland a few hours' drive to the northwest. He's come to Bend with a singular task: to teach this small city's officers mindfulness meditation.
"Mindfulness is intuitive to who you are as a warrior," Goerling explains. "I like to say that mindfulness is sort of situational awareness training, and it's tactical breathing graduate school." Dressed in khaki hiking pants and a periwinkle button-down, the 47-year-old Goerling looks more like the outdoorsy tourists who flock to this mecca for hiking and craft beer than a veteran cop, with rosy cheeks, a trim build and a perpetual sparkle in his eye.
In his presentations, he seamlessly switches among the terminologies of law enforcement, TED-Talk science and yoga instruction. It sounds a little incongruous. And it looks a bit strange, too. The image of the contemporary cop is, for many people, one of violent aggression, not mindful relaxation. But that's exactly why Goerling made it his mission to get cops meditating, starting with one room full of deep-breathing Oregonians.
The image of the contemporary cop is, for many people, one of violent aggression, not mindful relaxation. But that's exactly why Goerling made it his mission to get cops meditating, starting with one room full of deep-breathing Oregonians.
"The rules of sitting and meditation really don't exist," Goerling tells his audience, as he begins fiddling with the controls of a neon green Bluetooth speaker. "You can keep your eyes open, close your eyes," he says. "[Police] often find that unless you're in a secure facility like this, we're not comfortable closing our eyes." Then an app on Goerling's phone plays a gong noise, and the session begins.
"Allow your body to settle into the cushion, blanket or chair," Goerling instructs the officers, who have chosen to shut their eyes. "As you take these deep inhalations and exhalations, begin to find the point of attention at your belly." Goerling continues walking the officers through the routine steps of a basic mindfulness meditation session, his soft, nasal voice competing with the occasional rustling of a fidgeting cop. "As you're distracted by your thoughts, just gently bring your focused attention back to your belly. […] Notice the sensations in that region of your body — the in-breath, the out-breath — just cultivating that presence."
A few deep breaths later, the digital gong sounds again, marking the end of the five-minute session. As the cops blink their way back to full consciousness, Goerling commends them for stepping up to the challenge. "It's pretty normal to feel uncomfortable," he admits.
But if they keep practicing — taking just a few moments to ground themselves before, say, a stressful department meeting — meditating won't be the only thing to get easier for them. Goerling's forecasted benefits include everything from improvements in reaction time to stress reduction to resilience, the ability to recover from adverse situations. This is important not just for the cops — who face some of the highest rates of workplace stress and its associated ailments — but for the communities they serve. Goerling expects that cops who meditate will make better decisions, use force more judiciously and be less likely to end up the unwitting stars of viral videos.
"Whether we like what happened in Ferguson or not, whether we like what happened in New York City with Eric Garner, whether we like any of this shit that's happening… we cannot ignore it," he tells the cops. "And one of the key ingredients, one of the key variables that's causing problems is a lack of resiliency. It's our suffering that's preventing us from being awake to ourselves and being awake to others, and having the capacity to muster any empathy when we deal with somebody in crisis…. The job takes away our ability to be empathic in that moment."
Goerling acknowledges that many other "ingredients" — including fear, racial biases, a lack of training, a sense of impunity and a lack of accountability — can contribute to an officer's violent reaction to an unarmed citizen. But he is one of only a few people focusing on officer wellness as a path toward improving community relations and decreasing police violence. "We have to be grounded in ourselves in order for us to really get to a place where we can perform in a way that is what's required and demanded of our profession," he tells the assembled officers, who are still breathing deeply. "And this is one way to get there."
At least, that's what Goerling has managed to convince his hometown of Hillsboro — the nation's first and only police department to pay for employees to learn mindfulness — and a growing number of law enforcement professionals in Oregon and around the country.
But whether or not his experiment can grow into the national movement he envisions will require an answer to a few difficult questions. How much of a role does stress play in police violence? What can meditation actually do about it? And, perhaps the biggest question of all: Even if Goerling does manage to prove that meditation could help, will change-resistant cops be willing to get grounded?
One month earlier and 1,800 miles away, an officer named David Eric Casebolt had the kind of normal day at work that demonstrates how police stress affects other members of the community. First came a call summoning Casebolt to an apartment complex, where he comforted the widow of a man who killed himself in front of his kids. Then, immediately after, dispatchers sent him on a second suicide call, this time an attempt by a teenage girl whom police managed to talk down. When he received his third dispatch of the day, a call about trespassing and possible assault at a teenager's pool party in the Craig Ranch development, the McKinney, Texas corporal had, in the words of his lawyer "allowed his emotions to get the better of him." Cell-phone footage shows Casebolt body-slamming 15-year-old Dajerria Becton to the ground and brandishing his gun at the unarmed, terrified friends who ran to her defense.
When the video went viral, Casebolt became yet another face of brutal force against unarmed black civilians by American cops. (He ended up resigning and going into hiding.) While many have interpreted Casebolt's excuse that he was stressed out as a cover-up for blatant racism (and he had, in fact, been sued in 2008 for excessive force against a black motorist), Goerling sees a grain of truth in Casebolt's stress story. "This corporal's behavior is predictably bad when you look at his day that he had," he said over the phone a few days after the incident. "And again, I'm not absolving individuals from accountability. But we're asking police officers to do things that they're psycho-biologically not capable of doing without specific training" — namely, staying cool and making good decisions when stress levels skyrocket.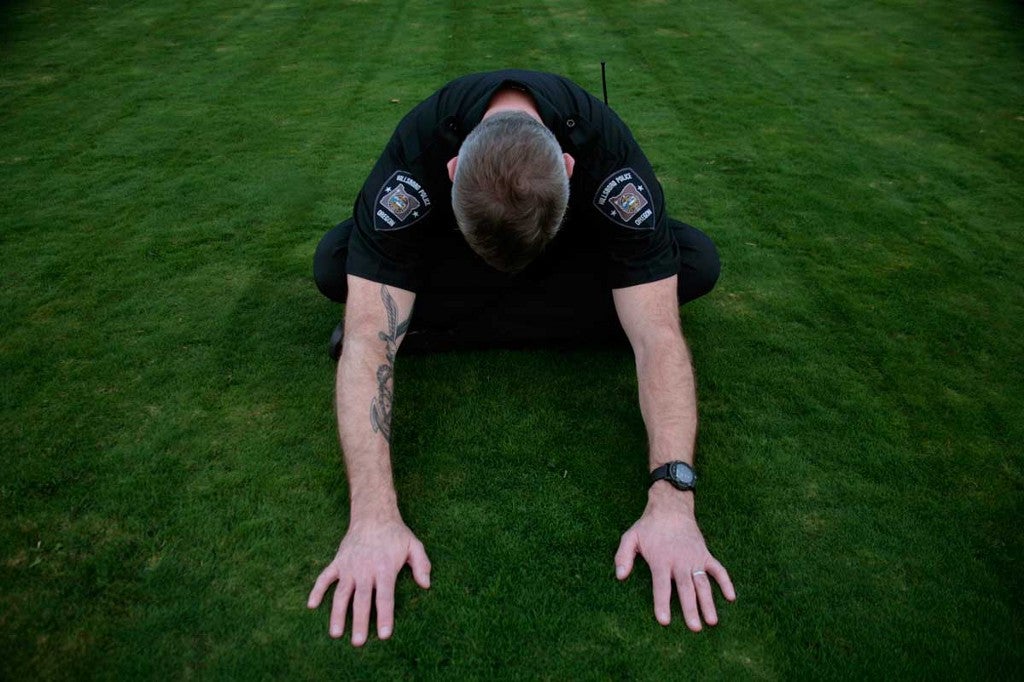 Casebolt had bragged about his extensive training — "impact weapon deployment and expandable baton, firearms, electronic control devices (ECDs), ground fighting, … handcuffing, joint locks" — but it's safe to assume that he'd never been trained on processing his own trauma. The average police recruit spends 58 hours learning to use a gun but only eight hours on de-escalation and, if they're lucky, a mere hour on stress management. In the wake of the pool-party incident, the McKinney police chief attempted to distance his organization from Casebolt. He told the press, "Our policies, our training and our practice do not support his actions."
"We have got to get over the culture in law enforcement that dismisses emotion," Goerling tells the cops in Bend. "It's the worst service we have done to ourselves."
But as Goerling points out, it's not clear which policies are meant to support calm, level-headed thinking from officers, in McKinney or anywhere else. The typical police response to difficult situations is, essentially, tough it out and keep working. "We have got to get over the culture in law enforcement that dismisses emotion," Goerling tells the cops in Bend. "It's the worst service we have done to ourselves."
As Goerling makes this case for changing police culture, he walks a tight line, calling out individual cops for poor decision-making while acknowledging systemic problems those same cops are facing. Ingrained racism. Unresolved stress and trauma from the job. Physical and mental illness. A competitive and vengeful organizational culture. An "us-versus-them" mentality toward communities. The list is long — and everything on it, Goerling suspects, plays a bigger role in incidents of excessive force than is typically acknowledged. And officers have no support to help them deal with these things.
"We have an amazing reactive system to help [officers] once they're fucked up, but we don't do a lot on the front end to prevent them from getting fucked up," Goerling says. You might pass all the right tests to qualify to "protect and serve," but "you'll wake up 10, 15 years later as an alcoholic [or] prescription-pill addict," he says. "Anecdotally, in my conversations with cops across the nation… we are broken."
Police officers experience depression, obesity, PTSD and alcoholism at significantly higher rates than the general population. "The job of policing seems to be a trigger for a lot of these guys to complete the act of suicide," says John Violanti, a New York State Trooper-turned-sociologist. In fact, police are more likely to kill themselves than be killed in the line of duty. Part of the problem is that psychological treatment is reactionary at best, a punishment at worst. According to Brian Beekman, who runs the wellness program for the Bend PD, "If your department says, 'Go see a psychologist,' the dam has already burst."
This is why Goerling is trying to reach any officer who wants help, including those who haven't necessarily asked for it yet. "I started this journey to improve the police-citizen encounter," he says over dinner in Bend the night before the training. "Along the way, I realized the only way to get there is to improve the wellbeing of the police officer."
It's a lesson that some police departments — including Hillsboro — have had to learn the hard way.
Goerling's career in law enforcement has spanned two decades, but his journey toward mindfulness goes back just about 10 years, when he returned to the Hillsboro PD after a post-9/11 stint in the Coast Guard. The two-year break gave him a fresh perspective on the job, and when he put the badge back on in 2003, he started "realizing the toxic drip that is the police culture, even in Happyville Hillsboro, which, frankly, doesn't have a real crime problem."
He's right. The town boasts the type of stats that landed it on CNN's "best small city to live" list in 2011: Only 9 percent of the population lives below the poverty line, while unemployment hovers around 4 percent, thanks in part to the arrival of tech companies like Intel and Yahoo!, whose massive campuses sit awkwardly among the open fields of this once-rural community. Though Hillsboro is urbanizing quickly — it's now Oregon's fifth-biggest city, with about 100,000 people — the violent crime rate for 2011 was still about half the national average, low even for Oregon. "The reality of policing today is crime is down," says Mike Rouches, Hillsboro PD's public affairs officer, "so our job has become much more social work-ish."
Officers here, like elsewhere around the country, spend less time getting to be "badasses" (in Goerling's words) who chase down murderers and thieves. Instead they spend their time confronting domestic abusers, freeing mangled bodies from the wreckage of vehicles, corralling mentally ill people, cleaning up after drug overdoses and delivering death notices. It's work that's sensitive and emotionally taxing, and both the training and the organizational culture are just starting to catch up.
In Hillsboro, the seeds of the mindfulness program were planted about a decade ago when a yoga teacher named Brant Rogers, whose studio is just a few blocks from the police headquarters, decided to offer a free class to first responders. "Nobody showed up," recalls Rogers. But a week later, he got a voicemail from Goerling. "I was like, Damn, what'd I do?" Rogers recalls. He called back. Goerling wanted to talk about yoga.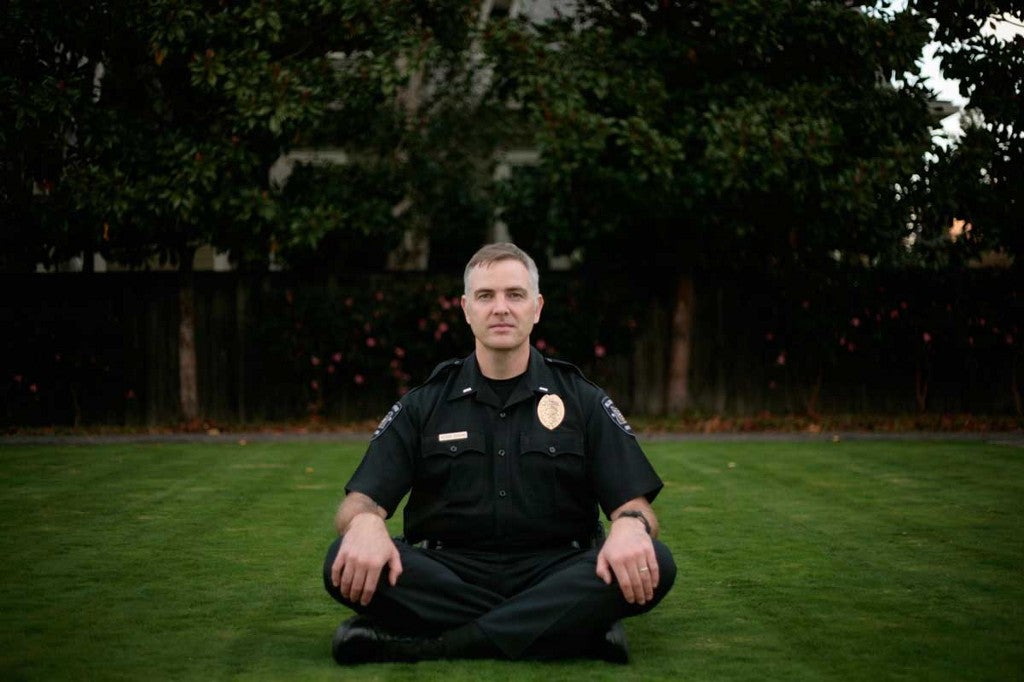 Rogers started stopping by the department, introducing himself to officers and teaching bits of meditation in between active-shooter trainings. There was enough of an interest to get a handful of officers to enroll (on their own dime) in Rogers's eight-week course for a technique called Mindfulness-Based Stress Reduction, developed by researchers at the University of Massachusetts as a secular form of meditation, with a well-documented history of improving mental-health outcomes. In turn, the officers offered feedback to Rogers on what he could do to make the trainings more relevant to law-enforcement professionals. "They're not highly verbal about stuff," says Rogers, noting that the officers didn't feel that comfortable talking about their feelings with co-workers. "They just want to get to it, so we made it that way."
Goerling and Rogers say that officers who did the first program experienced benefits like reduced stress and improved sleep. Goerling saw promise in proactively providing support for cops, as opposed to the kind of reactive, lecture-based trainings seen by many officers as either a punishment or a waste of time. "They do it 'cause they have to," Rouches says of the typical sensitivity or diversity training. "The cops sit in some class, but they don't really own it, and we end up in a bad situation."
But Goerling was unable to sell the program to Hillsboro's police leadership until the town faced a "bad situation" of its own. On January 20, 2013, Hillsboro's dispatchers received a call for backup from the nearby town of Forest Grove. Armed with an assault rifle, a Hillsboro cop named Timothy Cannon — who had a history of drinking, absenteeism and problems with his supervisors — was holding his wife and daughter hostage. "He was a close friend of mine; I knew his family well," says Stephen Slade, an officer on Hillsboro's SWAT team, who was sent to the scene to help talk Cannon down. Cannon yelled to Slade that the team would have to kill him, then started shooting at Slade and other officers through the walls of his home, even switching to armor-piercing bullets. He surrendered after 81 minutes of mayhem, as The Oregonian reported. "You can't put words to it," Slade says, remembering the trauma. "It's like, your good friend today and then tonight you're trying to kill me. How would you deal with that?"
The incident sent police morale into a free-fall. The department had already been dealing with labor complaints by the police union, a lawsuit from an officer and claims of abuse of power by a sergeant, whom Cannon had reported on for pouring maple syrup over public benches to discourage loitering. "To me, it seems, the upper administration at HPD is a fraternity and somehow I have become one of their many projects of destruction," Cannon wrote in a letter of formal complaint a few weeks before the shootout.
"Part of resilience is to pay attention. Notice when you get amped up, but what does it feel like to let go of that? Can you practice letting go?"
After Cannon's violent breakdown, the department needed to do something quickly. They turned to Goerling, who had spent the past decade talking about many of the problems the Cannon incident epitomized. "The police chief that was in charge said, 'Rich, do whatever you want to do,' remembers Rogers, and he and Goerling partnered with Michael Christopher, a psychologist researching mindfulness at the local Pacific University, to put together a curriculum customized for first responders. The department agreed to spend 18,000 dollars to enroll 54 employees in an eight-week, 20-hour training at Rogers's studio.
Everyone from SWAT guys to administrators began learning to sit through short meditations and body-scan techniques for deep relaxation. The program reacted to what officers said they needed, taking a suggestion from a training officer to incorporate normal industry sounds into meditation practice. At the beginning of a session they'd alert students, "There's gonna be some disruption that may show up during this body-scan practice," Rogers recalls. Then, while officers were told to send their awareness to an elbow or knee, a siren would go off or a call for an active-duty shooting would come in. "Just notice what happens, feel what happens to your body… your breathing, your heart rate, so they get familiar with like, 'Oh, that's what happens to my body when there's an urgent call,'" Rogers would tell the cops. "Part of resilience is to pay attention. Notice when you get amped up, but what does it feel like to let go of that? Can you practice letting go?"
"Initially I was very standoffish, I was skeptical," says Slade, whom Goerling asked to be in the first training cohort as he grappled with the trauma of the Cannon shooting. "Some of the stuff we found kind of silly, you know, touching each other and chimes and, kind of like, incense." The more touchy-feely aspects of the curriculum were taken out of future classes. Menawhile, Slade and others reported improvements in sleep, stress, emotional regulation and resilience to Christopher and his team, who published the results in a journal paper.
The results were significant enough for the National Institutes of Health to take the study seriously. In August, Christopher's team found out that they'll be able reproduce the study and expand the training to include cops from other local departments, thanks to a 379,500 dollar grant. He's bolstered by growing support for mindfulness in law enforcement, with cops reaching to talk about starting programs in Wisconsin, Virginia and Rhode Island. In November, he'll finally gave that TED Talk his presentations seem like an audition for (at a TedX event in New York City). Earlier this month, he kicked off his first multi-day immersive training in Bend, open to cops from around the country.
"If I had a police department, I'll tell you right now, we'd have all these mindful yoga warriors running around," Goerling says, "and we'd be a bunch of badass cops that were working with kindness in the field and ready to open the can of whoop-ass."
Reconciling kindness with whoop-ass is something Goerling will continue to grapple with as he pitches his program both to the public and to cops, who see using force as an integral part of the job. In his presentations, Goerling lets officers know that he's on their side.
"We are always ready to meet violence with violence," he likes to say. "[Mindfulness training] is not about forgetting how to do the job. This is about actually getting back at it so when we need to react with a force response we're faster, we're more effective." But more selective, too. Analyzing YouTube videos of a presumably lawful but "completely unnecessary use of force" (in this case, a white cop pulling a white person out of the car who refuses to hand over paperwork), Goerling says that a cop who was trained in stress-management might be able to de-escalate the situation, say "'Whoa, this is not gonna work,'" and walk away.
Maybe. Goerling's theory that lower stress will translate to smarter use of force has not been empirically proven. Part of the problem is that the government doesn't do a good job keeping track of police use-of-force incidents, because it's completely optional for local departments to report that information to the federal government even when a civilian is killed. As a consequence, very little information about those incidents is available — and certainly not the mental health of the officers involved.
While studies have shown that a small subset of cops are responsible for most use-of-force incidents, there is no way to know whether those cops are under more stress than others. A 2006 study by researchers in Switzerland concluded that "stress did not predict use of force," according to Manuel Eisner, a criminologist at Cambridge and one of the study's authors. "Cops with more frontline duties in more high-crime contexts are more stressed, and they are more likely to use force," Eisner said in an email. "But we found that the use of force is not a consequence of the stress, but of the kind of work they do."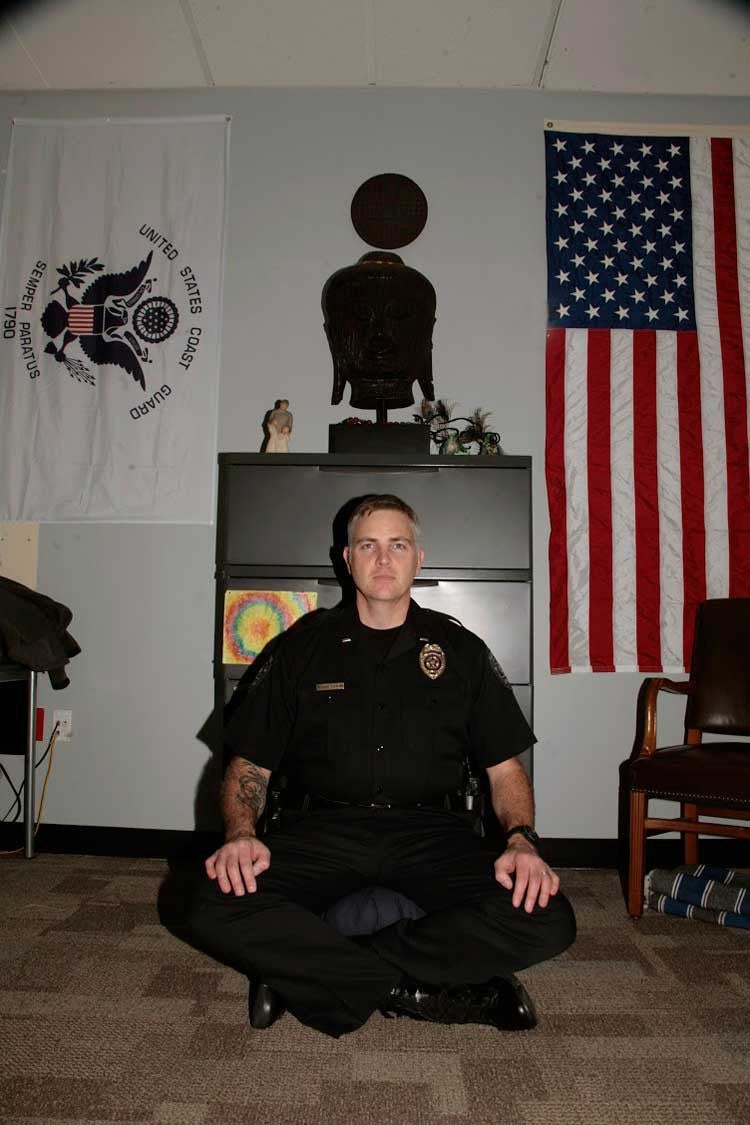 Luckily for Goerling, it may not matter that this link has not been demonstrated. He's operating at a time when police departments face a growing lack of trust from the public and are beginning to take a variety of actions, from widespread implementation of body cams to officer retraining. "Better training equates to better outcomes," says Michael R. Smith, a former police officer and expert on racial profiling at the University of Texas, El Paso. Everyone from Black Lives Matter activists to the White House, is calling for more training around diversity issues, de-escalation and confronting the mentally ill as part of working to minimize police violence. Los Angeles and New York have begun major retraining programs, which means bringing in consultants for several days of workshops. Lorie Fridell, who specializes in seminars on reducing implicit biases among cops, told NPR that, ever since the shooting of Michael Brown and subsequent protests in Ferguson, Missouri, her business has been booming.
But the paucity of data means the long-term efficacy of lecture-based trainings is also unproven, and no one likes sitting through time-wasting lectures. (The New York Post reported that NYPD officers recently snored through three days of them.) Goerling is in the minority of officer-trainers peddling wellness solutions, even though a report from President Obama's Taskforce on 21st Century Policing includes wellness-oriented training in its recommendations. So far, programs like his aren't getting as much traction as Fridell's. "It's expensive to bring trainers into various organizations," says John Marx, a former cop whose Law Enforcement Survival Institute has conducted officer well-being workshops with officers from the Reno Police Department and the Bureau of Indian Affairs.
What would help sell Goerling's program, especially to activists, would be a link between mindfulness work and decreasing unconscious bias. The NIH-funded study will examine this link. "There's been tons of research on meditation; there's been tons of research on social bias. I don't know why more people haven't put them together," says Matthew Hunsinger, another Pacific University researcher collaborating with Goerling. "When we're feeling stressed out, tired, sick, upset — just distracted by something — our unconscious mind is going to have a greater impact."
McKinney-like situations happen when the unconscious mind is biased against specific social groups and left to its own devices, according to this perspective. Hunsinger sees mindfulness as a tool to help regulate that bias by lowering stress, but "of course, that doesn't address what biases exist within" — nor the more flagrant cases of police brutality sparked by unveiled racism (to say nothing of homophobia, transphobia or other prejudices).
The incident is a reminder that some cops will draw arms, deploy them against the unarmed and then lie about it, even when under surveillance.
But mindfulness training does come a lot closer to changing the police culture and behavior under stress than the solution most often held out as the answer to the problem of police violence: body cams. The fallibility of that technology was demonstrated by a video from Cincinatti released just a few days after the training session in Bend. The clip shows Sam Dubose, an unwarmed 43-year-old black man, getting pulled over for a missing license plate by Ray Tensing, a 25-year-old white cop. Though Tensing was wearing a body cam, he shot Dubose in the head at point-blank range, claiming Dubose tried to run him over, even though Tensing's body-cam footage showed otherwise.
The incident is a reminder that some cops will draw arms, deploy them against the unarmed and then lie about it, even when under surveillance. "Let's invest millions of dollars on the human technology behind the badge," Goerling says.
But police departments are likely to spend hundreds of millions on body cams, in part, because they offer some cover to cops against false complaints from civilians, and also because they'd rather invest in new technology than use up officer time on things like stress reduction. "I go out and get stress-free right here," one Hillsboro cop told me when I asked if he meditated, jokingly tapping his gun. Others I spoke with said they preferred to go running to let off steam, or already engaged in breathing exercises on their own. Some who started one of Goerling's trainings didn't keep up with it or treated it like a joke. And another told me that "Type-A people" — by which he meant tough-guy, aggressive cops — had lost interest in the training, which was a problem because those guys were, in his opinion, the target audience.
Even if mindfulness trainings can't be proven to decrease stress and use-of-force incidents, some officers believe they offer the potential for better community interaction. "For me an example is much more subtle," says Hillsboro's police affairs officer Rouches. "My little unit runs a Coffee with a Cop event. Every three weeks we rotate around the city and we're expected to just hang out at a coffee shop and hang out with people, answer their questions. Before we started mindful training we would've had cops that are pretty resentful of having to do that," saying things like "'That's not police work.'"
Now, Rouches says, "I have cops that actually want to show up and ask questions and talk to people." Which doesn't seem like the worst place to start.