This Peter may not be Peter Parker, but he is St. Louis, Missouri's very own Amazing Spider-Man. The 17-year-old recent high school graduate is a member of the Spider-Gang, a cohort of devotees to the comic book character. He's amassed nearly 21,000 followers on TikTok, the popular new social app whose young users have built massive followings by creating and remixing funny short-form videos.
Peter, who posts under the handle @crashlovesyou, has found his niche slinging webs in a Spidey suit at conventions around the country. He could be a stand-in for Spider-Man: Far From Home actor Tom Holland: He looks, talks and even shares the same name as the fictional webbed warrior. But at the end of Pride Month, Peter cautiously announced one major difference to his TikTok followers.
Peter from St. Louis is gay. Peter Parker (canonically, at least) is not.
He tells MEL he was concerned his announcement might turn away a few followers. "The majority of my fans are teenage girls who thought I looked like Tom and thought I was attractive," he says. But his Spidey-sense to post a coming-out video with TikTok's rainbow-hair filter was spot-on.
His TikTok followers have embraced their gay Spider-Man.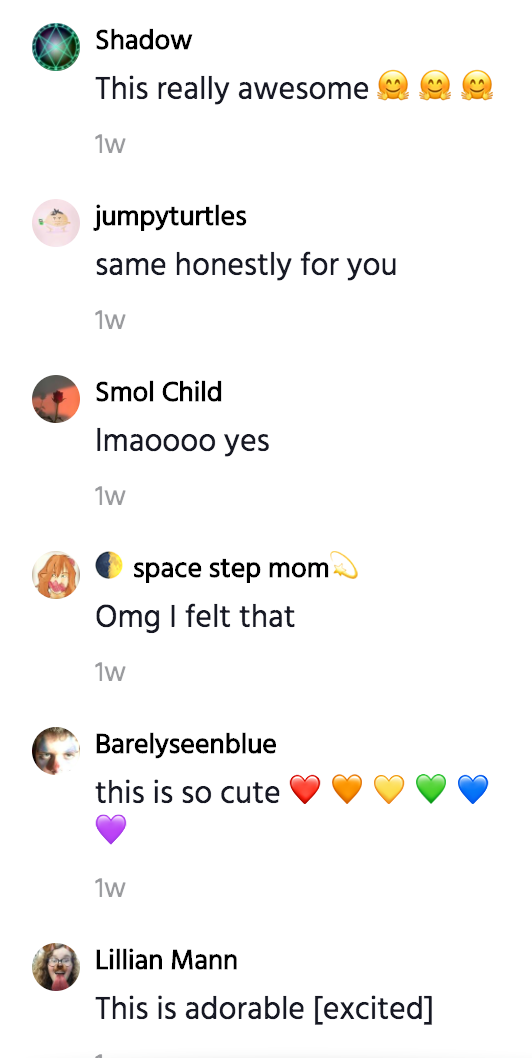 'Gayer Than Instagram'
Peter is one of many LGBTQ teens who have found a community on TikTok. They form connections around their sexualities and gender identities with little concern about being outed or harassed in real life.
"Many LGBT+ teens are drawn to the app," Peter says. "It's an online community full of different factions and fandoms, many different groups. So you really can't go wrong."
"TikTok allows us teens to express ourselves more openly, because the majority of our parents don't know about it," says Karol, a 17-year-old from Connecticut.
Karol is an up-and-coming TikTok creator with 33,000 followers. But offline, her friends and family don't know she's posting satirical videos about being the "disappointing" lesbian daughter of straight Catholic parents. "Parents are on Instagram a lot now," Karol says. "So in a way, TikTok is definitely 'gayer' than Instagram."
For some LGBTQ teens, the appeal of TikTok is how easy it is to go viral on it. The app functions around a default, algorithmic feed, known as the For You page, which features trending videos curated for each user based on who they follow and what videos they've previously liked. Unlike Instagram, TikTok's default feed is centered on discovery; it's not filled solely by accounts you follow. As a result, hot new content tends to bubble up quickly. Most teens I spoke with said they had a video go viral within months of creating their account.
"I have more followers on TikTok, but none I know personally, [like] I do on Instagram," says David, a freshman at Temple University. He posted a series of coming-out videos over the past few months, all garnering thousands of likes. Meanwhile, on Instagram, he uploaded a single collage from the Philadelphia Pride Parade. David's gay content is for his TikTok friends, not his family members on Instagram. "It's easier to come out to people you don't have a personal connection with," he says.
Breaking Up With Tumblr
Hearing David talk about TikTok reminds me of what Tumblr meant to teens in the 2000s. As an amalgamation of individual blogs, Tumblr created a universal, sometimes anonymous and often in-depth network for LGBTQ teens to connect over interests like One Direction fanfiction, intersectional porn and even advice on coming out to family members.
"Tumblr was my first social media after Facebook where my parents weren't, like, monitoring me," says Isabelle, an 18-year-old from Michigan. After four years immersed in the One Direction Tumblr universe, she's broken up with the blogging app. "I guess I just got bored," she says.
Isabelle feels like a rarity for her generation: Many of today's teens have never even been on Tumblr. "I have the app but never really got into it," says C.J., a 17-year-old high schooler from New York. Karol says of Tumblr, "I didn't know how to use it."
Tumblr's fade is a result of a couple things: less interest in text-based platforms, for one, but also the unintentional erasure of some queer accounts following the website's recent ban on adult content. Nearly a third of its traffic disappeared after the porn ban. It came at a particularly crucial time for LGBTQ youth, who — according to a recent Trevor Project study — are seeking a "valuable" social media app. For many, that app already exists by way of TikTok, the music app famous for launching newly out rapper Lil Nas X.
"Before I came to TikTok, I wasn't big on any other platforms, and I kept my sexuality kinda low-key," says Ashley, a 19-year-old freshman at Louisiana's Southern University at Shreveport. But at the beginning of Pride, Ashley posted a video defending the need for a month-long LGBTQ+ celebration, and it garnered more than 136,000 likes. She also listed her bisexuality in her TikTok bio, effectively coming out to her followers. "My friends knew," she says, "but now the entire internet knows lol."
Queer Challenges
One of the biggest ways for LGBTQ teens to connect on TikTok is through challenges and themes often focused around popular songs. It's how Lil Nas X and his record-breaking single "Old Town Road" blew up: It was the soundtrack to TikTok's Yeehaw Challenge, which now boasts over 127 million tags.
More recently, there's the Lizzo "Boys" challenge, which recently leaped to Twitter. It tasks users with creative interpretations of all the different types of boys they like. ("I like big boys/ itty-bitty boys/
Mississippi boys/ inner-city boys," Lizzo raps.) It's easily adaptable to different niches, like Marvel, dogs and of course the LGBT community. "We always find a way for the challenges to be relatable to different minorities," C.J. says.
While for some users, the intention isn't always to create "gay" content, TikTok communities form naturally when liking videos with LGBT-inspired hashtags or TikTok's curated video playlists around themes like "Show Your Pride." Engaging with LGBT content prompts more LGBT content to surface on your For You page. TikTok is, at its core, a feedback loop. It's easy to find your people.
That's why many users create queer content more intentionally. "I wanted to post videos of me being a lesbian so others can relate to my content and push themselves to feel confident with their own sexuality," says Serenity, 15, a California high schooler with over 107,000 followers.
TikTok's top queer posts are largely positive. Many are sincere coming-out videos scored to "I'm Coming Out" by Diana Ross; others involve witty commentary on all the various "types of gay guys." But sometimes the flood of support can turn punitive.
"When I post stuff saying 'Happy Pride,' I don't get hate comments," Serenity says. Yet when she posted a "Reality Check" challenge video about harassment the LGBT community faces, Serenity quickly started receiving comments saying she was going to hell and accusing her of discriminating against straight people.
Still, Serenity says TikTok is a more accepting place than other apps. "I'll get DMs or older people telling me I'm a sinner and that I can still be 'fixed' on Instagram," Serenity says. On TikTok, she's more likely to receive comments saying she's helped viewers come out to their families. "My content is so people can feel safe and comfortable."
Hate Pages and Anti-Trans Comments
For more marginalized members of the LGBTQ TikTok community, the experience isn't always so supportive. When Damien, an 18-year-old gay trans man from New York, posted a video mashup showing how taking testosterone affected his voice, the responses were mixed. His aim was to educate people: "I've explained what 'trans' is along with other orientations like asexual or demisexual," Damien says, and many people responded with messages like "YOUR VOICE IS FKING BEAUTIFUL" and "I'm so happy for you!" But some users harassed him, he says, or used the wrong pronouns in his comments. "[They] refuse to hear another side they don't immediately agree with, being very transphobic and homophobic."
Damien, who just graduated from high school, sent me a hate page called "Urfaggg64884829" that reposted his video along with the text "ur a fag and disgusting." He blocked and reported the account to TikTok, and the account has since been removed.
In a statement to MEL, a source for TikTok says, "We are committed to providing a safe and positive experience on TikTok. There is absolutely no place for any form of discrimination on our platform. We make this very clear in our Community Guidelines and we remove content or accounts that violate our policies."
Damien has also found himself on the receiving end of a TikTok's purge. He admits some of his banned videos feature fake blood, which may violate TikTok's anti-obscenity rule, but he says 75 percent of his removed videos are about being trans or LGBT. "They took down a video of my boyfriend and me giving each other a short kiss," he says, adding that TikTok offered no explanation on which rule he violated. A spokesperson for TikTok could not immediately explain why the app doesn't list specific regulations when banning a user's video.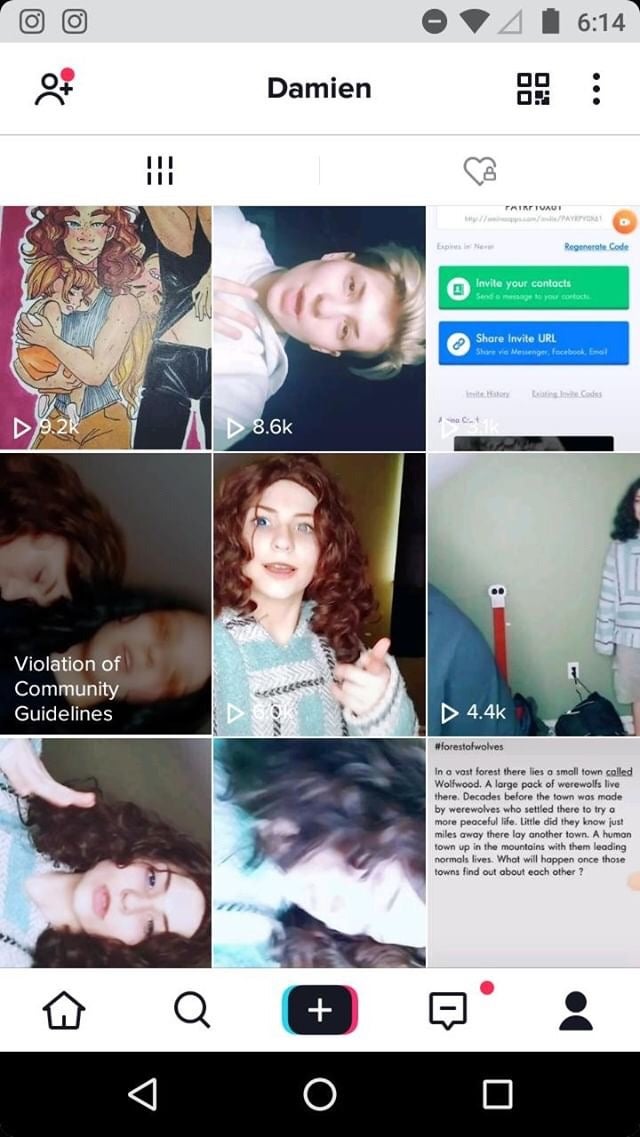 Damien isn't surprised to hear that some gay teens have had better experiences on the app. "IRL, I've gotten a lot more hate for being trans than being gay," he says. "Same goes for the internet."
TikTok may be working out its moderation issues, but it remains a leading platform for LGBTQ youth to connect. "Trans men are getting some representation," Damien says of one of the communities most often left out of LGBT spaces. As for the haters in his comments, Damien couldn't care less about what they think of his content. "If they can post their progress with bodybuilding, I can [do the same] with my voice. It's just a screen."