We are but simple creatures. Fundamentally, a lot of us just want someone who looks like they could take care of us. Maybe we crave a Daddy-esque partner who could cook us a steak, or a self-sufficient, farm-building MILF like Mary Burke. Or, as many of us are now discovering thanks to TikTok and Twitter, we want a lumberjack to chop some wood to keep us warm for the winter. And notably, we want to watch him — and hear him — while he does it.
Yesterday, @kaylawithav shared a TikTok on Twitter that has now been viewed three million times. The original video comes from TikToker @bradley.thor, who regularly posts clips of himself in the Northern California wilderness, splitting logs with an ax. He's muscular, covered in tattoos and has a short beard. In this particular instance, he wears a white T-shirt, black overalls and a cute little pair of "protective" glasses. He begins most of his videos by swinging the ax over his shoulders, and in just four swings, the wood begins to crack open. He exhales audibly with each, and we hear every detail of his struggle. "Yeah, open for me," he says to the wood on the fifth swing. By the sixth, the log is in two.
The combination of his looks, his physical strength and the sexually familiar sounds he makes while chopping wood have produced a palpable horniness among (predominantly) women on Twitter. "Fuck the wedge? More like fuck me," one wrote, adding a photo of Cardi B licking her lips. Another added that they were blushing "like a slut." Several more replied to the tweet with other videos from @bradley.thor — whose real name is Thoren Bradley — as well as other clips of hot men chopping wood.
Every element to this shtick is crucial to its appeal: It works as both eye and ear candy, but there's something ideological about it, too. Perhaps he'd get a similar response looking the way he does and making the sounds that he does while, say, lifting weights at the gym. But it's almost instinctively more appealing to witness him do something so productive. Per his TikTok and Instagram, Bradley has a Master's in exercise physiology and works a day job in that field. Certainly much of the wood he chops is for his videos, yet it appears as though he's burning that wood in his home, too.
This ultimately appeals to the trend of living a more "traditional" lifestyle, one in which people provide for themselves and their families independently. A meme repeated throughout the comments on the viral tweet is that men should "cut the podcasts and go chop some wood." There's a deep desire for guys to log off and do something actually productive, and not just in a "hustle culture" kind of way. Of course, the irony is that Bradley is clearly online, posting faux-deep thirst-traps and tweets that build attention for himself as much as they do his wood pile.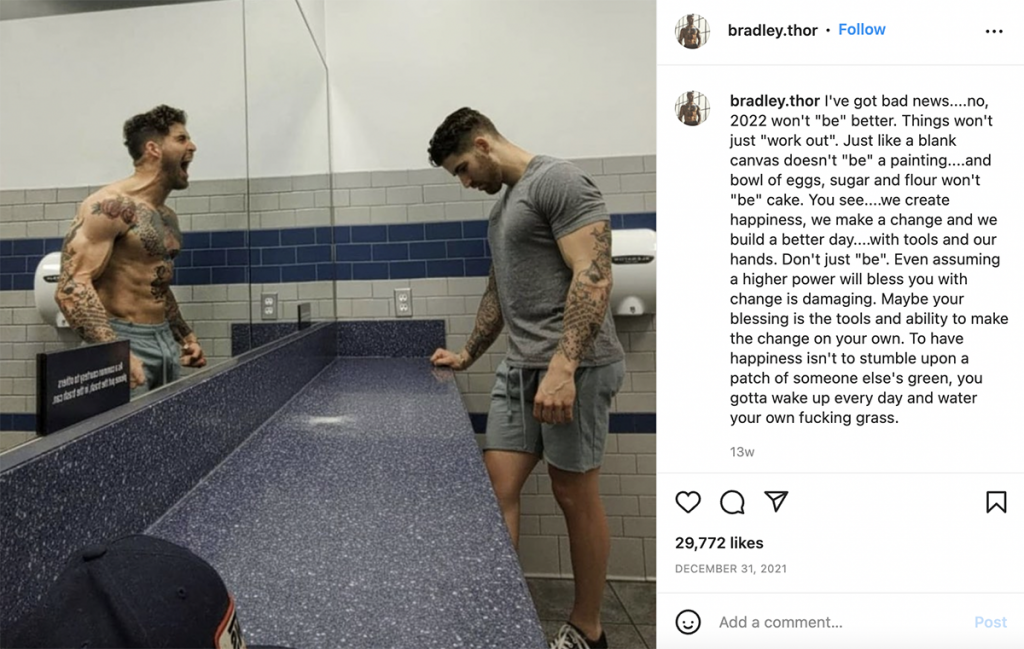 Still, it doesn't really matter that he makes these silly little posts, so long as he's finishing his chores and keeps looking and sounding the way he does. There's work to be done, and Bradley is one of the men to do it. And thankfully for the lustful people of the internet, he is often doing it, out-of-breath and moaning, with his shirt nowhere in sight.