On Quinn Harrelson's Instagram, one 2016 photo is captioned "@JerrySaltz is GANG af," except he spells out gang with a bunch of emojis. The photo shows Harrelson, 16, and his family posing with the legendary New York magazine art critic, indicating Harrelson's intimate familiarity with the fine art world. Though the budding curator's Instagram only has about 2,900 followers, Harrelson is indisputably an art world It Boy in training. While most artistic teens are busy curating their Instagram grids and gaming their follower counts, Harrelson's cultural capital extends beyond the internet and into a realm we don't usually associate with modern teens: the physical.
Harrelson is a cherub-faced white teen from a family of art collectors in Miami who "reluctantly" attends a prestigious Ivy-League-feeder school. He says he's unlike many of his peers from similarly privileged artistic families, who have rejected the arts after being oversaturated by fairs and openings as children. In contrast, his sensibility is informed by the traditional artistic institutions his parents patronize—albeit sometimes as a reaction against them—and his own comprehensive knowledge of art history, online and off. In a generation often fetishized for its digital nativity, Harrelson's practice utilizes the internet as an effective tool for discovering artists and maintaining relationships with them, but he doesn't make the digital world a focus of his work.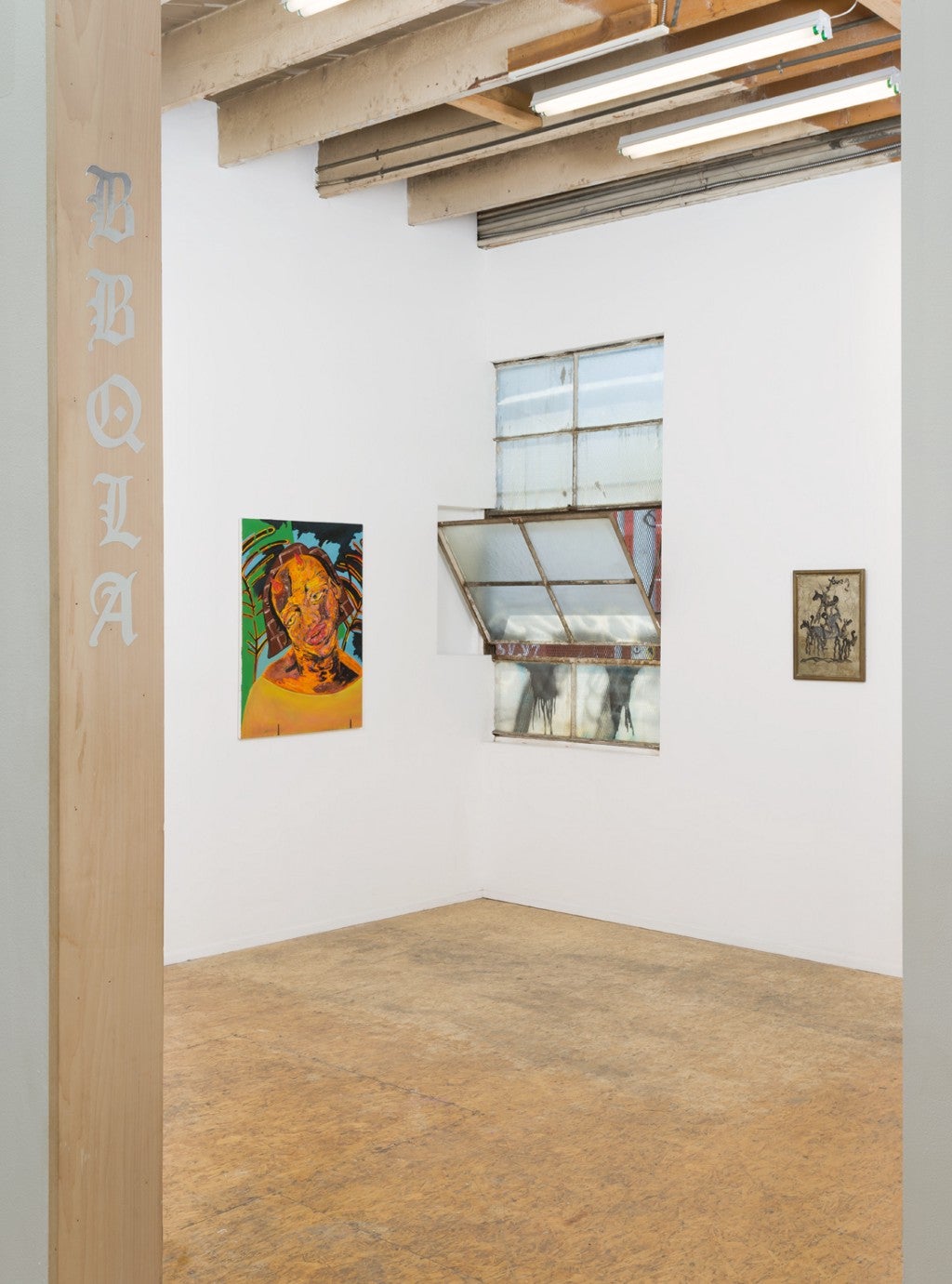 Although hesitant to refer to himself publicly as a "teen curator," Harrelson recognizes that his lifestyle and perspective are unique. He's twice been featured in Vogue because of his muse-like relationship with famed photographer Bruce Weber and has accompanied his mother on countless studio visits, affording him the opportunity to observe dozens of artists in their natural habitats. He just spent a majority of his summer vacation organizing "Cabin Pressure" at BBQLA, a multimedia show running through August 12th that features some of the art world's foremost rising talents (such as Janiva Ellis, who contributed to a painting to the show just weeks after opening a super successful solo show in New York). The L.A. Times even included "Cabin Pressure" in its Datebook at the show's onset — without mention of Harrelson's age.
For our series on teen boys, we spoke to Harrelson about "Cabin Pressure," Super Smash Bros. and "hyperactive swamp environments."

Growing up, what role did art play in your life?
My mother runs an art magazine, and my father went to an art school. Art has always been this thing I do with my family, which is a strange perspective. A lot of our closest friends were either artists, collectors or curators. Growing up, I decided to get into art in the same way a lot of people start playing football to relate to their fathers. Before my show opened, I spent three days constantly calling my father and sending him pictures, asking questions like "Is this hung right?" or "Are you sure this should go here?" It was a totally weirdo experience.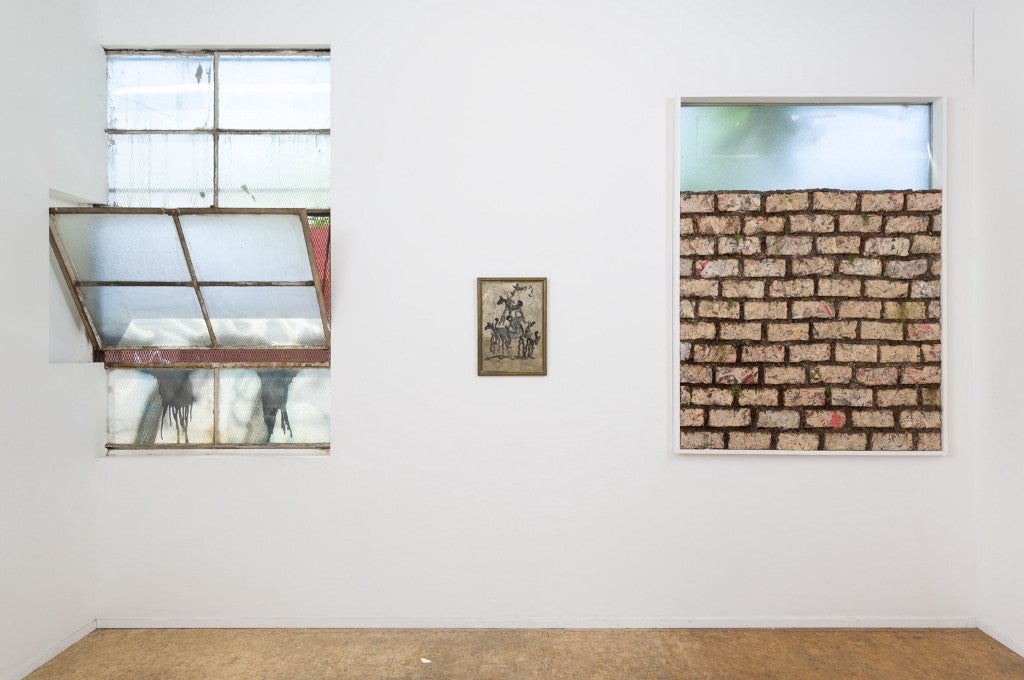 Has it been a privilege to grow up with such immense access to the art world?
It's been an incredibly privileged experience, especially at this moment when the art world is having a little bit of a renaissance. But I also know a lot of people whose parents are artists or curators and who aren't interested in art at all. There's a question of exposure. I feel like I was exposed just enough to be intrigued by it all, which has allowed me to maintain an idealistic relationship to the world. And living in Miami, I'm automatically removed from the art scene at large except for that one week a year I can't stand.
You're talking about Art Basel, of course, but why do you hate it? I bet a lot of people would assume you await the weeklong fair each year.
It's just not a thing that I relate to in any way, and it's not how I'd like to view my art world. It's easy for me to have this sort of relationship to it because I grew up spending time at fairs. If you're really interested in art as a concept beyond a commodity complicit in its own manipulation, fairs can be a toxic and twisted environment.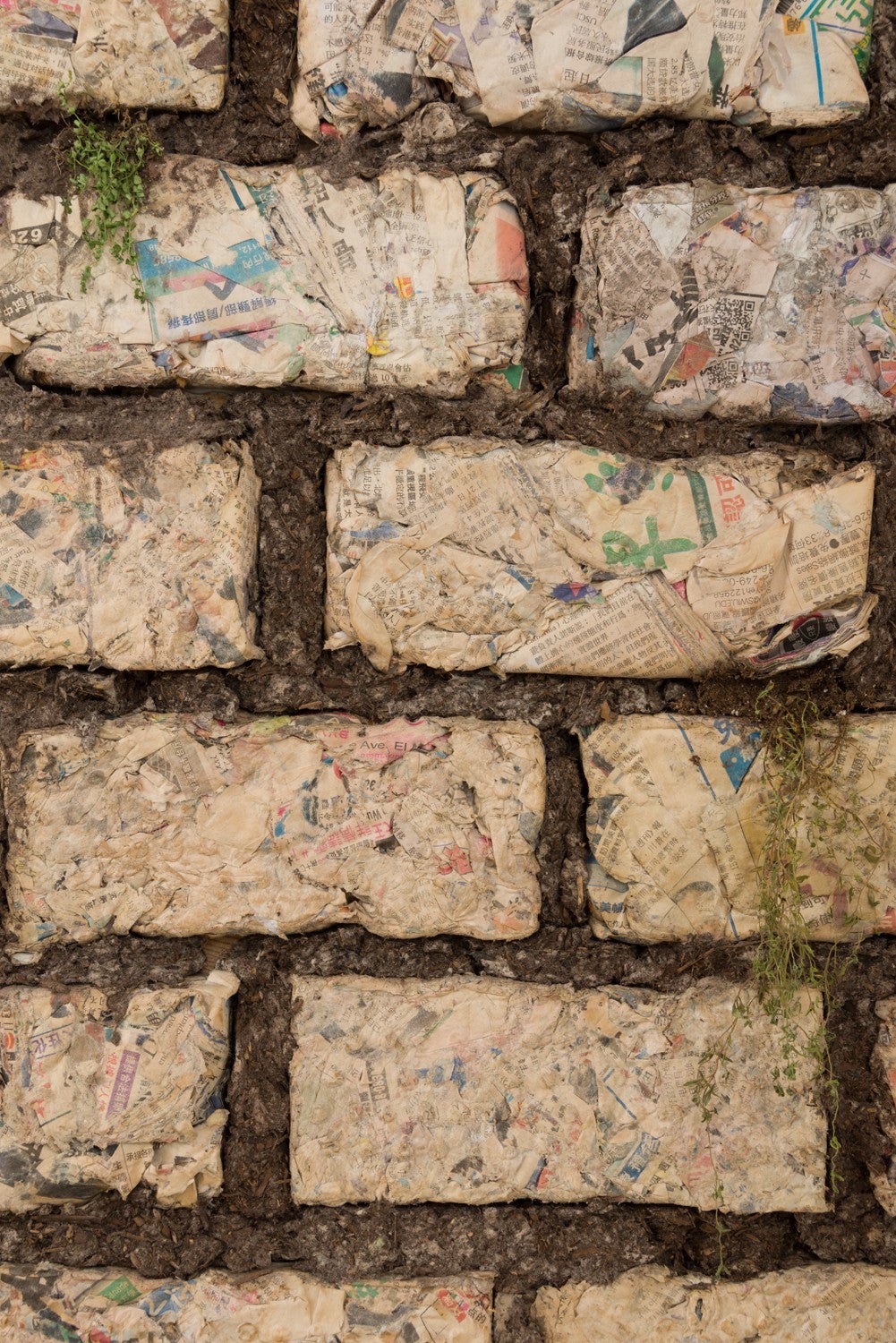 Do you study art in school?
I take art history and have for the past two years. [My school] has a strong art history program that's rooted more in pre-1900s stuff, which has been incredibly influential in the way I think about art. It's important to go beyond the contemporary canon, especially having grown up so immersed in it. We forget a lot of the times in our oversaturated culture that contemporary art didn't begin with Warhol or Koons. Having that historical background informs how I curate and approach doing shows.
What were your big artistic influences growing up?
Can I say anime? And weird animated video games, which a lot of people I encounter share. It's a weird thing to realize your heroes also play Super Smash Bros.
Is there any one piece of fine art you remember seeing as a kid that's stuck with you?
When I was really little, my closest friend had an early shelf piece of Rashid Johnson in their house. I was so taken aback by it. Every time I left his place, I would kick myself for not taking one of the rocks that Rashid Johnson had spray-painted gold. I didn't realize that it was art, because I was like 5, but I think about it all the time, the relationship to art that's more ritual. It engages you in that you can touch it physically. I always feel like whenever you're with a painting alone, you have to touch it… like there's an obligation for you to touch it.
There was this amazing guy that came to my opening, clearly a neighborhood guy, and he was really old with a full ponytail coming out of his chin. He was trying to lick the sculptures, and I was so taken aback. People were like, "Do you want us to get him out of here?" But I wanted him to stay as long as we could possibly get him to stay. I thought that was really good. I feel like that's a relationship I want to stress.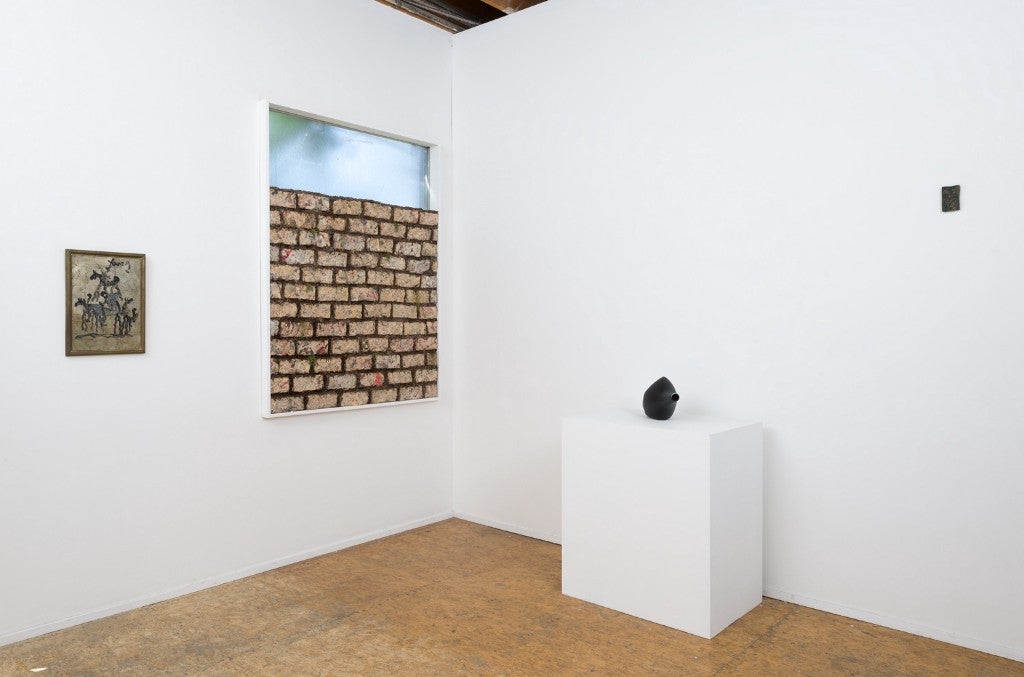 I hate to ask this, but do you think of yourself as a millennial?
Hmmm… If I'm being honest, I'm not really familiar with the parameter of the term, which I think is probably very millennial. At least in the way that I hear it used pejoratively. And I don't really care.
Given the influence of digital culture on contemporary aesthetics and identity politics, are there instances now where you're the one lecturing your parents about a certain idea or practice?
God, I wish I could have that relationship. I don't think they allow me to. They are, and in many ways always have been, more avant-garde than I am. It seems like a lot of the work we're seeing now is shocking, and yet, we forget the pre-1980s art world was really radical for its time. As such, I don't think any art work I've seen today has pushed past the boundaries of art that were laid out to me by my parents.
As a kid I watched old Dada videos and saw the hottest performance pieces in New York, so that has long been conflated intrinsically with what my idea of art is. For example, I used to make a lot of video art. When you approach video art after being exposed to people like Arthur Jafa and Nathalie Djurberg more than you are Steven Spielberg, you're going to have a different relationship to film as a concept.
How did your show "Cabin Pressure" come about?
Timo Fahler is one of three guys who runs the space BBQLA in downtown L.A., and I met Timo during a studio visit when I was maybe 11 or 12. He was assisting the person my mother was going to see. And although at that point I wasn't really interested in art, Timo gave me a cookie and we started talking. Since then, we've maintained a long friendship through email and Instagram. I think I heard the news about this show on Christmas Day; Timo had talked to the other guys at BBQ, and they decided to offer me the opportunity to curate a show there.
BBQ is an interesting space because it negotiates commercial success with a certain artist-run credibility. They've exhibited art world titans, but often in the strangest ways. For example, before the Sixth Street Bridge was demolished, they took Will Boone's work, who is a hyper-masculine, minimalist market baby, and hung it on the pylons of the bridge. It was exciting to see how they were taking art that had been traditionally seen in the context of a fair, not even white wall gallery context, and placing it in a completely different territory.
At its conception, what was the show's mission?
In Miami, I've been doing small shows with teen artists and other people in my greater community. At first, the plan was to take that work and transport it across the country, which I was excited about, but then myriad factors made it impossible to do so. Instead of a gallery swap, we ended up doing more of an environmental swap. As someone who doesn't drive, I've always been intimidated by the urban sprawl that this weird L.A. desert is, so I wanted to nest in the gallery. The premise became to take an ecosystem that makes me feel comfortable, a crazy hyperactive swamp, and find a way to put that into this white cube. I wanted to fill it with humidity and swamp-iness. All of the work in "Cabin Pressure" attempts to do this in the space, or tangentially revolves around those ideas.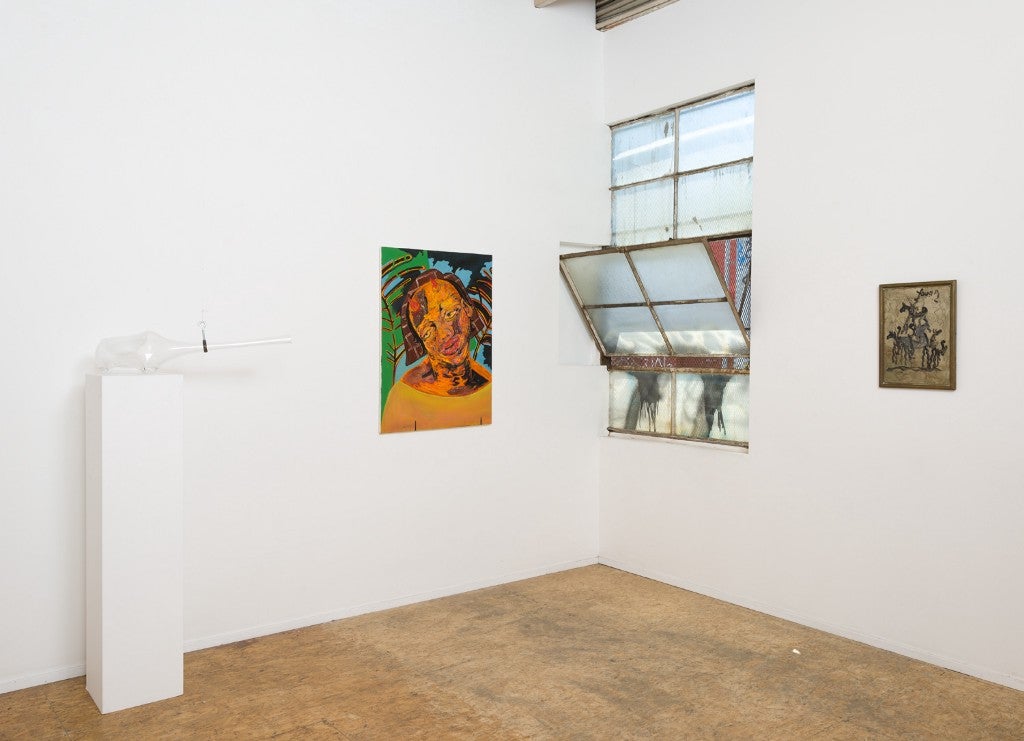 "Cabin Pressure" features a lot of artists of color whose work involves incisive political critique. As a curator, especially as a privileged, white curator, do you see yourself having a certain role in helping to disseminate certain ideas?
I'd like to think that I do, but in reality, a lot of the ways the show came together were unintentional. At first, I thought it was a really conscious decision. But when I'm confronted by that idea now, I don't feel like I have the right to take credit for it as a project in that way. I feel reluctant to say that this is an intentional decision, but at the same time, I do feel conscious of how the shows are read, and I never want them to feel like this is a decidedly white or male show.
This spring I did a show called "Night Sweats," which was about cultural syncretism, and it took place in Miami, where diaspora communities have converged. The show wasn't specifically about race. I was more interested in the bricolage that happens when communities mix regardless of where they are.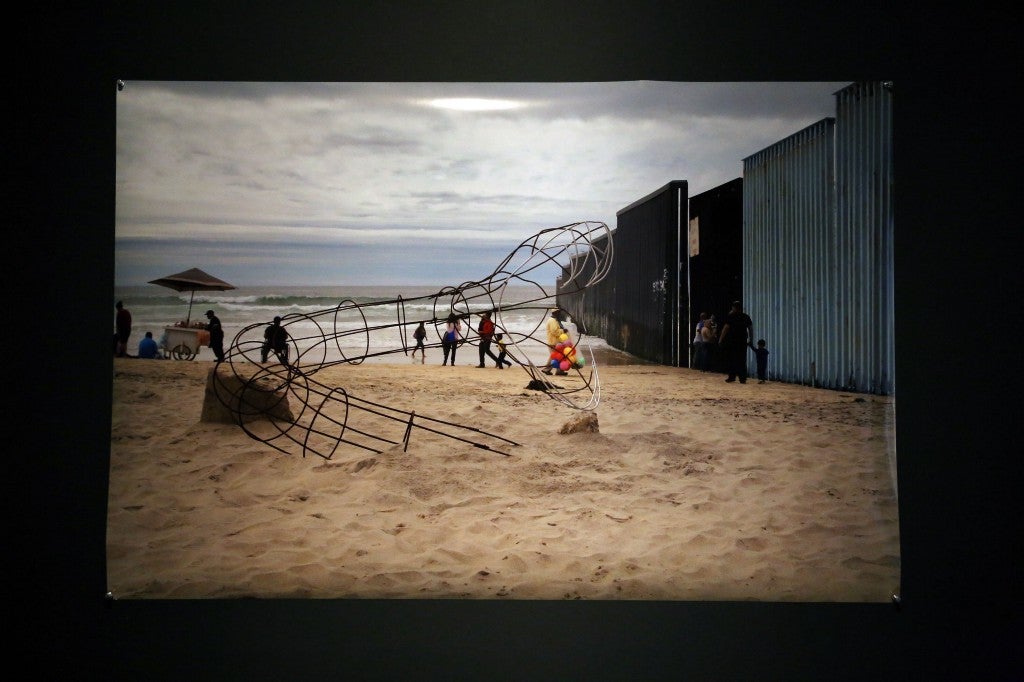 The inception of the show comes from the location of the gallery, which is very close to a number of botanicas. Botanicas are where people from the Haitian diaspora sell voodoo ephemera and things to cast santeria spells. During the Republican primary for the most recent election, the bontanicas made all of these prayer dolls to help Jeb Bush get involved. That was the point of departure for the entire show.
Timo from the BBQ space actually made a piece in the show in collaboration with the artist Rafa Esparza, who at the time had just transported 164,000 pounds of adobe mud brick from the banks of the L.A. river to the banks of the Hudson River as part of the Whitney Biennial. Rafa's goal there was to create a space constructed out of brown matter that disrupted and engaged the problematic architecture of a white institution. Through Rafa and Timo, I was introduced to a lot of artists, and those relationships informed who participated in "Cabin Pressure."
As a 16-year-old curator, do you feel like you face any challenges due to your age? Or do you think your generation warrants more respect from elders in the workplace than in previous decades?
I think I look and sound a little bit older than I am. I've often had the experience that people don't assume I'm a teenager, so I usually don't make it explicit. Someone actually posted a picture of the show and named me as a 16-year-old, and one of the artists was like, "You're 16?!" I was like, "No… um, yeah." It's certainly been difficult to get a lot of the artists to blindly go into these endeavors with me.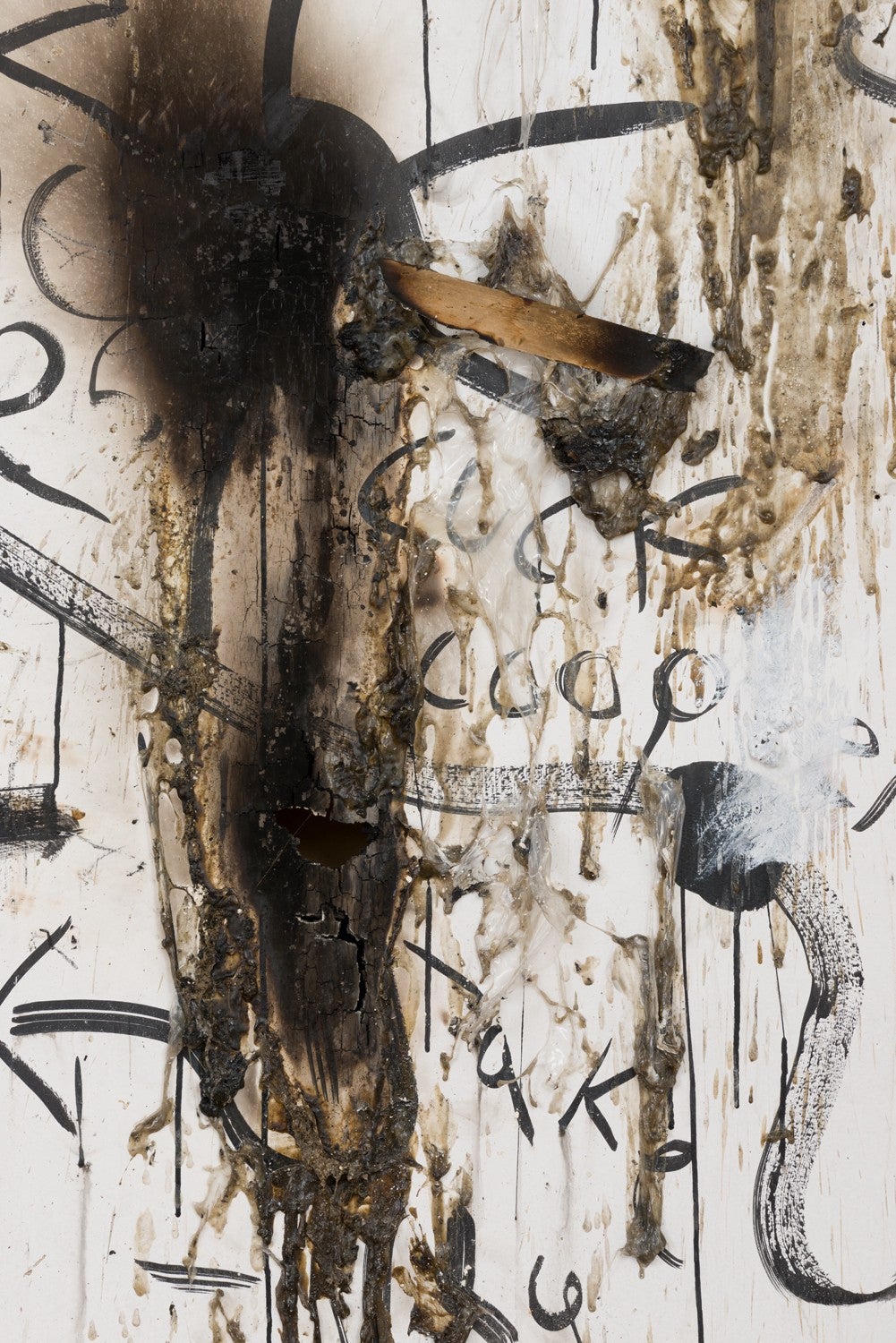 But do you feel a strong kinship to other people your age?
Not really. You refer to my generation, but I've spent the last few days after the show's opening watching high school movies like 10 Things I Hate About You, and I have to say, I don't feel a connection with that kind of youth experience. I don't the feel the same kind of tether I've just experienced with my collaborators in L.A. with a lot of other people, in school or in general.