In April of this year, Postmates began delivering Chipotle through an "exclusive partnership" — a win for anyone too lazy to hit up their beloved taqueria in person. But the chain is hardly the only one to bring fast food, quickly, to the homebound masses. McDonald's now offers "McDelivery," Burger King does "BK Delivers" — and if you search for "fast food" on Postmates, up pops the likes of Wendy's, Arby's, Taco Bell and Chick-Fil-A.
In other words, fast-food ordering for the lazy is no longer limited to the drive-thru, and Postmates wants you to know there's no reason to be ashamed. "At the end of the day a delivery is a delivery," says Postmates' director of communications, April Conyers. "We have no judgment here."
But it's hard to deny that there's something inherently shameful in ordering food that ostensibly could cost less than your order. I spoke to six Postmates lovers about this uniquely modern form of shame.
Tierney, 23, Los Angeles
I've have a hard time connecting with the people who have delivered my Postmates orders. My shame at the expense and the laziness implied keeps me from making extended eye contact with them (although I'm well-aware my handful of orders are nowhere near the craziest or grossest things they've ever seen). But I never cower or make excuses for myself when encountering the people delivering my food or drink. I stand strong and smile as I accept my Pressed Juice (a $4.99 Postmates favorite) or the iced latte I didn't think I had time to go grab myself.
The time I felt dumbest using Postmates was one hungover morning, when I decided to get to a sausage McMuffin combo meal from McDonalds. I could have walked the 15 minutes to McDonalds, but instead, I had a guy do it for me. Just because of Postmates, I was suddenly above being seen in a McDonalds on a Saturday morning with last night's makeup on and no bra?
What I remember the most about the experience is the bag being so tiny, a demure little handbag of cardboard food that I paid a lot more money than I should have. The hash brown was bomb, but the sandwich was subpar, unable to stay fresh in transit between the drive-thru window and my building's door. The whole episode made me remember that eating gross stuff only makes you feel grosser, and that if I'm going to bother to eat crap, I shouldn't pay more to do it in secret.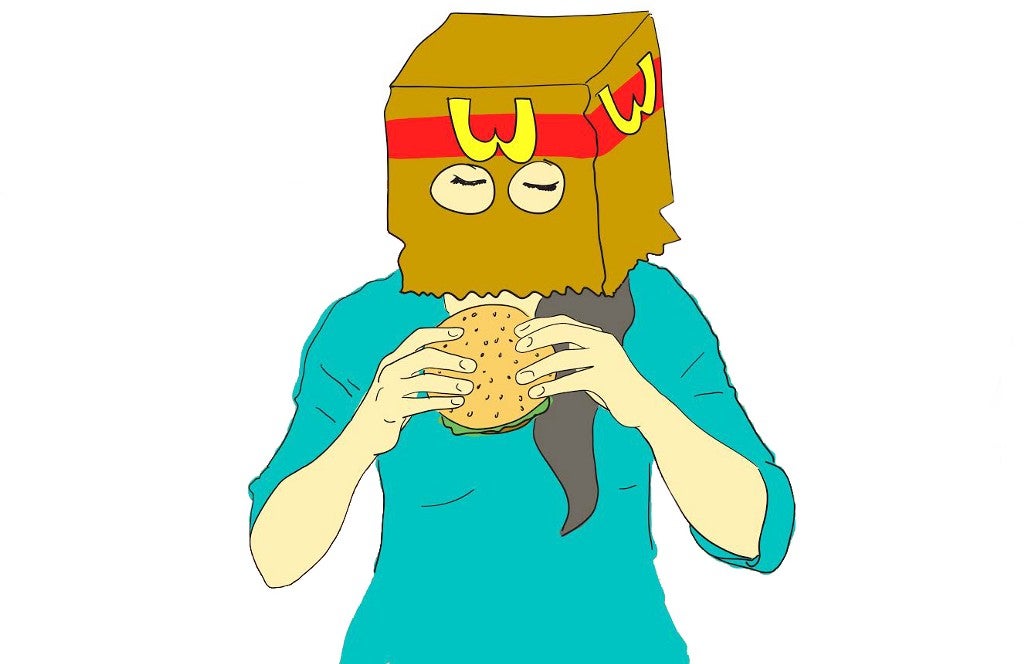 Jill*, 28, Manhattan
There's something weirdly joyful about separating the anxiety and bad feelings associated with going into a fast food joint late at night, embarrassed at what you're about to do. (Not that you should be embarrassed to eat what what you want, but these are the emotions I associate with fast food. Thanks, mom!) Thus, getting that fast food delivered to you removes the guilt in some way — putting that guilt food on the same level as the good stuff, the stuff "worthy" of delivery. Not to mention, it's usually 3 a.m. so, rest assured, there's some serious cognitive dissonance in my eating habits at that point.
Lauren, 28, Manhattan
Postmates is without question my favorite food delivery app. They deliver high end (Osteria Morini) to low end (Taco Bell) at pretty much all hours. The app is well designed (i.e., I can use it in any state of mind), and I almost never have trouble finding a delivery person to deliver my order. I don't feel guilty ordering something like Taco Bell on there because fast food, to me, in New York, is a more special occasion (and goes along with a lack of sobriety) than it ever was in any other city I've lived in.
Tom*, 25, Los Angeles
I've wanted to try Fat Sal's buffalo chicken sandwich fry thing for what feels like forever, but I'm not going to go sit in a restaurant called Fat Sal's (even though it's co-owned by Turtle from Entourage). I wanted to experiment with its pedestrian decadence in private. As a $4.99 option on Postmates, the offer tempted me for months. Just two days before 2016, I gave in. Philly Cheesesteak with jalapeño poppers in it, still one of the lighter items on the menu. OMG. Bomb AF. Seasoned fries, too. It's actually so good I'm not sure I'm ashamed of going there. Well, I am once I have to say "Fat Sal's" out loud, but on Postmates I don't have to.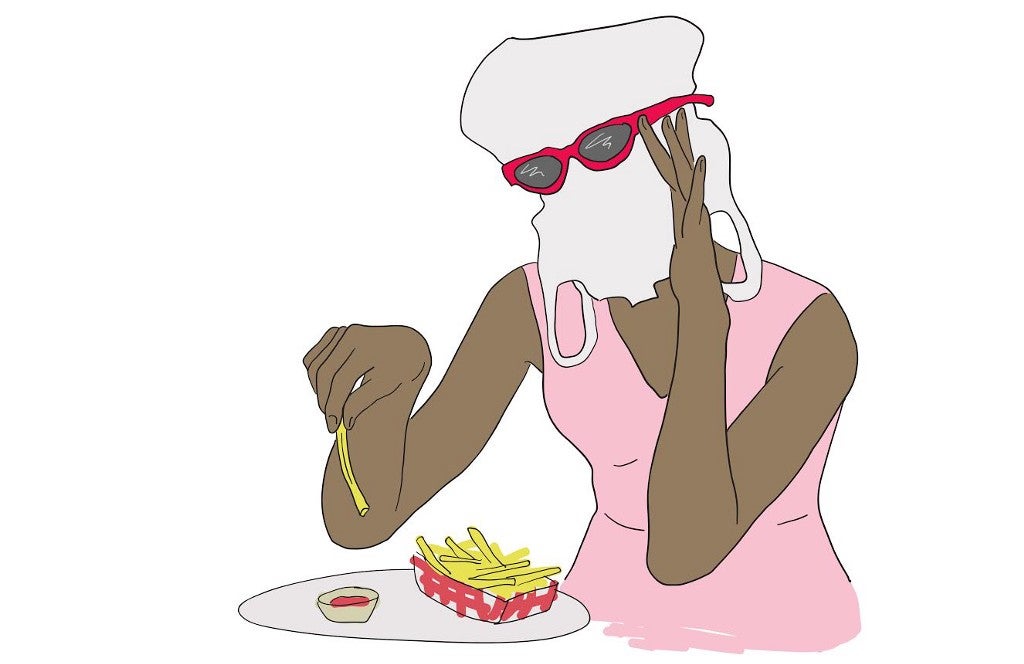 Jenny, 29, Venice
As a single woman, I use Postmates almost exclusively for emergency shame-spiral binge sessions. If I'm in a good place emotionally, I don't need to pay what is almost always a strange man in their late thirties wearing questionably tailored pants to bring me a bag of lukewarm food. People in good places emotionally get In-and-Out on a road trip with friends or (at the very least) can drive themselves to the drive-thru. However, when you're in a dark place, measures must be taken, and they usually involve satiating whatever sick craving I'm currently having. These cravings are never chic: I don't get depressed and want a dozen oysters; I want a cheeseburger and animal fries with my martini(s). That's why when I ordered Chipotle from Postmates at 8 p.m. on a Sunday night, it wasn't because I think Chipotle is a great meal. It was because I had a bad weekend and the idea of being around people, especially people desperate enough to wait in line to order food that has a pretty good track record of giving its patrons food poisoning, was too much to take.
So, much like using a dating app to avoid the bar scene, I avoided the Sunday night Chipotle scene by opening my Postmates app — tucked away safely and shamefully in the same folder as Tinder. An hour later, I was face deep in my burrito bowl and since it wasn't me doing the ordering, I went ahead and got extra chicken and three types of salsa. I even smiled as I asked for a side of guac — knowing that I wasn't going to have to endure the whole IRL "guac is extra" exchange.
Christine, 27, Brooklyn
Do I feel like a piece of garbage paying a couple extra dollars to have someone bring Taco Bell to my doorstep on their bike? Sure. But what better way to wash that feeling away than with a no-tomatoes Crunchwrap Supreme, a caramel apple empanada and a small Baja Blast.
*Names have been changed to protect the hungry.